Awaji Island is certainly worth to visit but a trip there does require some planning if you want to get the most out of it. We're here to help you with an Awaji Island day trip itinerary to ensure you know and see all the best places on the island!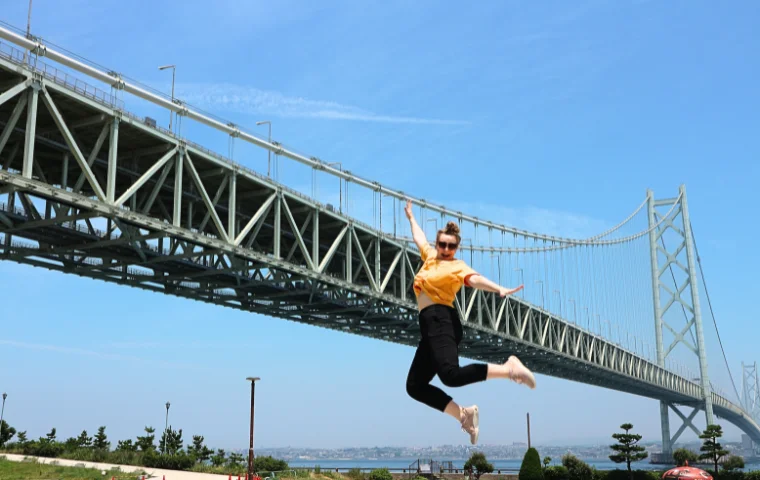 As there are many things to do on Awaji Island we can't list them all for one day, so make sure to check our other articles on two day trips and itineraries that focus on certain topics like architecture and mythology of Japan's birth.
Awaji Island Tourist Spots
Eshima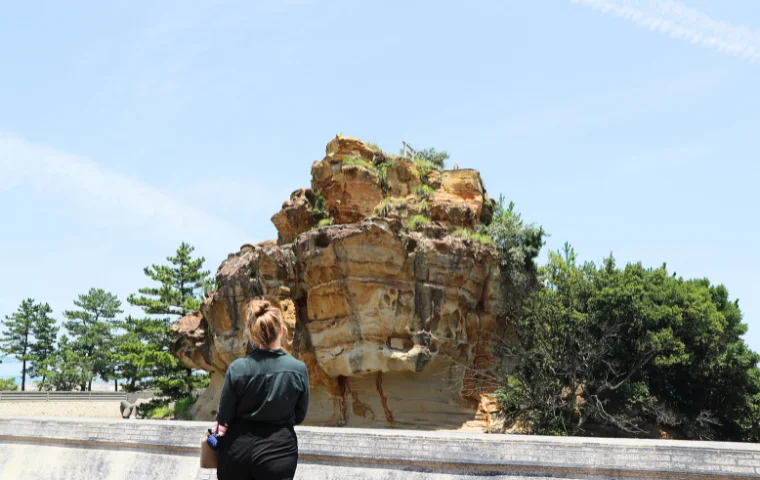 Eshima Island is a tiny sandstone island right next to the port of Iwaya at the northern part of Awaji Island. Which makes it also the best place to start in the Awaji island itinerary.
The small island is believed to be one of multiple locations identified as "Onokorojima," (the first island of Japan) a legendary island appearing in the ancient chronicles of the "Kojiki" and the "Nihon Shoki." The island was originally connected to the larger Awaji Island, but this connection was eroded away by the sea, resulting in its current shape.
If you wish to know more about the mythology regarding Awaji Island please visit our site here.
Yumebutai
This complex including a conference hall, restaurants, green house and more was designed by Tadao Ando, ​​a famous architect who won the Pritzker Prize, the Nobel Prize in architecture. It is a popular sightseeing spot on Awaji Island due to its characteristic concrete architecture and production that incorporates nature. Awaji Yumebutai is designed to be one with nature under the theme of "a space where plants and humans can coexist."
For more detailed information about Yumebutai please click here.
Hanasajiki
Awaji Hanasajiki offers a truly awe-inspiring experience during the summer months, as the vibrant sunflowers, delicate cleome, and enchanting blue salvia reach their peak. Visitors can revel in the breathtaking panorama of the sky, sea, and flower fields, all illuminated by the radiant sunshine. With approximately 200,000 vibrant sunflowers, pastel hues of cleome, and delicate shades of blue salvia, the visual spectacle is nothing short of extraordinary.
Admission to the park is free, and convenient public bus stops and parking lots are available, ensuring accessibility for all. Don't miss the opportunity to visit Awaji Island's great nature at Awaji Hanasajiki.
Hanshin Earthquake Memorial Park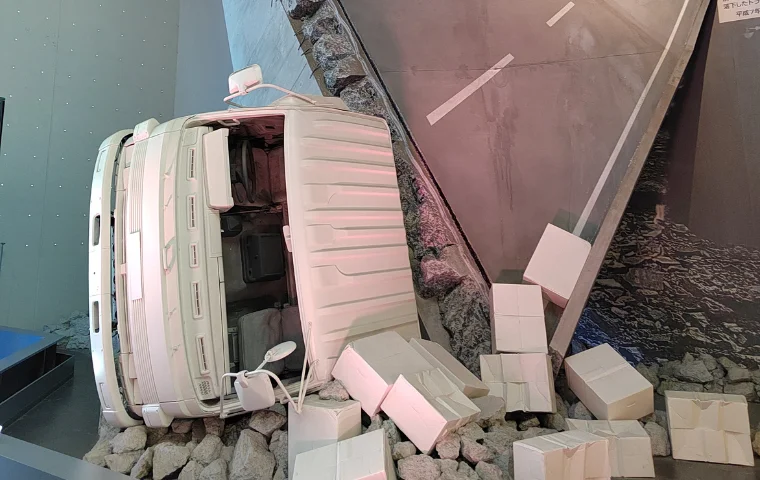 This valuable park preserves the fault that emerged during the Great Hanshin-Awaji Earthquake (Kobe earthquake). A very interesting place to visit for those who are keen on seeing what kind of destruction an earthquake can cause.
The museum has an entrance fee of ¥730 for adults and ¥310 for children. It is open from 9.00 am. – 5.00 pm. (All the information in the museum is written in Japanese.)
Izanagi Jingu Shrine
This ancient shrine embodies the great deities, Izanagi-no-Mikoto and Izanami-no-Mikoto, who are said to have given birth to Japan. A visit to Izanagi Shrine is a must when you arrive on Awaji Island. The establishment of Izanagi Shrine is recorded in the oldest Japanese texts, Kojiki and Nihon Shoki.
It is said to be the remains of the residence of the god Izanagi, who built the shrine to spend the rest of his days in, after entrusting his powers to his daughter, Amaterasu Ōmikami. Facing his eventual demise, Izanagi constructed a tomb at his Taga residence on Awaji Island. Izanagi Shrine was built around the relics of this tomb and is one of the very oldest shrines in Japan.
Recommended Beaches
Keinomatsubara might be the most famous beach on Awaji but Taganohama may be the true hidden gem. Here you'll find multiple beaches perfect for a swim, a green grass lawn to relax or play sports, convenient facilities and a few shops selling goods and light meals open in the summer season. A precious point to watch the sun descend into the ocean, painting the sky and clouds with a multitude of colors.
See here for the other popular beaches: https://en.awajishima-resort.com/best-5-beaches-on-awaji-island/
Matsuho no Sato Onsen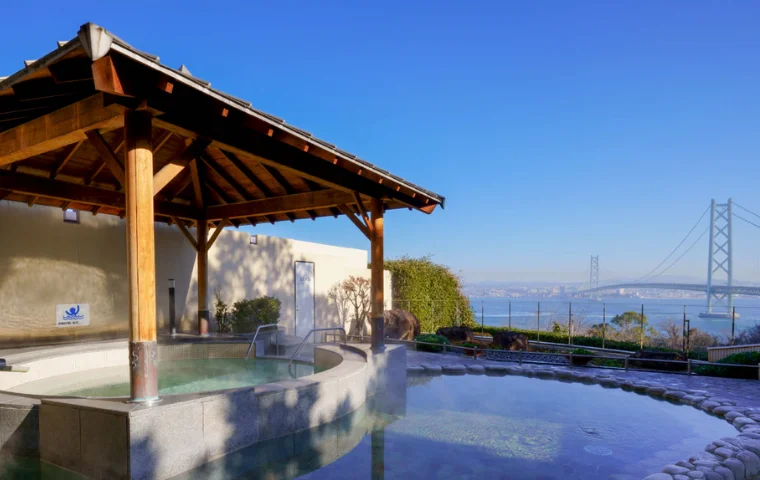 Relax your mind and body at this hot spring resort overlooking the Akashi Kaikyo Bridge. Matsuho-no-Sato, a hot spring facility located at the gateway to Awaji Island, offers a view of the bridge while you enjoy the warm baths.
Entrance fee for the Public bath is ¥730 for adults and ¥410 for children. It is open from 11.00 am. – 10.00 pm.
Akashi Kaikyo Bridge
The Akashi Kaikyo Bridge is a symbol of Awaji Island. In the daytime, the lush sea and sky and the magnificent white suspension bridge are impressive. At night, the Akashi Kaikyo Bridge is lit up and shines in various colors. It is popular as a scenic spot for the night view, and it is also famous as a spot where many people stop by as the final point of sightseeing in Awaji Island.
Recommended Places to Eat on Awaji Island
While exploring Awaji Island one must eventually take a break and eat. Among the top Awaji Island restaurants, you can enjoy the local seafood and other delicacies that the island provides.
Craft Circus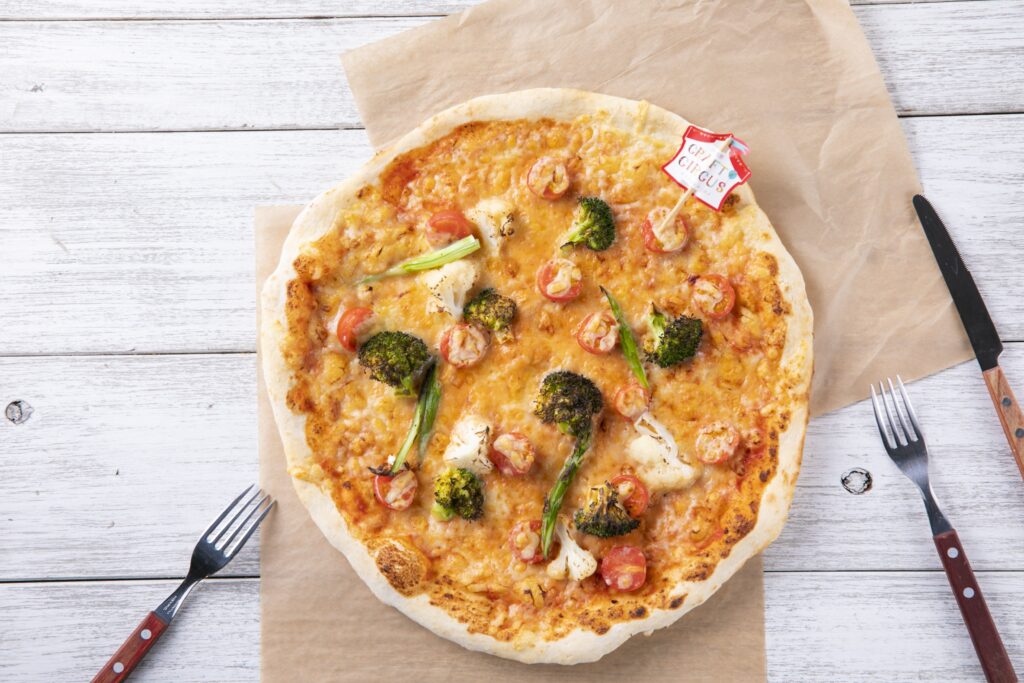 At Craft Circus, you can satisfy your summer cravings with the popular menu featuring a variety of delicious options. With eight pizzas featuring locally sourced ingredients like onions, Awaji octopus, beef, and shirasu (whitebait), it is guaranteed that you will enjoy your food. These generously sized 40-centimeter pizzas are perfect for sharing.
Chef's Garden by PASONA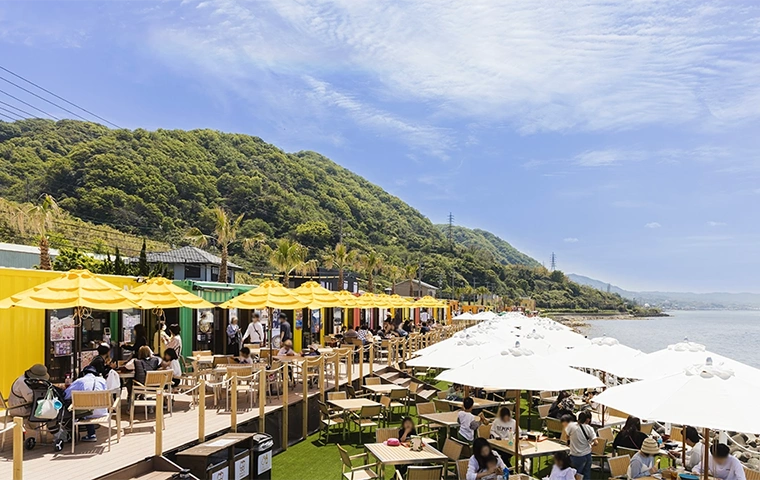 Awaji Chef's Garden by PASONA is an area featuring a variety of dishes and offers a breathtaking view selected as one of Japan's "Top 100 Sunsets." With approximately 30 restaurants to choose from, you can enjoy a selection of meals based on your preferences while gazing at the sea and the sunset.
Haru San San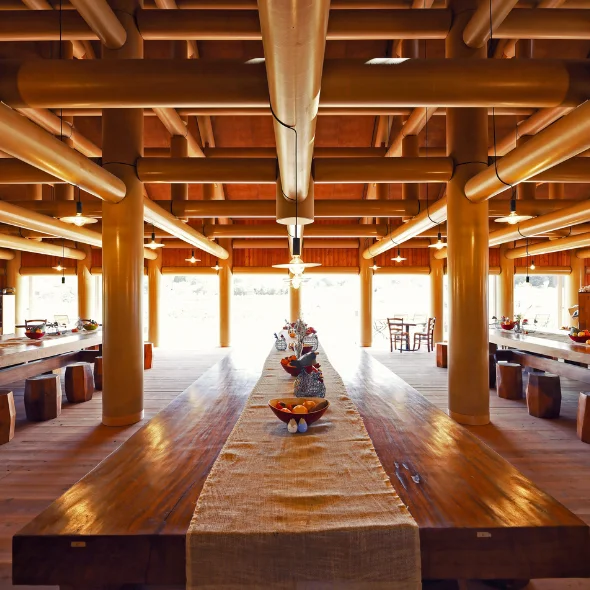 Designed by world renowned architect Shigeru Ban, this restaurant is an ode to sustainability with a thatched roof supported by pillars made of paper tubes. It's an eco-friendly restaurant in the middle of a farm, where the ingredients for the dishes are also grown sustainably.
miele