When it comes to Japan's astonishing architectural achievements, major cities like Tokyo, Osaka or Kobe tend to steal the limelight. Recently however, Awaji Island has emerged as a new must-see destination for anyone interested in cutting-edge spatial design. In this article, catch a glimpse of the island's architectural wonders, highlighting the remarkable creations of two esteemed architects: Tadao Ando and Shigeru Ban.
Architectural Harmony: Tadao Ando's Designs on Awaji Island
World-renowned architect Tadao Ando has gained global acclaim for his minimalist design and innovative use of light and space. For his inspiring contributions to the world of architecture, the Osaka native has been awarded numerous honors, including the Pritzker Architecture Prize in 1995, regarded as the field's highest honor.
Yumebutai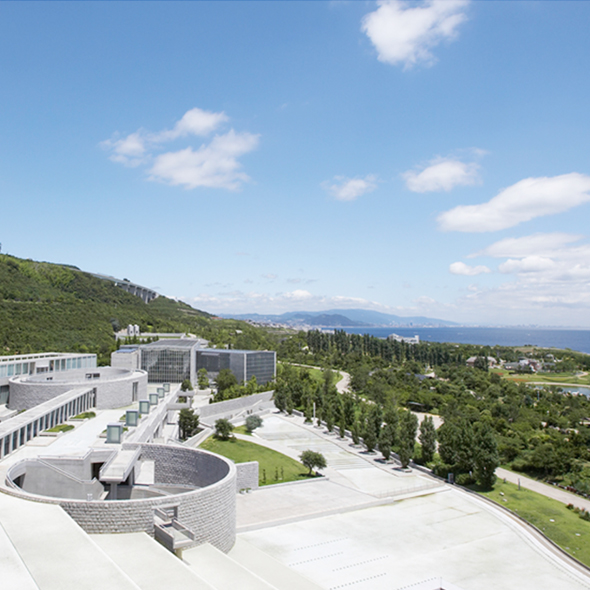 One of Mr.Ando's most notable architectural feats is Yumebutai on Awaji Island, a complex that seamlessly weaves shops, restaurants, an international conference center, luxury hotel, 6700 sq.m greenhouse and more into the natural beauty of the coastal scenery. As a memorial to victims of the 1995 victims of the Great Hanshin Earthquake, the intertwined network of 100 flower beds called Hyakudanen (100-step garden), showcases a diversity of botanical blooms "to calm the souls of those who lost their lives in the disaster". Those who climb these garden terraces are rewarded with panoramic views sweeping over Osaka Bay. The low, concrete structure sprawls across the former epicenter of the earthquake, acting as tribute and guardian of the natural environment with which it blends harmoniously.
Honpukuji Mizumido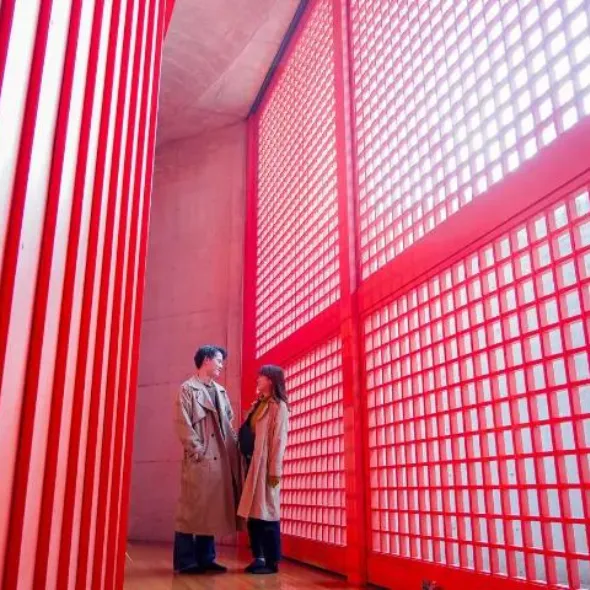 Tadao Ando's Honpukuji Mizumido, also known as the Water Temple, is an awe inspiring space. At most Buddhist temples, visitors climb upwards. Here, however, Ando inverts the direction with an entrance that lies downward through a flight of stairs that bisects an enormous, shimmering pool of waterlilies reflecting the surrounding sky and trees. After descending through the plain concrete walls into darkness, a warm glow gradually brightens the curved path that traces the contour of the pool above. Finally we emerge into the crimson heart of the inner sanctum, illuminated by a single source of natural light that filters through a sharp geometric grid and thoughtfully placed gaps, permeating the space to create a divine ambience. Stark contrasts of the plain exterior with the vermillion center, of light and shadow, create a moving sensory experience.
The Elegance of Simplicity: the Architecture of Shigeru Ban
Shigeru Ban is a legendary Japanese architect widely recognized for his utilization of materials such as cardboard and wood. His sustainable and cost-effective building solutions to provide shelter for refugees, victims of natural disasters and others in need has earned him global acclaim. Like Tadao Ando, Shigeru Ban received the prestigious Pritzker Architecture Prize for his exceptional ability to seamlessly integrate aesthetics and functionality with social responsibility in his designs.
Shigeru Ban's masterpiece on Awaji Island: Zenbo Seinei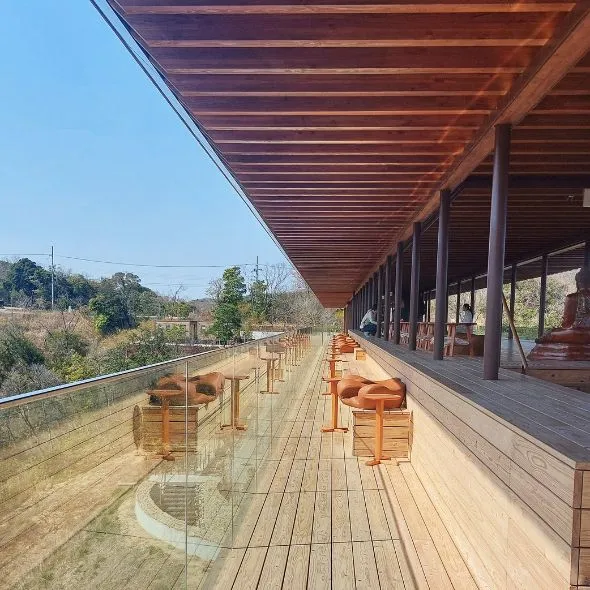 Zenbo Seinei on Awaji Island, stands as one of Shigeru Ban's most exceptional works. This zen wellness center made primarily of wood, embodies his unique architectural style. The majestic form seems to float above the surrounding treetops. Standing on the 100-meter shaded but open Zen deck, one can bask in the sunlight and soft breeze, amid breathtaking greenery. At night, the sky is full of stars.
Zenbo Seinei has become increasingly popular since its opening, attracting individuals who seek a break from their busy lives to prioritize mental and physical well-being. Offering instructor-led sessions of yoga and meditation, visitors can recharge body, mind and soul. Awaji Island's tranquil environment is an ideal backdrop for a Zen retreat, to reconnect not only with ourselves but also with nature, for a sense of mental and spiritual "wholeness".
Click here for details of ZEN Wellness SEINEI
Shigeru Ban's Architectural Building on Awaji Island: Haru San San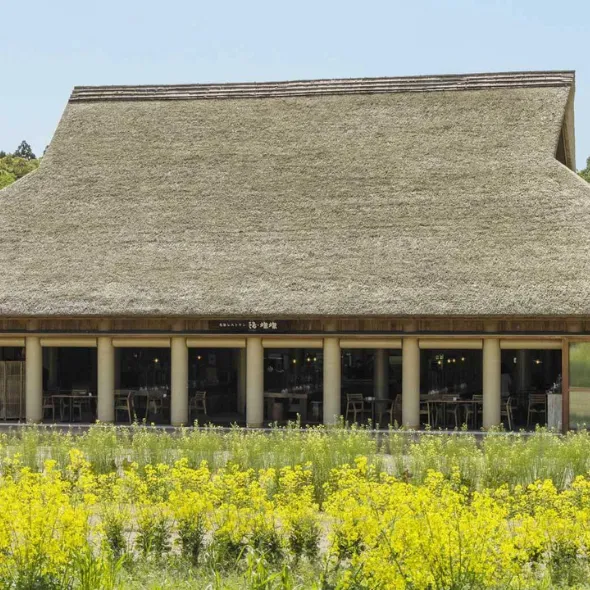 Another example of Shigeru Ban's work on Awaji Island is the restaurant, Haru San San. Mr. Ban has stated that "context is most important" for his designs, a perspective plain to see here in the seamless harmony of the wood building with its surrounding landscape. With a traditional kayabuki thatched roof and a wood interior supported by paper pipes, Haru San San is a true testament to Shigeru Ban's innovative use of materials.
At Haru San San, the culinary focus is on freshly harvested vegetables from Awaji Island, prepared with skill and care to bring out the best natural flavors. Salads and soups highlight the treasures of each season for a delightful culinary experience only possible on Awaji Island.
Click here for details of Haru San San
Awaji Island, often overshadowed by neighboring cities, is a hidden gem for architectural wonders. Through the visionary works of architects like Tadao Ando and Shigeru Ban, the island showcases the perfect combination of nature, design, and creativity for truly inspiring travel.