Awaji Island, affectionately dubbed "miketsukuni" (the region which offered high-quality produce and seafood to the imperial court) since ancient times, is graced with bountiful agricultural and marine products. In the first part of this article, we will unveil a collection of restaurants that harness the diverse range of specialty ingredients unique to Awaji Island, offering delectable dishes that fully use the ingredients' inherent potential.
Awaji Island Onions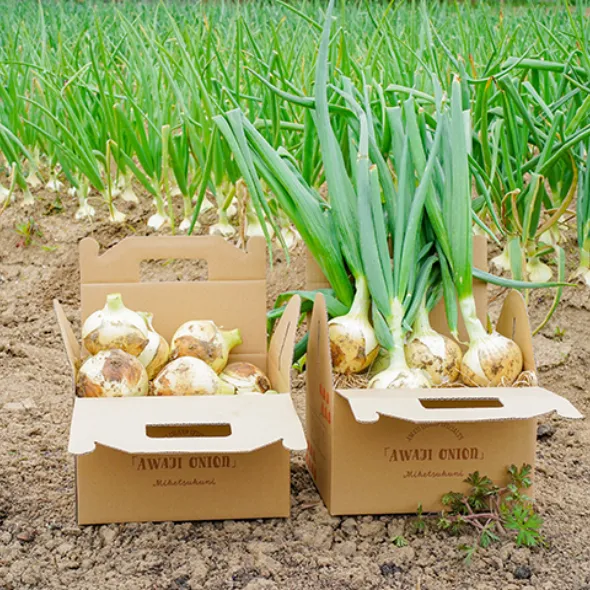 Among the remarkable array of specialties found on Awaji Island, onions stand tall. Awaji Island onions have gained popularity primarily due to their remarkable sweetness. This exceptional sweetness can be attributed to the abundant sunlight the island receives and the mineral-rich composition of its soil. In fact, these onions are approximately 1.4 times sweeter than your average variety. Characterized by their tender texture and elevated moisture content, Awaji Island can be consumed without cooking, making them a perfect addition to salads when enjoyed raw.
Café Scuola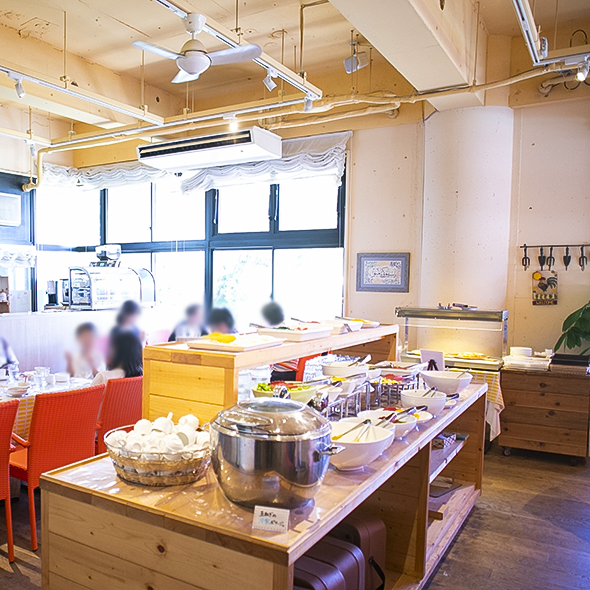 If you are eager to savor the deliciousness of Awaji Island onions, look no further than Café Scuola. It is situated in the Nojima Scuola complex on Awaji Island, a unique renovation project of a former elementary school that has become a beloved destination for locals. This modest café-restaurant offers a lavish salad bar filled with a variety of Awaji Island vegetables. Here, the famous Awaji Island onions shine, ready for you to enjoy as much as you like. The combination of Awaji Island vegetables and onions is truly exquisite, a compelling reason in itself to visit this place.
Name
Nojima Scuola
Adress
843 Nojimahikinoura, Awaji City, Hyogo Pref. 656-1721
Website
https://www.nojima-scuola.com/
Reservations
2F Ristorante Scuola
https://www.tablecheck.com/en/shops/nojima-scuola/reserve
Tel
0799-82-1820
Operation Hours
1F Marché /Bakery: Weekdays 10:30~19:00
Sat., Sun., & Public Holidays 10:00~19:00

1F Café Scuola: Weekdays Lunch 11:00~14:00/ café 14:00~18:00
Sat., Sun., & Public Holidays breakfast 10:00~11:00
Lunch 11:00~15:00
Café 15:00~18:00

2F Ristorante Scuola: 11:30~15:30 (in by 14:00) / 18:00~21:30 (in by 19:30)

Outdoor Zoo: Weekdays 11:00~16:00
Sat., Sun. & Public Holidays 10:00~16:00 (13:00~14:00 animals in recess)

Closed: Wednesdays (Open on Public Holidays)
Click here for details of Nojima Scuola
Farmer's Restaurant Haru San San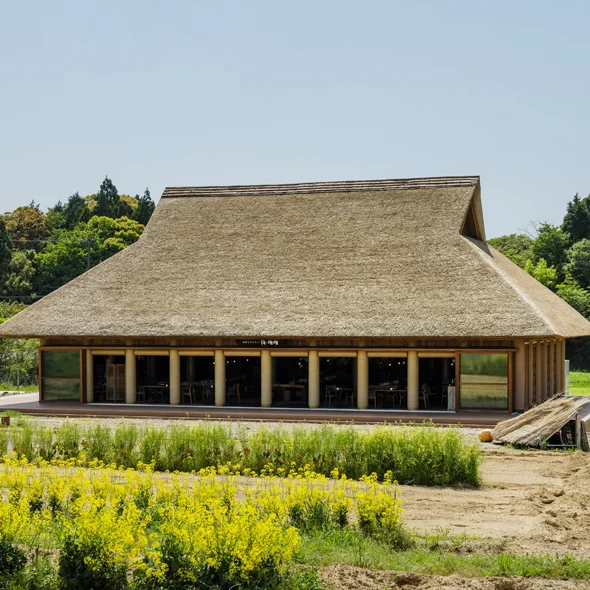 The culinary focus at Haru San San centers around freshly harvested vegetables from Awaji Island, prepared with utmost skill and care to highlight their natural flavors. The menu features salads and soups that capture the essence of each season, offering visitors a delightful culinary experience unique to Awaji Island. Haru San San prioritizes sourcing ingredients directly from local farmers, ensuring freshness, supporting the local economy, and reducing food waste. The salads and soups are elevated by the addition of Awaji Island's renowned onions. From homemade bread and pasta to satisfying main courses, each dish carries the essence of these exceptional onions, ensuring a memorable experience.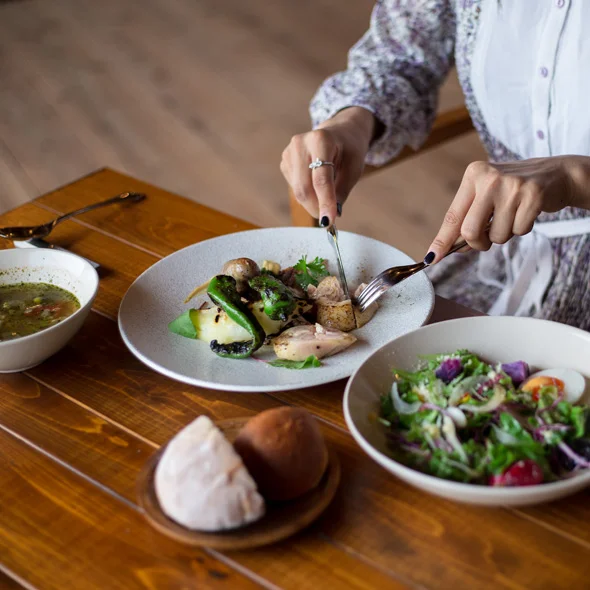 The restaurant proudly presents a spacious field in front of the restaurant so guests can dine while being fully immersed in the surroundings. The restaurant also exemplifies Shigeru Ban's architectural prowess. Shigeru Ban's belief in the significance of context for his designs is evident in the seamless integration of the wooden structure with the surrounding landscape.
Click here for details of Haru San San
Awaji Island Ebisu Sea Bream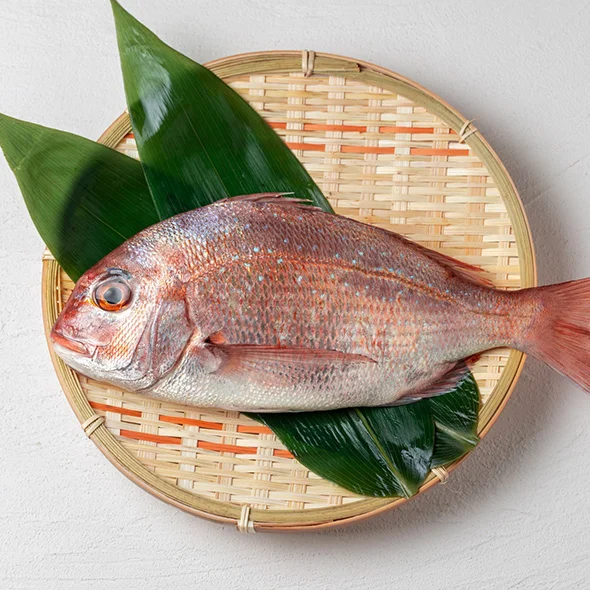 Awaji Island Ebisu Sea Bream is a new brand of fish that debuted in the autumn of 2021. The brand refers to natural sea breams caught at fishing ports around Awaji Island. Awaji Island is surrounded by three straits—the Naruto Straits, Akashi Straits, and Kitan Straits. They are known for their powerful tides and this results in a rich supply of flavorful, high-quality sea bream. The swift currents also encourage these sea bream to be active, leading to a muscular texture and exceptional taste. Awaji Island Ebisu Sea Bream is a culinary delight available at inns and restaurants across the island and is truly an authentic representation of Awaji Island's maritime magnificence.
SEIKAIHA Aonoya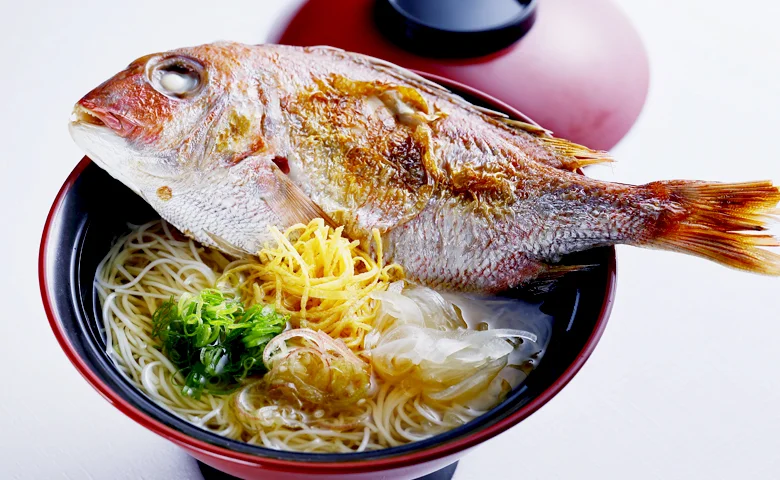 Aonoya is nestled along the picturesque western coastline of Awaji Island. Here, you can relish the panoramic views of the sea while indulging in a unique delicacy "sea bream soumen" made from the entire body of Awaji Island Ebisu sea bream. It is a traditional dish that has been cherished through the years. Moreover, Aonoya's allure lies in the offerings of freshly prepared sushi, flavorful tempura, and meticulously crafted Japanese side dishes that are sure to leave a lasting impression.
Click here for details of SEIKAIHA - Aonoya
SEIKAIHA Uminoya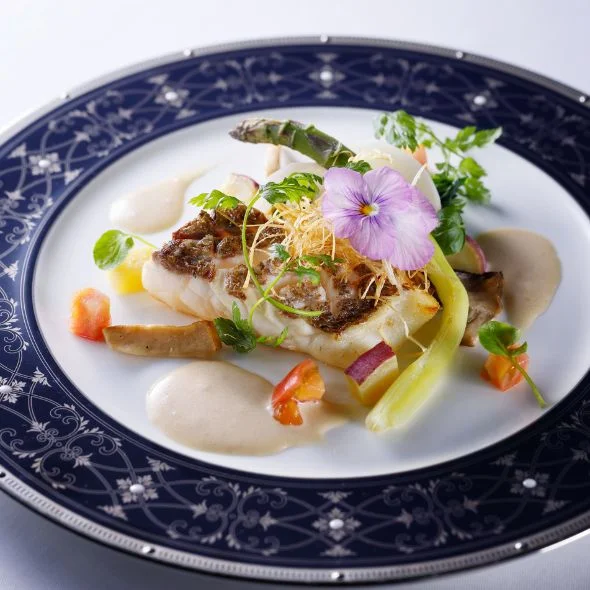 SEIKAIHA Uminoya stands as a symbol of refined Western cuisine from the Meiji era in Japan. With the sea stretching out offering a breathtaking panorama of Awaji Island's western shoreline, the restaurant offers a combination of delectable cuisine and live music, creating an unforgettable experience for guests. Indulge in a sense of nostalgia from the restaurant's atmosphere while savoring exquisite high-quality Western cuisine. One of the standout dishes on the menu is the "Awaji Island Lemon Aroma Poached Sea Bream with Colorful Vegetables", showcasing the flavor of Awaji Island's specialty Ebisu sea bream.
Click here for details of SEIKAIHA - Uminoya
Awaji Island Shirasu (Whitebait)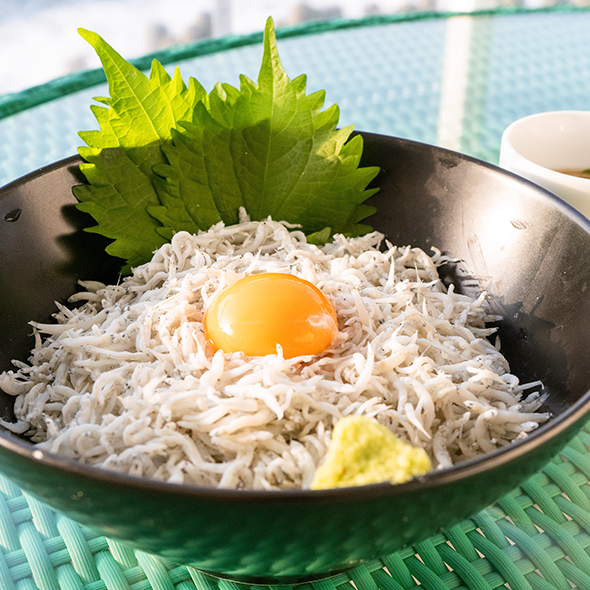 Hyogo Prefecture holds a distinguished reputation for its valuable shirasu (whiebait), proudly bearing the title of Japan's largest contributor of the ingredient. Nestled in an optimal maritime location and blessed with abundant fishing grounds, Awaji Island stands as a significant origin of this delectable delicacy. As a result, restaurants that showcase this delicacy hold an esteemed reputation, adeptly turning shirasu into a culinary gem.
miele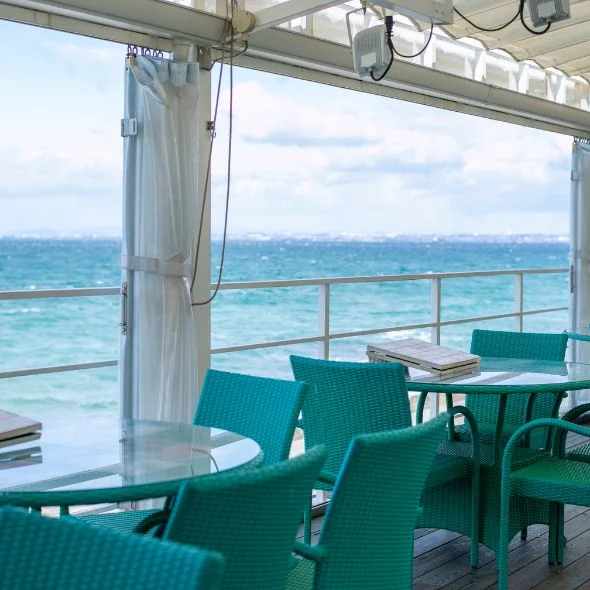 miele on Awaji Island is a culinary gem that offers a unique experience. The restaurant combines exceptional food and service with stunning views to create an unforgettable experience. The aspect of miele's dining experience that is truly astonishing is its remarkable and unique food. One that has gained particular fame is the shirasu pizza (also known as whitebait pizza), which is a must-try for anyone visiting the restaurant. The staff will keep pouring shirasu onto your pizza until you signal to stop, allowing you to enjoy a generous serving of this delightful ingredient.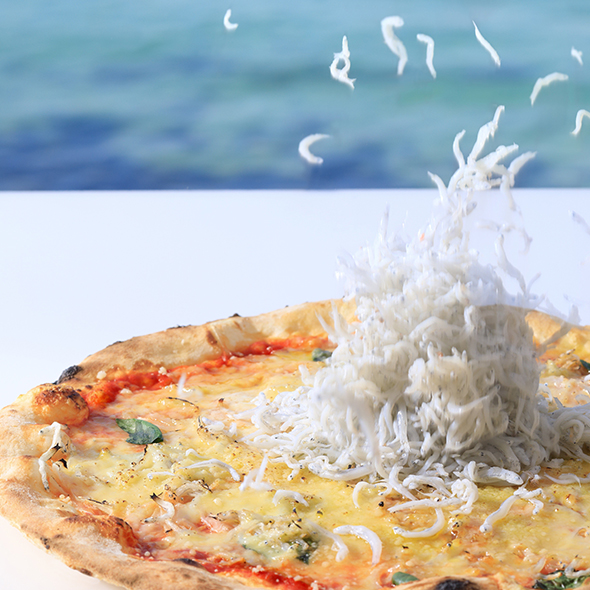 "Awaji Island Kama-age Shirasu Donburi" also stands as one of the favorites. It is a rice bowl topped with boiled shirasu that lets you experience the true essence of this maritime delicacy. The combination of shirasu, soy sauce, and egg yolk is extremely delicious, inviting everyone to experience the culinary delight of Awaji Island.
Name
miele
Adress
785-9 Nojimahikinoura, Awaji City, Hyogo Pref. 656-1721
Tel
0799-80-2600
Operation Hours
Weekdays 11:00~19:00 (L.O.18:30)
Sat., Sun, & Public Holidays 9:30~19:30 (L.O.19:00)
Closed: Tuesdays
In Aug. and Sept. it will not be closed on Tuesdays
Website
https://www.miele-da-scuola.com/
Click here for details of miele
CRAFT CIRCUS Kaiou Ichiba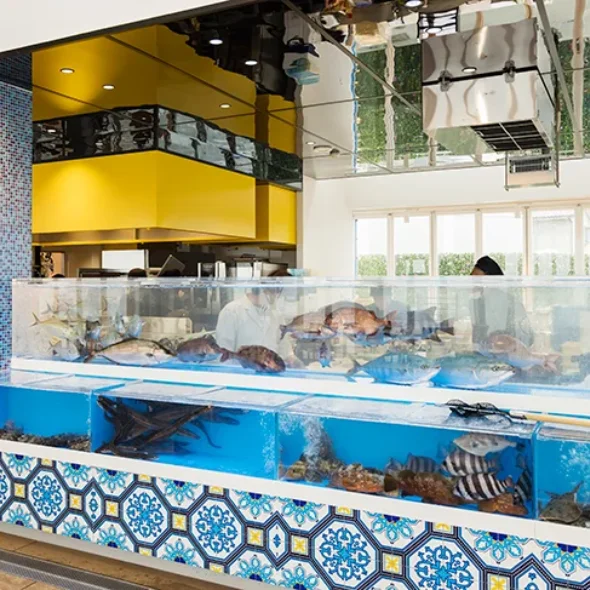 Awajishima Kaiou Ichiba at CRAFT CIRCUS welcomes guests to embark on a culinary journey that celebrates the abundance of the sea, where seafood and BBQ thrive. The highlight is the "Nama Shirasu Don", a rice bowl adorned with fresh raw shirasu, subtly complemented by the presence of yam. Awaji Island's unique shirasu pairs wonderfully with the delicate taste of yam, resulting in a harmonious combination of flavors. Kaiou Ichiba offers the opportunity to relish barbecuing fresh seafood on the open-air terrace, without the need to bring your own supplies. This makes it an ideal choice for a laid-back and rejuvenating experience.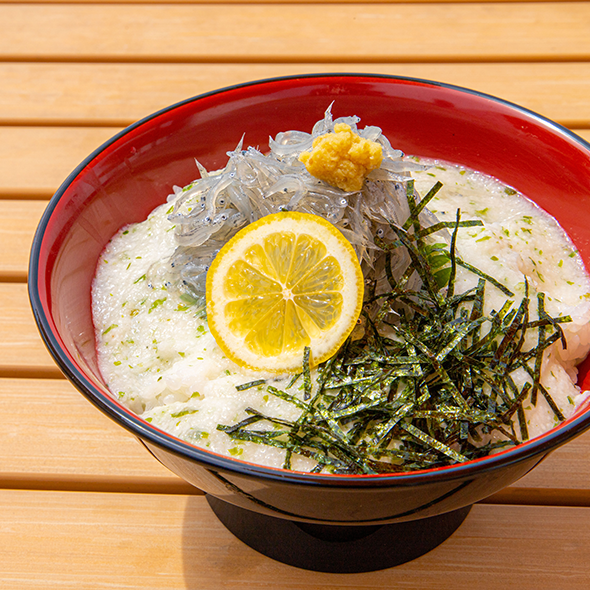 Location
CRAFT CIRCUS
Address
2-2 Nojima-Hirabayashi, Awaji City, Hyogo Pref. 656-1724
Access
15 minutes by car from Awaji IC on Awaji-Kobe-Naruto Expressway. 10 minutes by car from Iwaya Port (Jenova Line Ferry).
Parking
80 spaces
Business Hours
Weekdays: 10:30-20:30 (last order 19:30)
Weekends/Holidays: 9:30-20:30 (last order 19:30)
Closed
Thursdays (excluding national holidays)
Tel
0799-82-1855
Website
https://awajicraftcircus.com/
Reservations
https://www.tablecheck.com/en/shops/craftcircus/reserve
Click here for details of CRAFT CIRCUS
Explore More of Awaji Island's Local Specialties!
Awaji Island is a treasure trove of delightful culinary experiences waiting to be discovered. In this article, we have delved into three local specialties unique to Awaji Island and shared the best places to enjoy them. Luckily, there's still more to uncover. For the continuation of our journey through Awaji Island's local delicacies, check out the second part of the article here.