Nestled amidst the serene beauty of nature and boasting a reputation for its delectable cuisine, Awaji Island has long been a hidden gem in Japan's cultural tapestry. Awaji Island, located very close to the bustling city of Osaka, has drawn travelers seeking an escape into tranquility and flavor. However, there is more to this enchanting island beyond its beautiful landscapes and food. Awaji Island has also carved a special place in the hearts of Hello Kitty enthusiasts, making it a whimsical destination like no other.
Hello Kitty, the iconic cute character that has captured the affection of countless admirers worldwide, finds an unexpected home on the shores of Awaji Island. For those who have been captivated by Hello Kitty's enduring allure, Awaji Island emerges as a must-visit destination, inviting enthusiasts to indulge in a playful fusion of nature's splendor and the charm of Hello Kitty.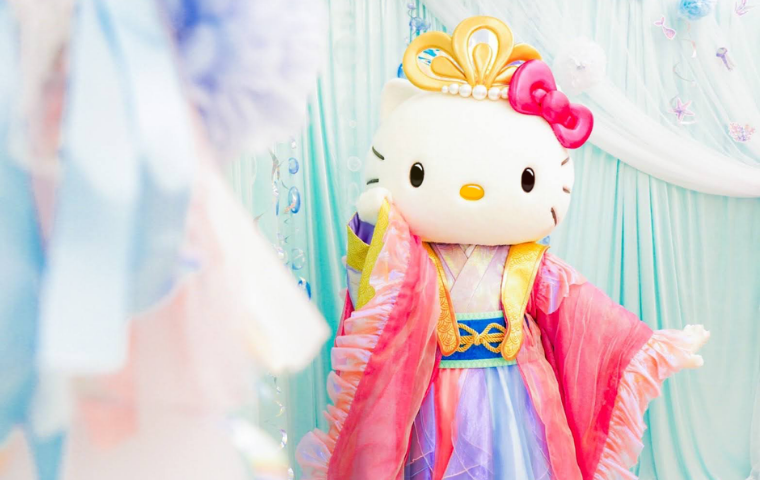 While Hello Kitty admirers may already delight in numerous themed stores scattered throughout Osaka, the journey to Awaji Island offers an opportunity to delve even deeper into the world of this iconic character. In this article, we present an enticing overnight trip from Osaka, inviting you to venture into the heart of Awaji Island's Hello Kitty paradise.
The best way to explore this enchanting domain is by car or taxi, as it grants you the freedom to traverse the island at your own pace, unveiling a series of delightful Hello Kitty-themed surprises along the way. However, if your mode of travel involves bus, there is no need for concern. We have also included a basic guide at the end of this article, providing you with essential information on how to navigate the bus system for a seamless experience during your overnight trip.
9:40 AM – 10:50 AM Travelling from Osaka to HELLO KITTY SHOW BOX
Drive from Osaka, a leisurely hour and ten minutes to the captivating HELLO KITTY SHOW BOX on Awaji Island. This unique complex, characterized by an apple-shaped red building and an elegant white counterpart, marks the starting point of your Hello Kitty expedition. Prepare to be enthralled as you step into this whimsical world, where imagination knows no bounds and the charm of Hello Kitty awaits at every turn.
11:00 AM to 1:30 PM Immerse Yourself with Hello Kitty Theme Shows and Cuisine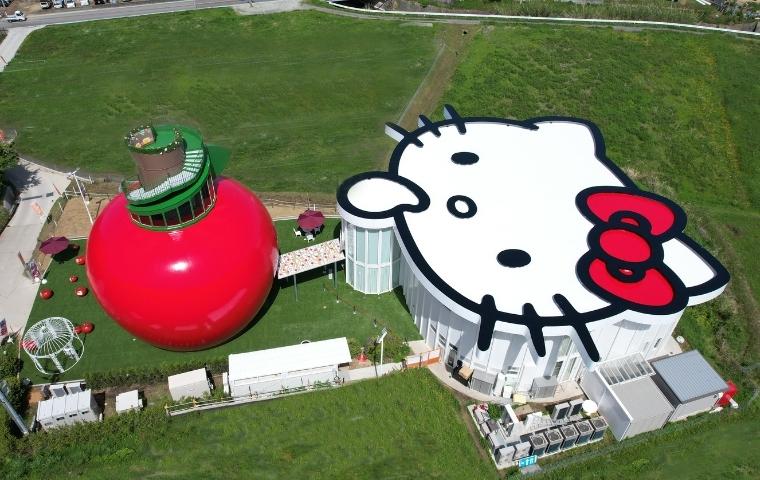 HELLO KITTY SHOW BOX uses the theater restaurant concept, offering a delightful blend of entertainment, dining, and shopping. At lunchtime, you can enjoy the captivating Hello Kitty Jazz band show, featuring a lively performance and projection mapping on a grand screen. With each season, the show transforms, ensuring a fresh and enchanting experience every visit. The vegan cuisine is Hello Kitty themed and not only does it is fun to look at, but it also tastes great. The healthy and environmentally conscious menu was created by Hal Yamashita, an award-winning chef who has traveled the world and developed his own fusion style of cooking.
Do not forget to check the second floor after the performance, as this is your opportunity to purchase limited edition Hello Kitty goods. If you are a fan of Hello Kitty, you will be amazed by the items sold at the store.
1:30 PM to 2:30 PM Witness the Brilliance of Hello Kitty Projection Mapping at HELLO KITTY APPLE HOUSE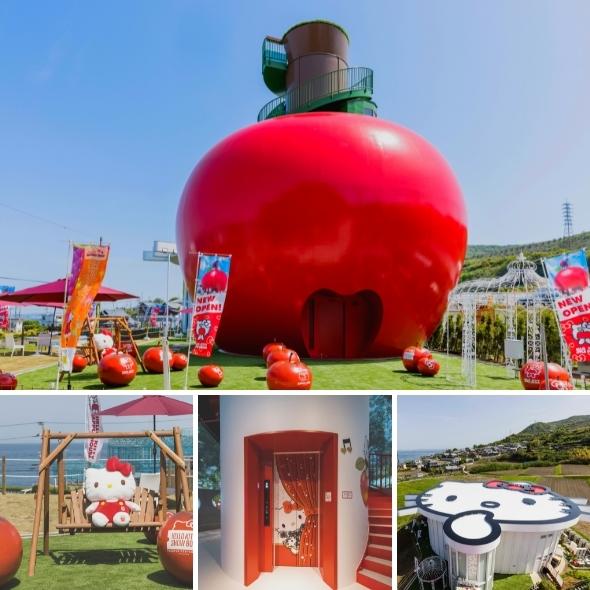 While the theater restaurant stands out for its excellence, there are further delights awaiting your exploration. Just opposite the restaurant stands the remarkable Awaji Apple House, an expansive structure molded in the shape of an apple and dedicated to Hello Kitty.
Here, you can seamlessly immerse yourself in Hello Kitty's realm through the mesmerizing art of projection mapping. Ascending the building, you will discover a panoramic 360° observation deck offering breathtaking views of the picturesque surroundings. The rooftop of the theater restaurant, adorned with a charming Hello Kitty design, is only visible from the Hello Kitty Apple House, adding to the allure of this enchanting experience.
| | |
| --- | --- |
| Location | HELLO KITTY SHOW BOX |
| Address | 177-5 Nojimahirabayashi, Awaji City, Hyogo Pref. 656-1724 |
| Access | 10 minutes by car from Awaji IC and 15 minutes from Hokudan Interchange on Kobe-Awaji-Naruto Expressway. |
| Phone Number | 0799-70-9022 |
| Parking | Free parking available |
| Closed | Wednesdays |
| Operating Hours | 11:00-17:00 |
| Show Time | 12:10-13:30(Open at 11:00, Last In at 12:00) |
| Café and Greetings by HELLO KITTY | 14:00-17:00 Greeting at 14:30-/16:00- Café Show and Greetings by HELLO KITTY: 14:30~ / 16:00~ |
| Website | https://awajiresort.com/hellokittyshowbox/ |
| Reservations | https://www.tablecheck.com/en/shops/hellokittyshowbox/reserve |
Click here for details of HELLO KITTY SHOW BOX
2:35 PM to 02:40 PM Travelling to HELLO KITTY SMILE
A mere five-minute drive separates Hello Kitty Showbox from the next stop on your Hello Kitty adventure: Hello Kitty Smile. Get ready to continue your enchanting journey in the world of Hello Kitty.
2:45 PM to 5:15 PM Enter the Realm of Hello Kitty at HELLO KITTY SMILE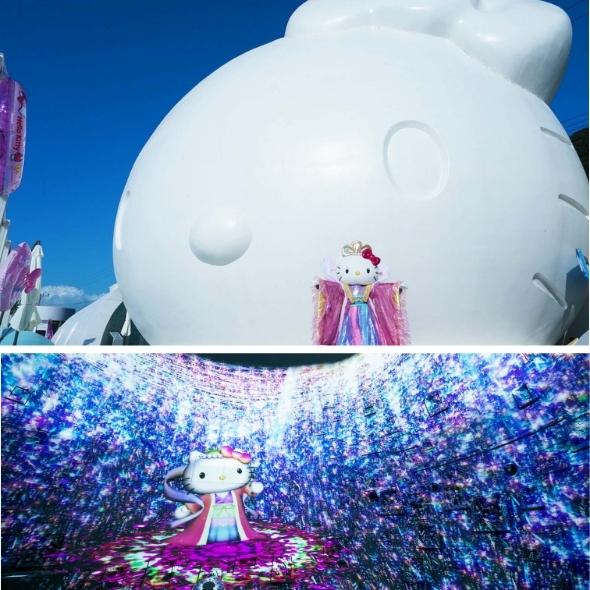 HELLO KITTY SMILE offers a captivating experience where you can immerse yourself in a projection mapping spectacle inspired by the Palace of the Dragon Princess, a setting from the renowned Japanese folk tale "Urashima Taro". You will be able to enjoy an outstanding 5-minute projection mapping of Hello Kitty guiding you through the Palace of the Dragon Princess. This unique attraction boasts diverse zones, including a picturesque photo-op area adorned wall-to-wall with Hello Kitty motifs and an interactive visual that responds to touch.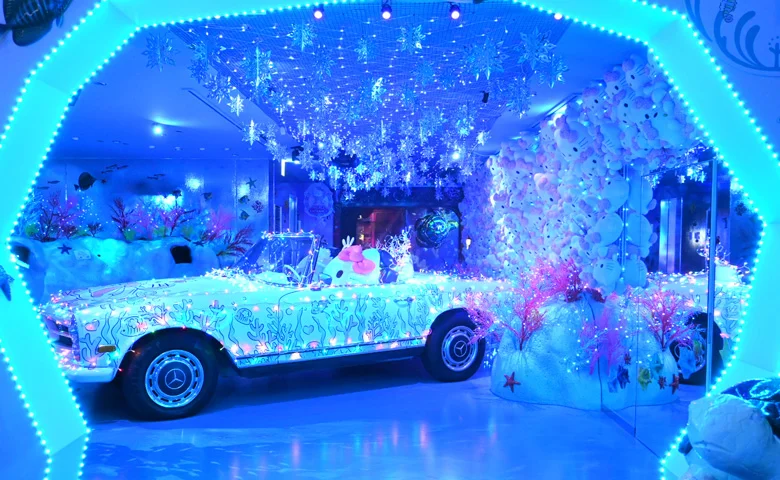 Exclusively at HELLO KITTY SMILE, an opportunity awaits to meet and capture memories with Hello Kitty dressed in her captivating Japanese-style princess attire. To make the most of this experience, Hello Kitty enthusiasts can participate in designated greeting sessions scheduled every hour, with the exception of 4 PM.
5:30 PM to 6:30 PM Have a Wonderful Dinner at Tamatebako at HELLO KITTY SMILE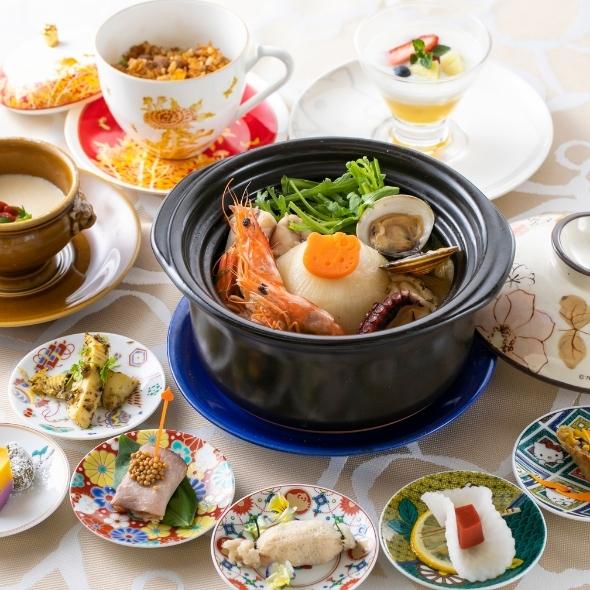 There are four restaurants in the facility, where you can enjoy authentic Chinese cuisine, pasta, sweets, and other delicacies using the abundant ingredients of Awaji Island. However, Tamatebako comes highly recommended for its exquisite Chinese cuisine. Adding a touch of charm to the dining experience, some of the dishes are artfully presented on plates and bowls adorned with adorable Hello Kitty designs, infusing an irresistible cuteness into the ambiance. The restaurant holds a strong emphasis on Awaji Island and the utilization of domestically sourced ingredients. Specializing in the art of crafting nutritious one-pot meals, the restaurant guarantees to prioritize your wellbeing as well.
Click here for details of HELLO KITTY SMILE
6:35 PM to 6:50 PM Travelling to GRAND CHARIOT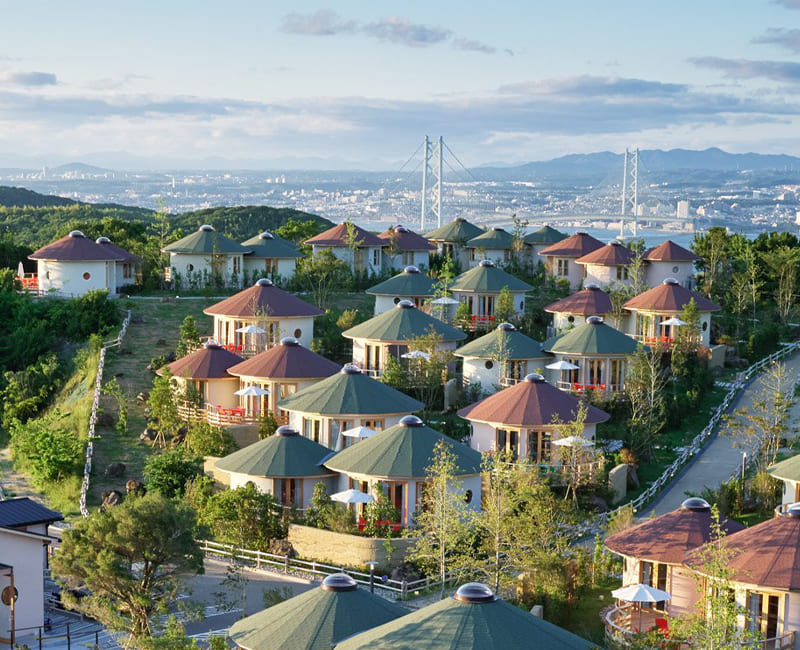 A mere 12-minute drive from the HELLO KITTY SMILE attraction, GRAND CHARIOT Hokutoshichisei 135° stands as one of Awaji Island's premier havens of luxury and refinement. The charming cottages, resembling separate cocoons, offer a unique and cozy experience. Each room exudes warmth with its wooden interiors and boasts skylights that provide an opportunity to relish nature, stargazing, and basking in the morning sun.
7:00 PM Experience an Adorable Night's Stay in Hello Kitty-themed Rooms
The Hello Kitty-themed accommodations have gained immense popularity among visitors to Awaji Island. You can relax in a comprehensive Hello Kitty resort experience, encompassing interior designs, decorations, and even amenities all themed around the beloved character. It offers you an opportunity to unwind in the midst of nature while stepping into the enchanting universe of Hello Kitty.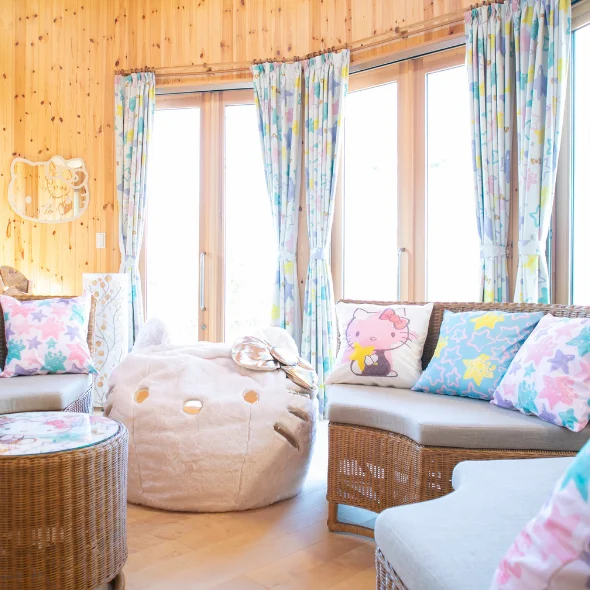 The resort boasts three distinct Hello Kitty-themed rooms. In the "Hello Kitty 70's" room, you can journey back in time to the character's 1970s origins, enveloping yourself in a wave of nostalgia. The "Hello Kitty Natural Forest" room allows you to bask in the beauty of nature within a forest-inspired setting. Meanwhile, the "Hello Kitty Star Cocoon" room is dedicated to the celestial theme of stars with Hello Kitty, creating a truly unique and adorable experience. You can even get exclusive original goods by staying in the above rooms!
See this article to know more about Hello Kitty theme rooms at GRAND CHARIOT.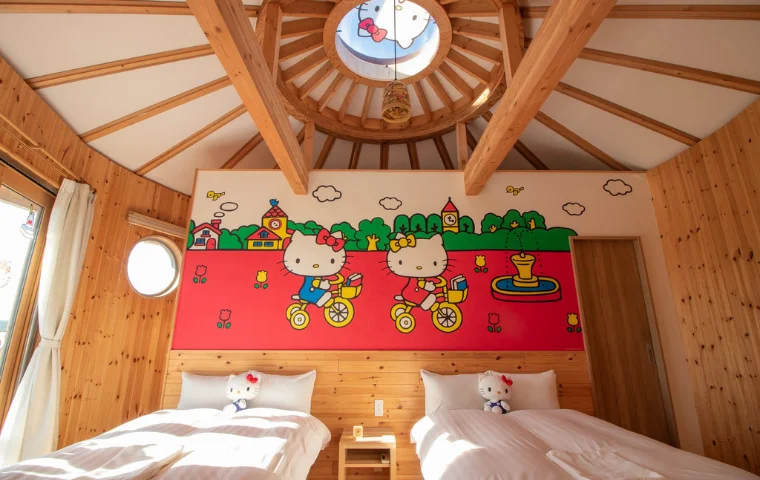 As the night falls, unwind and rejuvenate in the utmost comfort of your room. Greet the morning with its soft light, setting the stage for a delightful awakening. Begin your day with a sumptuous breakfast at GRAND CHARIOT, bringing a splendid close to your remarkable overnight adventure in the captivating world of Hello Kitty.
Click here for details of GRAND CHARIOT
Traveling by Bus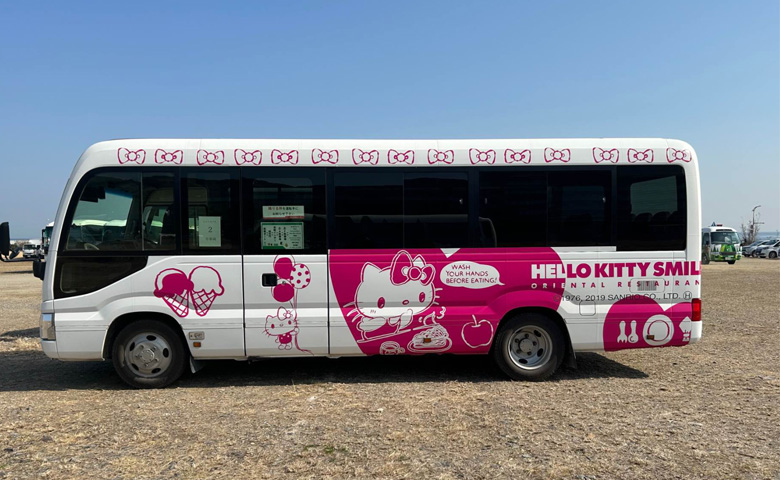 No need for concern, as traveling by bus is indeed a possible option. While it may require more time compared to the schedule mentioned above, the essence of enjoyment and the creation of unforgettable memories remain unchanged. Your journey will still be filled with immense fun and the opportunity to craft cherished experiences.
To embark on your adventure, you can conveniently travel from Osaka Station to Sannomiya Station via the Tokaido Sanyo Line. From Sannomiya Bus Terminal, your journey continues to Nojima Okawa (Seikaiha mae) via Hokudan IC, leading you to Hello Kitty Showbox. Once there, take advantage of the complimentary shuttle service, which seamlessly transports you from HELLO KITTY SHOW BOX to HELLO KITTY SMILE. Similarly, you can rely on the same free shuttle service to travel from HELLO KITTY SMILE to your final destination, GRAND CHARIOT. Stop at Nijigen no Mori F parking lot, and from there, a short and pleasant stroll will lead you to GRAND CHARIOT.
Closing
Awaji Island's Hello Kitty-themed adventure offers more than just an overnight trip; it is an immersive journey through time and nature. As the day transitions to night, the charm of Hello Kitty continues to shine within the themed rooms at GRAND CHARIOT. This overnight trip, where the fusion of cuteness and comfort is guaranteed to create unforgettable memories. Awaji Island invites you to escape into its magical world, offering a journey into the heart of Hello Kitty's realm.
© 2022 SANRIO CO., LTD. APPROVAL NO. L630451