Awaji Island is known as the birthplace of Japan and therefore has multiple tourist spots regarding this mythology, but they are not the only places to visit when coming to Awaji Island. In this list, we introduce some of the most popular and famous tourist attractions on Awaji Island for you to visit.
If you wish to see other places and learn more, please see our one– and half-day itinerary suggestions when coming to Awaji.
Izanagi Jingu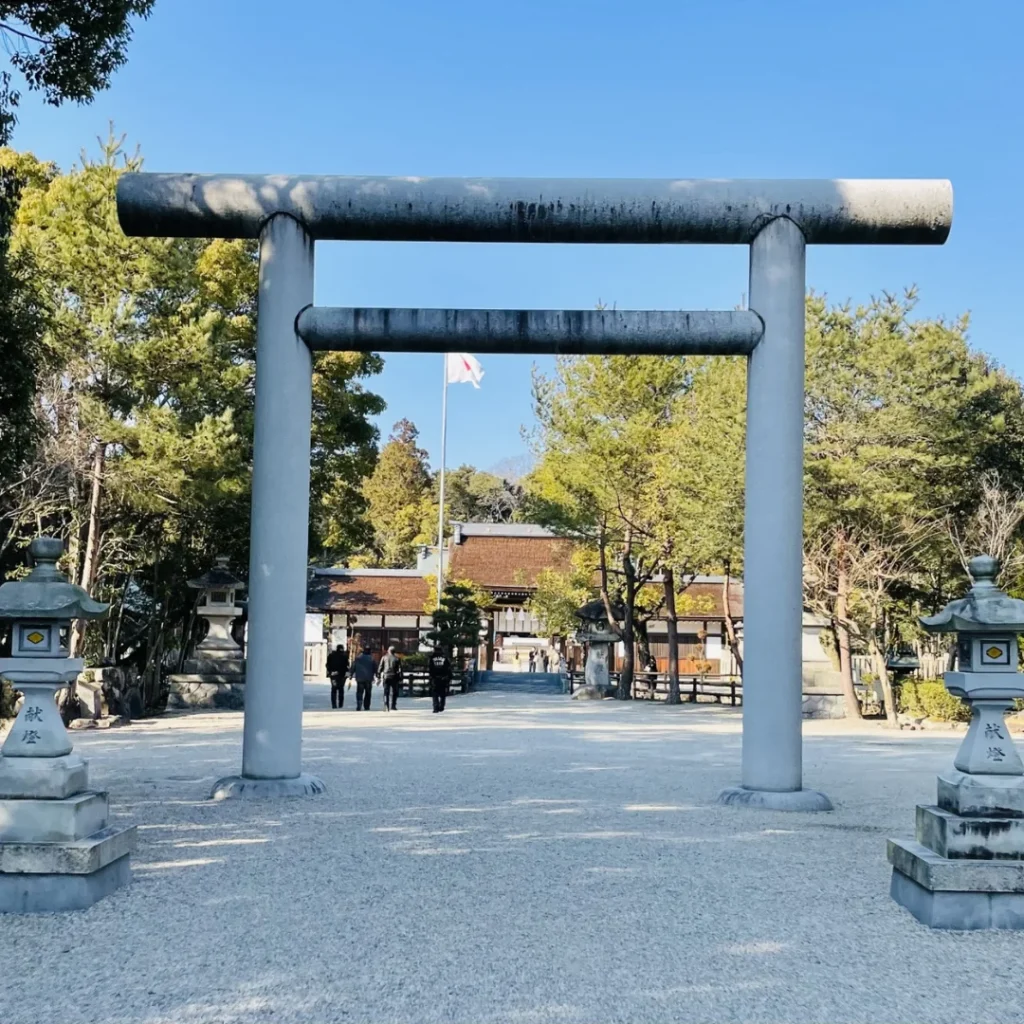 This ancient shrine embodies the great deities, Izanagi-no-Mikoto and Izanami-no-Mikoto, who are said to have given birth to Japan. A visit to Izanagi Shrine is a must when you arrive on Awaji Island.
Akashi Kaikyo Bridge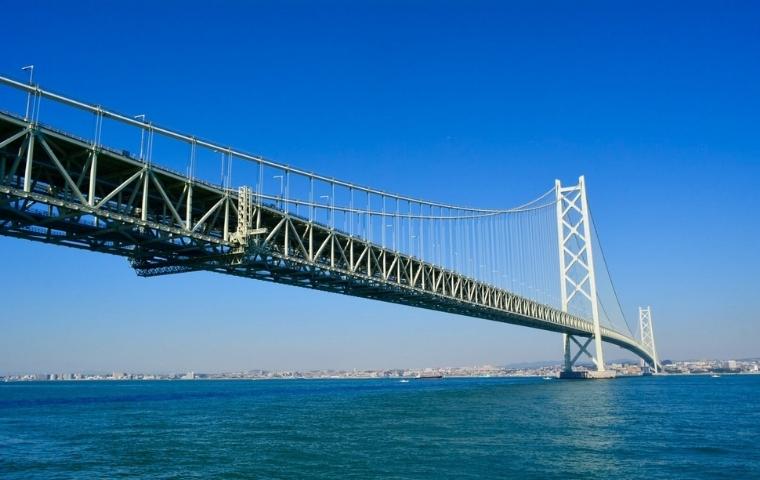 Akashi Kaikyo Bridge is one of the world's longest suspension bridges in the world, located in Akashi Strait between Kobe and Awaji Island in Hyogo Pref. The total and central span lengths are 3 911m and 1 991m respectively.
The Bridge was constructed as one of Honshu-Shikoku Bridge project, which is one of the greatest projects in Japan to connect Honshu with Shikoku by both highway and railway. The construction work was started in May, 1988 and completed in April, 1998 after 10 years' construction period.
As one of the world's largest suspension bridges, the Akashi Kaikyo Bridge stands at an impressive height of 300 meters and stretches nearly 4 km in length. Illuminated in various colors at night, it offers a spectacular sight both day and night. Nearby parks and the Awaji Interchange also serve as excellent spots for sightseeing.
Hokudan Earthquake Memorial Park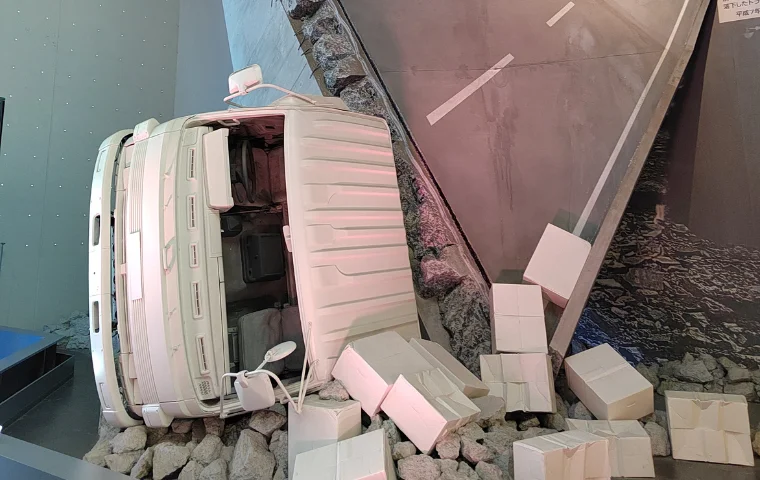 This valuable park preserves the fault that emerged during the Great Hanshin-Awaji Earthquake (Kobe earthquake). A very interesting place to visit for those who are keen on seeing what kind of destruction an earthquake can cause.
On January 17th 1995 early in the morning, the earthquake hit along the Nojima Fault line (an active faul located on Awaji), resulting in a surface displacement across approximately 10 km by a maximum uplift of 1.2 meters. This causing heavy destruction on Awaji Island and the City of Kobe. In the Memorial park you can see the actual fault line and how much it moved during the earthquake and also learn more about this natural disaster and it's affects.
The museum has an entrance fee of ¥730 for adults and ¥310 for children. It is open from 9.00 am. – 5.00 pm. (All the information written inside is in Japanese.)
Awaji Hanasajiki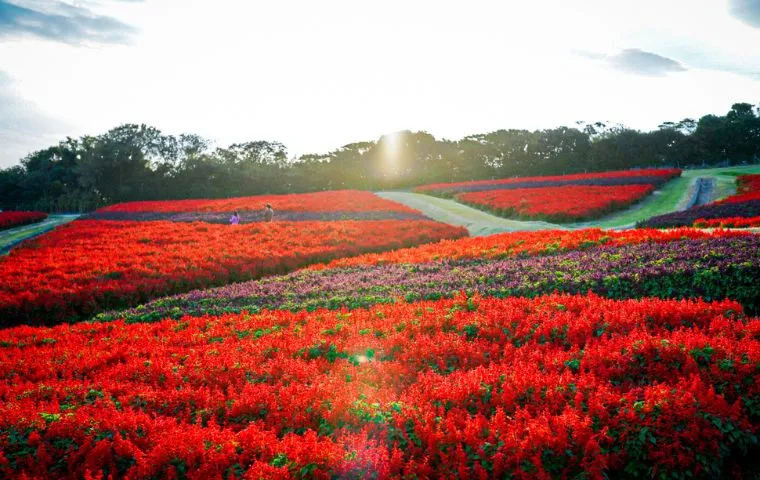 Enjoy the changing seasons with Awaji Hanasajiki, a beautiful flower garden that offers a stunning contrast with the distant sea. This spot is not only a visual delight but also a famous photography spot. It attracts a large number of tourists.
Awaji Yumebutai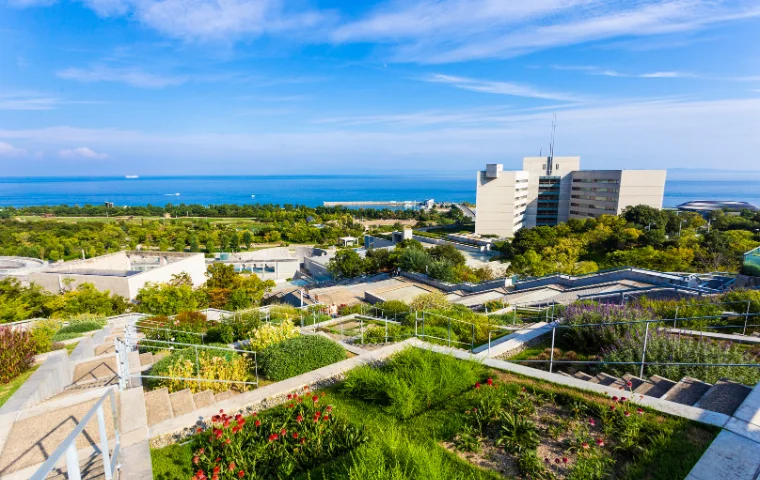 Designed by the renowned architect Tadao Ando as part of a project to reclaim nature, Awaji Yumebutai comprises a complex with a hotel, an international conference center, and restaurants, set in vast grounds. It is a perfect spot for leisurely strolls. With its characteristic exposed concrete buildings unique to Ando's architectural style, it harmoniously blends with nature, creating a beautiful tourist attraction.
Other Places by Famous Architects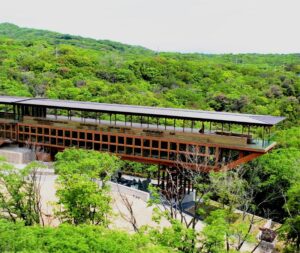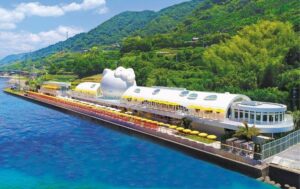 Perhaps surprisingly, Awaji Island boasts several structures designed by renowned architects, not only Tadao Ando but also Shigeru Ban and Kengo Kuma.
In addition, there are unique facilities, such as "HELLO KITTY SMILE," featuring a large Hello Kitty face on its architecture. Exploring architectural landmarks is another recommended tour on Awaji Island.
Beaches Around the Island
Awaji Island is dotted with beachside resorts, offering a plethora of attractions. Keinomatsubara Beach, known for its beautiful white sand, is one of the famous tourist spots. Another spot, Takanohama, on the west coast area of Awaji Island, selected as one of Japan's Top 100 Sunset spots, offer a shallow and beautiful beach, making it a recommended place for swimming as well as for watching the sunset over the Seto Inland Sea. There are many other fantastic beaches to explore so if you wish to know more, click here to read more!
Ayuya Waterfalls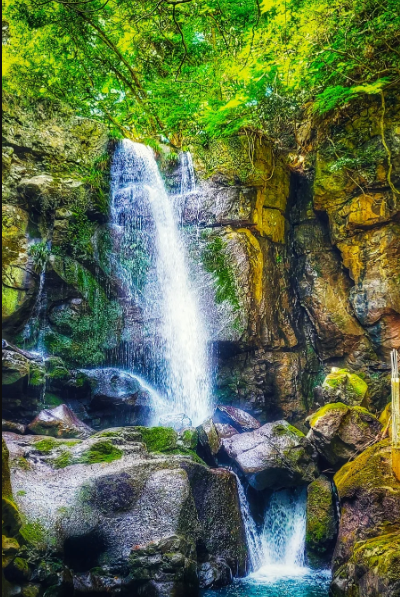 Written as Aiya Waterfall (あいやのたき) and pronounced as "ayuya no taki," this place is one of the hidden gems on Awaji Island. With a height of around 14.5 meters, this charming waterfall is situated in the southern part of Awaji Island, near Ayuya Dam.
Ayuya Waterfall offers year-round attractions, including fireflies in summer and vibrant autumn foliage. The area around the waterfall is designated as Ayuya Forest, featuring walking paths, observation decks, and parking, making it a great destination to connect with nature.
Access to Ayuya Falls is about 15 minutes by car from Sumoto Interchange. There are 1st and 2nd parking lots, but the road to the waterfall is too narrow for a car, so you will have to walk from the parking lot. Unfortunately, there are no busses going to the waterfall.
Closing
How about it? We have introduced the top tourist attractions on Awaji Island. From cultural and historical landmarks to breathtaking natural scenery, Awaji Island has something for everyone. We invite you to visit this beautiful island for a truly unforgettable experience.