Located in the heart of Japan, Kyoto is renowned for its rich historical and cultural heritage, drawing millions of visitors each year. While Kyoto itself is a treasure trove of ancient wonders, venturing from Kyoto to Awaji Island can reveal even more about the history and culture of Japan. Awaji Island beckons with its own unique connection to Japan's origins, offering a delightful opportunity to delve deeper into Japan's fascinating history and heritage. In this article, we will guide you on a day trip from Kyoto to explore more about the mythical birthplace of Japan, Awaji Island.
To fully savor the remarkable historical wonders scattered across Awaji Island, it is highly recommended to embark on your journey by car. The notable attractions which are related to Japanese history are dispersed across the island, making automobile travel the ideal choice for convenience and flexibility for a day trip from Kyoto. By opting for a car, you gain the freedom to explore at your own pace, allowing you to fully immerse yourself in the island's splendor and rich culture.
8:30 AM – Stroll around Eshima: Small Island with Historical Significance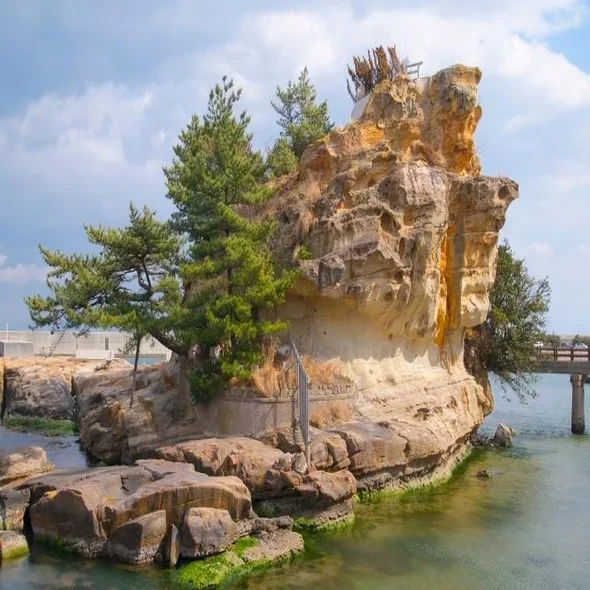 Eshima Island holds a special place among the Onokoro Islands, which are steeped in myth and legend. Onokoro Island is a mythical island in Japanese folklore, often referred to as the "Island of Origin." According to the ancient Kuniumi story, Onokoro Island was the first land created by the divine couple, Izanagi and Izanami, who was responsible for the creation of Japan and its deities. The Kuniumi Story itself is an ancient Japanese creation myth that recounts the birth of the Japanese archipelago. Eshima is one of the cultural sites believed as Onokoro Island.
While entering the island may not be possible, it is still possible to appreciate Eshima's beauty from the outside. Photo enthusiasts will find this place lovely, as Eshima Island offers countless picture-perfect spots to capture and cherish. Nearby the island, you will find Iwakusu Shrine and Ebisu Shrine, both hold immense significance in Japan's creation history. These sacred shrines offer a glimpse into the rich cultural and spiritual heritage of the region, deepening the connection to the historical roots of Japan.
10:30 AM – Izanagi Shrine: One of Japan's Oldest Legendary Shrine on Awaji Island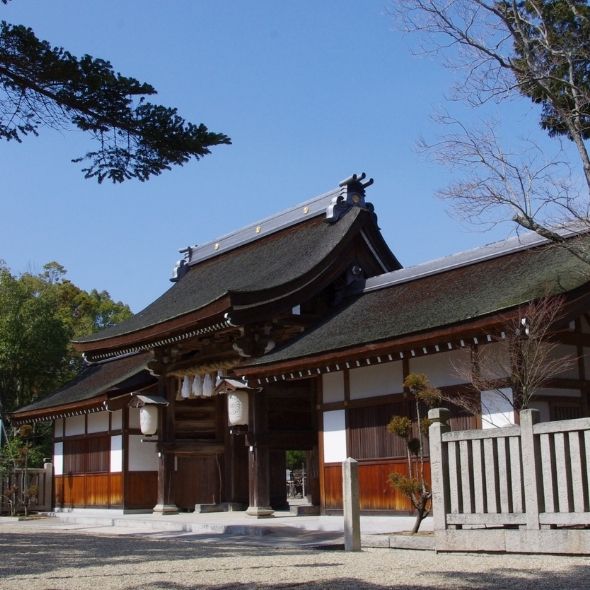 Explore Izanagi Shrine, which is a prominent and revered Shinto shrine located on Awaji Island. It holds significant historical and cultural importance as it is believed to be one of the oldest shrines in the country. Its tranquil setting and rich cultural heritage make Izanagi Shrine a captivating destination for visitors.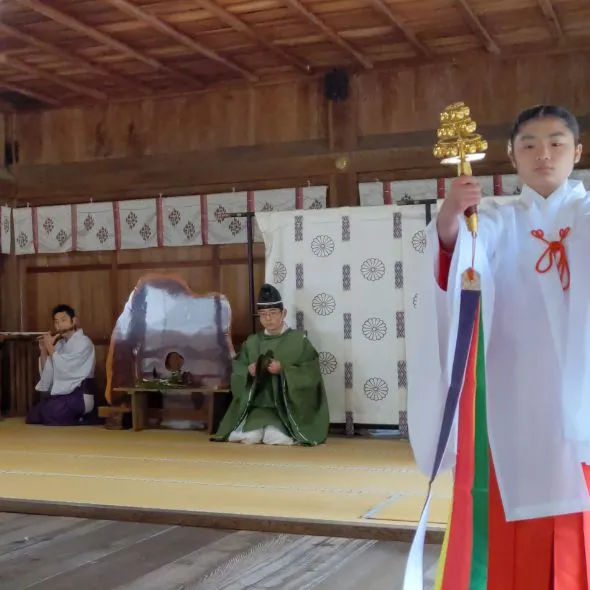 The shrine's historical and cultural significance extends beyond its mythical ties. It has been revered for centuries as a place of worship and spiritual reflection. Its serene surroundings and architectural beauty reflect traditional Shinto design, creating a serene atmosphere for visitors to experience a sense of peace and harmony. Izanagi Shrine on Awaji Island serves as a living testament to Japan's mythical origins and serves as a cultural touchstone, inviting visitors to delve into the rich tapestry of Japanese folklore, spirituality, and heritage.
Legend has it that the shrine stands as the remnants of the residence of Izanagi, the god who created Japan. The god constructed Izanagi Shrine and then spent his remaining days at the shrine after bestowing his powers upon his daughter, Amaterasu. Take a stroll along the shrine grounds, receive Shinto blessings, and witness the legendary sacred tree that has existed for 900 years.
1:00 PM – Enjoy Lunch at Restaurants Near the Shrine
Awaji Island is renowned for its delectable and locally sourced gourmet cuisine. Immerse yourself in a culinary adventure as you seek out restaurants that embody the island's commitment to freshness and exquisite flavors. Within a mere two-minute walk from the shrine, you will discover a traditional Japanese restaurant that specializes in delectable Sushi and Sashimi. For those craving Western food, there is another restaurant just as conveniently located, also within a two-minute walk from the shrine.
2:40 PM – Ship departure from Nushima Port
Our next adventure awaits on Nushima Island, often hailed as the first island of Japan. This captivating destination carries a rich historical significance that dates back to ancient times. Legend has it that Nushima Island was the initial piece of land to emerge from the vast ocean when the gods created Japan. To reach Nushima Island, you will embark on a short and pleasant ship journey from the Nushima port (沼島汽船土生港のりば). The approximate travel time is around 10 minutes and for the ship's schedule, you can easily check the available departure times here.
3:00 PM – Experience Nushima: Unveiling the Mystique of Japan's First Island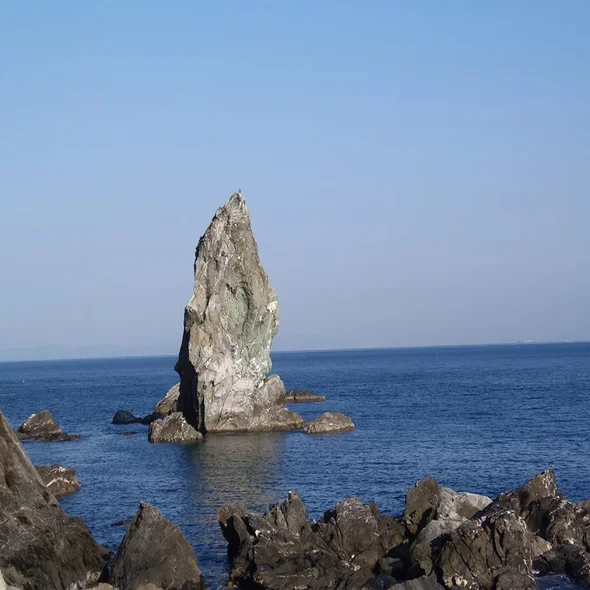 Nushima Island stands as a testament to the ancient legend of Onokoro Island, where two divine beings, Izanagi and Izanami, first stood upon the ethereal floating bridge of heaven. With a sacred spear, they stirred the turbulent world, causing drops to fall and solidify into an island. This legendary land became the foundation of Japan itself. Among the numerous theories and potential locations for Onokoro Island within Awaji Island, Nushima emerges as the most plausible contender, alongside Eshima which was mentioned earlier. Nushima Island's mystique deepens as it embodies the sacred symbolism of a Magatama, a crescent-shaped jewel, and is said to be reflected in the entire landscape of the island. Alongside Eshima, mentioned earlier, Nushima takes its place as one of the fabled sites associated with this ancient tale.
Surrounded by forested hills, Nushima invites exploration with easy hiking trails. At the island's rear, you will find the famous Holy Standing Rock, a picturesque rock formation emerging from the water. In just a few hours, you can wander the entire island, visit the village's shrines and temples, and experience its serene atmosphere.
6:05 PM – Arrival Back to Awaji Island
Once you have thoroughly explored the wonders of Nushima Island, it is time to journey back to Awaji Island. Aboard a ship that will smoothly transport you across the waters, offering a serene and scenic voyage. Sit back, relax, and relish the memories of your Nushima adventure as you make your way back to the captivating shores of Awaji Island.
7:00 PM – Dinner at Aman no Shokutaku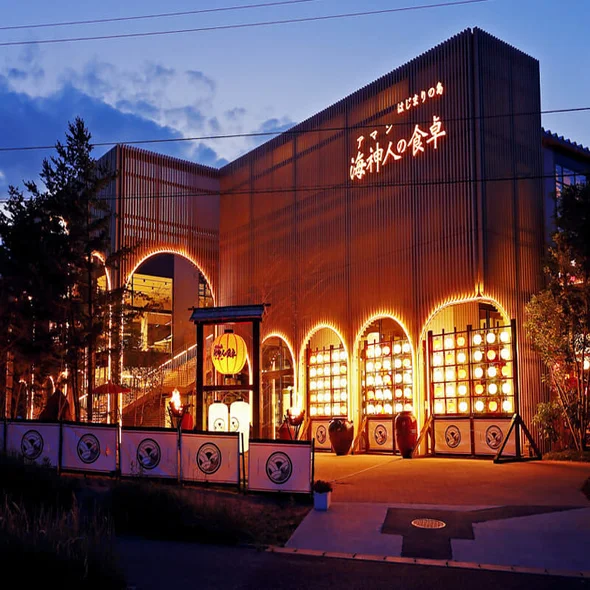 Aman no Shokutaku is a luxurious restaurant serving pirate-style cuisine that fully brings out the charm of Awaji Island's gourmet. The menu showcases Awaji Island's seafood and mountain delicacies, cherished through generations in Japan. Close your Japanese history discovery trip with a dining experience at Aman no Shokutaki that reflects the essence of Japanese gourmet itself.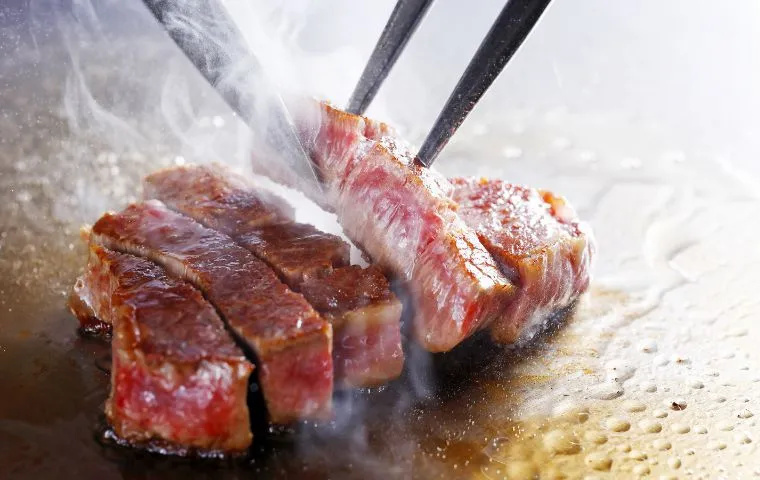 On the first floor is Utage, a thrilling pirate-themed Japanese restaurant. With drums, lanterns, and single-large trees as tables, immerse yourself in a luxurious dining experience. At Utage, enjoy a fun dinner with friends, surrounded by the vibrant interior. On the second floor, Sajiki awaits, offering refined dining with teppanyaki and sukiyaki. Indulge in a full-course meal featuring Awaji beef which is renowned for its quality. The serene ambiance of Sajiki provides a perfect setting to relax and engage in unhurried conversations.
Click here for reservations Utage Click here for reservations Sajiki
Click here for details of Aman no Shokutaku
We sincerely hope that you thoroughly enjoy our day trip guide from Kyoto, guiding you through the captivating Awaji Island often referred to as the birthplace of Japan. With its deep cultural and historical significance, Awaji Island offers an unparalleled experience for visitors seeking a profound understanding of Japan's origins. Whether you are planning a visit to Kyoto or are already in Kyoto, there is no better place for a day trip from Kyoto than embarking on a journey to Awaji Island. It is an extraordinary opportunity to immerse yourself in the rich tapestry of Japanese culture and history.