Awaji Island is a hidden gem in the Seto Inland Sea known for beautiful landscapes, vibrant culture, and delicious cuisine. If you're looking for an exciting day trip from Tokyo, Awaji Island is the perfect destination. In this article we look at how to go from Tokyo to Awaji Island on the super-fast, super-convenient Shinkansen "bullet train", along with some of the highlights of the island to make the most of your adventure! Transportation times noted here are based on weekday time schedules, so if you are travelling on weekends, make sure to double check the shinkansen, train, and bus schedule.
6:15 AM – Departure from Tokyo Station by Shinkansen
Start your day early and catch the Nozomi Shinkansen from Tokyo Station to Shin-Kobe Station. The comfortable, scenic ride through the Japanese countryside takes approximately 2 hours 40 minutes.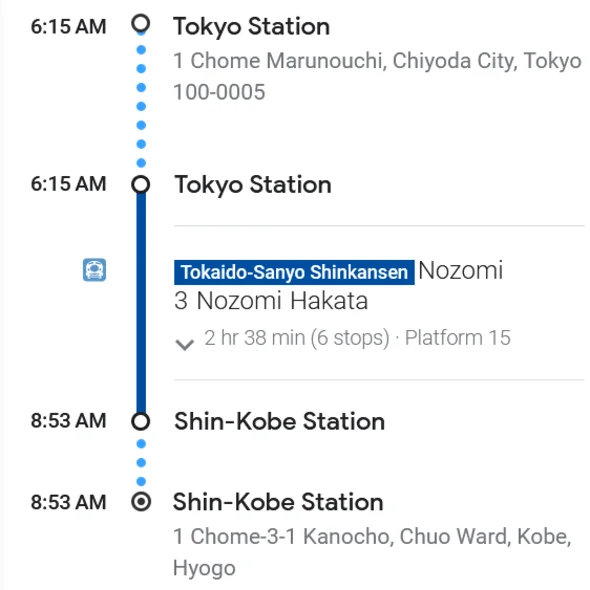 9:00 AM – Arrival in Shin-Kobe Station
Upon arriving at Shin-Kobe Station, head underground to the Seishin-Yamate subway line and catch the 9:14 AM train to Sannomiya Station. At Sannomiya Station, head back up to the Sannomiya Shinki Bus Terminal, for the bus that stops at Awaji Interchange departing at 9:35 AM.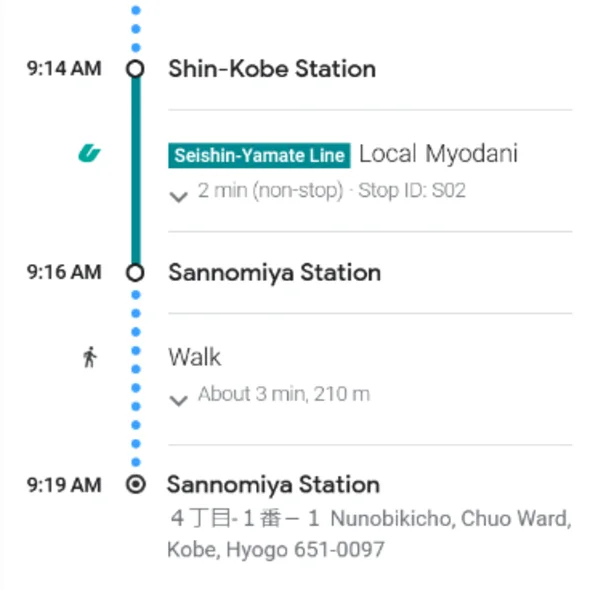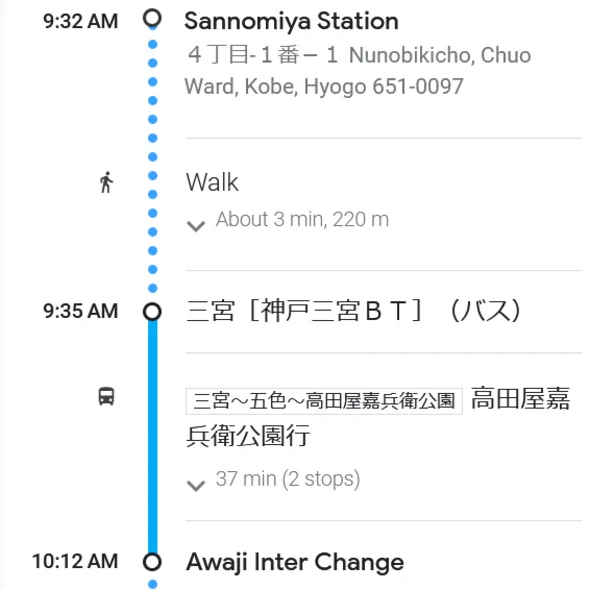 9:35 AM – Stunning views on the bus to Awaji Island
Enjoy your bus ride across the famous Akashi Kaikyo Bridge, the world's 2nd longest suspension bridge. Marvel at the impressive engineering and enjoy the panoramic views of the Seto Inland Sea. Disembark when the bus arrives at Awaji Interchange around 10:12 AM.
10:12 AM – Wait for the free shuttle bus to Nijigen no Mori
There's a free shuttle bus that you can take down the Awaji Interchange to Nijigen no Mori that will depart at 10:24 AM. Take this free shuttle bus, and get off at Nijigen no Mori Bus Stop F. Don't forget to say "Nijigen no Mori" to the driver to make sure you're on the right bus.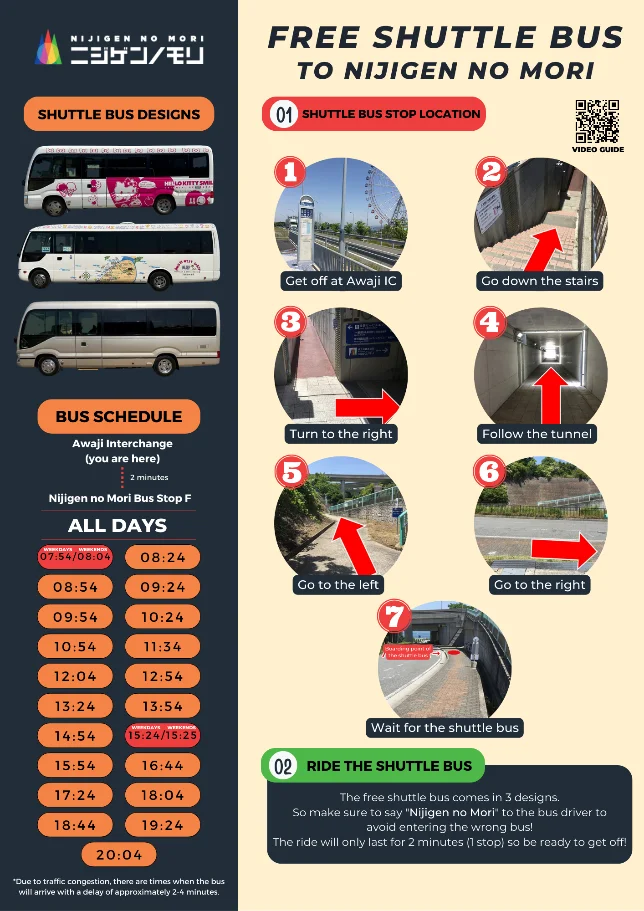 10:26 AM – Nijigen no Mori
Step into the immersive world of Nijigen no Mori, where iconic manga come to life! This unique anime park on Awaji Island, takes you on a thrilling adventure through Japanese pop culture. Jump from the world-famous Naruto Park and Crayon Shinchan Adventure, to Dragon Quest, Godzilla, and Night Walk. Discover a whole new dimension to anime and Cool Japan in this one-of-a-kind experience and enjoy a thrilling day in the two-dimensional universe!
In Nijigen no Mori, many parks also offer great places for good food. Ichiraku Ramen at Naruto Park, Luida's Bar at Dragon Quest Island, and Mori no Terrace next to Godzilla are not to be missed.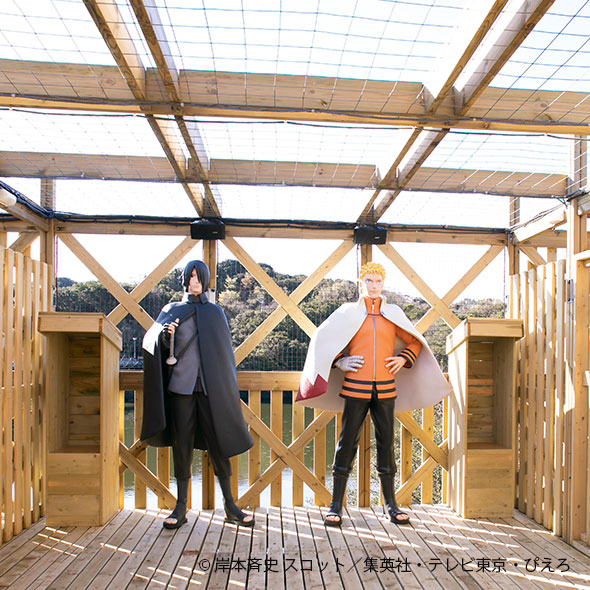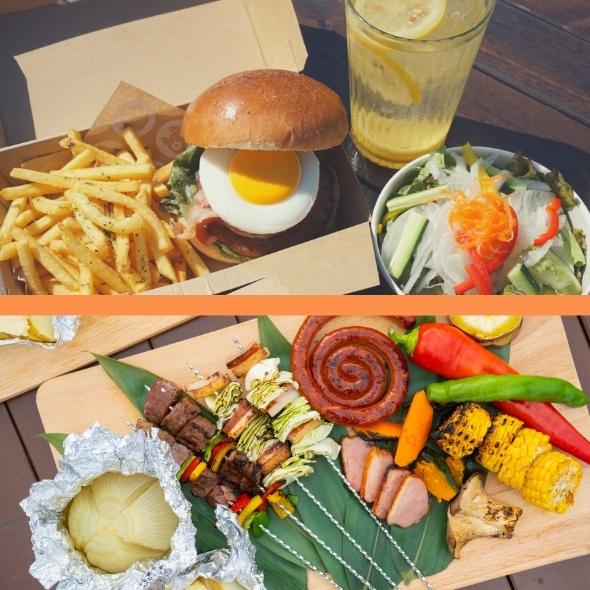 3:30 PM – Take the free shuttle bus from Nijigen no Mori Bus Stop F to Iwaya Port Terminal
After a fun day at Nijigen no Mori, head to the bus stop a little early and wait for the free shuttle bus departing at 3:40 PM. Don't forget to say "Iwaya Port" to the driver to make sure you're on the right bus. The journey to Iwaya Port takes around 7 minutes.
Once you arrive at Iwaya Port at 3:47 PM, stop by to admire the legendary sandstone island Eshima just steps from Iwaya Port. The small shrine on top shows its sacred importance as the mythical first island of Japan created by ancient gods. A small bridge connects the mainland to this sightseeing spot especially popular with tourists arriving by ferry. Nearby, other sandstone formations eroded by the sea create a unique landscape not found elsewhere on the island.
If you still have time, take a stroll to the nearby Iwakusu and Ebisu shrines, both of immense significance to Japan's creation myths. These sacred sites offer a glimpse into the rich cultural and spiritual heritage of the region, for a deeper connection to the historical roots of the country.
4:40 PM – Free shuttle bus from Iwaya Port Terminal to Awaji Yumebutai
Take the free shuttle bus departing at 4:40 PM, don't forget to wait at the landing point in the picture. Shuttle bus times may vary depending on traffic congestion conditions.
4:50 PM – Awaji Yumebutai
Get off at Awaji Yumebutai, a complex with stunning architecture, gardens, and art. Designed by world-renowned architect Tadao Ando, this site features beautiful terraced gardens, waterfalls, and a variety of flowers. Take a leisurely stroll, unwind in the peaceful atmosphere, and snap some selfies at the many Instagrammable photospots.
At Awaji Yumebutai, here are two of the best options to sample the island's delicious special cuisine. Kitora is a Japanese restaurant serving fresh Awaji Island seafood (open until 9:00 PM (L.O. 8:00 PM) and closed on Thursdays). Nearby, TOM'S STUDIO is a cafe offering Awaji Island onion dishes. All sorts of Awaji Island omiyage souvenirs are also available here to browse before or after your meal! (open until 5:00 PM (L.O. 4:30 PM)).
7:15 PM – Return Journey
After an unforgettable day exploring Awaji Island, make your way back to Awaji Yumebutai bus stop and take the bus back to Shin-Kobe Station. From there, catch the Shinkansen back to Tokyo at 8:19 PM, reminiscing about the day's adventures and the beauty of Awaji Island.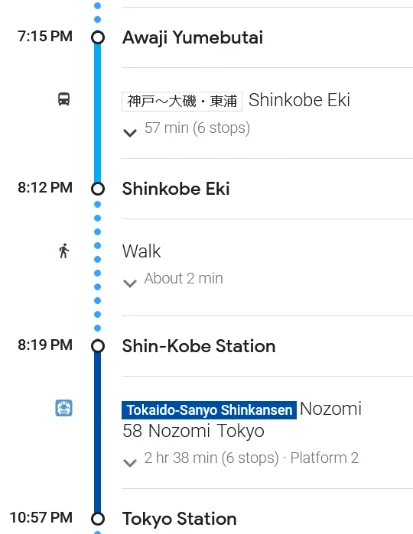 A day trip from Tokyo to Awaji Island is a perfect blend of natural beauty, cultural heritage, and culinary delights. By following this itinerary, you can explore iconic landmarks, immerse yourself in breathtaking scenery, savor delicious local cuisine, and create lasting memories of your journey. Awaji Island's charm and serenity make it an ideal destination for a day trip from Tokyo.