Welcome to the Nijigen no Mori Anime Theme Park on Awaji Island, where the world of anime and pop culture come to life! This one-of-a-kind Awaji Island anime theme park has been a tourist hot spot since its opening in 2017. Nijigen no Mori holds four permanent attraction sites and currently two limited time events all inside the Hyogo Prefectural Awaji Island Park.
Nijigen no Mori Park info and Access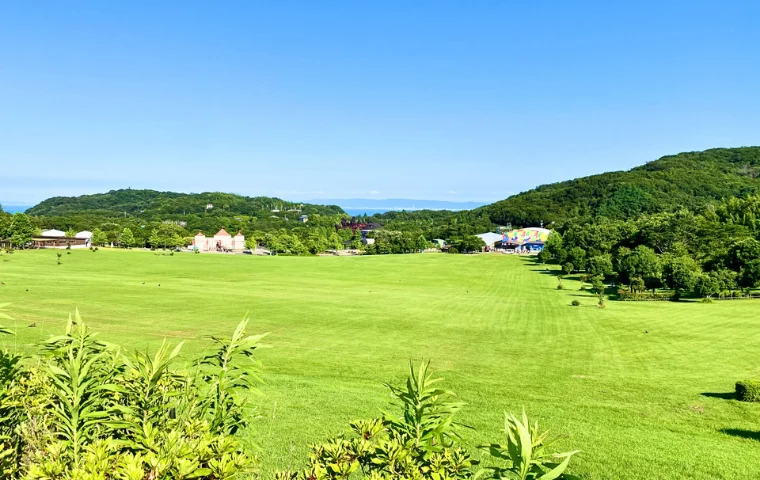 The prefectural park itself is free and only the attractions charge fees separately, so you can visit the park and just look around without having to buy any tickets. Even the parking is free, and the area has more than 1500 parking spots.
Arriving with a car is fairly simple, just take the highway across the Akashi Kaikyo Bridge and get off at Awaji IC. From there you can drive straight to Nijigen no Mori parking lot F and enter the park.
By public transportation, take any bus that stops at Awaji IC and then continue with the free shuttle bus to Nijigen no Mori. Or take a ferry from Akashi port to Iwaya port where the Free shuttle bus begins its route and ride it all the way to Nijigen no Mori.
Nijigen no Mori Anime Park Attractions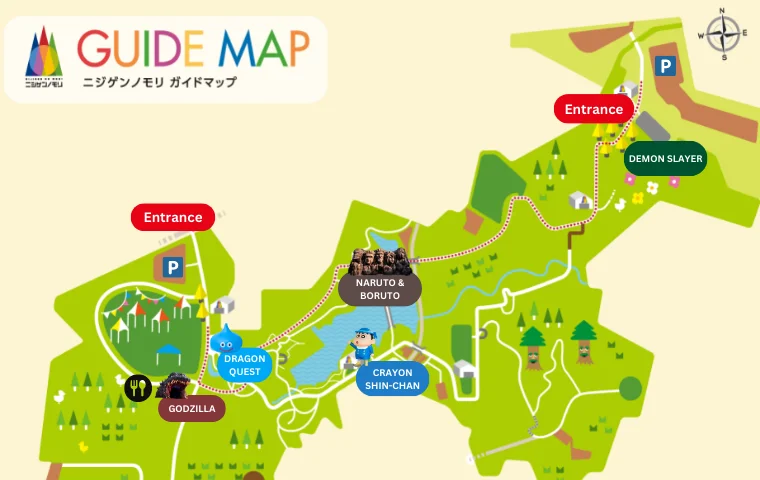 Godzilla Interception Operation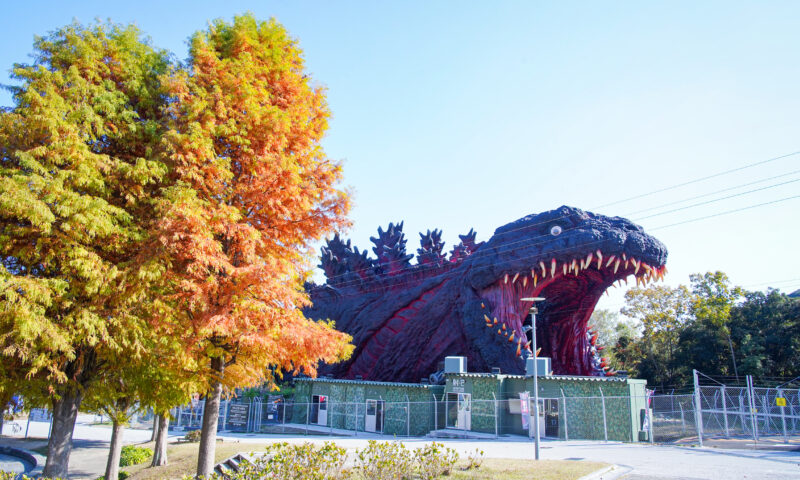 The legendary monster has landed on Awaji Island! Come and learn how the legendary monster came to be captured on Awaji Island and make sure it stays that way by partaking on the operation yourself!
The Godzilla attraction developed together with Toho Studios consists of a short film, zipline, shooting game, museum, a shop, and themed food available in Mori no Terrace restaurant.
See our other articles on the Godzilla experience to learn more of the operation and the one-and-only permanent Godzilla museum!
Opening hours:
10:00 a.m.-10:00 p.m. (Last entry 8:00 p.m.)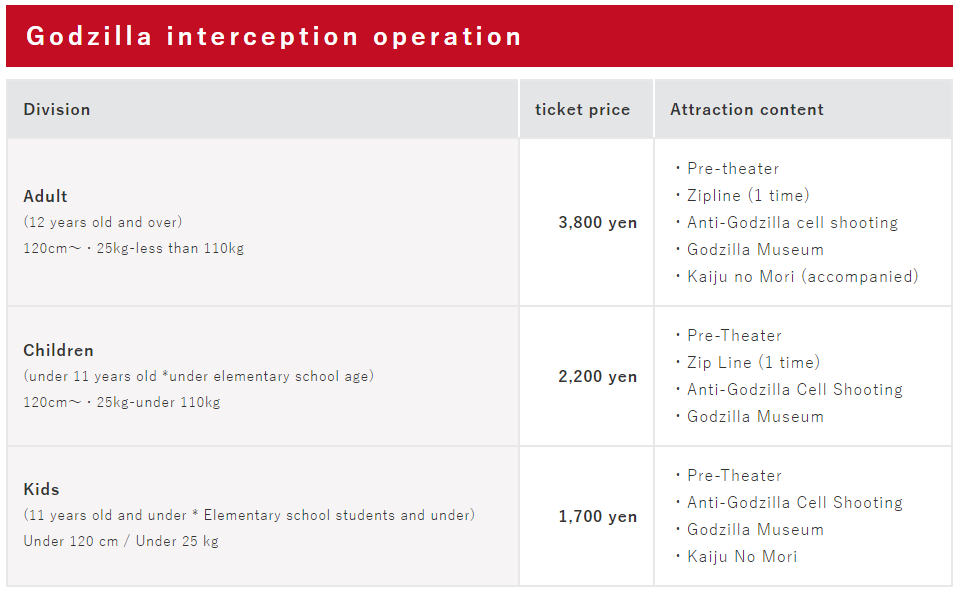 Dragon Quest Island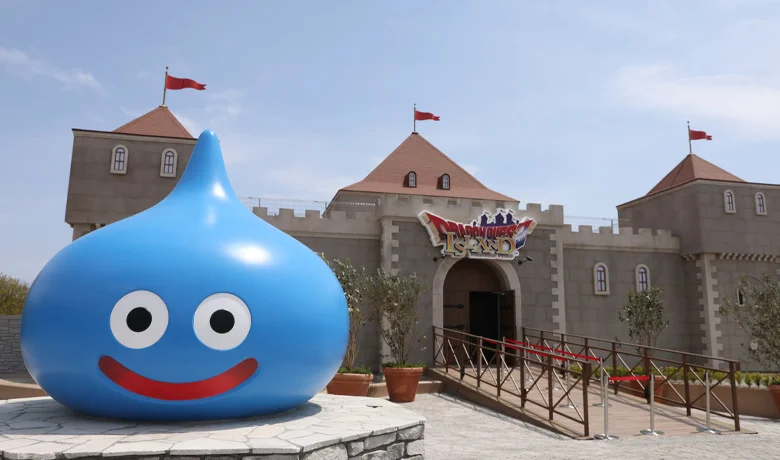 The Dragon Quest Island at Nijigen no Mori is an outdoor field RPG attraction where you become the main character of the story and adventure on your own feet in the world of "Dragon Quest" (a popular video game where you battle in medieval settings).
Come and complete the quest, beat the final boss to save the day and then head to Luida's bar for some well-earned refreshments!
Opening hours:
Dragon Quest attraction: 10:00 a.m.-10:00 p.m. (Last entry 7:30 p.m., sub quest's last entry 7:00 p.m.)
Luida's Bar: 11:00 a.m.-8:30 p.m.(Last order 8:00 p.m.)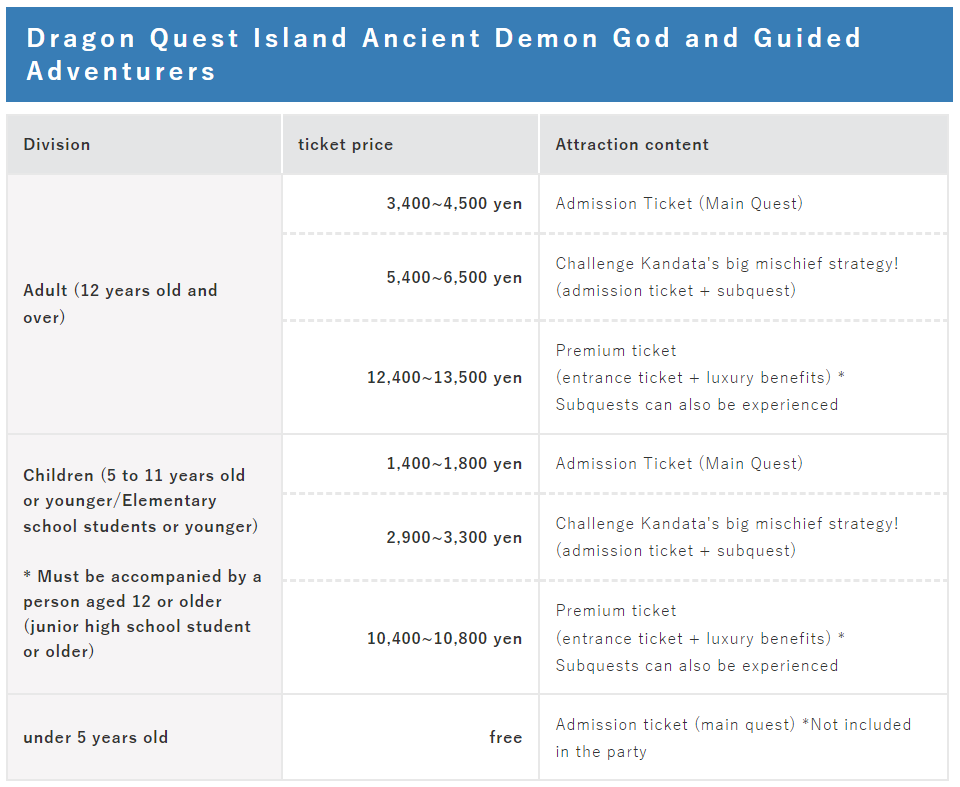 NARUTO & BORUTO Shinobi-Zato
The ultimate ninja manga Naruto and its sequel Boruto has their own theme park on Awaji Island! Here you can unleash your inner ninja and go on an adventure to solve mysteries and get your ninja scrolls filled to achieve the final stage of the journey!
At the park you can walk through the iconic Konoha village gates, see the headstones of previous Hokages and take pictures with Ninetailed fox Kurama. Be sure to relax after your journey and eat at Ichiraku Ramen and take those memorable photos! Click to see all the activities the NARUTO & BORUTO Shinobi-Zato currently has to offer and read our latest experience article.
Opening Hours:
10:00 a.m.-10:00 p.m. (last entry 8:00 p.m.)
Ichiraku Ramen: 11:00 a.m.-8:00 p.m.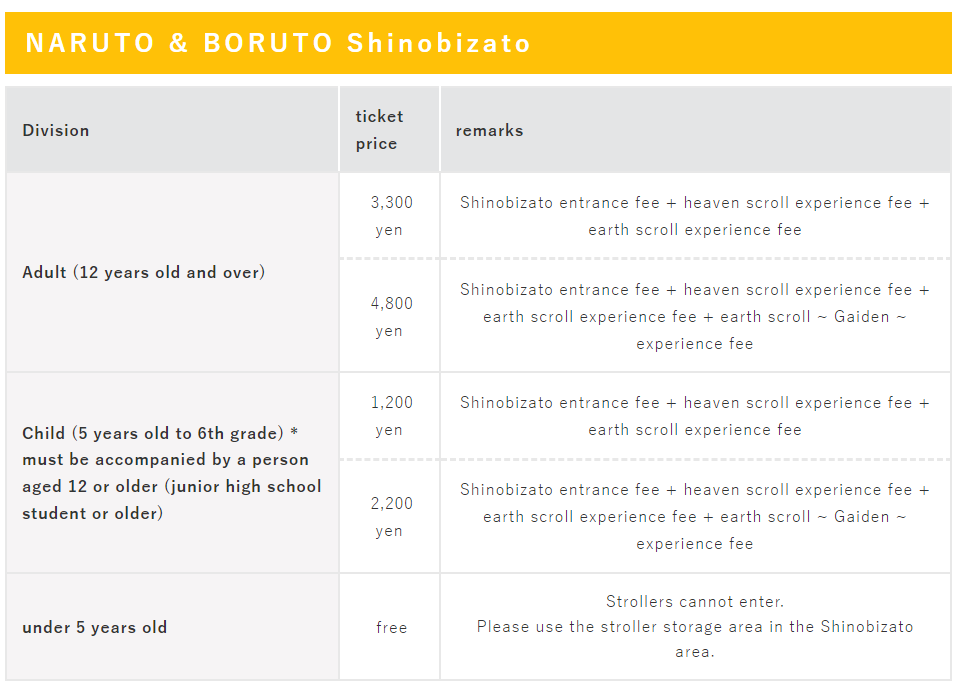 Crayon Shin-chan Adventure Park
Crayon Shin-chan is a classic children's anime popular in Japan revolving around the normal everyday life of a little boy, Shin-chan. In this attraction the world of the anime is brought to life at an interactive obstacle course, adventurous zipline, a maze inside Shin-chan's preschool and an exciting "horror" house. Lots of fun for the whole family!
Opening Hours:
10:00 a.m.-10:00 p.m. (Last reception 7:30 p.m.)
"Nonbiri no Hara" area: last entry 5:00 p.m.
Shop: 10:00 a.m.-6:00 p.m.
Limited Time Events at Nijigen no Mori
Demon Slayer: Kimetsu no Yaiba Night Walk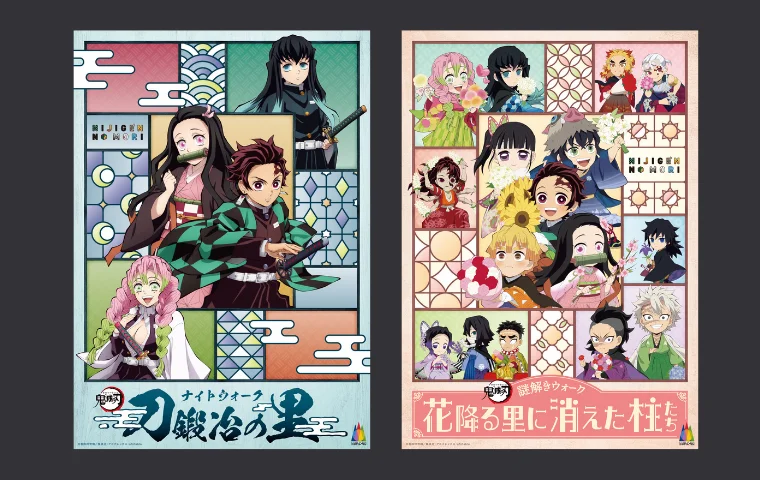 Limited time Nijigen no Mori and "Kimetsu no Yaiba" collaboration event "Night Walk Swordsmith Village" is open until April 28th, 2024!
After sunset, you can experience the world of Demon Slayer reproduced by projection mapping while walking through the illuminated 1.2 km route in the night forest (takes about 90 min). Participants will relive the battles between Tanjiro, Hashira, and other demons in the Swordsmith's Village Edition as a "swordsmith apprentices". The mission is to collect "ore" used as the raw material for a sword. Along the way you have to complete these tasks to be able to beat the demon in the end!
There is also a daytime event where you have to solve a riddle quiz (only in Japanese).
Opening Hours:
Day time puzzle: 10:00 a.m.- 4:30 p.m. (Last reception time 4:30 p.m.)
Night Walk: 5:30 p.m.- 10:00 p.m. (Last reception 8:45 p.m.) (starts after sunset)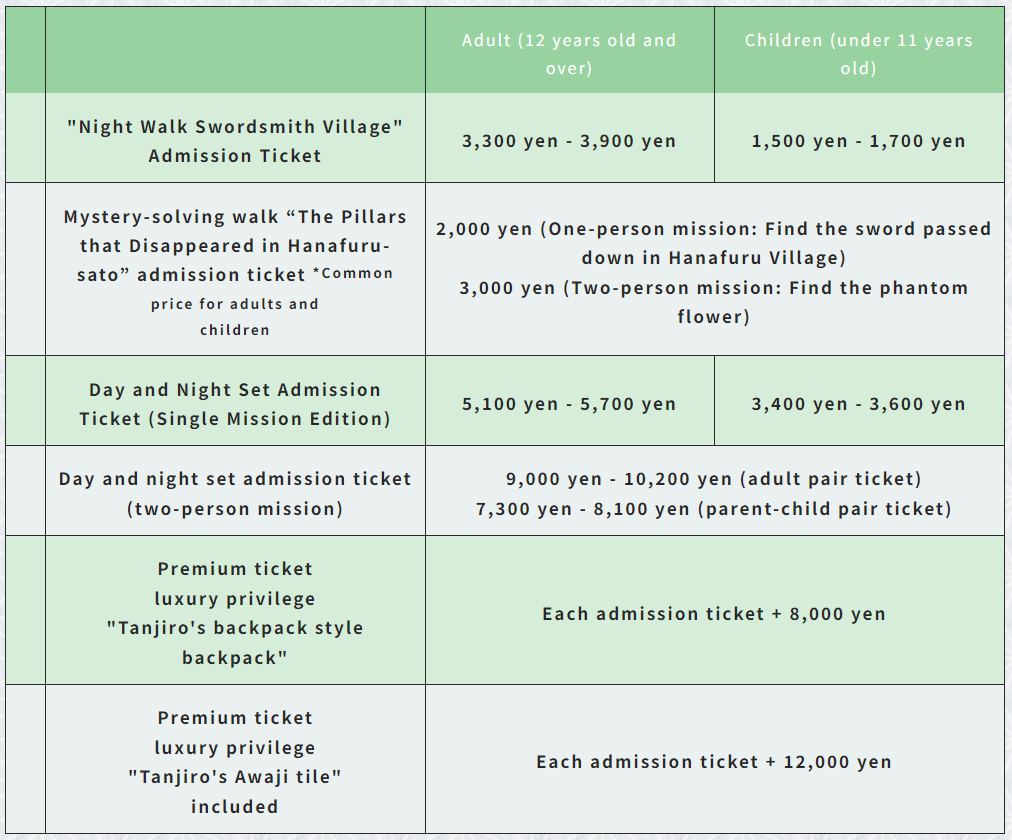 City Hunter The Mission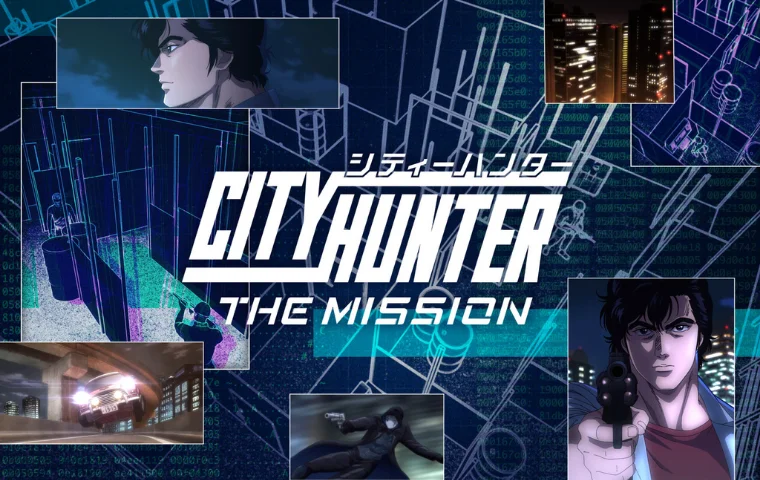 A collaboration event between the new movie "City Hunter Angel Dust" and Nijigen no Mori is held until November 12th, 2023! Visitors can participate in an infiltrative mission to a top-secret facility along with City Hunter Ryo Saeba and his partner Kaori Makimura to rescue a client. The mission consists of hacking your way through a maze-like outdoor structure and find a way to the finish-line before the time runs out!
Opening hours:
10:00 a.m.-6:00 p.m. (Last reception 5:30 p.m.
Entry Fee:
Adults (ages 12 and up) 2,000 yen
Children (ages 5 to 11) 1,000 yen
Restaurants in the Area
Mori no Terrace
At Mori no Terrace you can eat all the collaboration foods that are themed after the attractions, like Godzilla curry and Tanjiro's Udon.
Opening hours: 11:00 a.m.-8:00 p.m. (last order at 7:30 p.m.)
Open all the days Nijigen no Mori is operational.
Ichiraku Ramen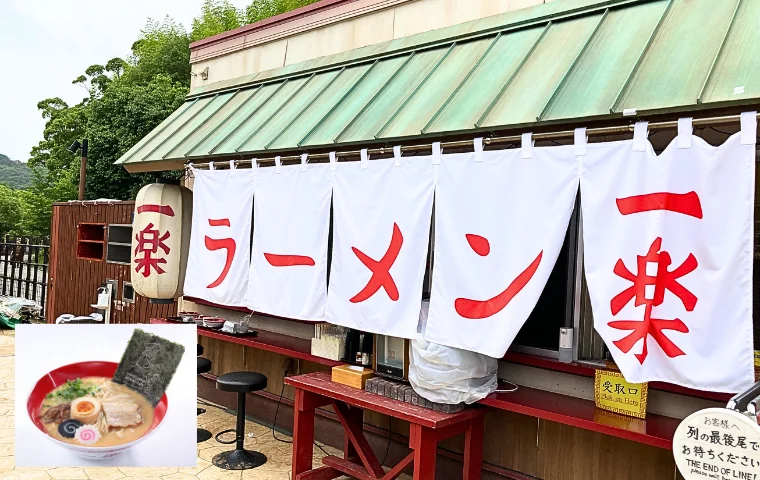 Located inside the Naruto & Boruto Village, the famous Ichiraku Ramen offers the most delicious set of ramen to be enjoyed after you've completed your mission.
Opening Hours:
11:00 a.m. – 8:00 p.m.
Luida's Bar
At Luida's Bar you can enjoy collaboration food from the Dragon Quest Island.
Opening Hours: 11:00 a.m.-8:30 p.m. (Last order 8:00 p.m.)
Click here for details of NIJIGEN NO MORI
© 2020 Nijigennomori Inc. All Rights Reserved.
©吾峠呼世晴/集英社・アニプレックス・ufotable
© 2021 ARMOR PROJECT/BIRD STUDIO/SQUARE ENIX All Rights Reserved.
TM & © TOHO CO., LTD.
© 岸本斉史 スコット/集英社・テレビ東京・ぴえろ
© 臼井儀人/双葉社・シンエイ・テレビ朝日・ADK
© 臼井儀人/双葉社・シンエイ・テレビ朝日・ADK 1993-2022