Awaji Island, located in the eastern part of the Seto Inland Sea in Japan, is renowned for its captivating natural landscapes and stunning views. One of the true gems located on this island is Awaji Hanasajiki, an exquisite flower field that enchants visitors with its vibrant colors and serene ambiance.
Introduction to Awaji Hanasajiki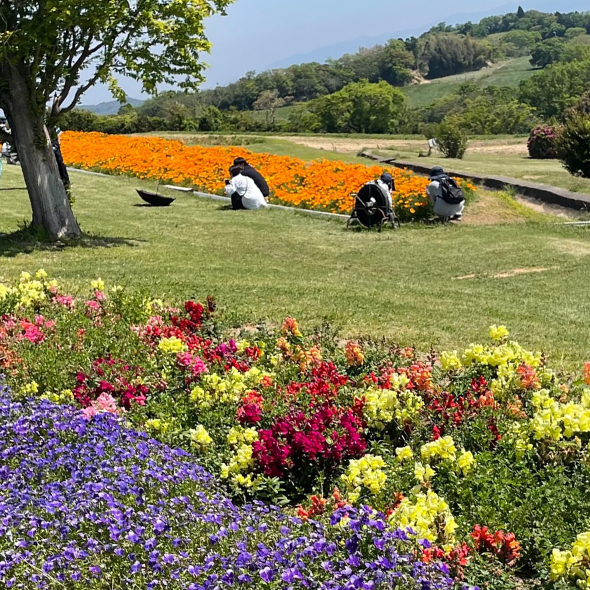 To reach Awaji Hanasajiki, you can travel to Awaji Island by car or bus from the nearby cities of Kobe or Osaka. Upon arrival, the flower field awaits in the northern region of the island. This expansive landscape stretches across approximately 50,000 square meters, inviting visitors to lose themselves in the beauty of nature. As you wander through Awaji Hanasajiki, a tapestry of colorful blooms will unfold before your eyes. The field showcases a diverse array of flowers, including tulips, sunflowers, cosmos, poppies, lavender, and many more, creating a kaleidoscope of hues that changes with each season.
Seasonal Beauty of Awaji Hanasajiki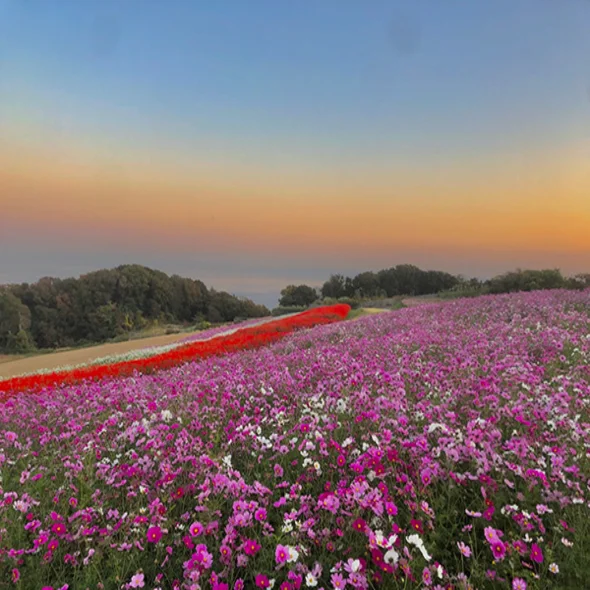 In spring, the field comes alive with the enchanting beauty of canola flowers painting the landscape in golden hues, alongside the vibrant blooms of Iceland poppies, adding a touch of delicate charm. As summer arrives, visitors are treated to the graceful presence of spider flowers, their slender petals swaying in the gentle breeze. The iconic sunflowers, standing tall and proud, also take center stage during this season, infusing the field with their cheerful and vibrant energy. Transitioning into fall, it provides a more serene ambiance with the calming presence of scarlet sage and mealycup sage, their rich colors providing a soothing backdrop to the natural splendor. No matter the time of year, Awaji Hanasajiki's ever-changing floral tapestry promises a feast for the senses and a profound appreciation for the wonders of nature.
Picturesque Views of Awaji Hanasajiki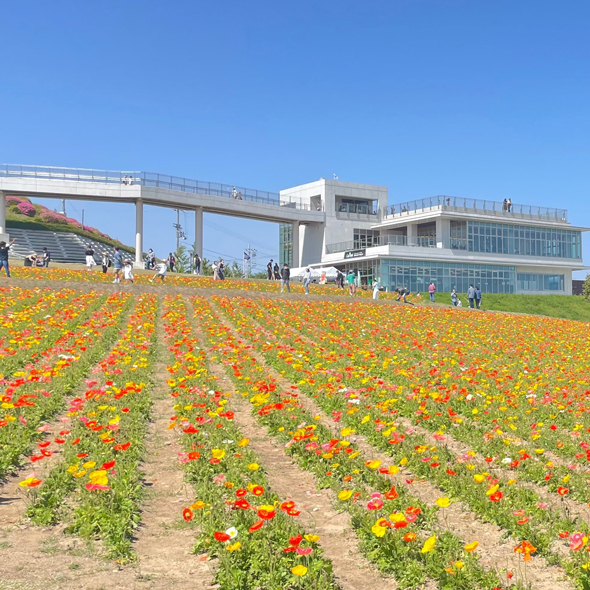 Awaji Hanasajiki is also known for its meticulous design and the attention to detail that goes into maintaining the field. The flowers are thoughtfully arranged in stunning patterns and meticulously cultivated to create lovely views. The harmonious blend of colors, coupled with the awe-inspiring backdrop of the island's natural beauty, makes Awaji Hanasajiki a unique and enchanting destination for nature enthusiasts and photographers alike.
Additionally, what sets Awaji Hanasajiki apart is its innovative approach to creating artwork within the field during the winter season. The caretakers employ a unique technique of cutting the grass in intricate patterns, forming captivating pictures on the ground. This meticulously crafted artwork adds an extra layer of enchantment to the already stunning landscape.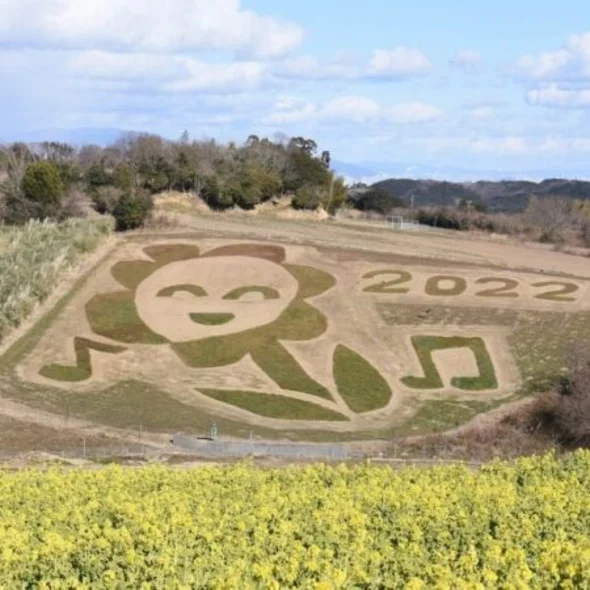 Awaji Hanasajiki also features charming pathways, observation decks, and rest areas, allowing visitors to immerse themselves fully in the surroundings. From the observation deck, you can enjoy a bird's eye view of the stunning nature and scenery. The entire park is incredibly beautiful, making every corner a perfect spot for photos. With sweeping views of Osaka Bay, Kansai International Airport, and the Akashi Kaikyo Bridge, you will have endless photo opportunities.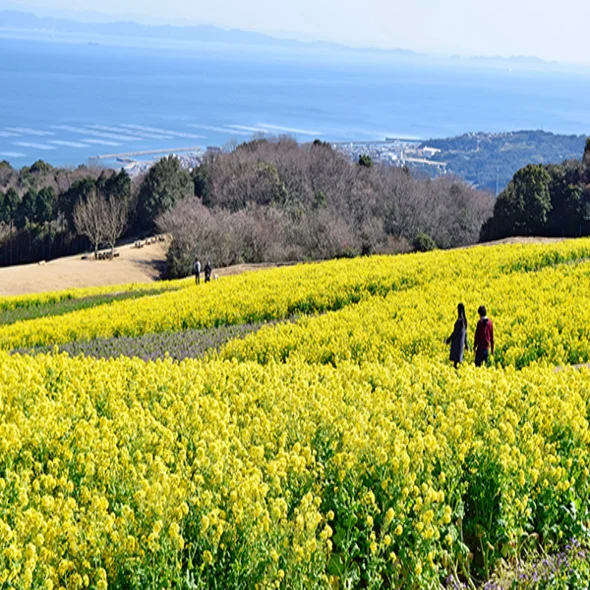 Awaji Hanasajiki also features a building that houses delightful cafes, ice cream shops, and souvenir stores. The cafeteria serves Western-style sandwiches and treats. It provides locations where you can relax and enjoy the views of the fields. Do not miss out on experiencing one of Awaji Island's specialties: onions. After your walk, you can take home one of the renowned sweet onions from Awaji, along with other local products available at the market on the ground level.
It is also highly recommended to indulge in a dining experience after a long day at Awaji Hanasajiki by treating yourself to the finest restaurants on Awaji Island. Whether you crave a taste of fresh, local delicacies or long for the authentic flavors of traditional Japanese cuisine, Awaji Island offers a diverse culinary landscape to satisfy your palate.
Access to Awaji Hanasajiki
Address: 656-2302 Hyogo Prefecture, Awaji City, Kusumoto
Tel: 0799-74-6426
Access: Car (Awaji IC) – Go straight from the exit and head south along Prefectural Road 157 for about 12 minutes (7km)
Closing Remarks
Awaji Hanasajiki is one example of the breathtaking beauty that can be found on Awaji Island. With its pristine coastlines, verdant mountains, and vibrant cultural heritage, the island is full of natural wonders. Awaji Hanasajiki stands as a testament to the inherent beauty of Awaji Island. Its meticulously manicured flower field, vibrant colors, and tranquil ambiance offer a retreat from the busy world, allowing visitors to reconnect with nature and appreciate the simple yet profound joys it brings.