You must have heard or already visited Tokyo, Kyoto and Osaka, i.e. major tourist destinations in Japan. For those who would like to venture into "old" Japan and its origin, a trip to experience one of World Heritage Sites and the island known to be the first one created according to a Japanese myth in the western Japan (Kansai area) is definitely the one not to be missed!
For this 2-night/3-day trip, you wouldn't need a car. Japanese trains are operated without any delays, not even one minute unless there are bad weathers! They are very clean, safe and very convenient, especially going from one major city to another.
Itinerary of the Trip:
Day 1: Visit Himeji Castle
Kansai Airport
↓ JR; 50 min.
Shin-Osaka Station
↓ Shinkansen (Sanyo Shinkansen Line); 30 min.
Himeji Station
↓ By walk; 20 min.
Himeji Castle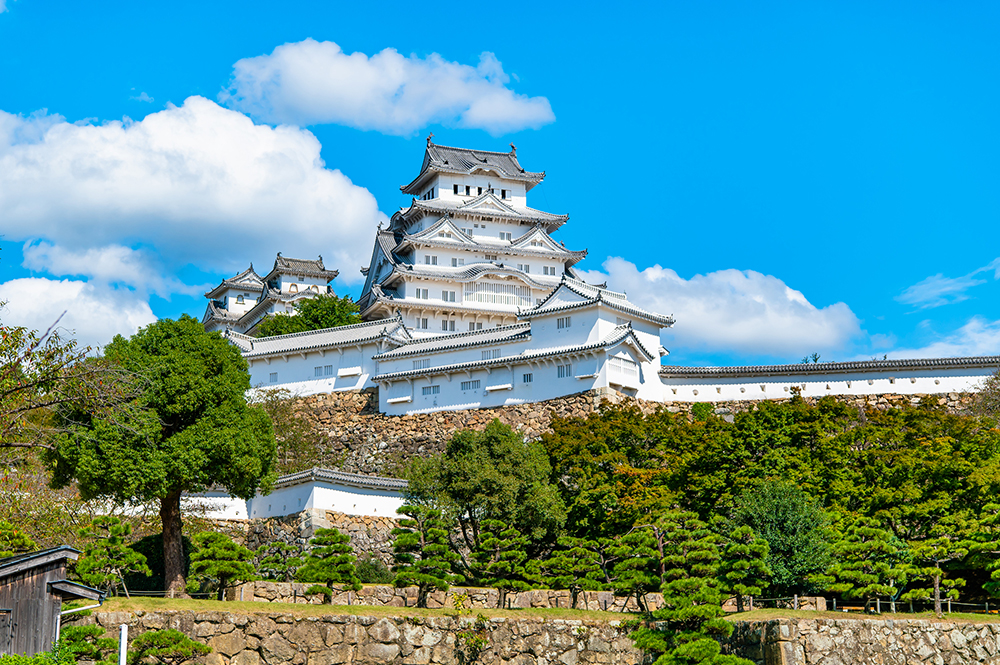 Himeji Castle, a World Heritage Site, is also called Shirasagi (white heron) castle because it looks like a beautiful white heron spreading its wings. These white walls of this castle against the blue sky will be one of the best scenes that you will encounter in Japan! 400 years after the castle was built, now you can actually see the inside the castle and imagine how samurai warriors and their lord lived.
Day 1: Stay at Grand Chariot in Nijigen no Mori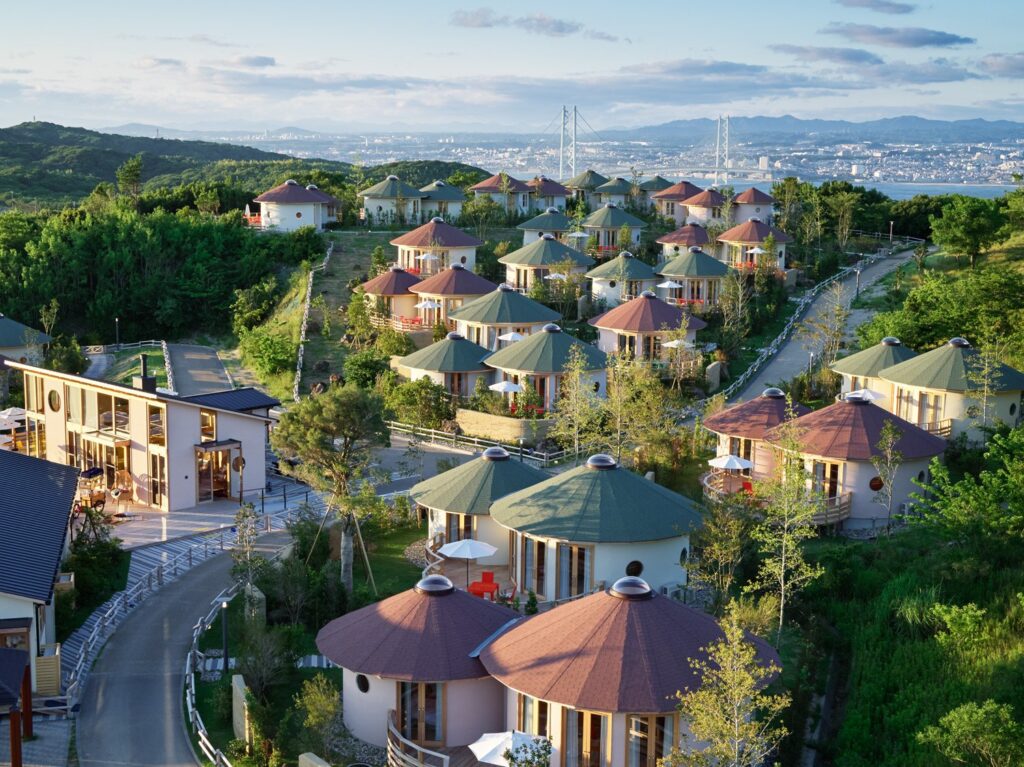 Himeji Station
↓  JR Kobe Line; 25 min.
Akashi Station
↓ 10 min. walk
Akashi Port
↓ Ferry (Jenova Line); 10 min.
Iwaya Port, Awaji Island
↓ Free Shuttle Bus; 13 min.
Nijigen no Mori
Click here for details of GRAND CHARIOT
Located on the 135th meridian east where the mystical power dwells, Grand Chariot is a luxurious glamping facility. In the rooms, named "Cocoons" after their shape where privacy is ensured, the starry skies can be seen from the skylight window of more than 5m high. In the morning, sunlight comes pouring in and engulf the room in the nature of the Island. An anime-themed cocoons like Naruto and Dragon Quest Cocoon are very popular and it is highly recommended to reserve early.
Grand Chariot is located on a hill at Nijigen no Mori, an anime-themed park, and its shuttle bus will pick you up from the parking area at Nijigen no Mori.
A dinner is a Japanese cuisine using locally grown produce, freshly caught seafood, and beef.
From the observation area on top of the hill, you will be able to see an amazing sunset over beyond Akashi Kaikyo (Strait).
Day 2: Explore Nijigen no Mori
Experience 2-dimentional popular Japanese anime contents in a real world of the beautiful nature of Awaji Island. Each attractions and rides are independent making it possible to buy an individual ticket of your favorite anime character.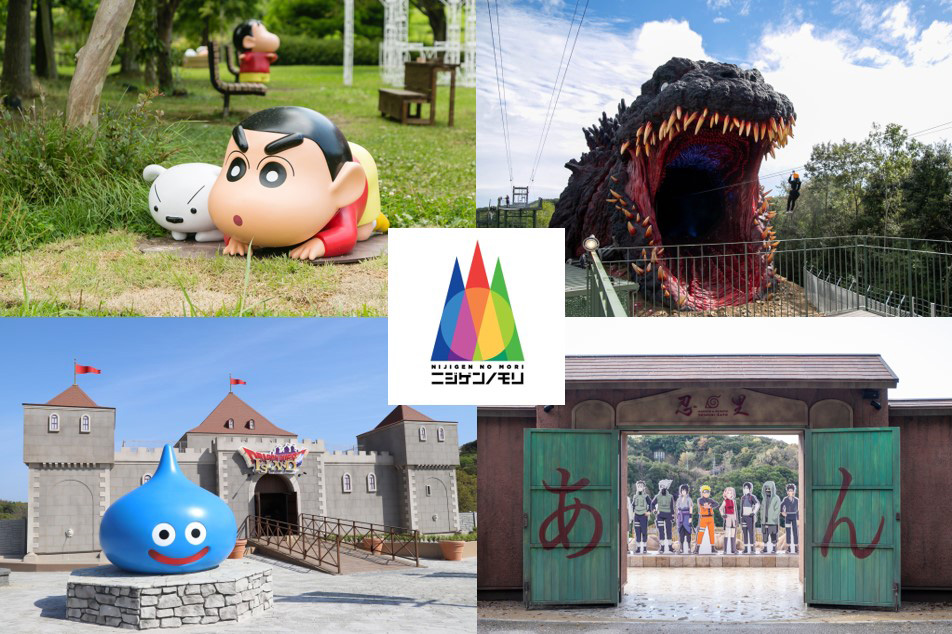 Attractions:
"Dragon Quest Island Daimaou Zoma and the Island of Beginning"
"Dragon Quest Island" is an outdoor field RPG attraction, which is a fusion of real and digital world, where you can explore the world of "Dragon Quest", with your own feet as the main character of the story.
Godzilla Interception Operation-National Godzilla Awajishima Research Center
Based on the theme of the Godzilla that landed on Awaji Island, it is the world's only entertainment attraction with the world's largest life-size Godzilla where you can fully experience the power of Godzilla. You can do so by trying the Theater, Zip Line, Shooting Game, and Godzilla Museum.
Naruto & Boruto Shinobizato
"Hokage Rock" and life-size dolls of characters appearing in the anime are set up to recreate the world of Naruto and Boruto. Have fun with "Ten no Maki (Heaven Volume)" which is a 3-story maze, "Chi no Maki (Earth Volume)" which is a mission-based rally, and "Chi no Maki Gaiden (Supplementary Earth Volume)" which is a riddle with hints in the Shinobizato setting.
Day 2: Lunch at Nijigen no Mori
Ramen Ichiraku
A ramen restaurant based on the concept of NARUTO & BORUTO's world.
Mori no Terrace
A restaurant situated deep inside Nijigen no Mori's forest, offering delicious meals utilizing
ingredients produced locally on Awaji Island.
Click here for details of NIJIGEN NO MORI
Day 2: Stay at a Hot Spring," Boro Seikaiha"
Nijigen no Mori
↓ Taxi (Ask our avatar on this website for more details)
Boro Seikaiha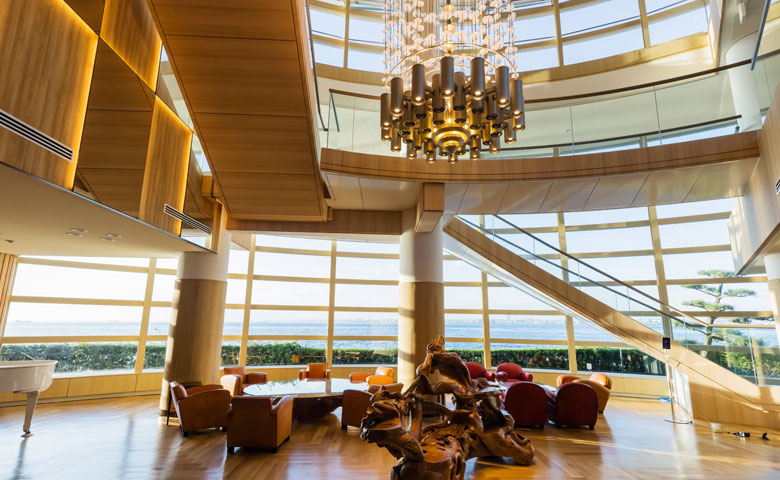 Boro Seikaiha is a holistic wellness ryokan (hotel) with a natural radon hot spring, overlooking at Akashi-Kaikyo Bridge, the longest suspension bridge in the world. All the rooms have an ocean view.
Rooms have a tatami floor, offering you an authentic Japanese experience, but no need to worry! All the rooms are equipped with beds to ensure a comfortable sleep. You can also experience a Japanese natural radon hot spring, healing your body from the trip.
Supervised by Nobuaki Fushiki, a well-known chef specializing in fermented food, the menu with a lot of local vegetables aims to detox and nourish visceral organs. It is great for those with health-conscious mind.
Location
Holistic Wellness Hotel - Boro Seikaiha
Address
1833-4 Iwaya, Awaji City, Hyogo Pref. 656-2401
Access
40 minutes by car from Shin-Kobe Station / Kobe Airport. 5 minutes from Awaji IC on the Kobe-Awaji-Naruto Expressway.
Parking
Available
Phone Number
050-3684-4838
Reception Hours
Check-in: from 15:00
Check-out: 11:00
Website
https://www.bourou-seikaiha.jp/
Reservations
https://rsv.temanasi.jp/3/room/search
Click here for details of Boro Seikaiha
Day 3:Check out and Lunch
Boro Seikaiha
↓  Free Hotel Shuttle
Iwaya Port
↓ Free Shuttle Bus; 25 min. to Harusansan/ 29 min. to SEIKAIHA
Harusansan or SEIKAIHA
↓ Free Shuttle
Iwaya Port
↓ Jenova Ferry; 10 min.
Akashi Port
↓ 10 min. walk
Akashi Station
Lunch Recommendation 1: Harusansan, A Farmer's Restaurant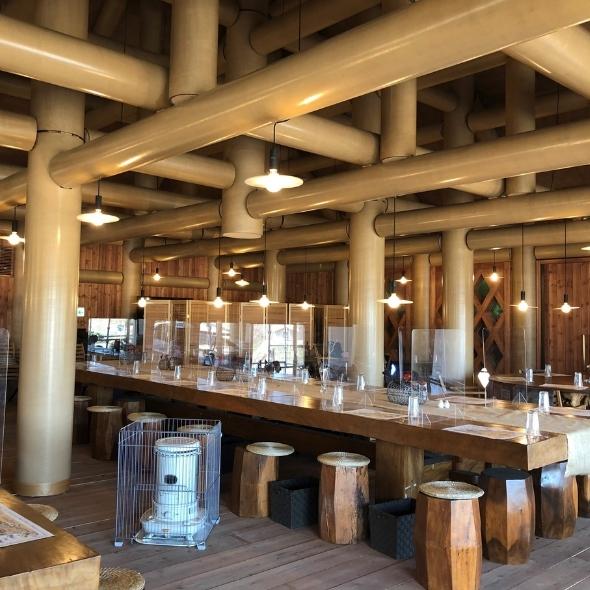 Having a field right in front of the restaurant, it is a "circular" restaurant based on the concept of SDGs. Lunch uses all local produce freshly harvested and you will be amazed how tasty all these vegetables are!
Designed by Shigeru Ban, a world-known architect, a restaurant has a thatched roof and wooden interior, using only those materials that will decompose and be returned to nature.
So good to the environment and healthy to your body!
Click here for details of Haru San San
Lunch Recommendation 2: Aonoya at SEIKAIHA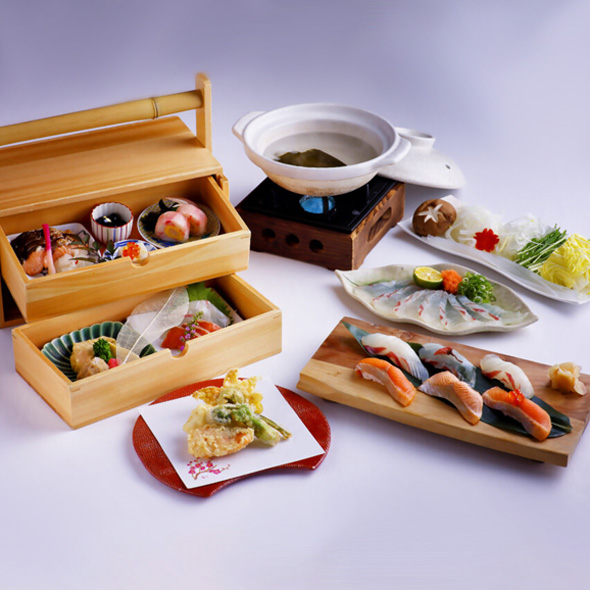 For sushi and tempura lovers, Aonoya located right in front of the ocean is perfect! "Aonoya Gozen Set" with sushi and tempura with freshly caught seafood and local produce as well as side dishes cooked with dashi broth, is highly recommended.
All the seats are on tiered counters, facing the ocean and you can savor your lunch, watching how chefs prepare Japanese cuisine.
Click here for details of SEIKAIHA - Ao no Ya
Lunch Recommendation 3: Uminoya at SEIKAIHA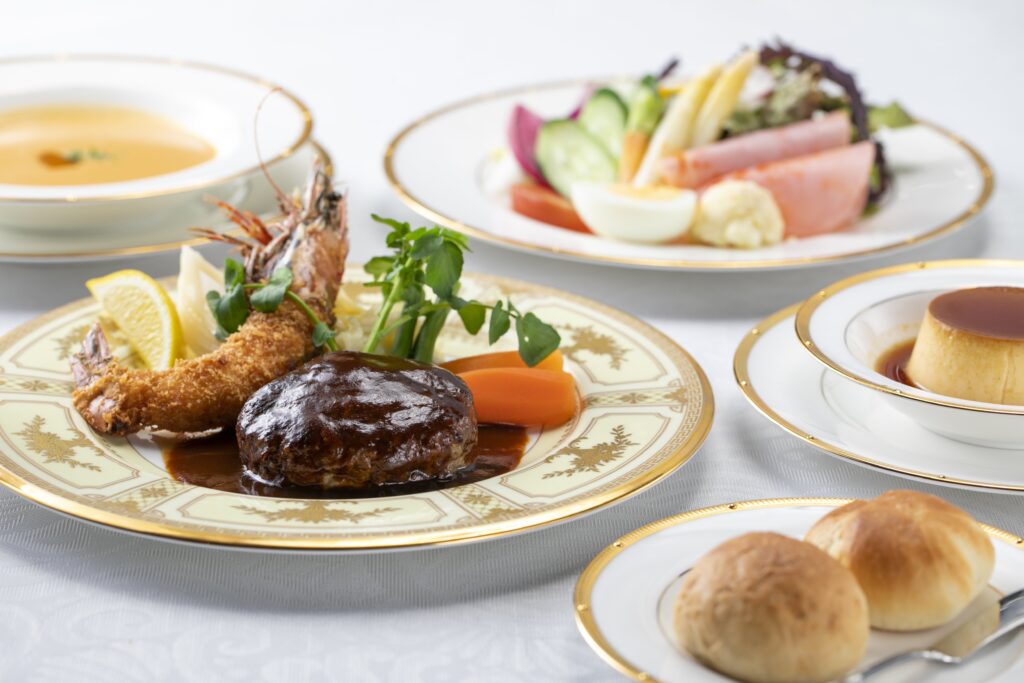 Western food interpreted in a Japanese way such as Omelet Rice, Hamburg Steak and Fried Prawns, that you have often seen in Japanese anime, can be experienced at Uminoya.
The interior of the restaurant is the of Meiji and Taisho era, when Japan was highly influenced by western cultures. It is also located right in front of the ocean and you can enjoy your lunch while relishing a beautiful ocean view and a live music.
Click here for details of SEIKAIHA - Umi no Ya
Enjoy your trip!