In the Kansai area, Awaji Island has long been favored as a captivating day trip destination, offering a delightful array of attractions. Recently, it has also become an idyllic destination for a weekend getaway, where you can fully immerse yourself in the island's true essence. Join us as we uncover the ultimate way to spend a wonderful overnight trip on Awaji Island.
FIRST DAY
11:30 Arrive on Awaji Island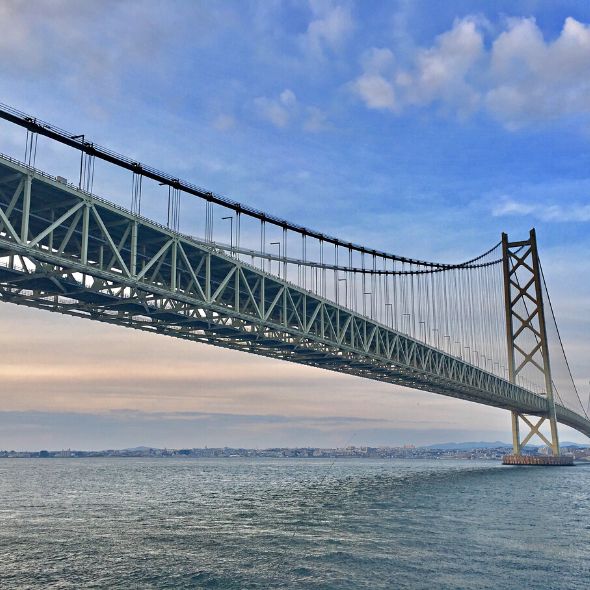 Embark on a captivating journey as we cross the Akashi Kaikyo Bridge, linking Kobe to the alluring Awaji Island. As we venture forth, our hearts are uplifted by the breathtaking panorama of the boundless sea, infusing us with a renewed sense of wonder and anticipation as we enter the island. Immerse yourself completely in the island's beauty, embracing its delights from the very moment you set foot upon its shores.
12:00 Pasta lunch at Ristorante Scuola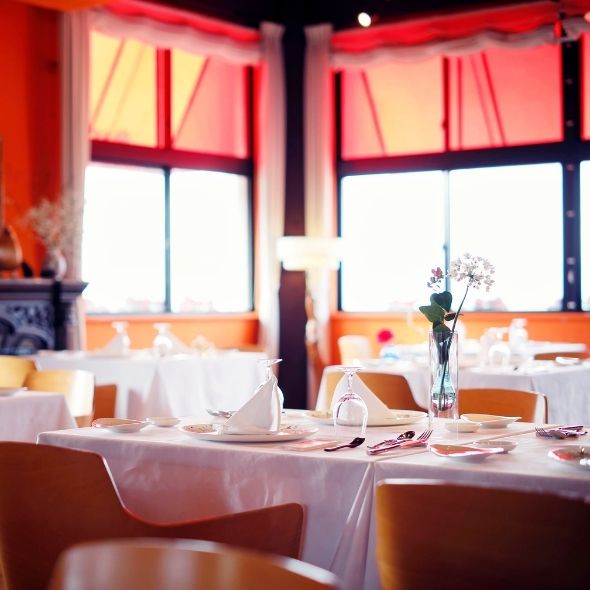 Nojima Scuola is a captivating entertainment complex transformed from a former elementary school. On the second floor, lies Ristorante Scuola — an Italian culinary haven that follows the principle of local production for local consumption. Here, you can relish in the delectable offerings of an authentic Italian set lunch presented at reasonable prices.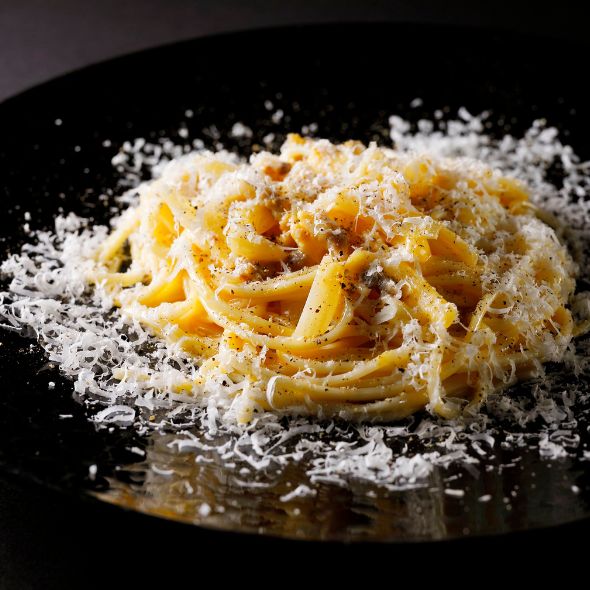 The esteemed "Veloce" set lunch encompasses a delightful variety of delicious dishes, including soup, salad, pasta, and a dessert, all accompanied by your choice of coffee or tea. This selection is particularly suited for those who seek a slightly lighter alternative to a full-course lunch, allowing you to indulge in the authentic flavors while maintaining a sense of culinary balance.
In addition to its incredible food, Nojima Scuola features a charming petting zoo and a café that artfully preserves the nostalgic ambiance of the former primary school. As you explore the complex, you will also encounter a market and a selection of take-out drinks, providing the perfect respite during your journey, and allowing you to recharge and revitalize before continuing on your drive.
Name
Nojima Scuola
Adress
843 Nojimahikinoura, Awaji City, Hyogo Pref. 656-1721
Website
https://www.nojima-scuola.com/
Reservations
2F Ristorante Scuola
https://www.tablecheck.com/en/shops/nojima-scuola/reserve
Tel
0799-82-1820
Operation Hours
1F Marché /Bakery: Weekdays 10:30~19:00
Sat., Sun., & Public Holidays 10:00~19:00

1F Café Scuola: Weekdays Lunch 11:00~14:00/ café 14:00~18:00
Sat., Sun., & Public Holidays breakfast 10:00~11:00
Lunch 11:00~15:00
Café 15:00~18:00

2F Ristorante Scuola: 11:30~15:30 (in by 14:00) / 18:00~21:30 (in by 19:30)

Outdoor Zoo: Weekdays 11:00~16:00
Sat., Sun. & Public Holidays 10:00~16:00 (13:00~14:00 animals in recess)

Closed: Wednesdays (Open on Public Holidays)
Click here for details of Nojima Scuola
13:00 Beautiful Flowers at Awaji Hanasajiki
Awaji Hanasajiki is an incredibly popular destination on Awaji Island, and for good reasons. Nature's beauty unfolds in all its glory, with seasonal flowers in full bloom, harmoniously combined against the breathtaking backdrop of the boundless sea. The vibrant hues of the blossoms, set against the deep blue waters, create a captivating spectacle that is truly awe-inspiring. Take an enchanting afternoon stroll through the sprawling flower fields, where a tapestry of colors blankets the landscape.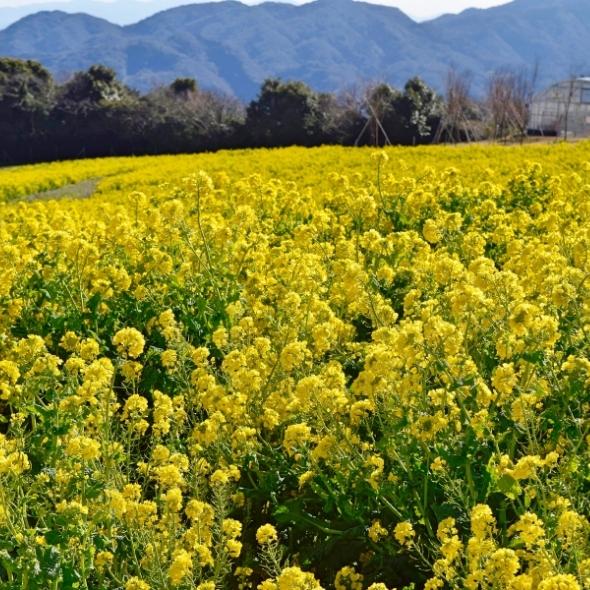 15:00 Chilling out at the farmer's restaurant Haru San San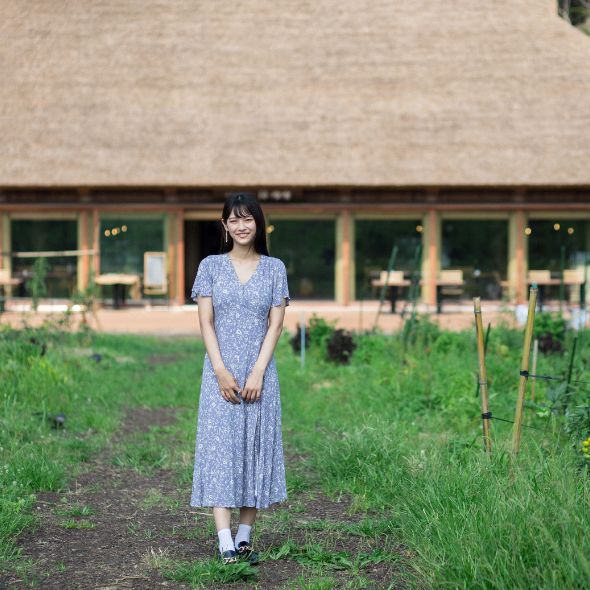 Haru San San takes pride in serving delectable and nourishing dishes, showcasing the island's bounty of fresh vegetables and fruits. Whether it's a delightful lunch or a serene afternoon tea, you will be drawn to this place for its wholesome offerings and warm hospitality. Indulge in homemade sweets, thoughtfully crafted with seasonal fruits, and savor delicious original and unique dishes.
Allow yourself to unwind on a leisurely afternoon as you bask in the tranquil ambiance. What truly sets this place apart is its farm-to-table philosophy, where the food and drinks are made using vegetables freshly harvested from the field just outside the restaurant. Moreover, the architectural marvel of the building itself is a testament to its uniqueness. Designed by the renowned architect Shigeru Ban, it boasts eco-friendly materials and showcases the traditional Japanese thatched-roof style.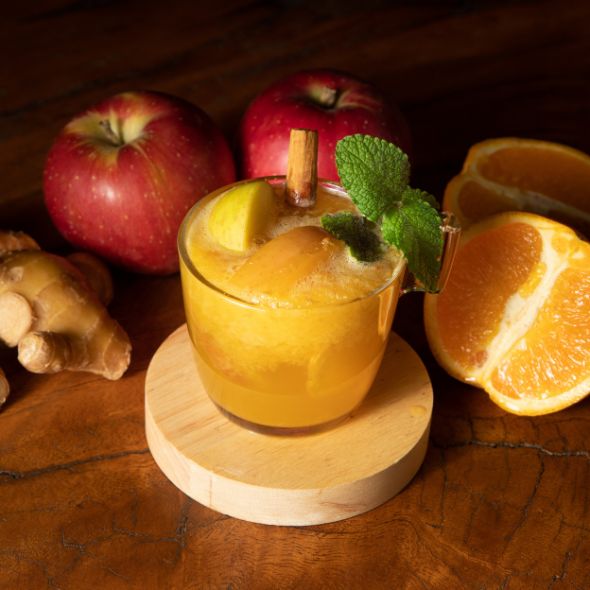 Click here for details of Haru San San
17:00 Explore Awaji Island's Luxurious Souvenirs at Koshunoya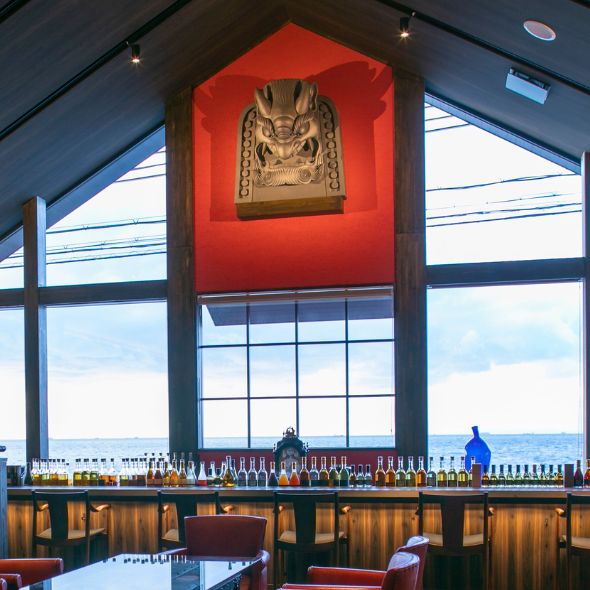 SEIKAIHA presents a refined haven for enthusiasts of aged liquors, including vintage sake, shochu, and Japanese plum wine (umeshu). With an impressive selection curated from over 100 breweries across Japan, this establishment focuses primarily on vintage sake aged for more than a decade. It is worth noting that finding cafes and bars in Japan that offer vintage Japanese sake is an exceedingly rare treat.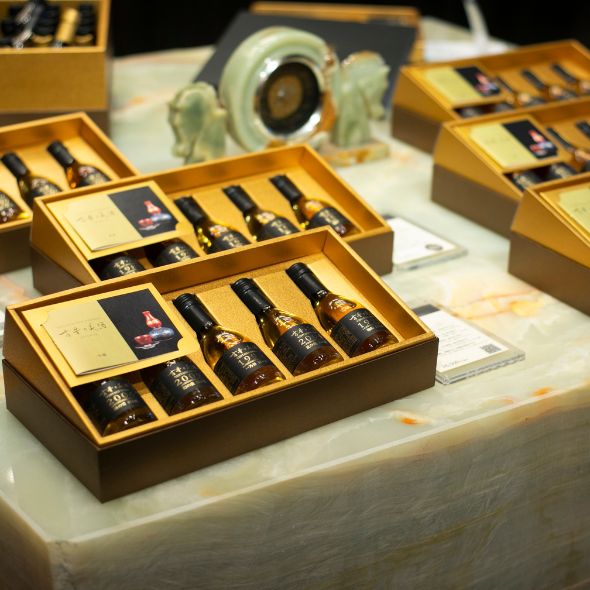 Ascend to the second floor, where a sophisticated café bar awaits, offering a discerning space for you to indulge in the art of tasting and comparing world-renowned aged brews. Immerse yourself in an atmosphere of elegance as you sip on these remarkable drinks, each thoughtfully paired with dishes designed to accentuate their nuances. This unique experience allows you to explore the depths of flavor and appreciate the craftsmanship behind these fine liquors.
Click here for details of SEIKAIHA – Koshunoya
18:00 Check-in at Grand Chariot
Perched atop NIJIGEN NO MORI's highest hill, Grand Chariot is a luxurious glamping facility. Its uniquely shaped rooms, known as "Cocoons," offer skylight windows that reach over 5 meters high, providing a breathtaking view of the starry skies and creating a natural planetarium. In the morning, the room is bathed in sunlight, immersing you in the island's nature. During check-in, you'll be greeted with a refreshing welcome drink, setting the tone for a delightful stay.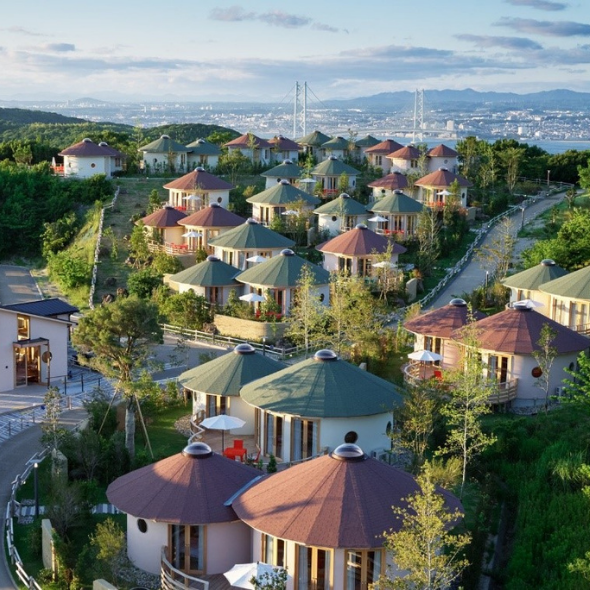 19:00 Dinner at Grand Chariot
Indulge in a culinary journey at Grand Chariot, where you have the choice of three to four exquisite full-course dinners. Each meticulously crafted meal features a selection of high-grade delicacies that are sure to tantalize your taste buds.
Delight in the delectable flavors of the Awaji Beef Mountain Sea Tomato Sukiyaki, a savory combination of tender beef and exquisite ingredients sourced from mountains and seas. For seafood enthusiasts, the Rich Sea Urchin Hot Pot is a true delight, showcasing the finest offerings from the ocean. Meanwhile, Awaji Island Golden Conger Sukiyaki Pot presents a fusion of flavors that is both satisfying and unique. And for those seeking an extraordinary culinary experience, Awaji Island 3-Year Torafugu (puffer fish) Hot Pot promises a taste sensation like no other.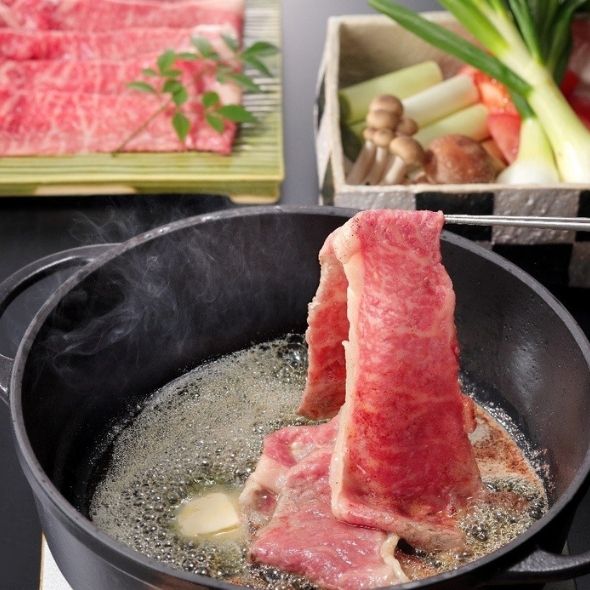 21:00 Bathing
Every room at Grand Chariot is thoughtfully furnished with a Japanese cypress bath, providing a sanctuary for well-being. Immerse yourself in the calming ambiance and allow the refreshing aroma of this wood to envelop your senses, offering a soothing experience that promotes both emotional and physical healing.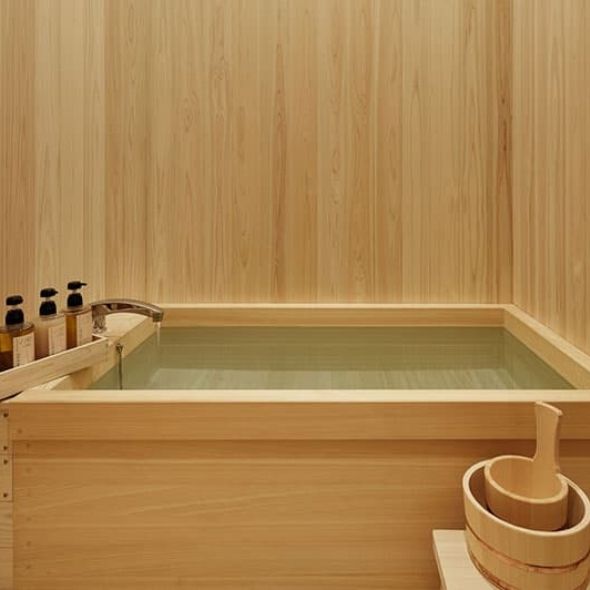 THE SECOND DAY
8:00 Breakfast
A nourishing breakfast is vital for beginning the day with vitality. Grand Chariot's "Morning Hajime Gozen" breakfast set offers a refreshing start, featuring a delightful combination of grilled fish from the Seto Inland Sea, Dashi Rolled Egg which is the specialty of Grand Chariot, and an array of other freshly prepared delicacies. Surrounded by the serenity of Grand Chariot's picturesque surroundings, you will find yourself rejuvenated, ready to embrace the day with renewed vitality and a heightened sense of well-being.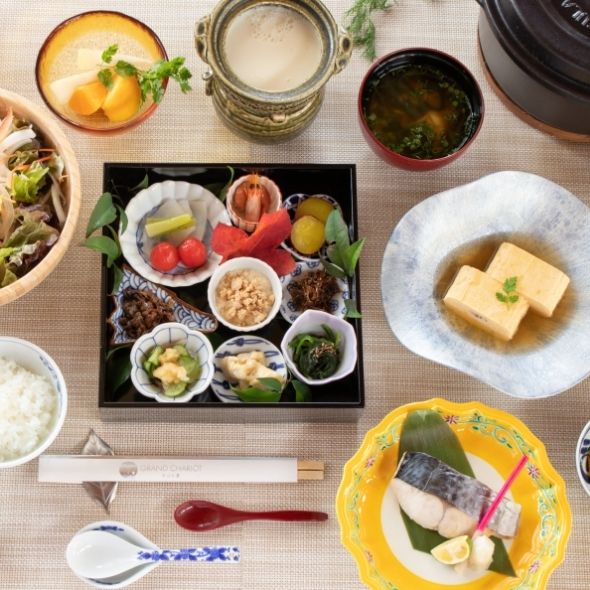 Click here for details of GRAND CHARIOT
11:00: Shopping for Awaji Souvenirs at Craft Marche
Situated near the hotel, Craft Circus offers a delightful shopping experience with its "Craft Marche," where you can find a diverse range of souvenirs from Awaji Island. Immerse yourself in the island's charm by selecting locally grown fresh vegetables and an assortment of delightful gifts. Spread joy among your loved ones with items such as Awaji Island's seaweed salt and the comforting Awaji Island's onion soup. Moreover, Craft Circus is located on a hill, providing you with the opportunity to witness a breathtaking sunrise from the dining area.
In addition to shopping, Craft Circus caters to your culinary desires with a seafood barbecue experience on its spacious open terrace. With no need for prior preparation, you can simply arrive as you are and relish a delectable feast. While seafood takes center stage, there are plenty of options to please children, including mouthwatering pasta and pizza. Craft Circus ensures that every member of your group can find a satisfying and enjoyable dining experience in a picturesque setting.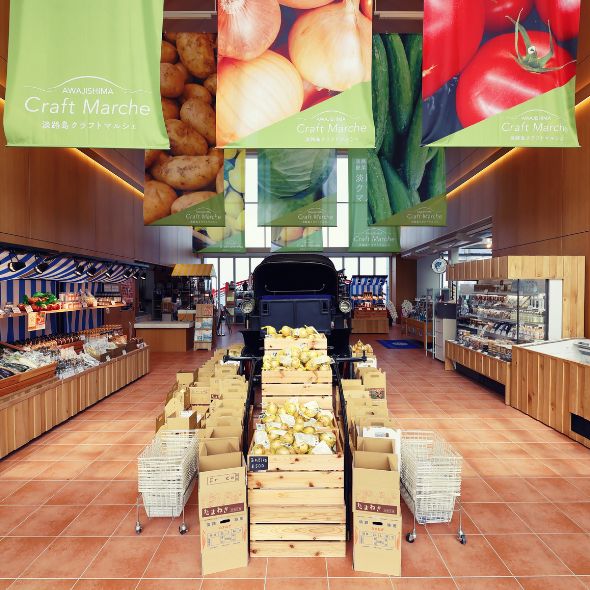 Location
CRAFT CIRCUS
Address
2-2 Nojima-Hirabayashi, Awaji City, Hyogo Pref. 656-1724
Access
15 minutes by car from Awaji IC on Awaji-Kobe-Naruto Expressway. 10 minutes by car from Iwaya Port (Jenova Line Ferry).
Parking
80 spaces
Business Hours
Weekdays: 10:30-20:30 (last order 19:30)
Weekends/Holidays: 9:30-20:30 (last order 19:30)
Closed
Thursdays (excluding national holidays)
Tel
0799-82-1855
Website
https://awajicraftcircus.com/
Reservations
https://www.tablecheck.com/en/shops/craftcircus/reserve
Click here for details of CRAFT CIRCUS
12:30 Seafood Lunch at Aonoya
During your trip to Awaji Island, it is essential to indulge in the island's renowned seafood. To fully immerse yourself in this culinary delight, we recommend visiting the Japanese restaurant Ao no ya, located within the same complex you explored on your first day, Seikaiha. Here, you can enjoy a remarkable dining experience while seated in tiers that offer breathtaking views of the sea.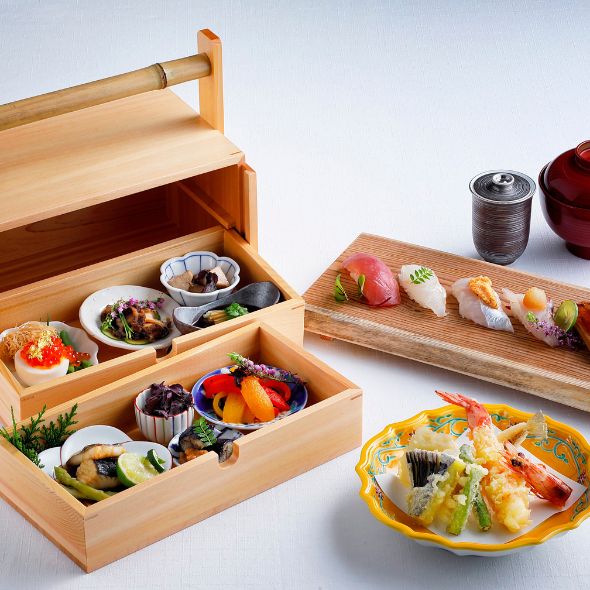 Click here for details of SEIKAIHA - Aonoya
14:30 Pick Japanese Sweet Pea Flowers (from January to March only)
Experience the joy of sweet pea flower picking on Awaji Island, a delightful activity available from January to March. As you enter the greenhouse, the sweet and fresh fragrance of the sweet peas welcomes you, setting the stage for a memorable experience.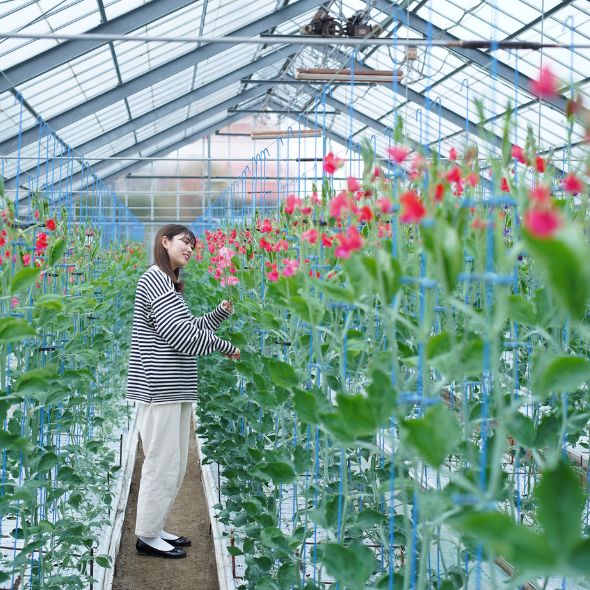 Take your time selecting the colorful blooms in full bloom, and plucking them to create your own bouquet. This hands-on adventure is a wonderful opportunity for budding botanists and serves as a charming souvenir to brighten up your home.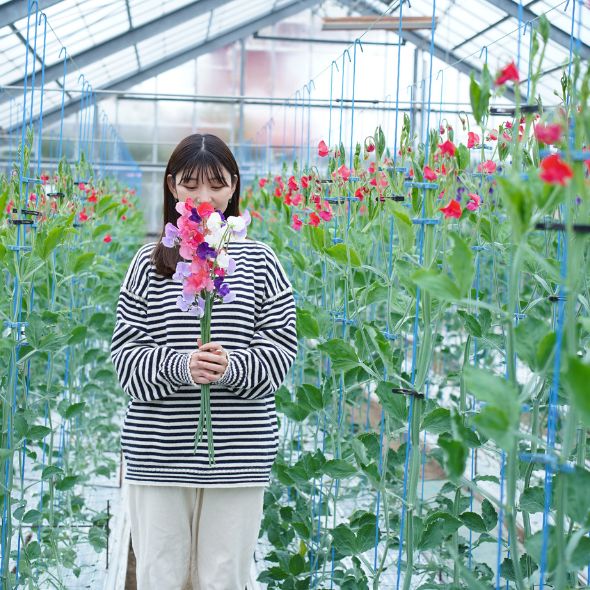 Awaji Island is the Perfect Destination for a 2-Day, 1-Night Weekend Getaway
A weekend getaway is one of the best ways to enjoy the island's attractions at your leisure. From the indelible Awaji Island cuisine, to sightseeing and fields of flowers that soothe the soul, there's so many reasons to come. Hopefully, the plan here gives you a better idea of the pleasures that await you on Awaji Island.