"Do not judge something as being good or bad," advised our sensei, Bilal, "just accept what is around you with all 5 senses." At that moment, seated high above the trees, accepting everything around me was easy: the endless shades of early summer greenery stretching to the horizon, the cool mountain breeze on my skin, the gentle warble of happy birds in sunny skies, the whispers of leaves rustling in the wind. I was floating at the edge of heaven on earth at Zenbo Seinei on Awaji Island.
Acceptance without judgement is all I could do here, as the resort was unlike any place I had ever been: a Zen wellness center designed by a legendary architect, offering fine vegan cuisine, yoga and meditation practice, perched atop the mountainous spine of a majestic island in the calm currents of Japan's Seto Sea.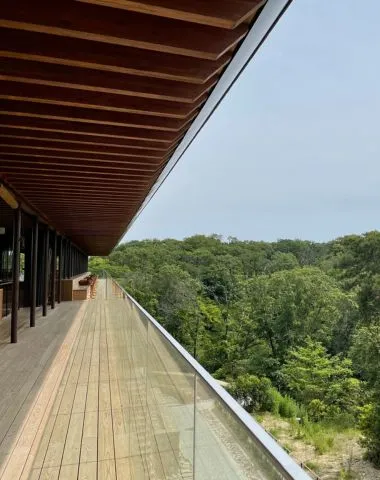 The mix of elements, though strikingly unique, fit so naturally that I felt entirely at home with the sun-warmed wood under my feet. This kind of paradox echoes throughout the 100-meter structure that both stands out and blends in, seems at once to be out-of-this-world yet also organic as the earth itself, is filled with light and shadow, luxury and austerity, space and restraint, ancient customs and cutting-edge science. Yet somehow these disparate parts merge here in delicate harmony.
In Zenbo Seinei, the multi-award winning, globally renowned "superman" of architecture, Shigeru Ban, has designed a place of moving symmetry. Mr. Ban studied "3-dimensional poetry" while a young student at Cooper Union's School of Architecture. Like a poem, this building unfurls in meaning and metaphor at every turn. The 90-meter platform stretches to the horizon, seemingly endless as time itself, giving form to the 7th-century zen saying: "infinity is before our eyes." The long narrow structure of locally sourced cedar is cantilevered on a single column, underlining the centrality of balance. The building sits aligned with the 135th meridian east, a magnetic line of longitude joining the polar opposites of north and south. The layers and layers of meaning in the design was a delight to explore.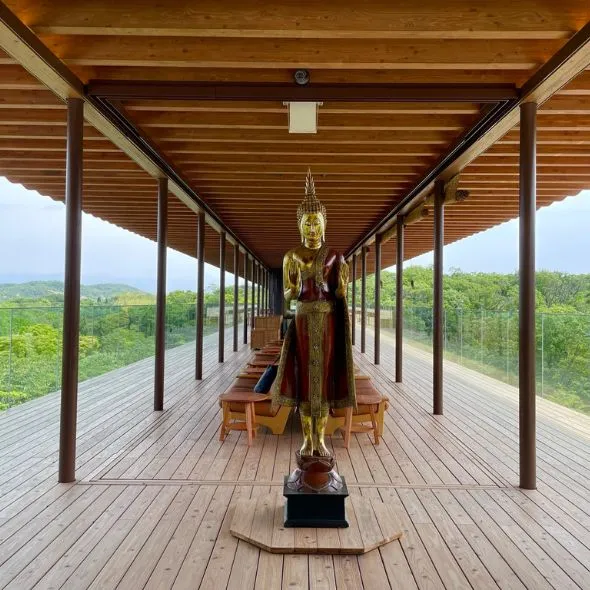 My afternoon course was a series of events, leisurely spaced, with time to commune with the building and the land, sip a cup of tea in the library, spend time alone in my room, practice calligraphy, talk with others, or just be. The main events were yoga and meditation sessions punctuated by a welcome drink, tea and dinner.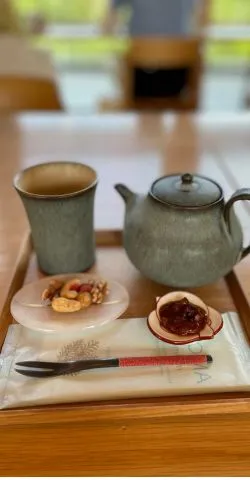 The food was a revelation. "Zenbo" means "zen monk," and the unique cuisine developed for this wellness retreat is based loosely on the austere ancient vegan food culture of zen Buddhist monasteries known as shojin ryori. Like this ancient ancestor, Zenbo Cuisine uses no animal products, but veers from tradition in also eschewing wheat, sugar and oil. However, it was the handmade seasonings aged over years that emerged for me as the most distinctive element of the gastronomy here.
The menu springs from the mind of "the Prince of Fermentation," Head Chef Nobuaki Fushiki. Bestsellers like Ed Yong's "I Contain Multitudes" have recently sparked interest in the West around the role of fermentation in our body's microbiome. However, Chef Fushiki for years has spearheaded the trend of hakko-ryori (fermented cuisine) which seeks to boost health while deepening umami to create dishes that nourish both body and soul. Fermented ingredients like miso, mirin, sake, hishio (soybean paste), su (vinegar) and amazake have been pillars of Japan's world heritage washoku cuisine for millennia. At Zenbo Seinei, however, the famed foods of Awaji island combine with Fushiki-san's fermentation processes to create new, extraordinary pleasures from a mix of advanced science and ancient tradition.
Tea leaves were aged for 3-years to make San-nen Bancha, my mellow welcome drink, accompanied by the fermented mix of ume hishio containing 2,400 active enzymes and a savory kick. At dinner, delicately pickled local vegetables adorned the chirashi sushi, with a finishing dessert of sweet rice malt amazake, rich in the superfood koji, the cultured fungus known to beautify skin, boost energy, strengthen the immune system and aid digestion. Every part of this literally living meal, put together by our veteran Chef Kenichi Karimata and his conscientious team, fused elements of Awaji nature, zen tradition, and fermentation science.
***
The soothing, reverberating chime of the bowl-shaped rin bell marked the start of events through the day. Heeding the call, I left my cup of tea in the sun-drenched library and headed up the narrow staircase, suddenly emerging into the cool breeze and vast, exhilarating view at the deck's farthest edge. At the top level, I took a seat on one of the luxurious meditation chairs that folded my body into a surprisingly comfortable, loose, cross-legged position.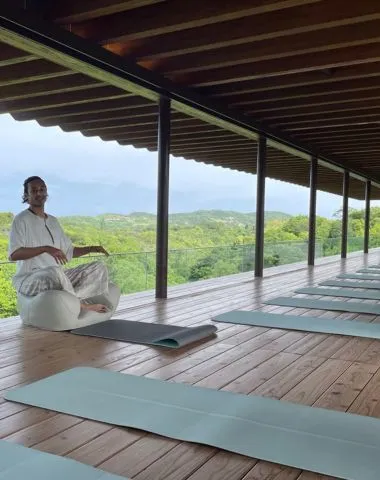 Finally, in strode the tall, graceful form of our instructor, Bilal Khan, seeming to float down the deck, long hair and loose natural fabrics flowing in the island breeze. I wondered what twists of fate had brought a boy from the farmlands of Virginia to grow into a bilingual instructor of zen yoga and meditation in the heart of Japan. No matter how unlikely, however, there was no doubt about his harmonious place here.
A discreet mic headset broadcast his calm, gentle voice clearly throughout the space, intelligible even at a whisper. The class was near its 28-person capacity that Saturday, with a few non-Japanese speakers, so Bilal led us effortlessly in both English and Japanese. Among us were also a wide range of ages, but he put us at ease, telling everyone many times "not to force anything" and to "do what is most comfortable."
Through two sessions that afternoon he guided us through sitting, stretching, and breathing exercises, as well as aromatherapy and mindfulness meditation. He taught us about the symbolic hand gestures, mudras, and their meanings, guided our thoughts as well as our bodies, and sang to us softly in Sanskrit of peace and love. Yoga loosened our bodies, meditation calmed our minds, while aromas of mint balm and hinoki wove into the stunning surroundings to stimulate our senses.
"Breathe in and welcome nature into your body," he told us, "breathe out with thanks for what you have received". With this in mind, palms-up, fingers bent in the prana mudra on cross legged knees, in this moment of stillness somehow so rare in my life, my mind was filled with the sights, textures, fragrance and music of Awaji's wilderness, the probiotic foods boosting my physical and mental energy, the harmony of paradoxes flowing through the space and through me. At that moment, it was impossible for me to imagine any better place on earth to reawaken the bond between the natural world and our inner self.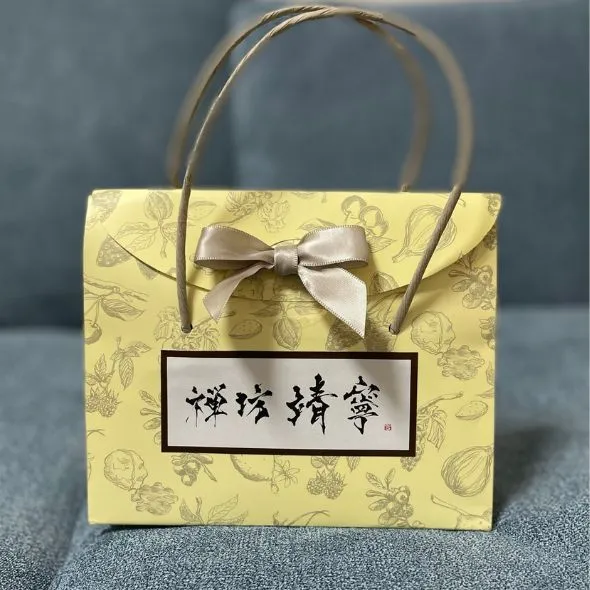 Chef Karimata, Bilal sensei and the team of attendants bid me farewell with kind smiles and a parting present. Climbing the stone stairs back to the entrance gate, I turned back for one more glance, but the place had vanished just below the mountain ridge, suddenly invisible from where I stood on the road. Had it all been a dream? I guess, the answer didn't really matter. What mattered was the transformation I felt within myself.
As Marcel Proust, known as "the accidental Buddhist," once wrote, "the real act of discovery consists not in finding new lands, but in seeing with new eyes." Especially for a zen novice like me, Zenbo Seinei had given me new ways to sense my everyday world. Peering towards the distant horizon through my new eyes, I breathed out with thanks for what I had received.
Written and photographed by Ren Wong