Awaji Island beckons with a captivating blend of history and breathtaking views, but its allure does not stop there. The island is also renowned for its culinary treasures. Once named "Miketsukuni" or the "Land of Food", Awaji Island boasts a rich history as a provider of culinary treasures presented to the Imperial Court. With an astounding self-sufficiency rate exceeding 100% in food production, the island stands tall in its culinary achievements. Moreover, Awaji Island has been actively embracing a global perspective in recent years, resulting in an array of incredible international cuisines being offered alongside its local delights.
Don't forget to empty your stomach before you go and eat until you drop on Awaji Island! In this article, we will embark on a culinary journey, unveiling a day trip that unveils the delectable gourmet offerings of Awaji Island. While our mode of transportation for this journey will be by bus, it is worth noting that driving could make the experience even more convenient.
10:50 AM: Start Your Journey from Sannomiya
Begin your adventure at Shinki Bus Sannomiya Terminal. Hop onto the 10:50 AM Kita Awaji Nishi Kaigan Line (北淡路西海岸ライン) headed towards Nojima Okawa (SEIKAIHA MAE) (野島大川[青海波前]). The ride lasts for approximately 55 minutes, spanning 4 stops. Once you arrive, a mere two-minute walk will lead you to Chef's Garden and Ladybird Road.
12:00 PM to 1:15 PM: Experience Global Gourmet at Chef's Garden and Ladybird Road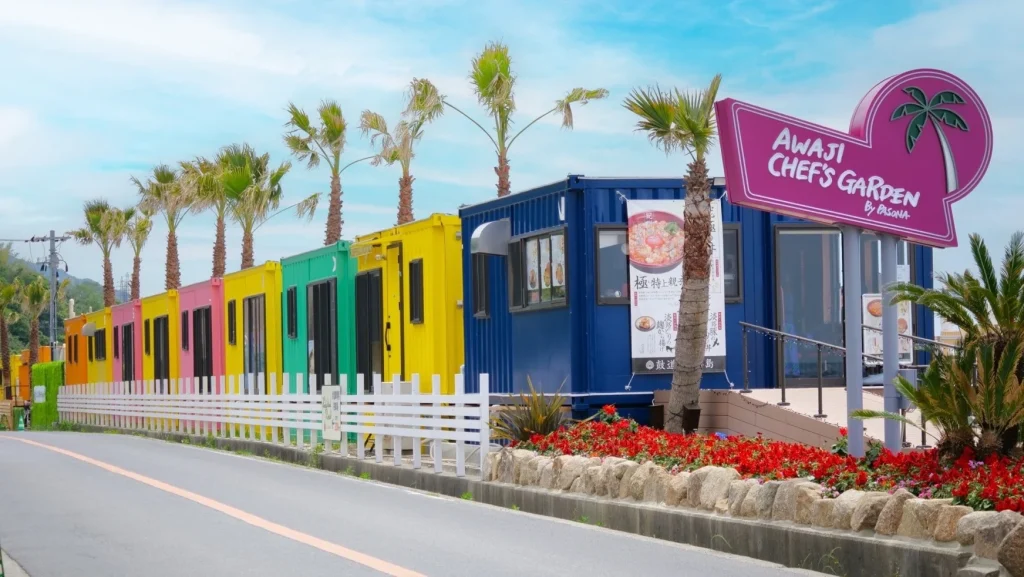 Chef's Garden is an outdoor complex featuring container houses where you can enjoy a wide variety of lunches, desserts, and drinks from all around the world while enjoying the spectacular ocean view. You will have the privilege of relishing not only the delectable cuisine but also the breathtaking Harima-nada Sea, making them irresistible destinations for those seeking to satisfy their palate while feasting their eyes on nature.
Ladybird Road is a seaside mall reminiscent of an European townscape, featuring restaurants of variety of cuisines and shops.
Prepare to be delighted by our exceptional recommendations for both Chef's Garden and Ladybird Road.
Authentic Chinese Cuisine at Huang's Awajishima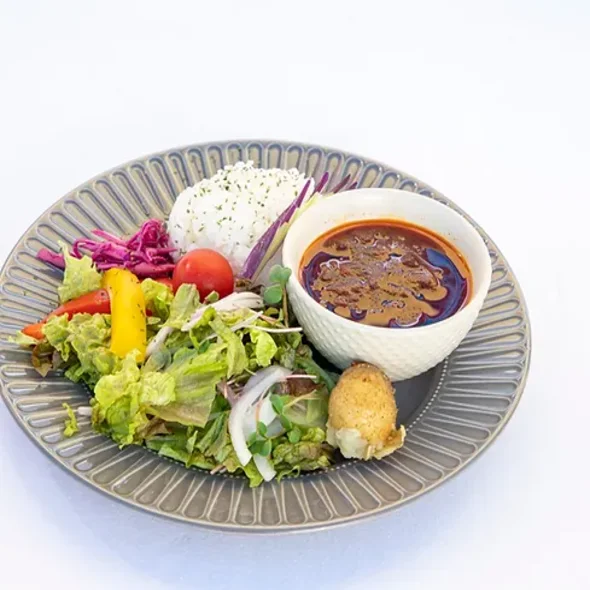 Enjoy authentic Chinese cuisine made with the freshest Awaji Island vegetables and rice personally handpicked by the owner. The flavor is delicately balanced, capturing the authentic essence of Chinese cuisine without overwhelming the palate. To complement your meal, a delightful array of beverages is also ready to quench your thirst.
Healthy Lunch of Soup and Bread at Gotairiku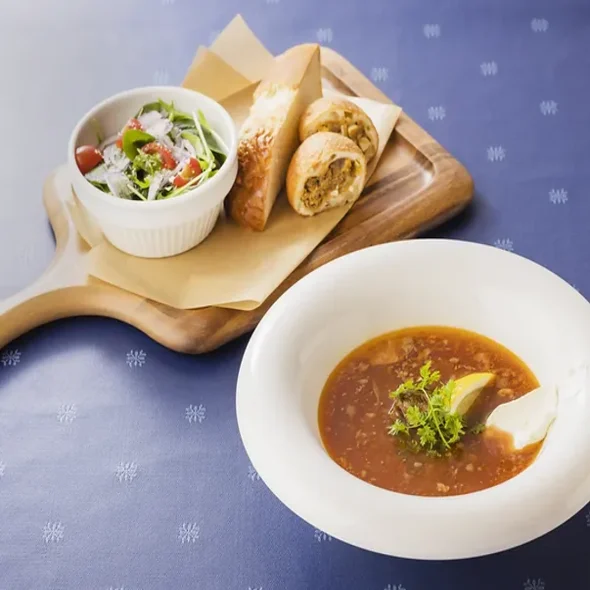 This soup shop is popular as a go-to spot for a swift and satisfying lunch. The restaurant infuses freshly harvested produce into its simmering soups, resulting in rich and authentic vegetable flavors. Named the "Five Continents", this establishment offers soups from across the globe. The picture above showcases a serving of borscht (sour soup). Each set comes complete with a choice of delicious bread and a refreshing salad. Additionally, individual soup selections are also available for purchase.
Awaji Hot Pot Soup Shangri-la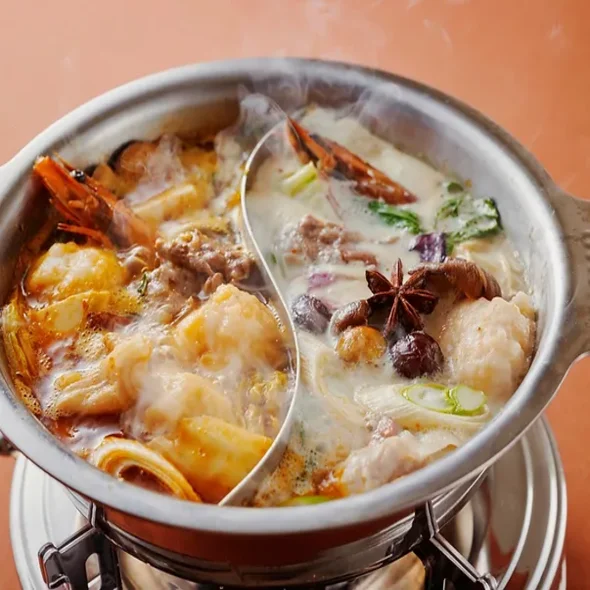 Try the Awaji beef hot pot, paired with a choice of 10 dipping sauces. Experience Shangri-la's signature hot pot, featuring Awaji Island's finest ingredients in two soups. One soup is a velvety white base of pork and chicken bones, while the other is a spicy creation with Awaji Island vegetables. This hot pot offers a gentle yet rich flavor, complemented by soothing spices derived from medicinal herbs, creating a comforting and invigorating experience for the palate and body.
Beyond these highlighted options, Chef Garden and Ladybird Road offer a diverse array of restaurants from Japan and around the world. Whether you are craving classic Japanese dishes like oyakodon (chicken and egg rice bowl) or kishimen (a type of udon noodle), savoring Chinese delicacies, indulging in seafood chirashi sushi, enjoying a steak, exploring Korean flavors, or treating yourself to delectable desserts like crepes, churros, and soft-serve ice cream, they have something to satisfy every palate.
Name
Awai Chef's Garden by PASONA
Address
57-3, Nojima Okawa, Awaji Shi, Hyogo Ken, 656-1723
Parking
Approx. 140 units
Phone Number
080-8177-4501
Website
https://www.awaji-chefgarden.com/
Business Hours
11:00~21:00 (last order 20:00) 
*Subject to change depending on the season and weather.
Click here for details of Awaji Chef's Garden
1:15 PM to 2:00 PM: Unique Shopping Experience at Ladybird Road
In addition to the culinary delights of Chef Garden and Ladybird Road, you will also find charming, one-of-a-kind shops that promise an intriguing shopping experience.
Try Vegan Chocolate at VIE CHOCOLAT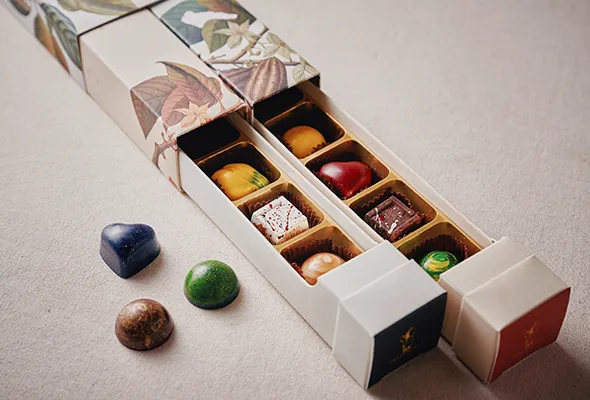 "VIE CHOCOLAT" is named after "VIE" meaning life in French and "Chocolat" meaning chocolate. The name is derived from bi in Japanese (美) meaning beauty and health, in order to convey an image of health and vitality. "VIE CHOCOLAT" crafts chocolates with a keen emphasis on "health" and "beauty," opting for soy or almond milk over traditional cream or milk. This thoughtful choice not only reduces calories but also sugar content, making it a healthy but delicious option.
Unique Items from Around the World at Global Market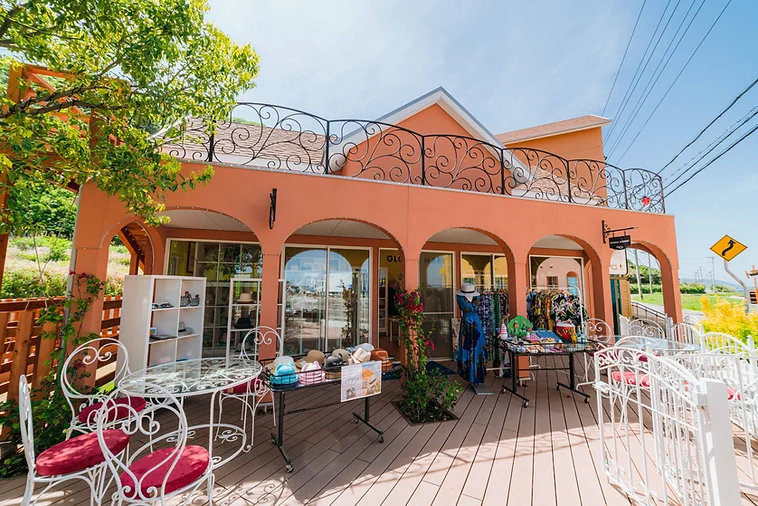 Prepare for the upcoming season with a premium hemp clothing collection, including stylish hemp shirts that exude elegance and comfort. In addition to the fashion offerings, there is also an array of exquisite products sourced from around the globe. Global Market invites you to explore and discover your personal favorites among our carefully curated selection. Outside of the store, you will spot goats leisurely strolling around, adding a touch of charm to your visit.
Beyond these mentioned options, you will find other stores awaiting your exploration. Ladybird Road offers a wide range of shopping opportunities, including the purchase of fresh vegetables and a diverse array of clothing items.
| | |
| --- | --- |
| Name | Ladybird Road |
| Address | 95-2, Nojima Todoroki, Awaji Shi, Hyogo Ken, 656-1722 |
| Parking lot | 86 cars *Temporary parking is available nearby. |
| Operation Hours | Varies from store to store. |
| Tel | 0799-64-7530 |
2:15 PM to 4:00 PM: Adorable Animals, Fresh Bakery, and Farmers' Market at Nojima Scuola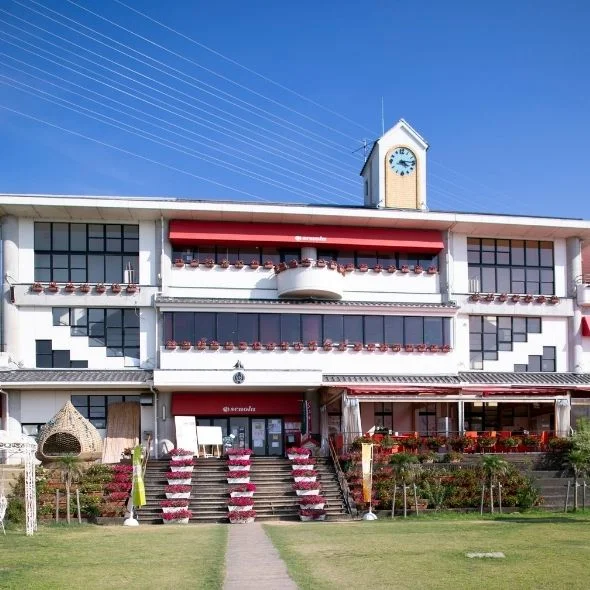 Nojima Scuola is a unique renovation project of a former elementary school that has become a beloved destination for locals, evoking a nostalgic atmosphere reminiscent of childhood. The converted complex houses a variety of establishments, including a bustling market, a delightful bakery, a cozy café, an authentic Italian restaurant, and a charming BBQ terrace.
Meet Adorable Alpacas at Nojima Zoo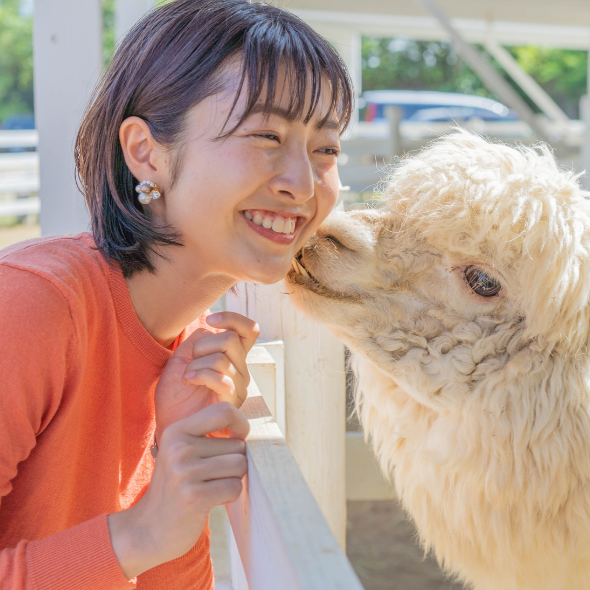 Nojima Zoo is known as a charming petting zoo nestled within the grounds of a former elementary school, offering a unique experience where visitors can encounter Awaji Island's exclusive alpacas and goats. Do not miss the chance to meet the beloved alpaca, Raul-kun! This charming alpaca has gained widespread attention for its endearing habit of bestowing kisses exclusively upon women, making it a prominent subject of discussion on television.
Fresh Bread at Nojima Bakery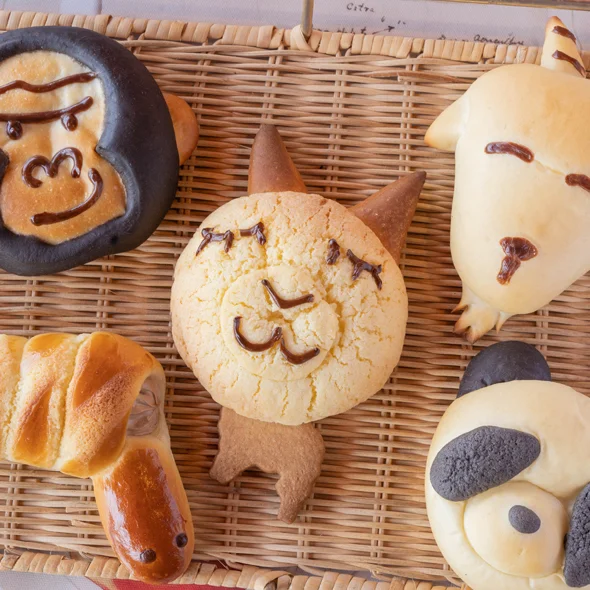 Nojima Bakery is famous on Awaji Island for its freshly baked bread made with local ingredients. The bakery does not use any preservatives or artificial colors, and everything comes from the island itself. If you visit on Friday, you can also get a nice 10% discount on all their bread. You can purchase the bread for snacking or keep it to enjoy later.
Fresh Vegetables and Souvenirs from Awaji Island at Nojima Marché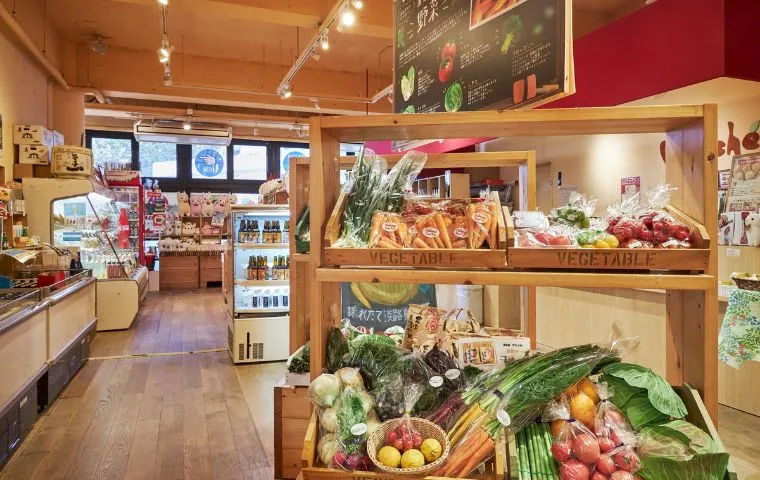 Nojima Marché is a farmer's market offering a variety of products, including freshly picked vegetables harvested in the morning, local specialties, and sweet treats from Pasona Heartful. With a selection of about 250 items, there is always something for everyone.
Name
Nojima Scuola
Adress
843 Nojimahikinoura, Awaji City, Hyogo Pref. 656-1721
Website
https://www.nojima-scuola.com/
Reservations
2F Ristorante Scuola
https://www.tablecheck.com/en/shops/nojima-scuola/reserve
Tel
0799-82-1820
Operation Hours
1F Marché /Bakery: Weekdays 10:30~19:00
Sat., Sun., & Public Holidays 10:00~19:00

1F Café Scuola: Weekdays Lunch 11:00~14:00/ café 14:00~18:00
Sat., Sun., & Public Holidays breakfast 10:00~11:00
Lunch 11:00~15:00
Café 15:00~18:00

2F Ristorante Scuola: 11:30~15:30 (in by 14:00) / 18:00~21:30 (in by 19:30)

Outdoor Zoo: Weekdays 11:00~16:00
Sat., Sun. & Public Holidays 10:00~16:00 (13:00~14:00 animals in recess)

Closed: Wednesdays (Open on Public Holidays)
Click here for details of Nojima Scuola
4:15 PM to 5:00 PM: Evening Snacks at miele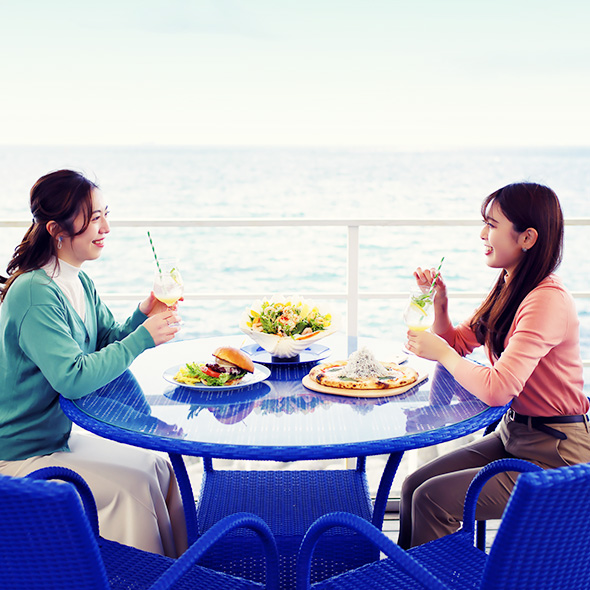 Situated just 3 minute's walk away from Nojima Scuola, miele on Awaji Island is a culinary gem that offers a unique experience. The restaurant combines exceptional food and service with stunning views to create an unforgettable experience. As soon as you enter miele, you will be greeted by a welcoming and inviting atmosphere. The elegant interior design and soft lighting combine to create a calming ambiance, instantly making you feel at ease and at home.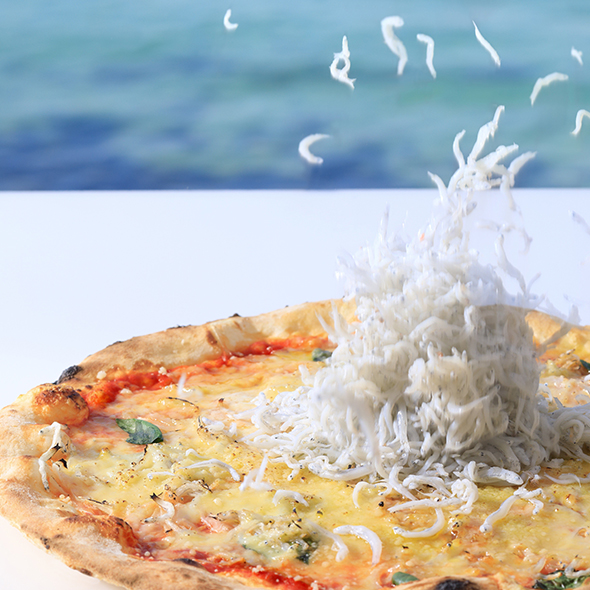 The aspect of miele's dining experience that is truly astonishing is its remarkable and unique food. Among their renowned specialties are shirasu (whitebait) pizza, seasonal desserts, and honey-related food & desserts which are perfect for your family. Additionally, given that onions are extremely popular on the island, onion-topping pizzas are also highly recommended at the restaurant. Sample a variety of dishes and share the culinary experience with your companions.
Name
miele
Adress
785-9 Nojimahikinoura, Awaji City, Hyogo Pref. 656-1721
Tel
0799-80-2600
Operation Hours
Weekdays 11:00~19:00 (L.O.18:30)
Sat., Sun, & Public Holidays 9:30~19:30 (L.O.19:00)
Closed: Tuesdays
In Aug. and Sept. it will not be closed on Tuesdays
Website
https://www.miele-da-scuola.com/
Click here for details of miele
5:00 PM to 6:00 PM: Enjoy a Leisurely Stroll Along the Picturesque Seaside
The area near miele offers a charming seaside setting that grants stunning views of the ocean. Indulge in a leisurely seaside stroll by visiting Nojimajido Park and Awaji Shiritsu Hikinoura-nishiguchi Park. If you find yourself with extra time on your hands, consider extending your walk to Hokudan Sun Beach. This idyllic pathway makes for a perfect evening walk, setting the stage for a delightful pre-dinner experience.
6:15 PM to 7:30 PM: Enjoying One of the Finest Beef Varieties and Breathtaking Sunset Views at Ocean Terrace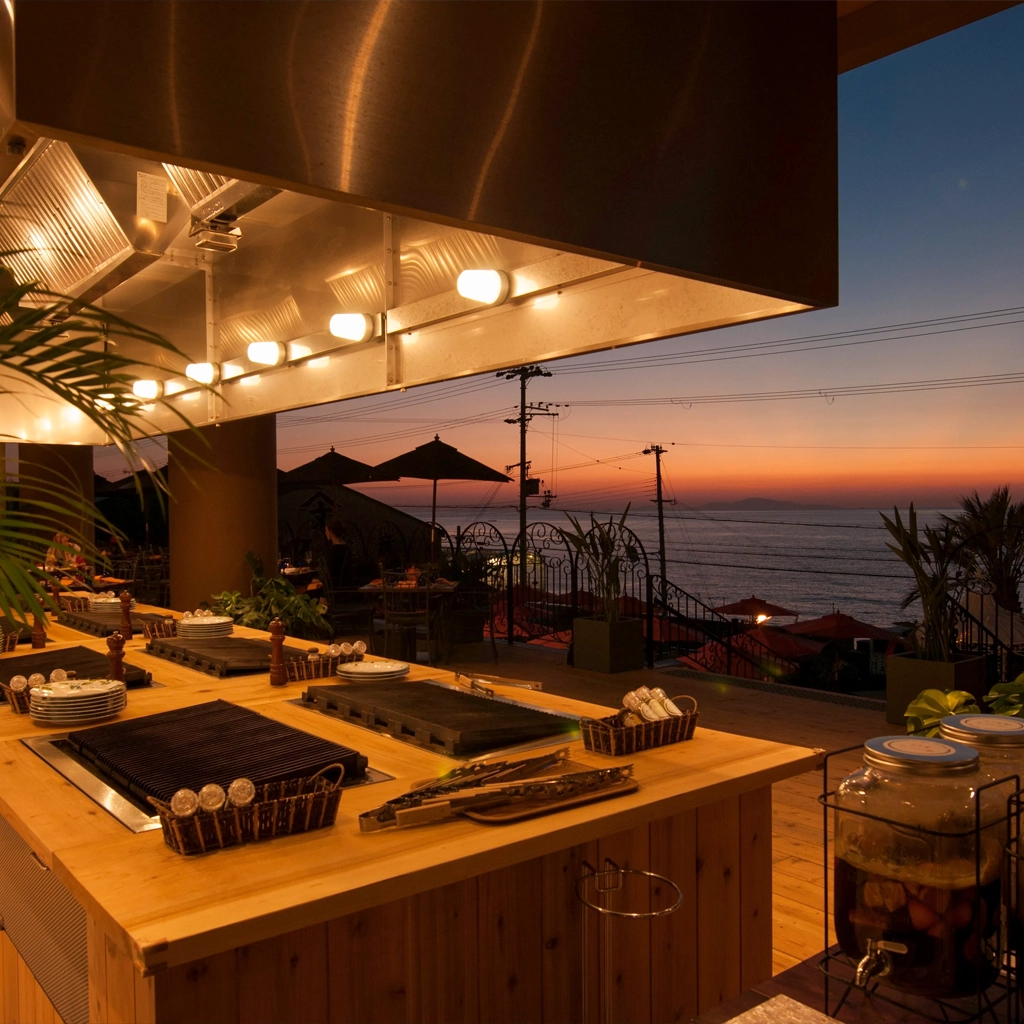 Ocean Terrace is one of the restaurants located on Awaji Island that owns Awaji Beef Certification. True to its name, "Ocean Terrace" offers terrace seats with a great sea view, where you can gaze upon the clear blue sky and the glittering Seto Inland Sea. Situated atop a hill, its terrace provides a picturesque vantage point for guests to relish exquisite Awaji beef steaks while gazing out at the expansive Harima-nada Sea. At dusk, the boundary between water and sky blurs, allowing visitors to witness nature's own masterpiece.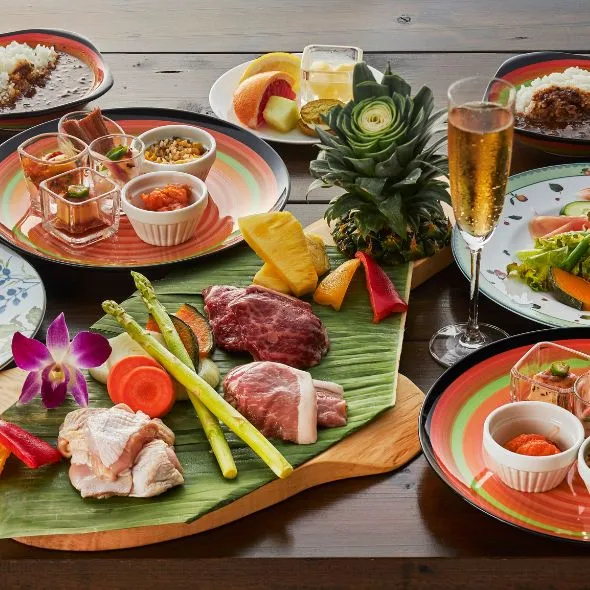 Awaji Beef stands out for its remarkable quality flavor and exquisite marbling. Awaji Beef is granted only to beef that meets stringent certification standards from among Tajima cattle born on Awaji Island. It is known for its high-quality fat with a low melting point, resulting in a luscious marbling akin to frosting on the muscle fibers. The superior marbling ensures a tender and juicy texture that further enhances the overall dining experience.
Click here for details of Ocean Terrace
8:00 PM Returning to Sannomiya From Awaji Island
From Ocean Terrace, take a short walk to Nojima Oishi (miele mae) (野島大石[ミエレ前]).  From there, catch a bus bound for Maiko Expressway (4 stops). After a brief wait at Maiko Station, board Tokaido-Sanyo Line Train headed to Sannomiya Station. The entire journey is estimated to take approximately an hour and 30 minutes, concluding the culinary day trip to the enchanting Awaji Island.
Awaji Island's culinary scene is renowned and goes beyond the eateries highlighted earlier. Numerous restaurants await, showcasing the unexplored realm of Awaji Island's unique flavors. So, what's holding you back? Embark on your journey to Awaji Island now and uncover a world of gourmet delights waiting to be savored.