HELLO KITTY SMILE is one of the most popular facilities on Awaji Island. There are many spots to enjoy, including restaurants, stores, and a projection mapping area. Here are some of the most recommended spots.
Photo-Op Spots
The Palace of the Dragon Princess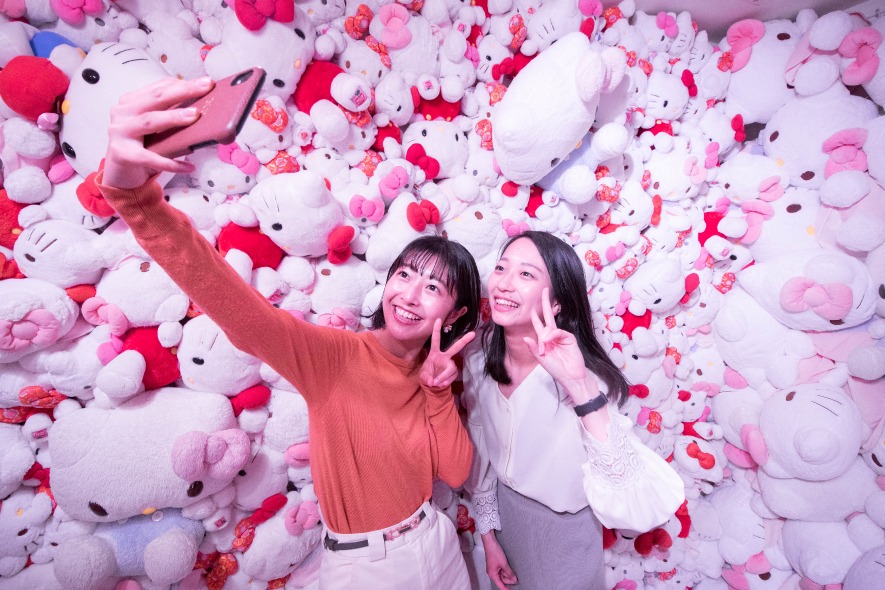 The Palace of the Dragon Princess area is a spot where visitors can enjoy projection mapping. The "PALACE ENTRANCE" area is especially popular as a photo-op spot surrounded by many Hello Kitty stuffed animals. In addition, visitors can enjoy a 5-minute projection mapping of Hello Kitty guiding you through the Palace of the Dragon Princess inside a giant Hello Kitty face. You can watch it as many times as you like, so this is a spot you should definitely enjoy at least once.
Giant Hello Kitty Dome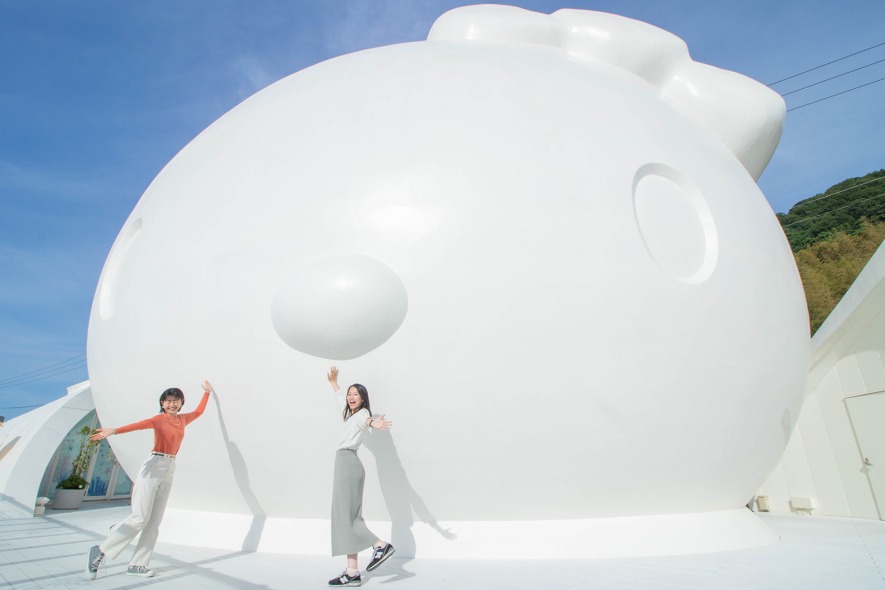 On the second floor of the HELLO KITTY SMILE, there is a photo-op spot with a face so big that you can't help but look up at Hello Kitty. The big face looks out toward the ocean, and this area can only be photographed by those who have entered HELLO KITTY SMILE. You can take a pose where you try to support the face, or take a shot where you try to jump. Please enjoy memorable photo shoots in various patterns.
Enjoy Gourmet Food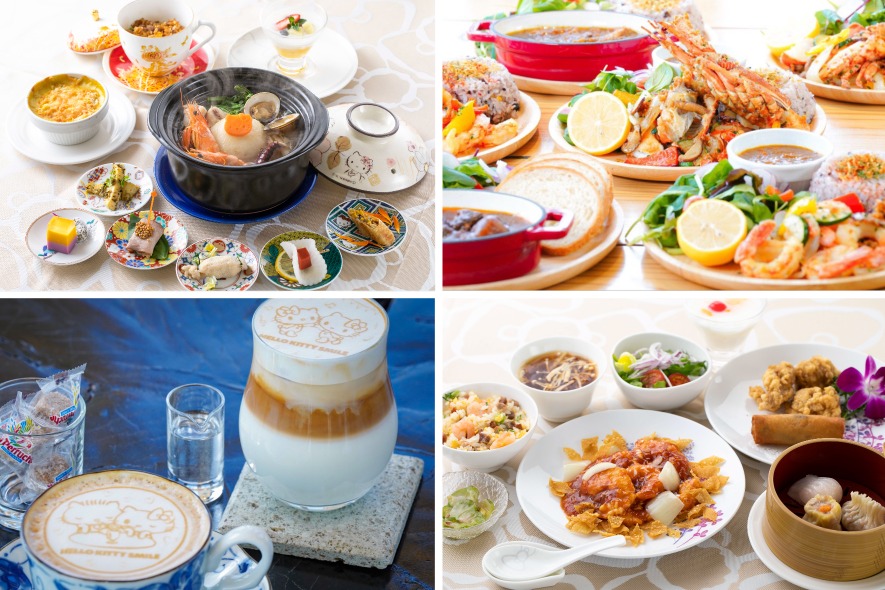 There are four food and beverage outlets in the HELLO KITTY SMILE facility. You can enjoy authentic Chinese cuisine, warm one-pot meals, seafood restaurant, and cafes. All of them have ocean views with a view of the west coast of Awaji Island, so you can enjoy a resort atmosphere.
The "restaurant greeting" service is so popular that the restaurant is always full, and if you enter the "GARDEN Terrace" and "Restaurant Tamatebako" in the HELLO KITTY SMILE by 12:00 p.m., you can enjoy a meet and greet with Hello Kitty, the princess, and take a commemorative photo. Also, although reservations are required, "Anniversary Plate" can be reserved for a surprise service for Hello Kitty to celebrate with you. Since the restaurant may be fully booked, it is recommended to make a reservation in advance to ensure a smooth experience.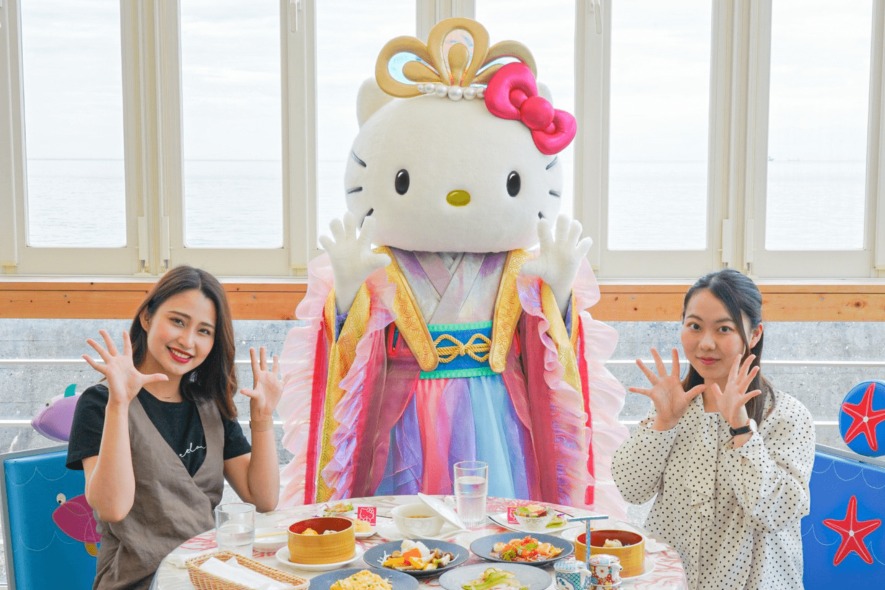 Hello Kitty, the Princess, You Can Meet Only at HELLO KITTY SMILE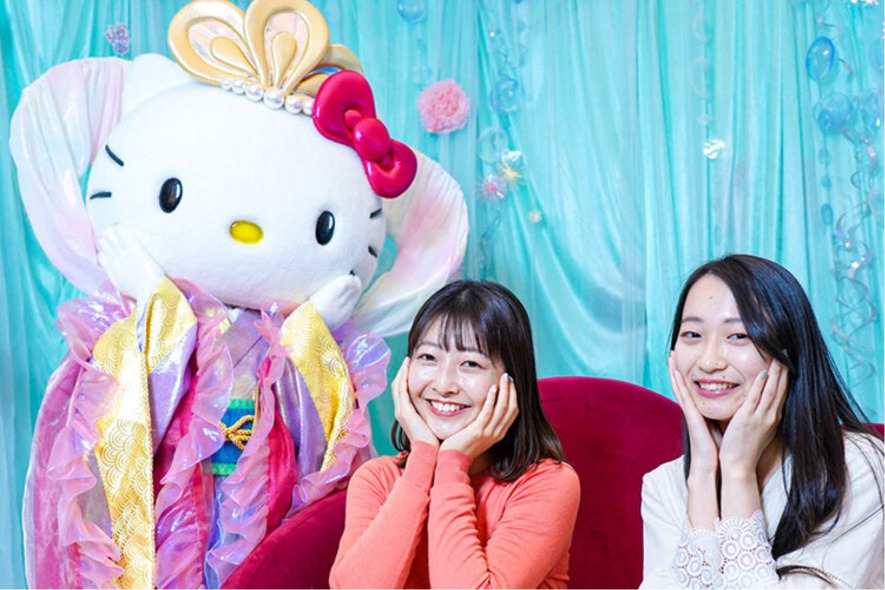 Only at HELLO KITTY SMILE can you meet and take pictures with Hello Kitty in her Japanese-style princess costume. Since this is a limited edition costume, be sure to schedule a time for a meet and greet when you visit the facility to fully enjoy the experience. The schedule for greeting times is as follows:
Weekdays:
12:00 p.m.: Restaurant Greeting
1:00 p.m.: Smile Greeting
3:00 p.m.: Smile Greeting
5:00 p.m.: Restaurant greeting / Smile Greeting
Saturday, Sunday and Holidays:
11:00 a.m.: Smile Greeting
12:00 p.m.: Restaurant Greeting
1pm: Smile Greeting
2pm: Smile Greeting
3pm: Event & Smile Greetings
5:00 p.m.: Restaurant Greeting / Smile Greeting
There are several photo opportunities per day, so you can enjoy it in the afternoon or in the evening. You can also enjoy planning which pose to take and what to say when meeting Hello Kitty in person!
More Spots to Enjoy
In addition to the spots recommended here, HELLO KITTY SMILE offers many other places to enjoy. The facility is indoors, so it is perfect to use even when it rains. The facility can be enjoyed in many different ways, as seasonal events are sometimes held.