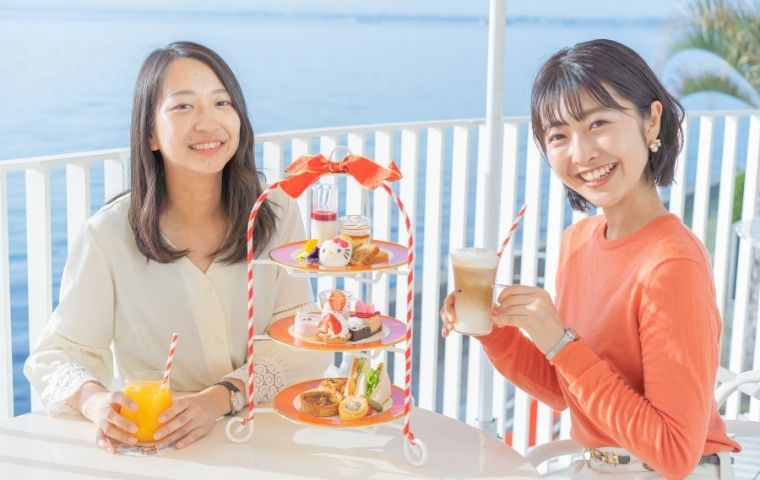 HELLO KITTY SMILE and HELLO KITTY SHOW BOX are two places where Hello Kitty fans can actually meet Hello Kitty, enjoy her show or digital art show, dine and shop. These two entertainment facilities are a must-visit for Hello Kitty lovers!
For those who also love sweets, delectable sweets, that are so "kawaii (cute)" to look at, are offered at HELLO KITTY SMILE and HELLO KITTY SHOW BOX.
Three Sweets Recommended at HELLO KITTY SMILE
1. Pancakes with Stamped Hello Kitty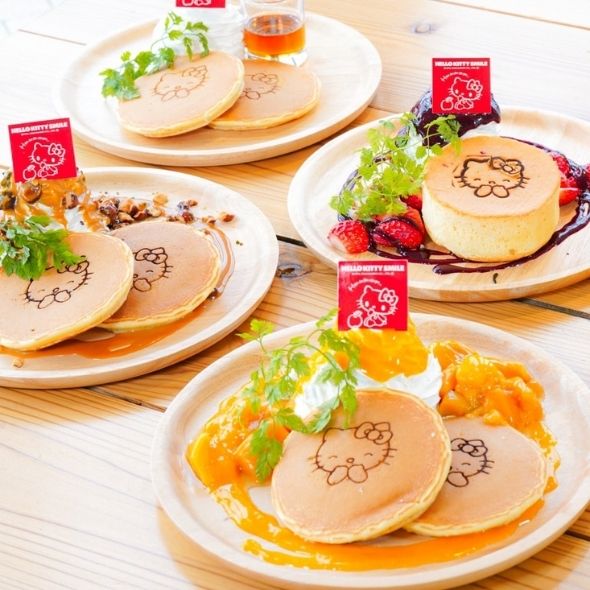 At the Party Terrace located on 1F at the Annex, the adorable Hello Kitty's face is stamped on six kinds of pancakes. Six flavors of pancakes are: plain, caramel & nuts, coconuts, mango, strawberries, and chocolate & banana. Two styles of pancakes are: a thin, classic style and a fluffy souffle style. You can mix and match with any flavor and style.
Prices: Plain flavor – 680 yen, All other flavors – 880 yen each
Open: Weekdays 11:00~19:00 (last order 18:30) / Weekends & Holidays 9:00 (Last Order for brunch at 10:45) ~ 19:00 (last order 18:30)
2. SMILE Afternoon Tea and Latte Art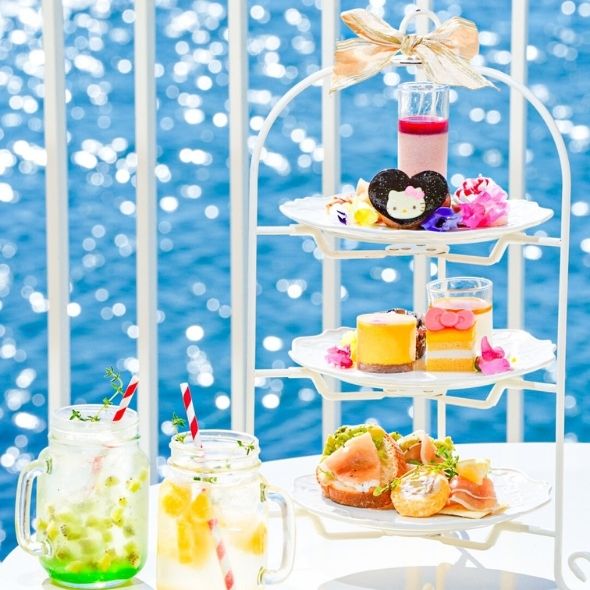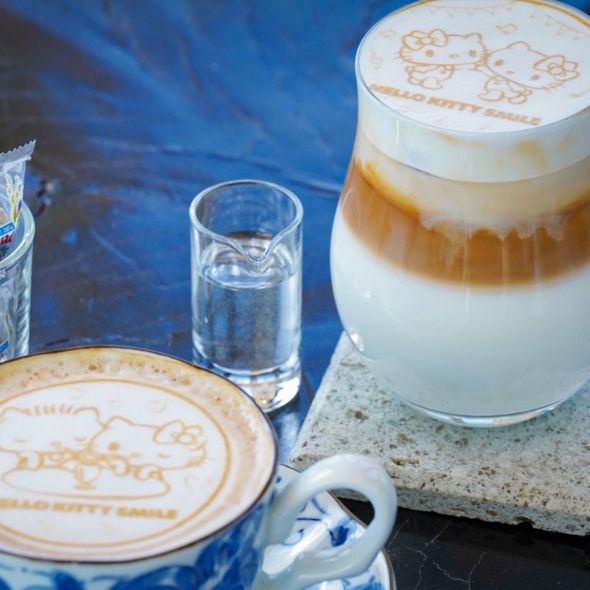 At the Party Balcony on 2F at the Annex, you can savor an elegant afternoon tea with Hello Kitty decorations. An afternoon tea, a British tradition including a cup of tea and light food like finger sandwiches and cakes/sweets, is a very popular item among Japanese ladies. Why not try "kawaii" afternoon tea with an amazing ocean view?
Prices: Elegant Afternoon Tea (12 items and one drink)- 3,000 yen
   Oriental Afternoon Tea (9 items and one drink)- 2,500 yen
You can also enjoy Latte art with Hello Kitty designs. There are nine kinds of original designs and only offered at HELLO KITTY SMILE.
Prices: both hot and cold
Latte, Cappuccino – 900 yen
Cafe Mocha, Chocolate Milk, Caramel Latte, Caramel Milk – 1,000 yen
Even those who don't drink coffee, you can join the world of Hello Kitty by having a milk-based drink.
Enjoy a Japanese culture of "kawaii" with delicious afternoon tea and latter art, while relaxing with a splendid ocean view.
Open: 11:00~18:00 (last order 17:30)
3. Original Souvenir Cups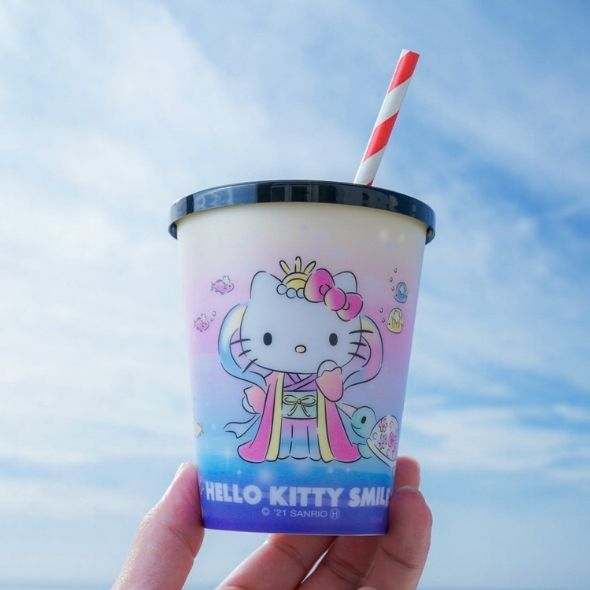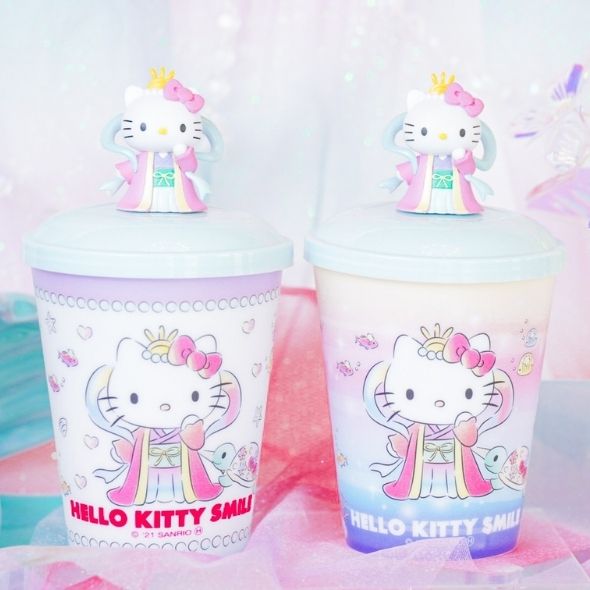 There are four kinds of Hello Kitty plastic cups, all originally designed for HELLO KITTY SMILE. You can select either a regular lid or a lid with a Hello Kitty figure on. A perfect addition to your Hello Kitty collection!
Hello Kitty cup with a figure – 800 yen
Hello Kitty cup with a regular lid – 300 yen
The HELLO KITTY SMILE facility is all enclosed and provides fun attractions regardless of weather condition.
Three Sweets Recommended at HELLO KITTY SHOWBOX
At HELLO KITTY SHOWBOX, two afternoon shows by Hello Kitty and her band are held: 14:30~ and 16:00~. Each show includes a choice of sweets.
HELLO KITTY SHOWBOX features a vegan menu that does not use any animal-originated ingredients such as eggs and milk.
Prices: 2,500 yen for an adult (with a choice of one sweets)
   1,500 yen for a child (with a kid's sweets plate)
1. Hello Kitty cake with One Drink – Limited in Quantity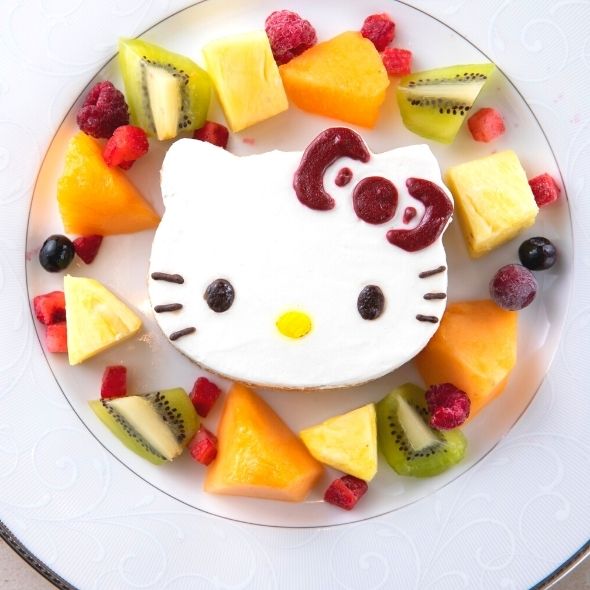 The cake itself is a Hello Kitty's cute face decorated with a lot of fruit! It's a very popular item at SHOWBOX and definitely a must for your Instagram!
Price: Afternoon Show price + 500 yen
2. Vegan Ice Cream Parfait – Limited in Quantity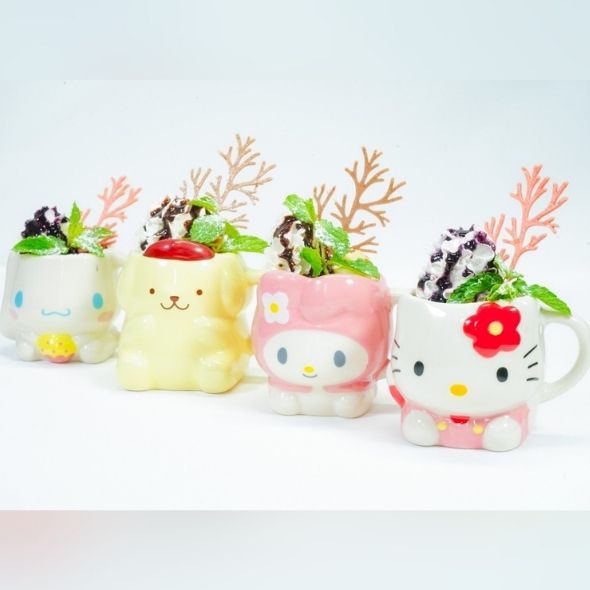 They are the most popular sweets on the menu. You can select your favorite character out of four: Hello Kitty, My Melody, Pom Pom Pudding and Cinnamon Roll. You are welcome to take home the mug!
Price: Afternoon Show price + 770 yen
3. Pancake Set with One Drink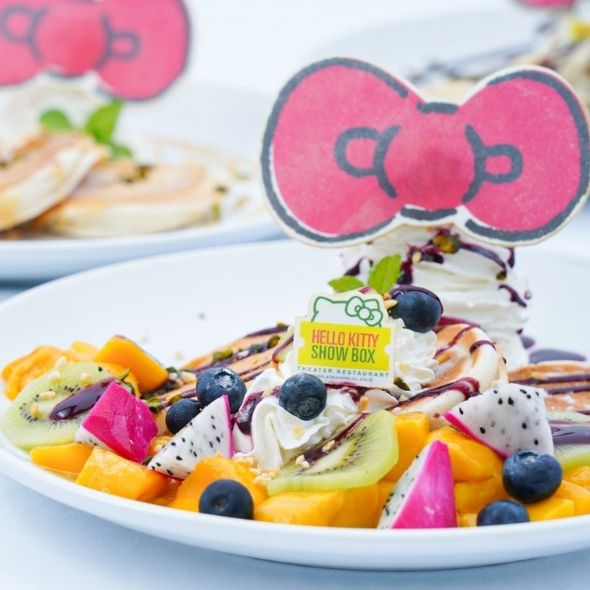 There are four kinds of decorations/flavor to choose from: "Apples & Coconut Cream, Tropical, Caramel, and Chocolate & Banana). A whipped cream is made with soybean milk. All pancakes are decorated with many kinds of fruit and other ingredients so that you will certainly be satisfied with a volume!
At the end of the show, there is a photo-op with Hello Kitty herself! If you are celebrating your birthday, Hello Kitty will send you birthday wishes (a reservation in advance is required).
Price: Afternoon Show Time fee (No additional fees)