Awaji Island is easily accessible from major cities in the Kansai region, such as Kobe, Osaka, and Kyoto, and is a highly recommended half-day trip destination.
Today, we will introduce some of the recommended spots for a half-day trip on Awaji Island, along with the time required.
Nojima Scuola: Symbol of local development created by renovating an abandoned school building

Nojima Scuola is a facility that combines a zoo, bakery, marché, cafe, restaurant, and BBQ terrace. The interior, which was created by renovating an abandoned school building, has a nostalgic atmosphere.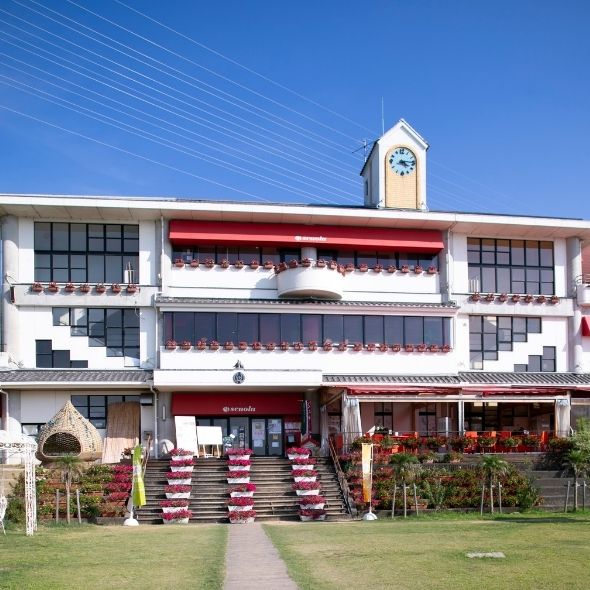 Time required: 2 hours
Nojima Zoo's very popular alpaca "Raul-kun" became a topic of conversation when he appeared on the popular variety show on a major network (Nippon Television) as an alpaca that only kisses women.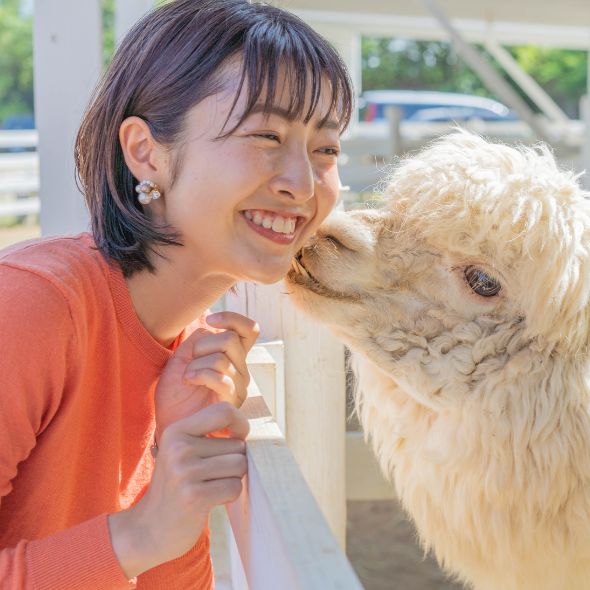 In addition, bread sold at the "Nojima Bakery" in Nojima Scola is baked in the store, allowing visitors to enjoy its fluffy texture. In particular, the "Island Melon Pan" and "Island Cream Pan" pictured below are popular staples among tourists.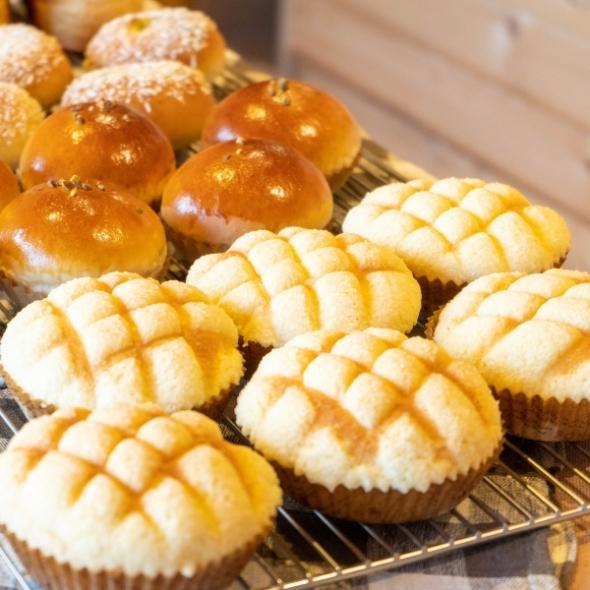 Ristorante Scuola, a restaurant on the second floor of Nojima Scuola, is an authentic Italian restaurant that focuses on local produce for local consumption.
The atmosphere inside the restaurant is relaxed, and you can enjoy a leisurely meal with courses using vegetables, seafood, and Awaji beef produced on Awaji Island.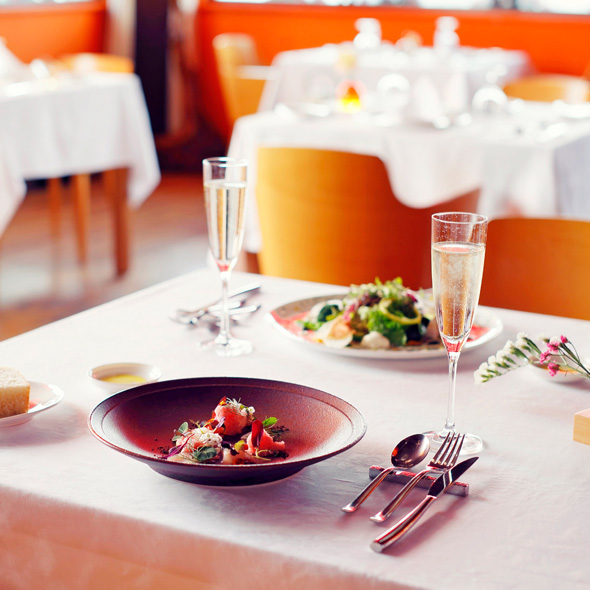 Name
Nojima Scuola
Adress
843 Nojimahikinoura, Awaji City, Hyogo Pref. 656-1721
Website
https://www.nojima-scuola.com/
Reservations
2F Ristorante Scuola
https://www.tablecheck.com/en/shops/nojima-scuola/reserve
Tel
0799-82-1820
Operation Hours
1F Marché /Bakery: Weekdays 10:30~19:00
Sat., Sun., & Public Holidays 10:00~19:00

1F Café Scuola: Weekdays Lunch 11:00~14:00/ café 14:00~18:00
Sat., Sun., & Public Holidays breakfast 10:00~11:00
Lunch 11:00~15:00
Café 15:00~18:00

2F Ristorante Scuola: 11:30~15:30 (in by 14:00) / 18:00~21:30 (in by 19:30)

Outdoor Zoo: Weekdays 11:00~16:00
Sat., Sun. & Public Holidays 10:00~16:00 (13:00~14:00 animals in recess)

Closed: Wednesdays (Open on Public Holidays)
Click here for details of Nojima Scuola
Craft Circus: A restaurant with a spectacular ocean view where you can also enjoy shopping
The Seaside Market & Restaurant "Craft Circus" is a facility that combines a marché, restaurant and general store.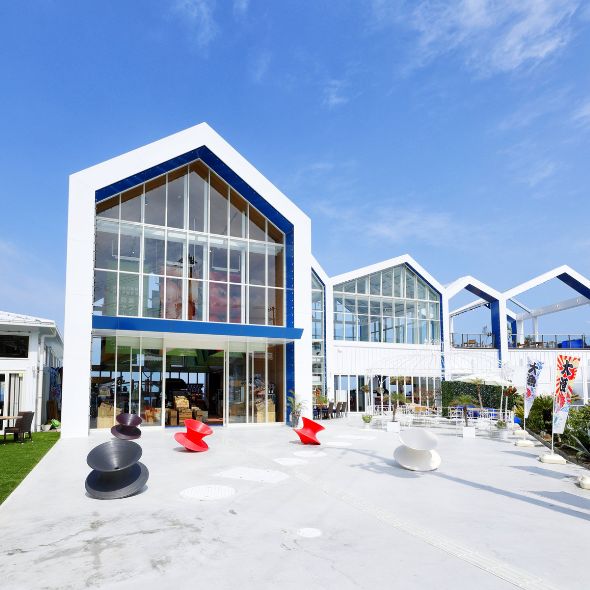 Time required: about 1.5 hours
There are two restaurants: the Awaji Island Craft Kitchen, which offers dishes with a strong visual impact, such as a pizza 40 cm in diameter and a hamburger 20 cm in diameter.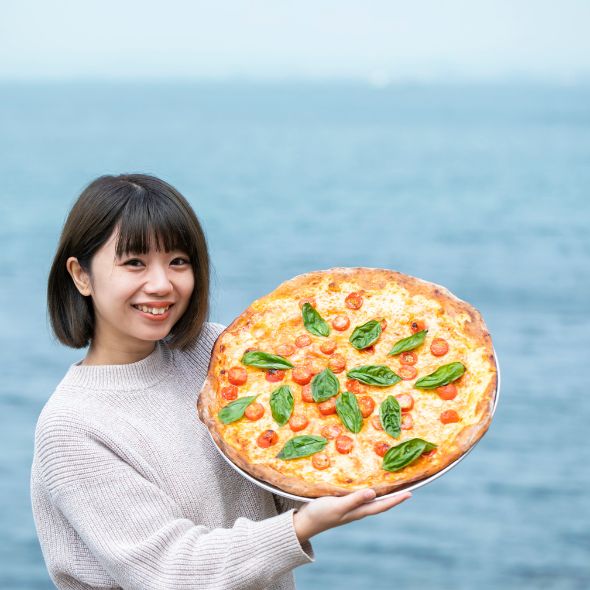 Another is Awaji Island Kaiou Ichiba, a restaurant that serves fresh seafood from fish tanks, which are processed on the spot and served as fresh sashimi and sushi.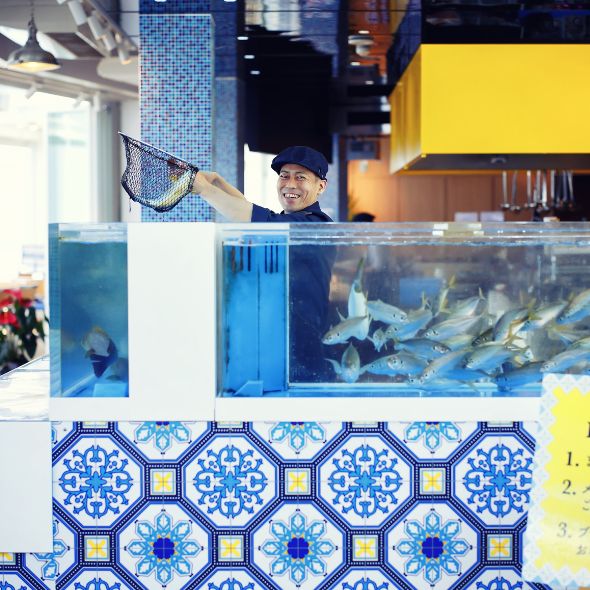 From the terrace seats, you can dine with a view of the beautiful Seto Inland Sea, and we recommend that you share the large dishes with those who come with you.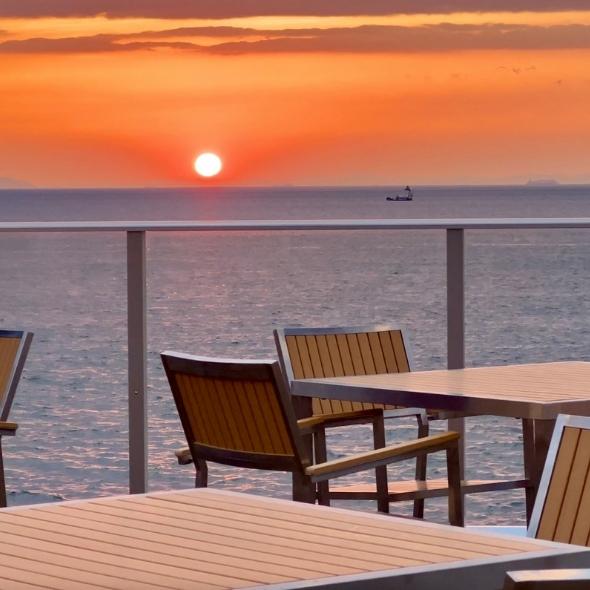 GLOBAL MARKET (International Flea Market), a general merchandise store located inside Craft Circus, sells traditional Japanese crafts and other goods imported from around the world. It also carries rare items that are hard to find, so be sure to stop by.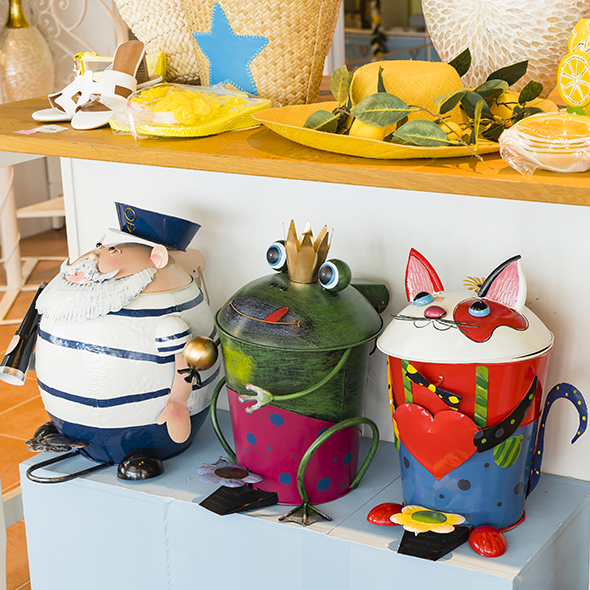 Location
CRAFT CIRCUS
Address
2-2 Nojima-Hirabayashi, Awaji City, Hyogo Pref. 656-1724
Access
15 minutes by car from Awaji IC on Awaji-Kobe-Naruto Expressway. 10 minutes by car from Iwaya Port (Jenova Line Ferry).
Parking
80 spaces
Business Hours
Weekdays: 10:30-20:30 (last order 19:30)
Weekends/Holidays: 9:30-20:30 (last order 19:30)
Closed
Thursdays (excluding national holidays)
Tel
0799-82-1855
Website
https://awajicraftcircus.com/
Reservations
https://www.tablecheck.com/en/shops/craftcircus/reserve
Click here for details of CRAFT CIRCUS
Haru San San: A farmer's restaurant in a field, enjoying fresh ingredients from Awaji Island
The farmhouse restaurant "Haru San San" is a restaurant in a peaceful area surrounded by nature where you can enjoy dishes that maximize the original flavor and charm of vegetables.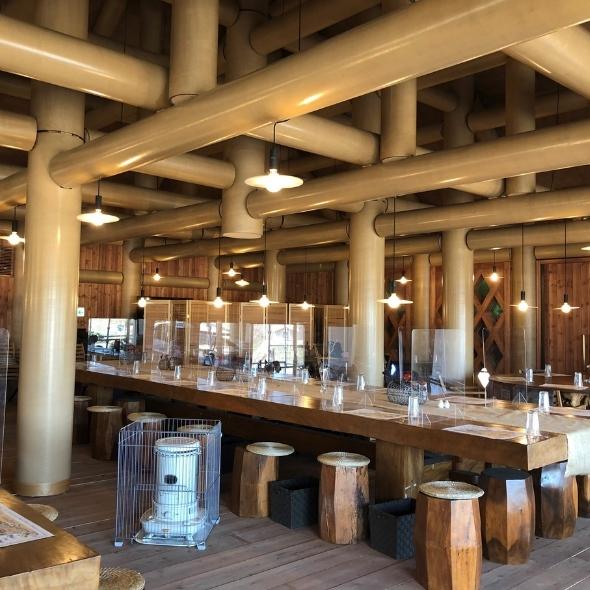 The Haru San San Set, which includes all-you-can-eat homemade bread, is a set lunch that allows you to enjoy the delicious food of Awaji Island to your heart's content.
This set lunch includes a choice from main dishes, among which the "Seasonal Vegetables and Awaji Island Meat Dish" is especially recommended as it allows you to taste together vegetables with little bitterness from Awaji Island and meat such as Awaji beef.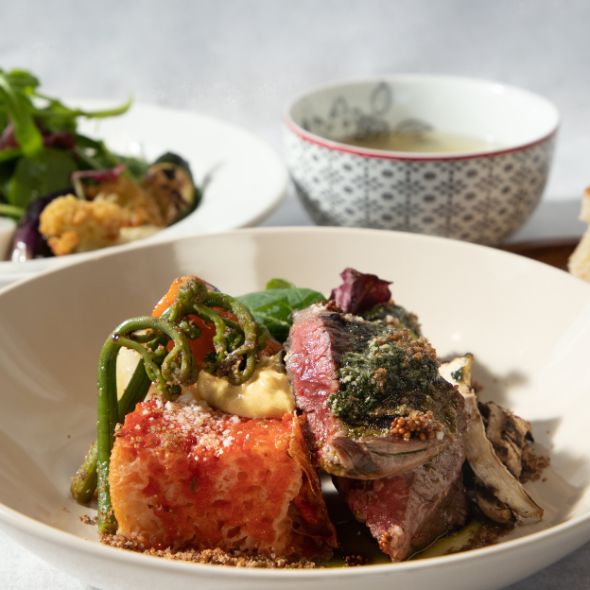 In addition to dining, fieldwork and workshops are regularly held to learn about "nature" and "food," which are closely related to human life.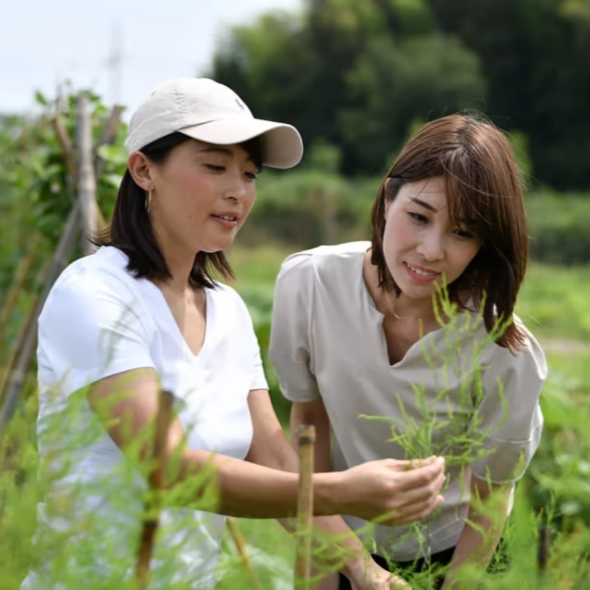 Click here for details of Haru San San
Awaji Island landmark designed by a famous architect
The Awaji Island Yumebutai, designed by world-famous architect Tadao Ando, is a major tourist attraction on Awaji Island. It features the Ando's world view where concrete architecture and nature are in harmony, and is a popular photo-op spot.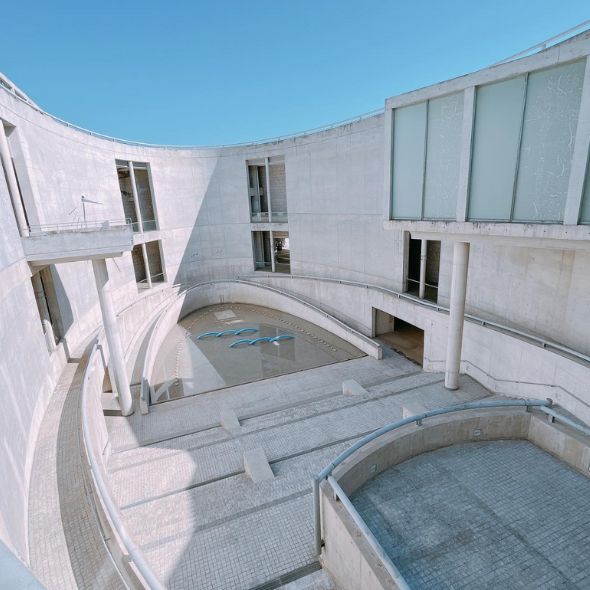 One of the most popular facilities in the complex is the Hyakudanen, built on top of a high hill. As the name suggests, 100 flowerbeds are arranged in a stair-like pattern, and on a clear day, visitors can enjoy a panoramic view of Osaka Bay beyond Hyakudanen.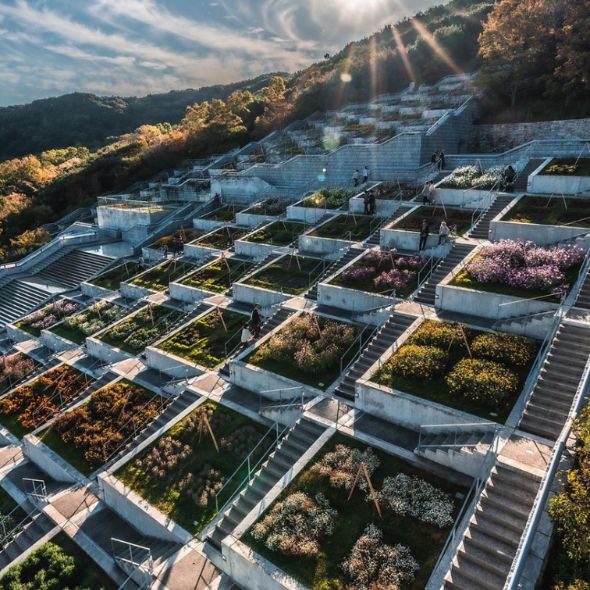 In this article, we have recommended spots for a half-day trip to Awaji Island, along with the time required.
Awaji Island, with its restaurant and store complexes and hands-on facilities, is a great place to visit for a half-day trip. Please visit and enjoy all.