The NARUTO park is a part of Nijigen no Mori, an anime-themed park located on Awaji Island, Hyogo Prefecture. You can experience 2-dimentional popular Japanese anime contents in a real world of the beautiful nature of Awaji Island as well as digital art! Attractions include Dragon Quest Island, NARUTO & BORUTO, Godzilla, Crayon Shin-chan, and even the Hottest "Demon Slayer".
"NARUTO & BORUTO SHINOBI-ZATO", the NARUTO area in the park, is based on the theme of "NARUTO" and "BORUTO: NARUTO NEXT GENERATIONS", where you can challenge many attractions as if you were a ninja.
Ramen at "Ramen Ichiraku"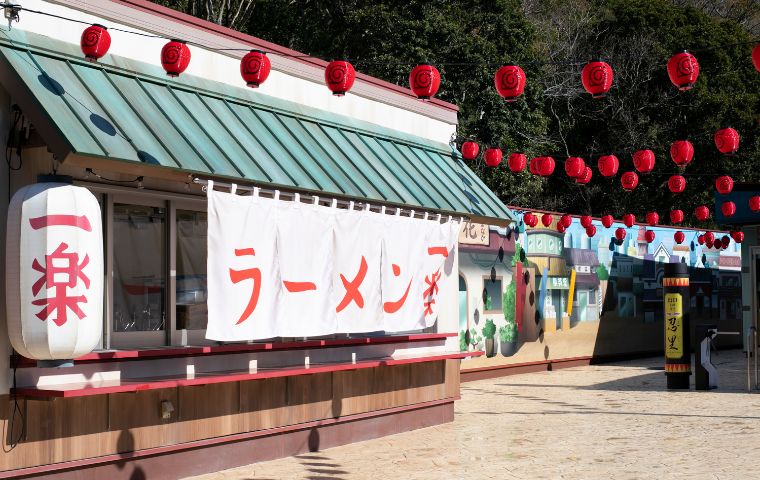 "Ramen Ichiraku" is based on the concept of NARUTO's world. "Ichiraku" which NARUTO frequently patronized in the anime to enjoy a bowl of ramen was recreated! It is a yatai-style and offers three kinds of tonkotsu (pork bone) soup : tonkotsu only, one with miso, and one with soy sauce. The yatai is located at "NARUTO & BORUTO SHINOBI-ZATO", an attraction area which you need to purchase your entrance ticket.
Here are some ramen dishes highly recommended.
Ramen Menu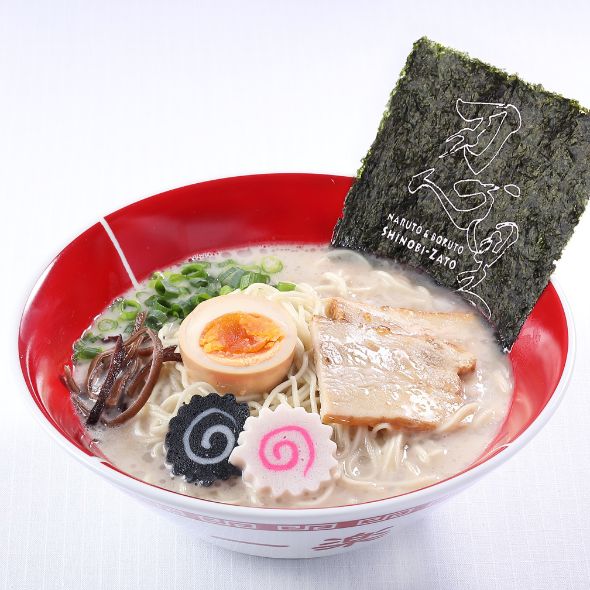 Ichiraku Ramen with Tonkotsu Soup
It is an original ramen dish exclusively offered here. Its soup is very rich and it is topped with pieces of thick roasted pork and uzumaki spiral-designed kamaboko (boiled fish paste) and nori (dried seaweed) with Shinobizato logomark, just to name a few.
Price : 1,100 yen
Ichiraku Ramen with Miso Tonkotsu Soup
The most popular ramen dish at this yatai offers a milder soup than a regular tonkotsu soup due to addition of miso.
Price : 1,100 yen
Ichiraku Ramen with Tonkotsu Shoyu (soy sauce) Soup
An umami of shoyu (soy sauce) matches well with a rich taste of tonkotsu soup.
Price : 1,100 yen
"Zenbunose" Ramen with All the Toppings
It is perfect for those who want to try all the toppings in a bigger quantity! Ramen noodles are topped with a one-full egg (instead of half an egg), three thick pieces of roasted pork (instead of two) and three pieces of nori seaweed (instead of one).
Prices: 1,595 yen
Akatsuki Ramen
Those belonging to Akatsuki, an organization appearing in the NARUTO anime, wear an outfit designed with a red cloud on a black background. This bowl of ramen depicts this color combination with two kinds of chili oil and nori seaweed. Not to be missed by Akatsuki fans!
Price: 1,155 yen
Toppings
Half-boiled egg (one) : 110 yen
Thick pieces of roast pork (three): 275 yen
Nori seaweed with Uzumaki design (three): 110 yen
Mori no Terrace Food Menu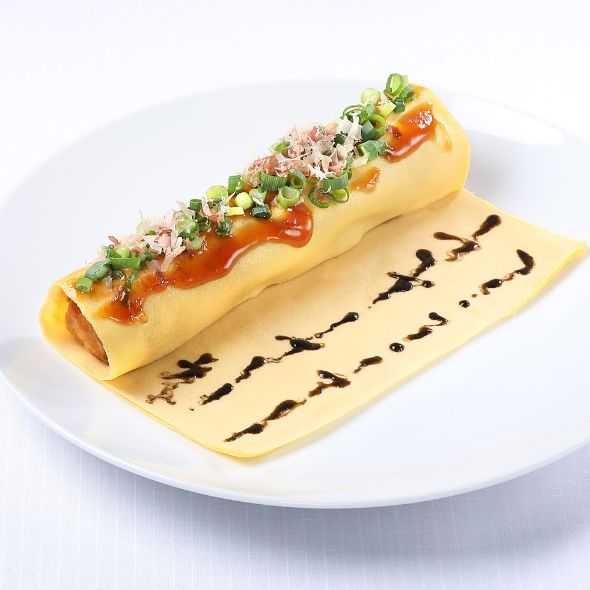 It is a restaurant situated deep inside Nijigen no Mori's forest, offering delicious meals utilizing ingredients produced locally on Awaji Island. Many dishes symbolizing NARUTO's world are offered here as well. A coaster with an anime character comes with each order of NARUTO-related dish as a present to take home!
The menu includes the following:
Takoyaki Tamago Makimono (Octopus Balls in an egg scroll): 715 yen
Takoyaki (octopus balls, Osaka's famous local food) is wrapped with an egg scroll with some writings
Set of Sasuke's Favorites (set of onigiri): 429 yen
One onigiri, a rice ball, contains bonito flakes and is covered with sesame seeds, and another one is seasoned with salt.
BORUTO's Lightning Hamburger : 880 yen
A hamburger appears in the anime and this dish lets you feel the world of Uzumaki BORUTO.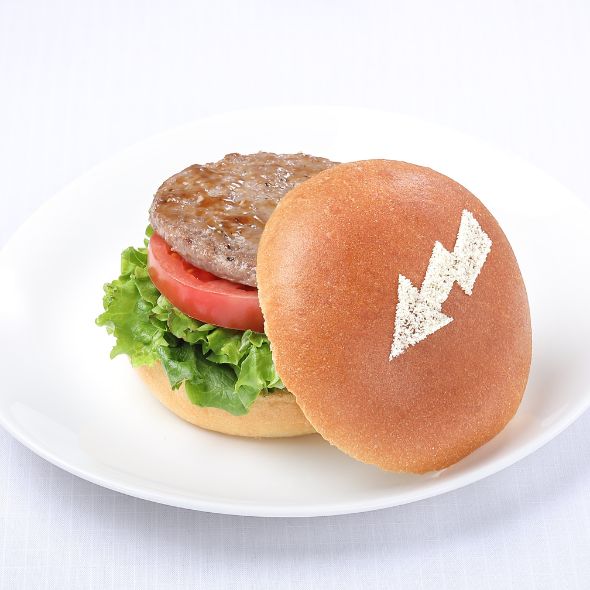 BORUTO's Lightning Chees Hamburger : 935 yen
Cheese is depicting a hair style of BORUTO, while a spiral depicts uzumaki (spiral), BORUTO's family name.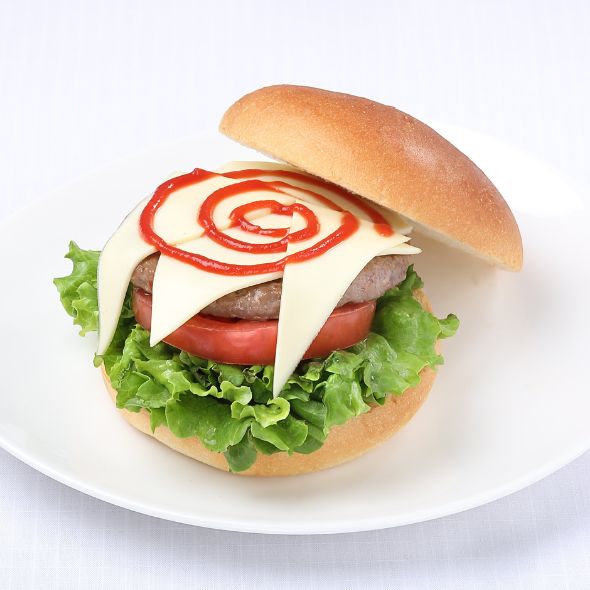 Morino Terrace Drink Menu
Mitsuki's Sparkling Crush Ice : 715 yen
It symbolizes Mitsuki's wizard mode with blue sparkling soda, yellow pineapples and whipped cream.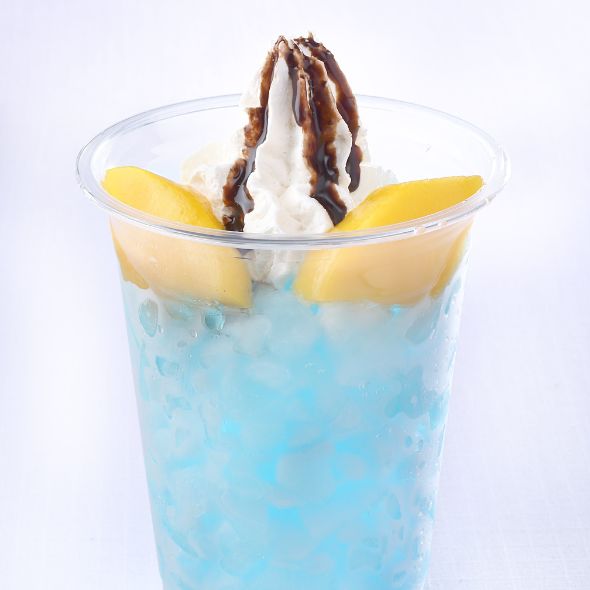 Collaboration Drink in an Anime Character Bottle
Various drinks are offered in a bottle designed with NARUTO & BORUTO characters that you can take home as a souvenir and reuse back home! Price : 1,480 yen each
Flavors and anime characters are the following:
Cherry lemon tea (hot) with Gaara
Cranberry soda or Apple cola with NARUTO
Hazel nut milk with Haruno Sakura
Maccha Milk with Hatake Kakashi
Roasted chestnut green tea with Uchiha Sasuke
Strawberry tea with Uchiha Salada
Calpico orange with Mitsuki
Experience all the exciting attractions at "NARUTO & BORUTO SHINOBI-ZATO" in Nijigen no Mori and afterwards, treat yourself to delicious ramen or hamburger to fully immerser yourself in the world of NARUTO & BORUTO!