Over the past few decades, Japan has solidified its position as a global leader in architecture, boasting a rich history of producing visionary designers and architects. Japanese architectural landscape has witnessed an impressive evolution, combining traditional principles with cutting-edge technologies and innovative design concepts. Japanese architecture embodies a unique blend of functionality, aesthetics, and a profound connection to nature, resulting in captivating and beautifully crafted buildings that captivate the world.
In this article, we will delve into the fascinating world of Japanese architecture, exploring its unique features and immersing ourselves in the brilliance of popular architectural wonders found throughout Japan.
Introduction to Japanese Architecture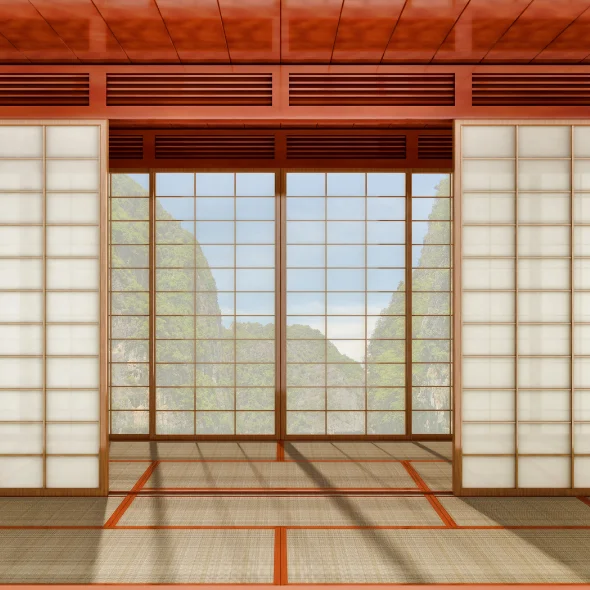 Over the course of its history, Japanese architecture has been influenced by both the Korean Peninsula and Chinese elements in earlier periods. As Japan embraced modernity, Western society also left its mark, while simultaneously fostering a unique and distinctive Japanese architectural aesthetic, deeply rooted in the nation's culture and environment. In recent years, Japanese architecture has undergone a transformative journey, adapting to the demands of modernity while cherishing its cultural heritage. Notably, there has been a rising emphasis on sustainability, space optimization, and eco-consciousness.
Japanese architecture has increasingly incorporated green spaces, natural light, and traditional materials to harmoniously merge buildings with their surroundings. Japanese architecture also exudes a distinctive style that encapsulates minimalism and harmony. Concepts like "wabi-sabi" embrace imperfections and impermanence, promoting a sense of beauty in simplicity.
Among the distinguished figures who have profoundly influenced Japanese architecture, Tadao Ando and Shigeru Ban stand out, redefining contemporary architectural paradigms through their unique styles and innovative approaches. Tadao Ando, known for his mastery of concrete and light, has garnered international acclaim for his minimalist and serene designs. On the other hand, Shigeru Ban, a pioneer in eco-friendly architecture, has combined sustainable materials and humanitarian efforts, showcasing the power of architecture to address social challenges. Tadao Ando and Shigeru Ban have both been honored with the prestigious Pritzker Architecture Prize, widely recognized as the architectural equivalent of the Nobel Prize.
8 Wonders of Japanese Architecture
Church on the Water (Shimukappu, Hokkaido)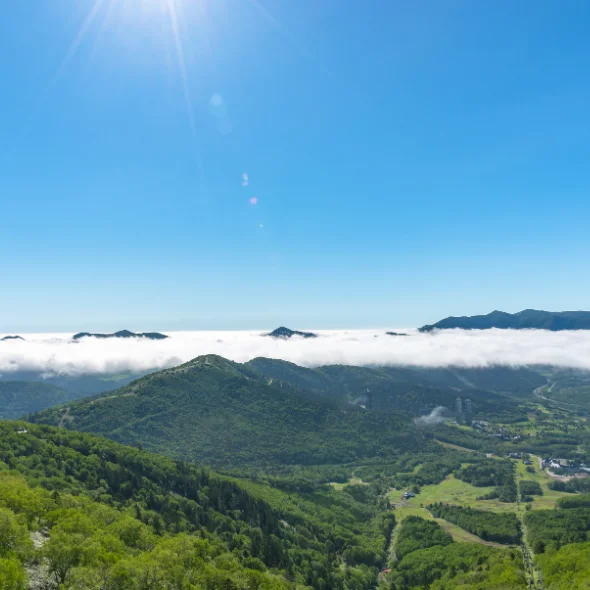 The Church on the Water is a famous architectural masterpiece located in the region of Hokkaido, Japan. Designed by Tadao Ando, the Church on the Water in Hokkaido is a masterpiece of modern sacred architecture. With its minimalist design and integration with the surrounding landscape, the church provides a serene space for reflection and spiritual contemplation.
Completed in 1988, the Church on the Water is part of the larger church complex in Tomamu, a picturesque area surrounded by beautiful natural landscapes. Church on the Water is a prime example of Tadao Ando's philosophy of simplicity. The building features clean lines, simple geometric shapes, and a restrained color palette, allowing the natural beauty of the surroundings to take center stage. The church is situated next to a serene water pond, which serves as a reflective pool that enhances the sense of tranquility and spirituality. The building seems to float on the water's surface, creating a visual spectacle and a harmonious connection between architecture and nature.
The Church on the Water in Hokkaido exemplifies Tadao Ando's talent for creating architecture that resonates with its surroundings, engages the senses, and evokes a profound spiritual experience. It has become not only an architectural landmark but also a place of pilgrimage for architecture enthusiasts and individuals seeking a moment of serenity amidst the beauty of nature.
Honpukuji Water Temple (Awaji Island, Hyogo)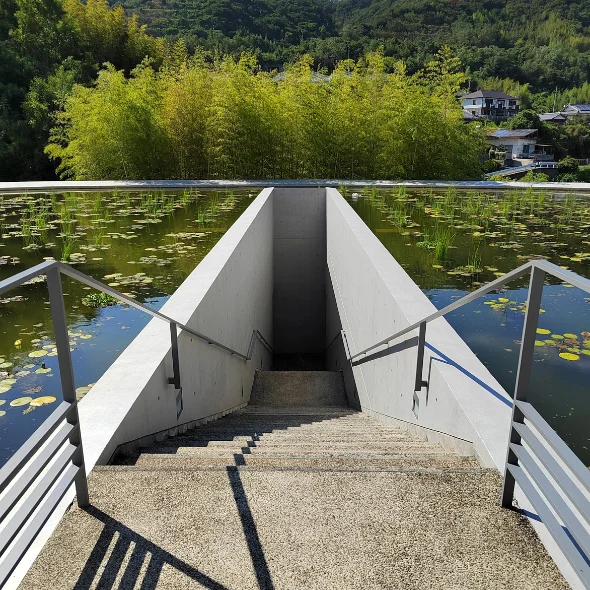 Also envisioned by Tadao Ando, Honpukuji Mizumido, also known as Honpukuji Water Temple, epitomizes the harmonious connection between architecture and nature. Nestled amid a reflective water pool, the temple embodies tranquility and evokes a sense of oneness with the natural elements. Tadao Ando's architectural prowess shines through in his use of light, enhancing the temple's allure.
Honpukuji Water Temple is a truly remarkable and captivating place. Unlike most Buddhist temples where visitors ascend upwards, Ando ingeniously reverses the direction. The entrance leads downward, guiding visitors through a staircase that cuts through an expansive and glistening pool of waterlilies, beautifully mirroring the sky and trees around it. As we descend through the unadorned concrete walls into darkness, a gentle radiance gradually illuminates the curving path that follows the pool's contours above. Finally, we find ourselves in the vibrant heart of the inner sanctum, bathed in a crimson glow.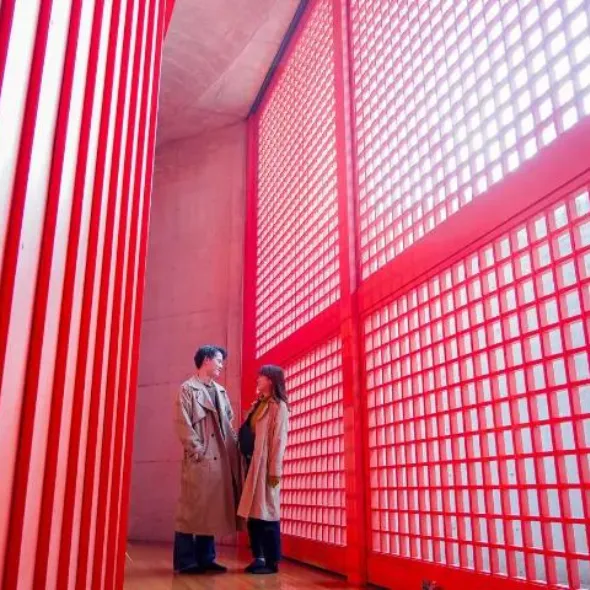 The illumination comes from natural light, filtered through a sharp geometric grid and strategically placed gaps, creating an ethereal atmosphere that permeates the space with a divine aura. The stark contrast between the simple exterior and the vermillion center, along with the interplay of light and shadow, makes for an incredibly moving and immersive sensory journey.
Kyoto Station (Kyoto)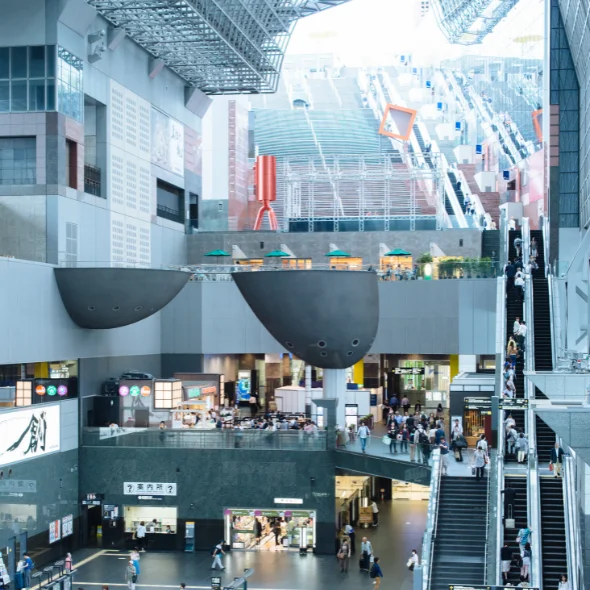 Kyoto Station, a modern transportation hub in Kyoto, Japan, is not only a functional railway terminal but also a remarkable architectural marvel. Designed by Hiroshi Hara and completed in 1997, it stands as a striking departure from traditional Kyoto architecture. The station's innovative design showcases a fusion of modernity and tradition. Its grandiose undulating roof, resembling a samurai sword, captivates visitors with its steel and glass structure. Upon entering, travelers are greeted by a vast atrium and central hall that create an outstanding sense of space, with escalators and walkways crisscrossing at different levels.
The station skillfully integrates natural light and ventilation, creating a bright, airy environment. Facing the city center on one side and Kyoto Tower and the Higashiyama mountains on the other, it seamlessly connects urban life with natural beauty. Kyoto Station serves as a multi-purpose complex, offering various amenities such as platforms, ticketing counters, shopping areas, restaurants, and even a hotel, making it a complete travel experience. Its unique architectural design has transformed it into an iconic symbol of modern Kyoto, admired by architecture enthusiasts worldwide.
Awaji Yumebutai (Awaji City, Hyogo)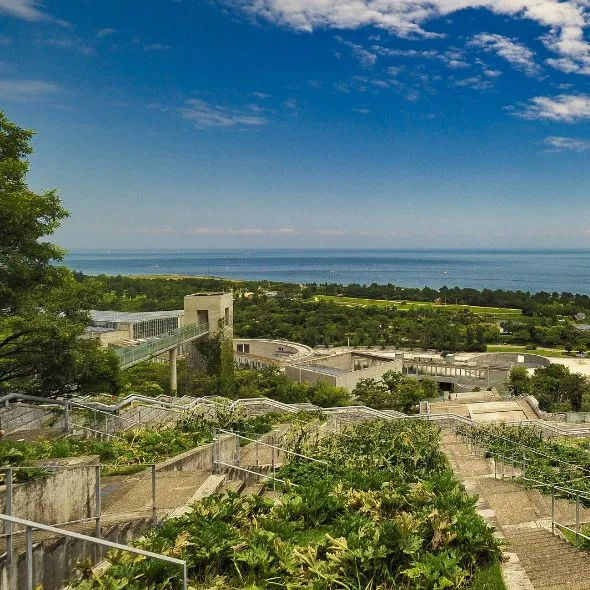 One of the most remarkable architectural achievements of Tadao Ando is the awe-inspiring Yumebutai, nestled on the picturesque Awaji Island in Hyogo Prefecture. This complex is a true testament to his visionary approach as it seamlessly integrates a myriad of elements like shops, restaurants, an international conference center, a luxurious hotel, and an expansive fairytale-like greenhouse, all amidst the breathtaking nature scenery.
Awaji Yumebutai not only serves as a multi-functional complex but also stands as a poignant memorial to the victims of the 1995 Great Hanshin Earthquake. The heart of this memorial is the intricately woven network of 100 flower beds, named Hyakudanen or the "100-step garden". Showcasing a diverse array of botanical blooms, this thoughtful garden was created "to calm the souls of those who lost their lives in the disaster". As visitors climb these cascading garden terraces, they are rewarded with panoramic views that sweep over the mesmerizing Osaka Bay.
Yumebutai beautifully harmonizes with the surrounding landscape, and the design itself embodies a delicate balance between the built environment and the serene coastal setting, a testament to Tadao Ando's commitment to preserving and celebrating the harmony between architecture and nature.
Tokyo Skytree (Tokyo)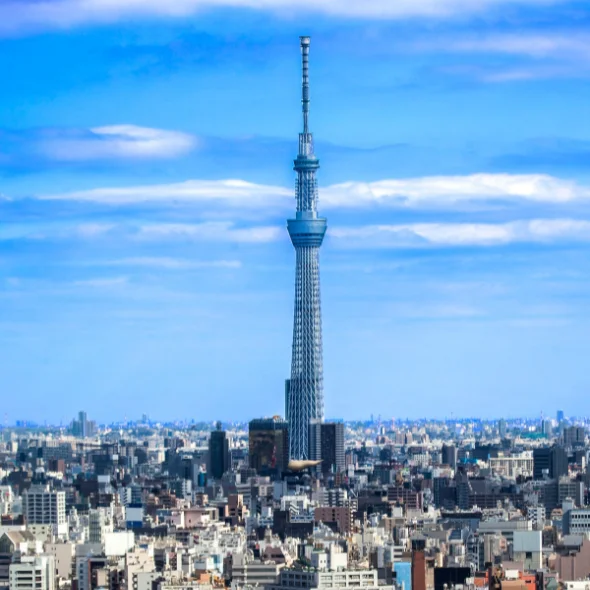 Tokyo Skytree, a soaring telecommunications tower in Tokyo, Japan, is a remarkable architectural marvel that showcases Japan's technological and engineering prowess. Designed by Nikken Sekkei, it was completed in 2012 and has since become an iconic symbol of modern Tokyo. The tower's innovative design combines traditional Japanese aesthetics with cutting-edge technology, making it a captivating sight.
Rising to an impressive height of 634 meters (2,080 feet), Tokyo Skytree is the tallest tower in Japan and one of the tallest in the world. Its sleek, tapering structure reflects traditional Japanese pagoda towers, paying respect to the country's rich cultural heritage. Visitors can ascend to the observation decks located at different heights to enjoy panoramic views of Tokyo's sprawling metropolis and its iconic landmarks. The tower's glass-walled observation decks offer visitors an unparalleled experience of seeing the city from breathtaking heights.
Haru San San (Awaji Island, Hyogo)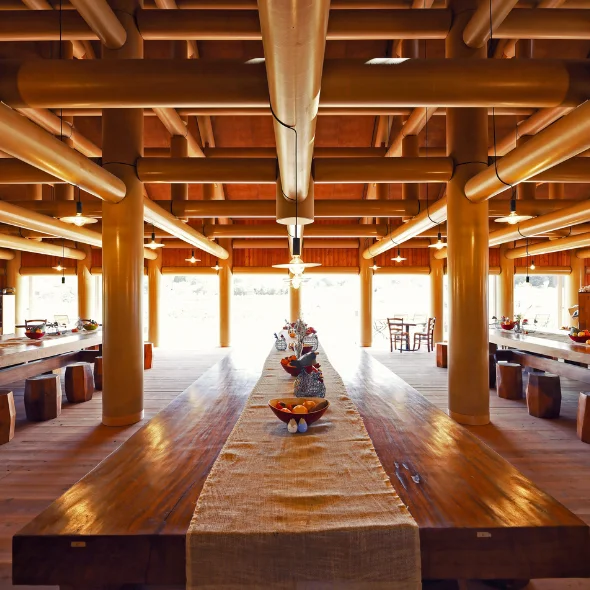 Haru San San, a restaurant situated on Awaji Island, exemplifies Shigeru Ban's architectural prowess. Shigeru Ban's belief in the significance of context for his designs is evident in the seamless integration of the wooden structure with the surrounding landscape. The traditional kayabuki (thatched roof) and the interior made of wood, supported by paper pipes, showcase Shigeru Ban's ingenuity in utilizing innovative materials to create a harmonious and authentic space.
The culinary focus at Haru San San centers around freshly harvested vegetables from Awaji Island, prepared with utmost skill and care to highlight their natural flavors. The menu features salads and soups that capture the essence of each season, offering visitors a delightful culinary experience unique to Awaji Island. Haru San San prioritizes sourcing ingredients directly from local farmers, ensuring freshness, supporting the local economy, and reducing food waste.
Click here for details of Haru San San
Yokohama Red Brick Warehouse (Yokohama, Kanagawa)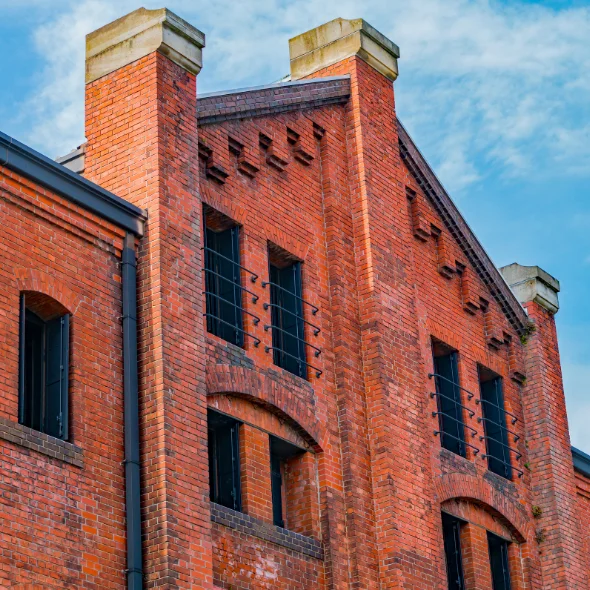 The Yokohama Red Brick Warehouse, situated in Yokohama, Japan, is a captivating architectural gem that holds historical significance and artistic charm. Originally constructed in the early 20th century as part of the city's port facilities, these red brick warehouses have been meticulously preserved and repurposed, transforming into a vibrant cultural and commercial complex.
Designed in the architectural style reminiscent of Western industrial buildings, Yokohama Red Brick Warehouse stands as a testament to Japan's early international trade history. Its warm red brick exteriors, sturdy iron frames, and large open spaces exude a nostalgic charm that transports visitors back in time. Its waterfront location, overlooking Yokohama Bay, adds to the allure of the area, creating a picturesque backdrop for leisurely strolls and a chance to soak in the maritime ambiance. Its blend of heritage, artistic expression, and scenic charm make it a must-visit destination for both locals and tourists seeking an enchanting experience in Yokohama.
Zenbo Seinei (Awaji Island, Hyogo)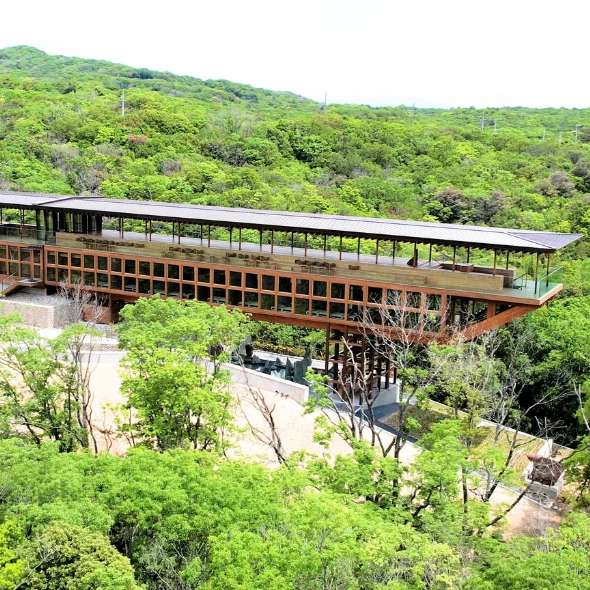 Zenbo Seinei, located on Awaji Island, stands as one of Shigeru Ban's most remarkable achievements. This zen wellness center, constructed mainly from wood, perfectly embodies his distinctive architectural style. The grand structure appears to effortlessly hover above the surrounding treetops, creating a mesmerizing sight. The 100-meter Zen deck, shaded yet open, offers visitors a serene spot to soak in the warmth of sunlight and gentle breeze while being surrounded by breathtaking green scenery during the day. And when night falls, the sky adorns itself with a blanket of stars, adding to the enchanting ambiance.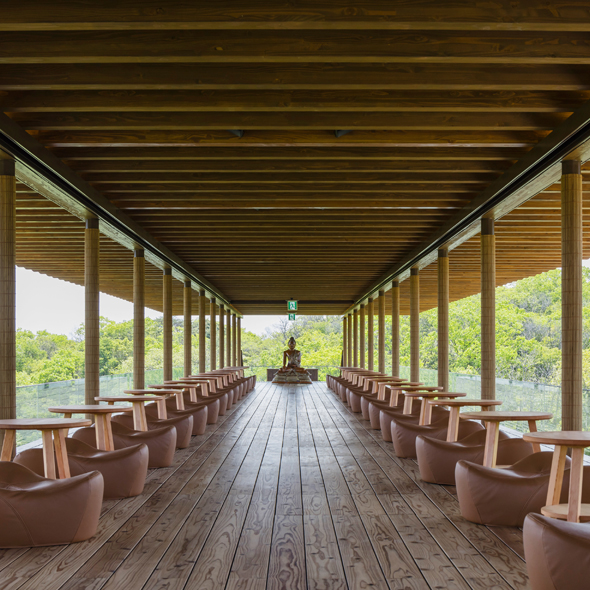 Since its inauguration, Zenbo Seinei has grown increasingly popular, attracting individuals seeking respite from their hectic lives, with a focus on enhancing mental and physical well-being. The center provides expert-led yoga and meditation sessions, enabling visitors to rejuvenate their bodies, minds, and souls. Awaji Island's tranquil setting serves as an ideal backdrop for a Zen retreat, offering an opportunity to reconnect not only with oneself but also with nature, ultimately fostering a sense of mental and spiritual harmony.
Click here for details of ZEN Wellness SEINEI
Closing
Japanese architecture continues to push the boundaries of innovation and aesthetics, with designers seamlessly blending tradition and modernity. The nation's buildings have captivated the world with their unique designs, sustainable features, and seamless integration with nature. As Japan continues to produce visionary architects, we can only expect this captivating evolution to endure and inspire future generations around the globe.