Known for its rich history and culture, Japan offers travelers endless opportunities to experience unique traditions and customs. From serene shrines to invigorating onsen baths, from lively festivals to captivating puppet theater, this ancient civilization promises an unforgettable cultural journey. In this article, we delve into the enchanting world of cultural experiences in Japan, with a special focus on Awaji Island—an often-overlooked gem full of opportunities to explore Japanese heritage.
Popular Cultural Experiences in Japan
Cultural Experience in Japan #1
Exploring Sacred Shrines and Temples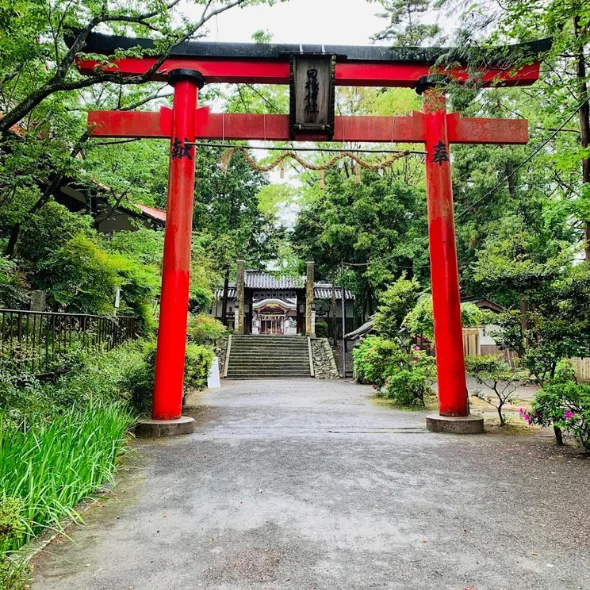 Exploring sacred shrines and temples is among the most captivating cultural experiences in the country. These sacred sites are gateways to Japan's rich history, spirituality, and artistic heritage. Each shrine and temple carry unique stories and traditions, often dating back centuries, providing profound connections to Japan's ancient past. The serene sanctuaries invite contemplation, offering solace from the bustling world outside.
Cultural Experiences in Japan #2
Enthralling Traditional Puppet Performances
The enchanting world of traditional puppet performances in Japan is an experience that transcends time and transports audiences into the realm of ancient storytelling and craftsmanship. These mesmerizing performances showcase exquisitely crafted puppets manipulated by skilled puppeteers who breathe life into their wooden characters. The narratives are often deeply rooted in Japan's rich history and folklore, offering a window into the country's traditions and values.
As the puppets gracefully dance and emote to traditional music and captivating tales, audiences are drawn into a world of artistry passed down for generations. The seamless blend of culture, art, and storytelling makes Traditional Puppet Performances one of the best cultural experiences in Japan.
Cultural Experiences in Japan #3
Rejuvenate Body and Mind in the Onsen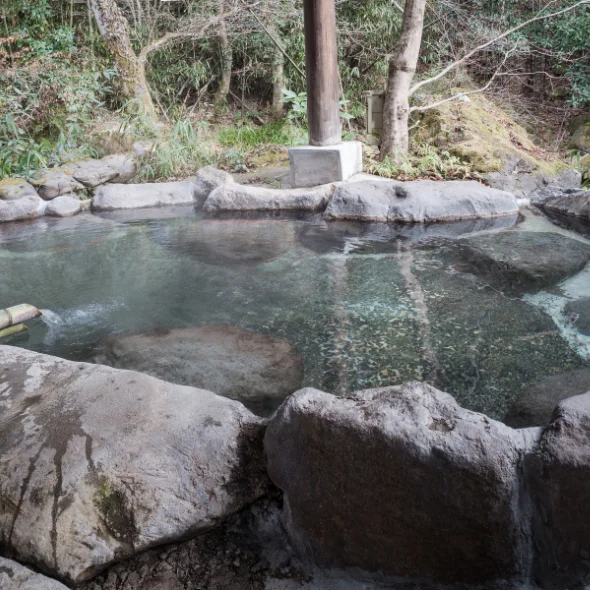 Onsen, Japan's natural hot springs, are a quintessential experience in Japan, cherished by locals and visitors alike. These geothermal wonders offer not just a soak in warm, mineral-rich waters but immersion into the very essence of Japanese culture. The therapeutic benefits of the healing waters, combined with the opportunity to connect with fellow bathers in a tranquil and respectful environment, make onsen a unique and profoundly cultural experience that captures the essence of Japanese culture.
Cultural Experiences in Japan #4
Dive into the World of Anime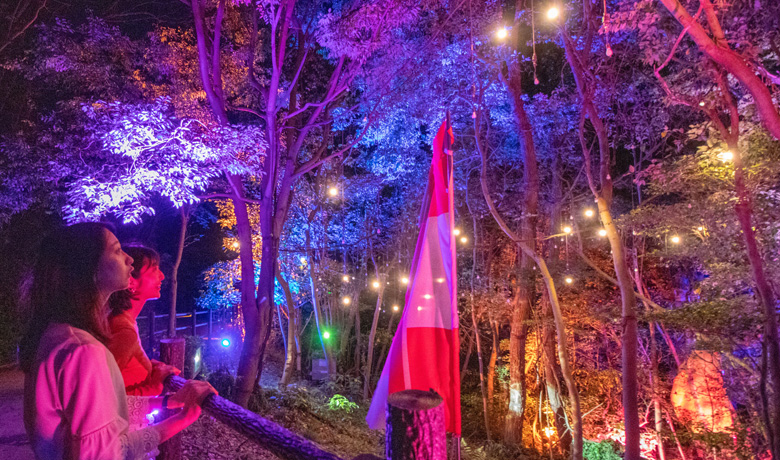 Joining anime activities in Japan is an experience like no other, offering enthusiasts an exhilarating journey into the heart of modern Japanese pop culture. Anime's global appeal has made it a powerful cultural export. Transcending borders and generations, this modern art form is an entertainment not to be missed.
Awaji Island: A Treasure trove of Cultural Experiences
Awaji is the largest island in the Seto Inland Sea. Despite its modest size, it holds a wealth of natural beauty, history, and culture, with lush greenery, captivating coastlines, and unforgettable, breathtaking sunsets. Often overlooked in favor of its more famous counterparts, the variety of experiences here make it a hidden gem for those seeking a road less traveled.
1. Izanagi Shrine: One of the Oldest Shrines in Japan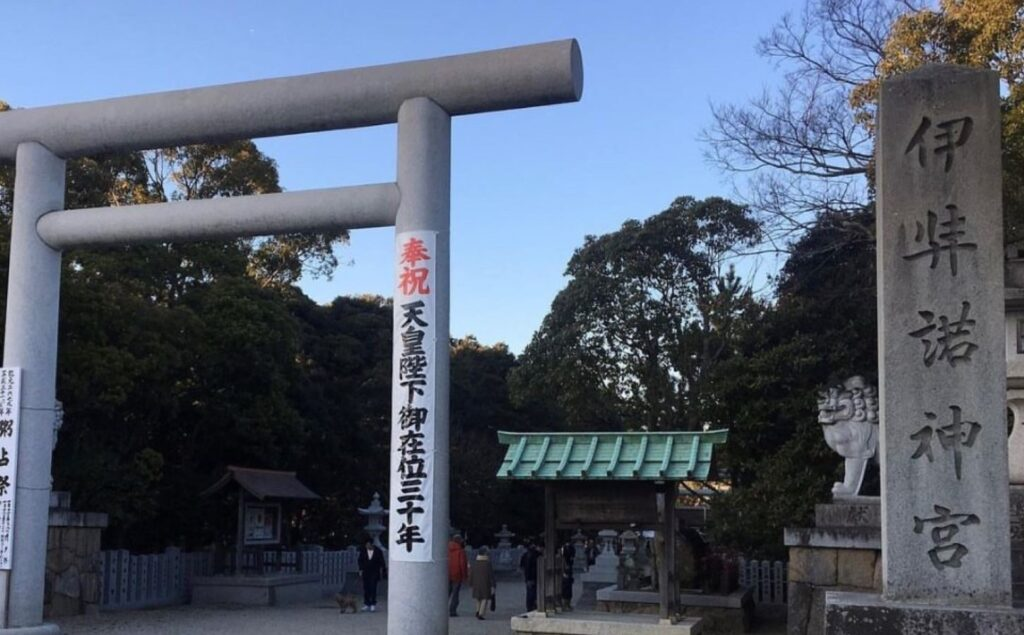 As mentioned earlier, one of Japan's most captivating cultural experiences is a visit to shrines and temples. Did you know that Awaji Island is the first island of Japan according to the ancient creation mythology of the country? As a result, the island contains countless historical sites. Among these, the Izanagi-jingu Shrine stands as a prominent example.
Izanagi-jingu Shrine holds a profound place in Japanese mythology and Shinto beliefs, earning its reputation as arguably Japan's most significant sacred site. Rooted in ancient texts such as the Kojiki (古事記) and Nihon Shoki (日本書紀), this shrine's significance is embedded in the divine union of Izanagi and Izanami, who, as husband and wife, gave birth to the very islands of Japan, with Awaji Island being their first creation. Esteemed as one of Japan's oldest Shinto shrines, it is where the deity Izanagi no Mikoto chose to spend the remainder of his godly duties.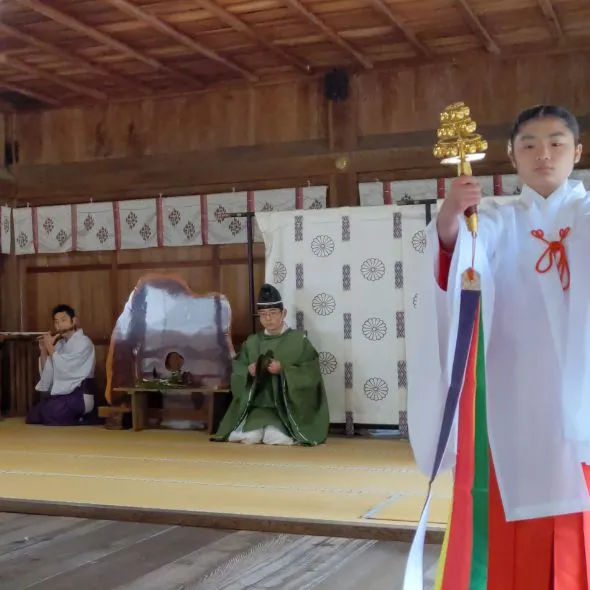 Today, Izanagi Jingu continues to attract visitors seeking to learn more about Japan's mythological heritage and spiritual essence. Its serene surroundings, profound historical importance, and the opportunity to partake in its sacred ceremonies offer pilgrims and tourists alike a timeless glimpse into one of the most authentic experiences in Japan.
Awaji Island harbors several sacred sites intertwined with Japan's birth, extending beyond the Izanagi-jingu Shrine. For more on these mythological connections, check this article.
2. Ningyo Jōruri: Japan's Precious Cultural Heritage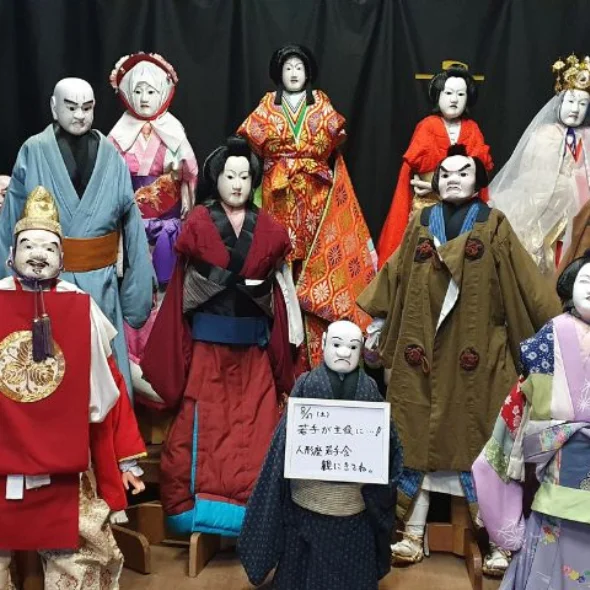 Puppet performances are another extraordinary cultural experience. Awaji Ningyo Jōruri Theater offers a unique opportunity to witness captivating shows that breathe life into ancient tales through the art of puppetry.
The troupe boasts an extensive repertoire of plays, delighting audiences with fresh narratives each month. Operating a single puppet requires the expertise of three highly synchronized puppeteers. One puppeteer controls the head and right arm, another manages the left arm, while a third oversees the legs and feet. Witnessing the wooden puppet come to life through their collective mastery is nothing short of extraordinary. The puppets' human-like movements and gestures, and the way they locked eyes with the audience, creates an impressive illusion of facing a living being.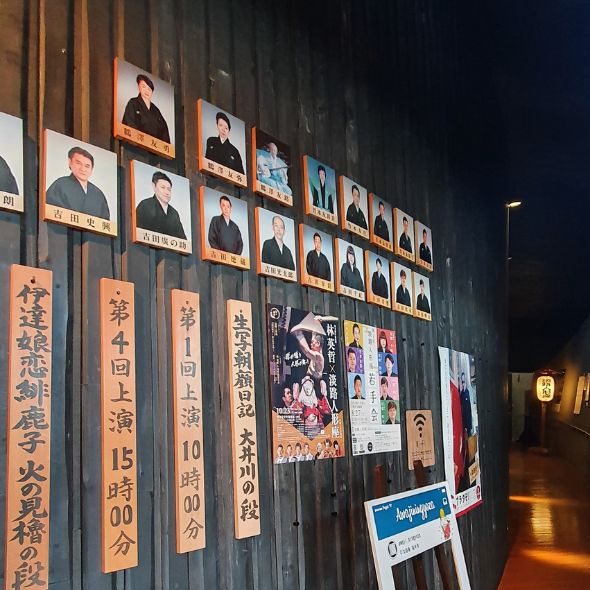 The combination of compelling storyline, the puppet's remarkable performances, chances for audience participation, and the option to do backstage tours altogether make witnessing Ningyo Jōruri one of the best cultural experiences in the country.  
Read our experience report of Awaji Island's Ningyo Jōruri
3. Sumoto Onsen: Refreshing Hot Spring Experience
Entering onsen is another classic cultural experience in Japan. Sumoto Onsen on Awaji Island, offers a refreshing Japanese hot spring experience. Its mineral-rich geothermal waters are renowned for their therapeutic properties, providing relaxation and rejuvenation. With a variety of baths, both indoors and outdoors, guests can immerse themselves in the soothing ambiance while taking in picturesque views of lush landscapes and the Seto Inland Sea. Enjoy not only a delightful soak but also an opportunity to partake in Japanese onsen customs, including pre-bathing rituals and tea ceremonies.
4. Nijigen no Mori: Enter the 2-D World in an Anime Theme Park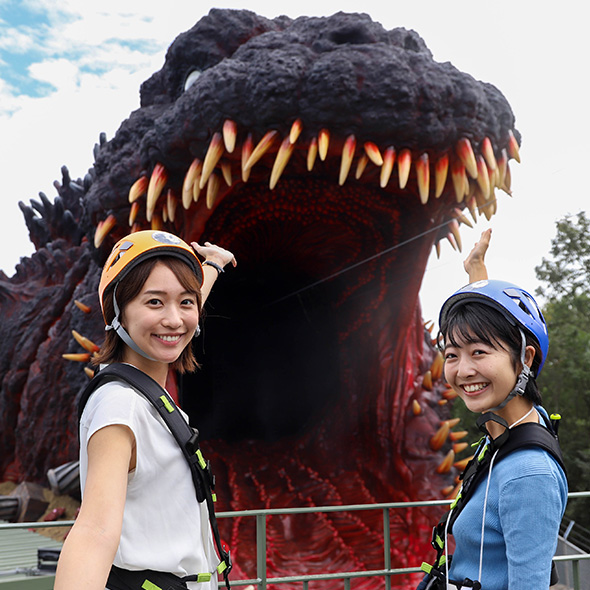 Anime is wildly popular worldwide, and Nijigen no Mori on Awaji Island is an entertainment complex that offers a must-have experience for anime fans. As the perfect location for anime and Japanese pop culture enthusiasts, it draws a diverse array of visitors from around the world. Only at Nijigen no Mori can visitors immerse themselves in beloved franchises like Naruto & Boruto, Dragon Quest, Godzilla, and more.
Among the park's standout attractions is "Naruto & Boruto Shinobi-Zato", a faithful recreation of the cherished Naruto world. Embrace your inner secret agent by taking on ninja-inspired challenges and fully engage in the park's action-packed environment. Meanwhile, within the Dragon Quest World, embark on a classic RPG adventure tailored for both die-hard fans and newcomers alike.
Click here to see our other articles about the anime theme park Nijigen no Mori.
Click here for details of NIJIGEN NO MORI
5. Aman no Shokutaku: Authentic Japanese Cuisine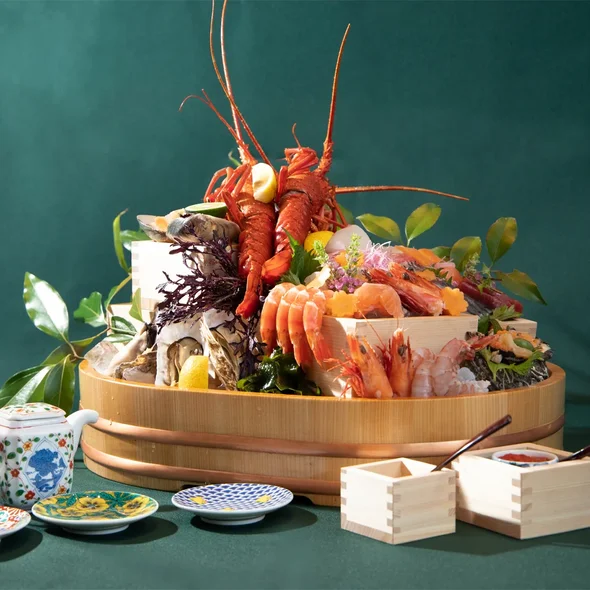 Aman no Shokutaku is an upscale dining establishment that offers a luxurious experience featuring two distinct culinary styles. On the first floor, Utage presents 'pirate-style cuisine', a traditional cooking method deeply rooted in the heritage of Awaji Island, emphasizing locally sourced ingredients. Meanwhile, the second floor, known as Sajiki, specializes in teppanyaki and sukiyaki. Together, these styles capture the essence of Awaji Island's gourmet tradition, paying respect to its rich history as Japan's inaugural island.
The high ceilings of the restaurant adds to the luxurious ambiance, for the perfect setting for shared memories with family and friends. While dining, enjoy the view of a Japanese-style garden and teahouse.
Read this article to learn more about Aman no Shokutaku.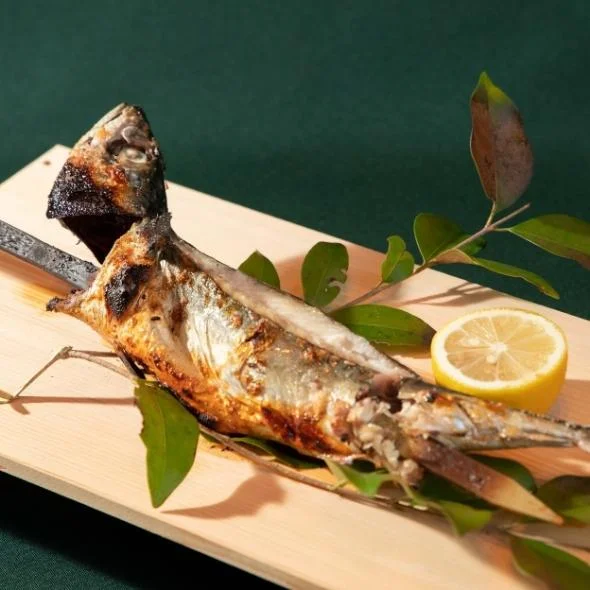 Click here for reservations Utage Click here for reservations Sajiki
Click here for details of Aman no Shokutaku
Closing
Japan's cultural tapestry is interwoven with a diversity of elements. From the tranquil serenity of onsen to the deep spirituality of shrines and the enchanting realm of puppet theater, Japan offers a kaleidoscope of traditions waiting to be explored. With the allure of Awaji Island extending its invitation, there has never been a better moment to visit the island and enjoy the best cultural experiences in Japan. Why wait any longer? Embark on your journey and experience the wonders of Awaji Island!