Sushi is something to be enjoyed in style when visiting Japan! Some of the best sushi in the country can be found at Aonoya, the seaside restaurant on Awaji Island's west coast. Savor some of Japan's finest cuisine including nigiri sushi made with seafood caught just minutes away, featuring sea bream, sea urchin, and octopus, accompanied by tempura freshly made before your eyes and delicacies created with locally grown ingredients from Awaji Island farms. A projection-mapping show adds a spectacular climax.
Sushi is one of the first things that come to mind when people think about Japan, a sign of its cultural significance as an icon of Japanese cuisine.
Sushi in Japan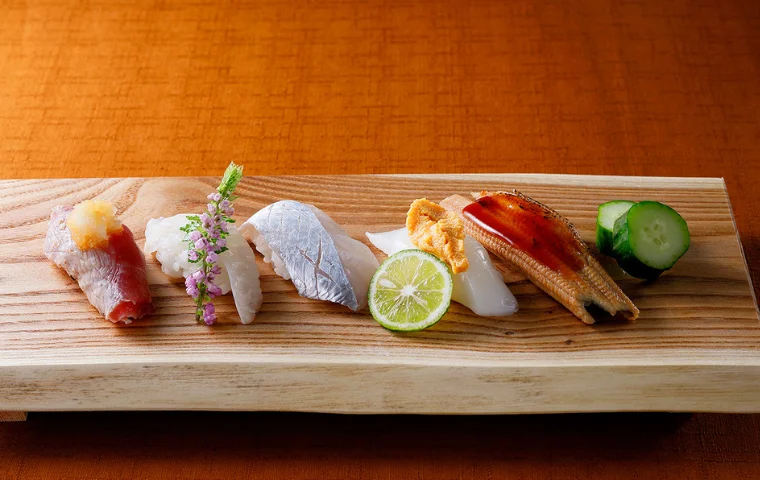 Japan is known for its sushi and it can be found in many forms nowadays. But the sushi we recognize today as "nigiri sushi" (the best known sushi) began to take shape during the Edo period (17th-19th century) in Tokyo. Sushi became a fast food of sorts during the 19th century, with street vendors and small stalls catering to busy urbanites in Tokyo. This sparked sushi's popularity among the masses. The sushi chefs (itamae) developed intricate techniques for slicing and presenting fish. Sushi restaurants, or "sushi-ya," began to gain recognition for quality and craftsmanship. Over time, sushi continued to evolve. Ingredients like soy sauce, wasabi, and pickled ginger were added to enhance flavor which we now consider indespensible elements of the genre.
The Globalization of Sushi
Sushi stepped onto the world stage in the 20th century as Japan opened up to the world. The dish found its way to various countries, adapting to local tastes and ingredients. Today, sushi is available worldwide, from upscale restaurants to fast-food chains, known as a symbol of Japanese culture and cuisine globally. Sushi reflects broader Japanese values of precision, artistry, and attention to detail. Beyond traditional nigiri sushi, there are rolls (maki), sashimi, and fusion creations which all appeal to a much broader audience.
Due to concerns about overfishing, the sushi industry has been increasingly focused on sustainability. Many sushi restaurants – like Aonoya – now promote responsible sourcing of seafood to protect marine ecosystems.
SEIKAIHA Aonoya Sushi Restaurant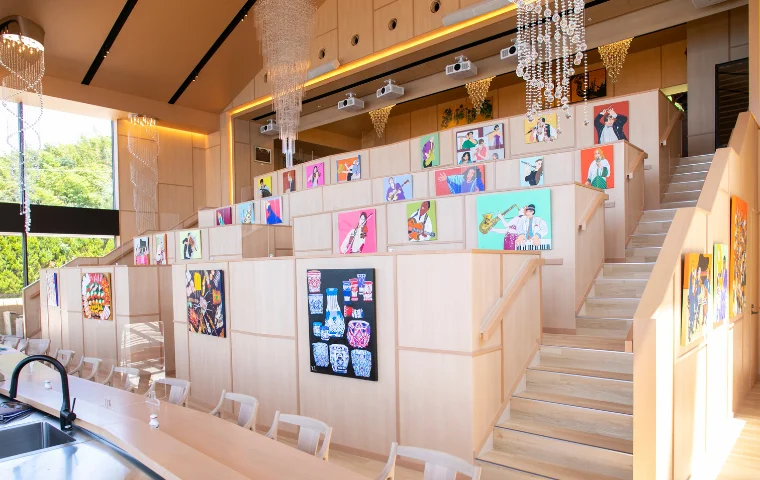 SEIKAIHA Aonoya is a renowned sushi restaurant celebrated for its exceptional location on the West Coast of Awaji Island. This is where the finest Awaji Island seafood is masterfully transformed into sushi and tempura delights.
Unique Sushi Dining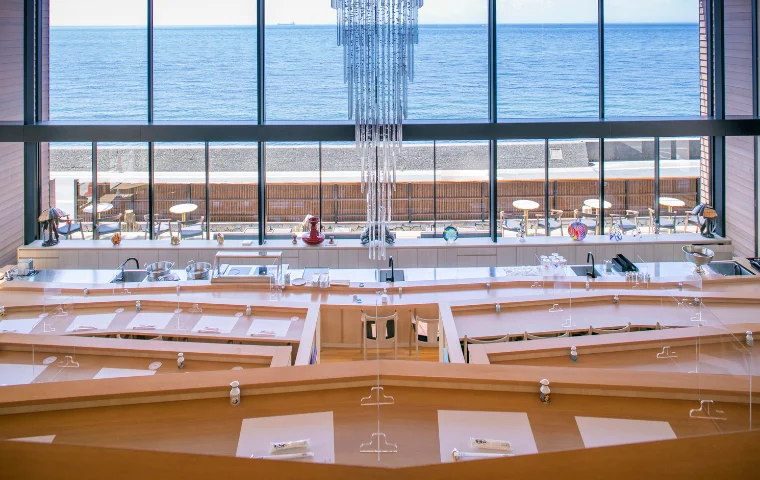 Reservations are highly recommended since capacity is limited and everyone wants to come for the sunset seen from the towering windows. The building is designed so that all guests face the same direction for breathtaking views of the Seto Inland Sea. The restaurant seating is arranged in rising tiers, ensuring an unobstructed view.
After sunset, the grand windows overlooking the sea transform into a mesmerizing projection-mapping display, offering fireworks and other kinds of animated imagery against the ocean at night.
Different sushi varieties
When booking a seat, feel free to order in advance from the diverse menu. Certain ingredients might change seasonally, taking into account sustainable food sourcing and freshness. All meals come with hot green tea, a classic pairing with sushi. An array of other drinks (alcohol and soft drinks) are also available.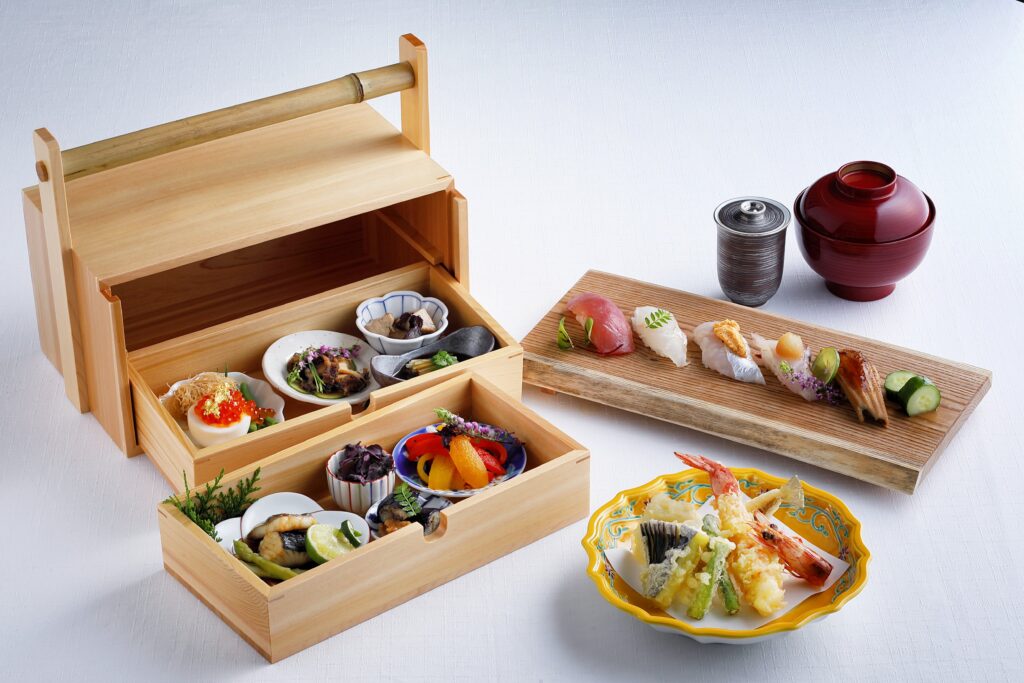 The two level drawers of the sushi box includes a variety of different sushi, tempura, chawanmushi (warm egg custard with vegetables and other seasonal ingredients) and red miso soup.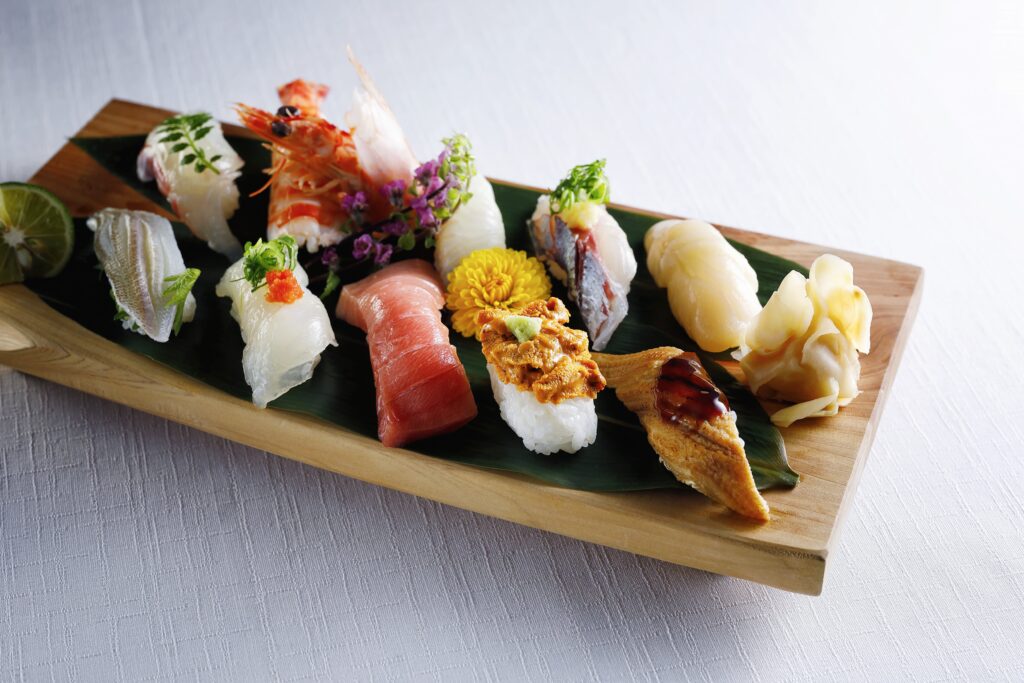 The Specially Selected Nigiri Sushi Set includes 10 pieces of sushi prepared from that day's fresh fish. The set also comes with chawanmushi and miso soup.
The "Seven Lucky Gods" set is inspired by the Seven lucky Gods found at temples throughout Awaji. The set includes seven pieces of sushi, 3 kinds of sashimi and red miso soup.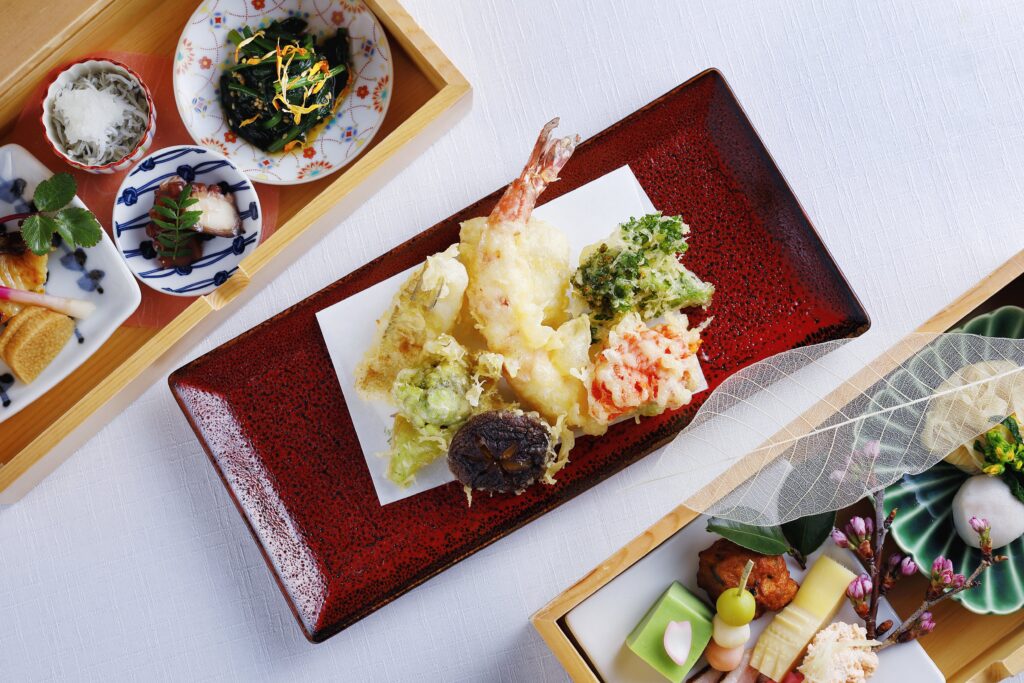 Having trouble deciding? Leave it up to the chef by choosing the "omakase" set – only available at dinner time. Omakase can be either sushi or tempura, and is prepared from that day's best ingredients.
Projection Mapping to Light up the Night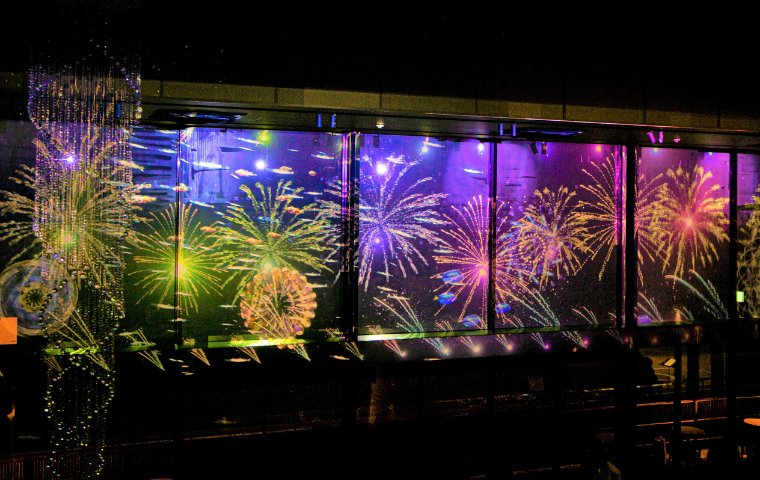 The unique design and ocean view set this restaurant apart. During daytime, natural light flows into the restaurant from ceiling-high windows and as the sun sinks into the ocean the warm hues fill the air to the melody of live musicians.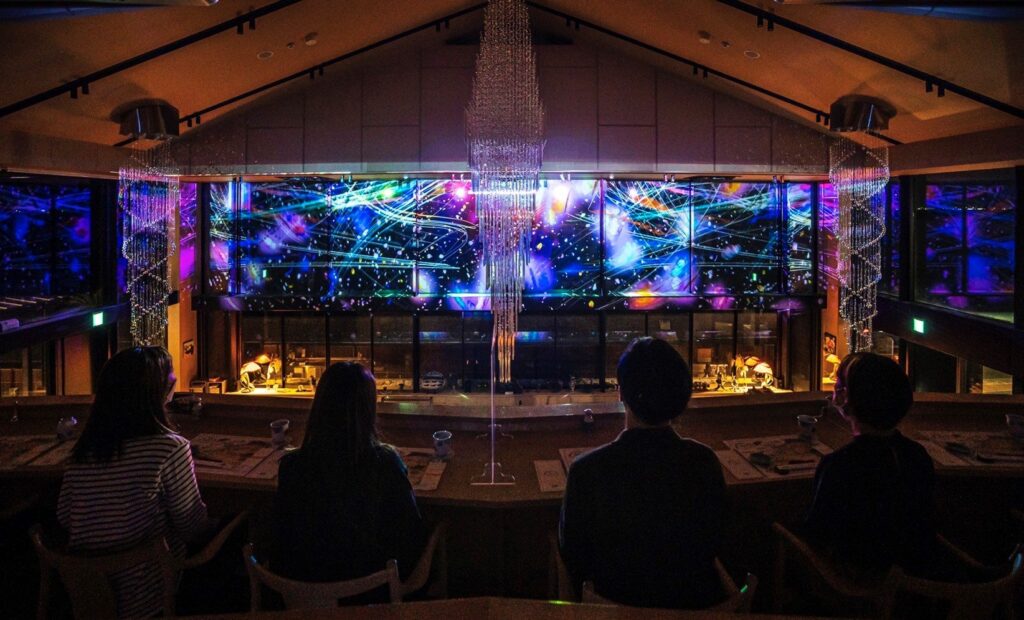 After sundown, as darkness falls, the restaurant transforms into a spectacular theater. The lights turn off and the projection-mapping show begins. The animations are produced by the creative group NAKED and include visions of aquariums, fireworks, and seasonal scenery set to thrilling music.
Conclusion
Visiting a sushi restaurant in Japan provides deeper insight into the world of this unique culinary art. Explore the traditional techniques, regional variations, and exquisite flavors that make sushi an integral part of Japanese culture and cuisine. Check out this reel video on Instagram made by @hangrybynature, who visited Aonoya!
If you're looking for the perfect, unique sushi experience when in Japan, Aonoya on Awaji island is the perfect place.