Awaji Island, steeped in ancient history and rich maritime traditions, welcomes you to savor its sea and mountain delights, passed down by Ama – the people of the sea. According to the Kojiki, Japan's oldest historical records, Awaji Island was the first island of Japan inhabited by Ama, who with their metal craftsmanship, salt production, and exceptional navigational skills, ushered in a new era of prosperity.
Aman no Shokutaku is a true Japanese culinary restaurant nestled on the picturesque island of Awaji. Here, you are invited to experience the very essence of Japan's national delicacies, lovingly crafted from the ingredients of Awaji Island's land and sea. Indulge in a feast that celebrates the traditions of Ama and savor the exceptional gourmet wonders that have been passed down through generations.
1F: Awaji Island Pirate Cuisine "Utage"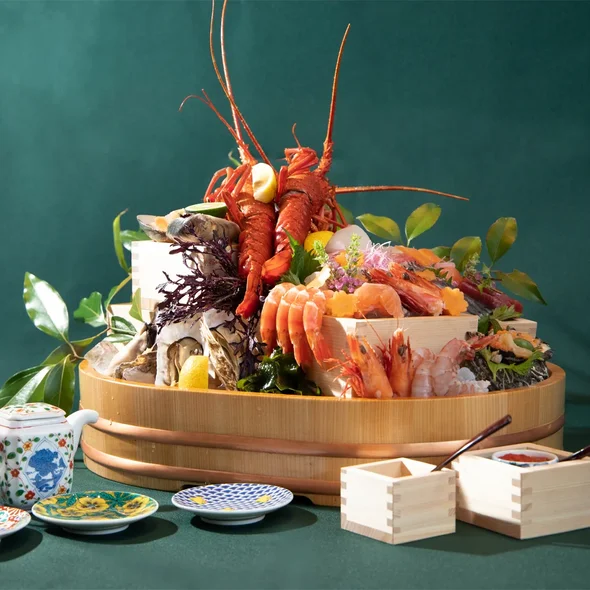 Pirate cuisine refers to a traditional style of cooking that has been passed down for millennia on Awaji Island, and focuses on the use of locally sourced ingredients. Utage represents the essence of Japanese food, celebrating the finest ingredients nurtured in Awaji Island's rich water and lush nature. From fresh marine delicacies to beef and chicken, along with fresh vegetables like the renowned Awaji Island onions, each dish is crafted brilliantly without altering its original flavors.
The restaurant boasts a luxurious ambiance with a high ceiling, providing a perfect setting for sharing memorable moments with family and friends. You can also admire the Japanese-style garden and teahouse view through the windows.
The "Meibutsu Aman Gozen" lunch menu, comprising sea eel sushi, tempura, sashimi, chawanmushi (Japanese egg custard dish), and Miso soup, ranks as a favorite. The second most favorite is the "Meibutsu Aman Udon", featuring udon with Awaji beef, fresh wakame seaweed, and Awaji onion kakiage (vegetable tempura). With each dish presented with grace and skill, guests are sure to leave with a newfound appreciation for the intricate flavors of Japanese food.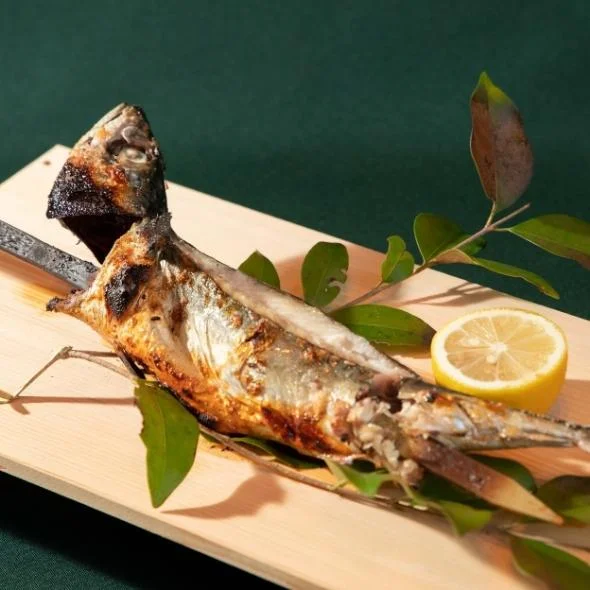 As the sun sets over Awaji Island, prepare to be captivated by a seafood dining experience like no other. Utage is a testament to the island's vibrant maritime traditions, boasting an array of incredibly fresh and exquisite seafood offerings. Try the finest sashimi, carefully selected and expertly prepared to highlight the delicate flavors of the sea. The sushi, a favorite among the guests, promises an incredible taste, as they melt in your mouth, leaving a lasting impression on your palate.
2F: Teppanyaki and Sukiyaki Cuisine "Sajiki"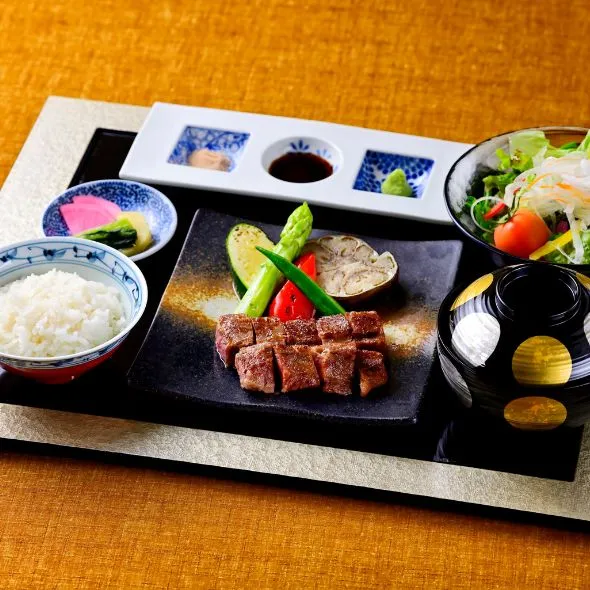 At Sajiki, you can enjoy teppanyaki (cooked on an iron plate) and sukiyaki (Japanese hotpot style) that showcase carefully selected Awaji beef and locally sourced vegetables. Sajiki's teppanyaki course treats guests to an impressive performance by the chef as Awaji beef and vegetables sizzle on the iron plate. The sukiyaki, prepared with Awaji beef and onions, invites you to relish the flavors of sweet and spicy sauces, egg, and the restaurant's special seasoning.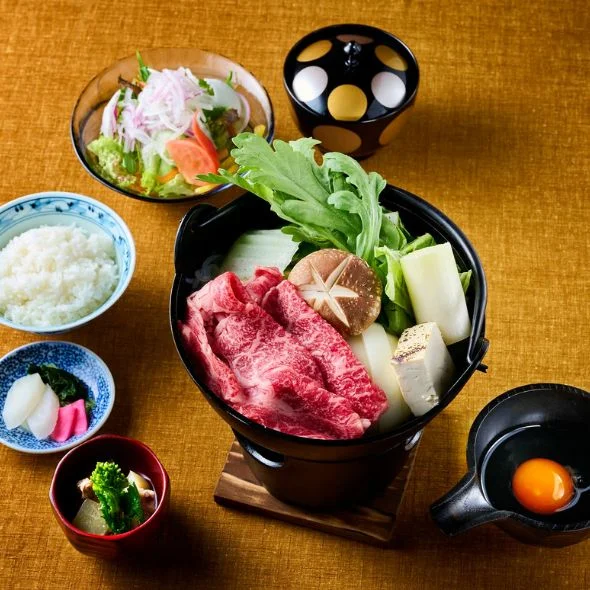 The restaurant's Japanese-style ambiance creates a cozy hideout, offering relaxation amidst nature's splendor. At lunch time, The "Awaji Beef Steak Gouzen", a sumptuous set meal with Awaji beef steak as the highlight, tops the most popular menu at Sajiki. Close behind is the Teppanyaki course featuring an 80g Awaji beef sirloin steak, seafood, soup, vegetables, and other side dishes.
Traditional Japanese Tea House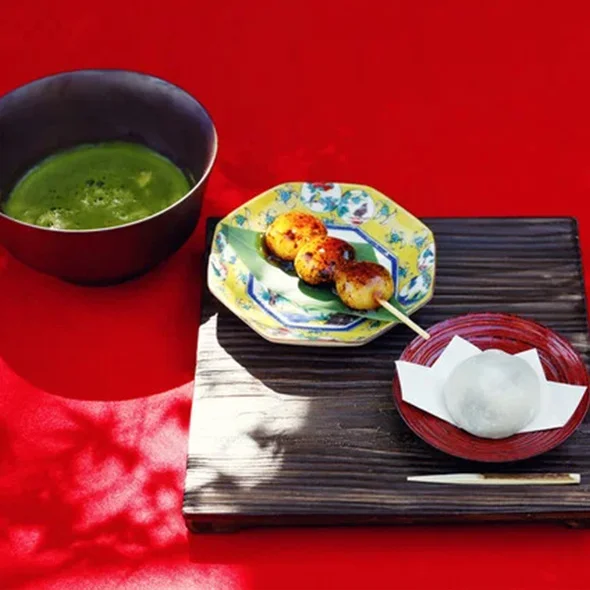 From 14:00 to 17:00, you can experience the cafe menu at the tea house on the first floor. Savor Japanese sweets on the terrace, overlooking a serene Japanese garden. In summer, treat yourself to refreshing cold shaved ice. The ohagi (Japanese rice cake confectionary) and odango (rice flour dumplings) are highly recommended since they are something that you cannot find everywhere. For those with a sweet tooth or seeking the perfect teahouse experience amidst the harmony of nature, the tea house is a must-visit.
Click here for reservations Utage Click here for reservations Sajiki
Click here for details of Aman no Shokutaku
Come and immerse yourself in the culinary treasures of Awaji Island at Aman no Shokutaku. Discover the delicacies of Japanese food, a celebration of history, and a journey into the heart of Japan's food heritage. Whether you are going to Utage which focuses on seafood or Sajiki which serves Awaji Beef as its highlight, you will be satisfied with the food at Aman no Shokutaku.