Awaji Island is a popular resort destination with excellent accessibility from the Kansai metropolitan area, offering enjoyment for tourists ranging from couples to families. While the island is bustling with visitors during the daytime, evenings provide a more relaxed atmosphere, making it an ideal place to be spending special moments with a loved one on a night date.
Recommended Outdoor Date Spots for Evenings
Awaji Island Highway Service Area (outbound)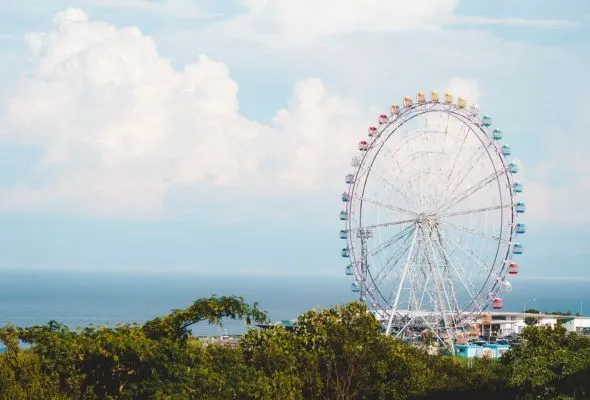 "Awaji Service Area (SA) outbound line" is located at the northernmost tip of Awaji Island. As an SA accessible both from the northbound and southbound directions, it's a recommended night date spot for travelers to use conveniently on their way back home. At the SA, you can find a large Ferris wheel and a place known as the "Lovers' Sanctuary," along with illuminated promenades offering stunning views of the Akashi Kaikyo Bridge at night. Come and enjoy the night view while sitting on the bench with your loved one.
Awaji Chef's Garden by PASONA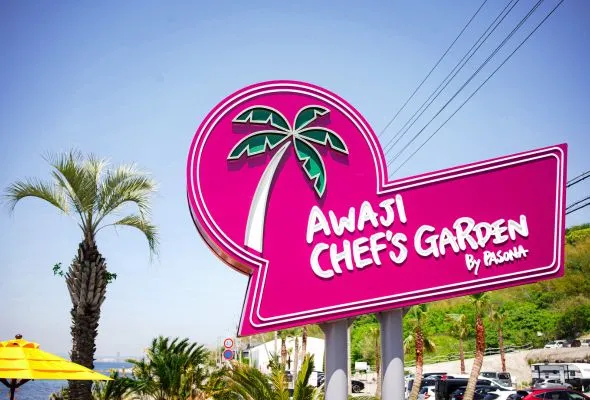 "Awaji Chef's Garden by PASONA," is an area featuring a variety of dishes and offers a breathtaking view selected as one of Japan's "Top 100 Sunsets." At night, the entire area is lit up with colorful illuminations, creating a sparkling atmosphere. With approximately 30 shops to choose from, you can enjoy a selection of meals based on your preferences while gazing at the sea and the sunset. This place is perfect for capturing memorable pictures in all of the photogenic spots along the Chef's Garden area.
Name
Awai Chef's Garden by PASONA
Address
57-3, Nojima Okawa, Awaji Shi, Hyogo Ken, 656-1723
Parking
Approx. 140 units
Phone Number
080-8177-4501
Website
https://www.awaji-chefgarden.com/
Business Hours
11:00~21:00 (last order 20:00) 
*Subject to change depending on the season and weather.
Click here for details of Awaji Chef's Garden
Roadside Rest Area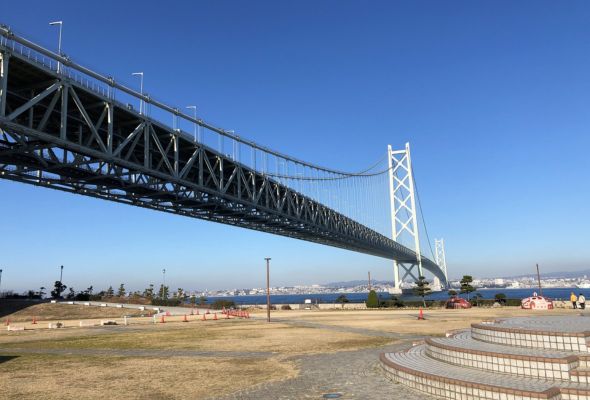 Located at the northern tip of Awaji Island, this Roadside Rest Area offers a view of the Akashi Kaikyo Bridge and Kobe on the opposite shore. There's a grassy square, benches, and tables where you can relax and enjoy the illumination of the Akashi Kaikyo Bridge, a classic spot for a night drive, while taking in the evening scenery.
For Pokémon lovers, here you can find one manhole cover featuring a legendary Pokémon to add to your collection. (read more here.)
| | |
| --- | --- |
| name | Roadside Rest Area (Michi no Eki) Awaji |
| address | 1873-1 Iwaya, Awaji City, Hyogo Prefecture 656-2401 |
| Official site | http://michi-awaji.co.jp/ |
Eshima Island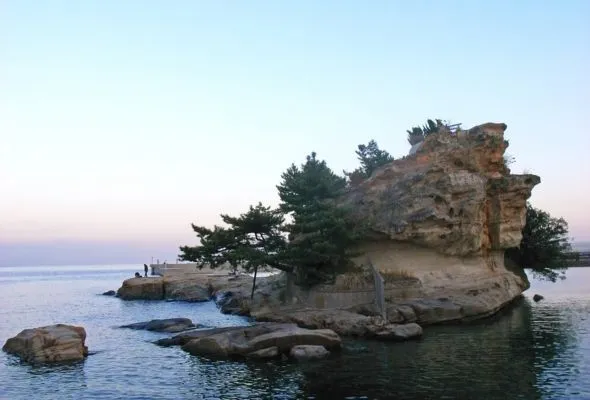 Eshima Island is a tiny sandstone island right next to the port of Iwaya at the northern part of Awaji Island. The island is believed to be one of multiple locations identified as "Onokorojima," a legendary island appearing in the ancient chronicles of the "Kojiki" and the "Nihon Shoki." The island was originally connected to the larger Awaji Island, but this connection was eroded away by the sea, resulting in its current shape. It is said that it was on this island the gods Izanagi and Izanami were bound together and birthed their children. The bare rock of the island bears a smooth, striped pattern; a shrine stands at its peak, memorializing Matsuomaru, a man who saved people who were to be sacrificed, instead being sacrificed himself.
Eshima is illuminated at night, providing a charming ambiance while taking a leisurely stroll along the coastline and admiring the lights of the Akashi Kaikyo Bridge and Kobe on the opposite shore.
name
Eshima Island 絵島
address
Iwaya, Awaji City, Hyogo Prefecture 656-2401
access
Kobe Awaji Naruto Expressway: If you come by car, about 3 minutes from Awaji IC, right next to Iwaya Port.
Appr. 10 minutes with ferry from Akashi to Iwaya Port, then 1 minute walk.
Recommended Dinner Spots
For those planning a night date, many prefer a dinner at a restaurant with a romantic atmosphere. Here are some selected restaurants with a focus on quality ingredients and delightful dining spaces, some even offering special anniversary plans. They are recommended for making your partner's special day memorable.
Auberge French Forest Restaurants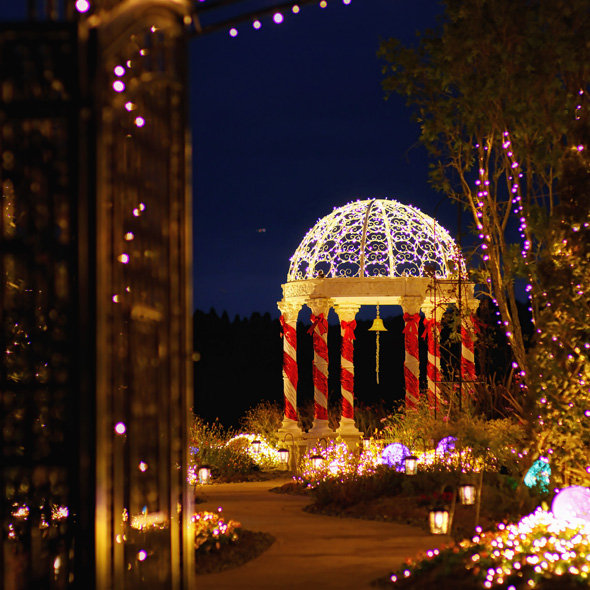 This auberge offers three different French cuisine styles in three separate buildings. At night, the illuminations create a dazzling ambiance, complementing the chic and stylish appearance amidst the serenity away from the urban hustle. Each restaurant provides authentic dishes that bring out the charm of Awaji Island's seasonal ingredients: La Rose (French × Japanese), Grand BaoBab (French × Mediterranean Italian), and Prince Etoile (French × Spanish Basque). You can indulge in a delightful combination of carefully selected wines and a luxurious and relaxed dining experience.
You can also book a lodging in Auberge and relax in in the quietness of the mountains for the night.
Click here for details of Auberge "French Forest"
Ristorante Scuola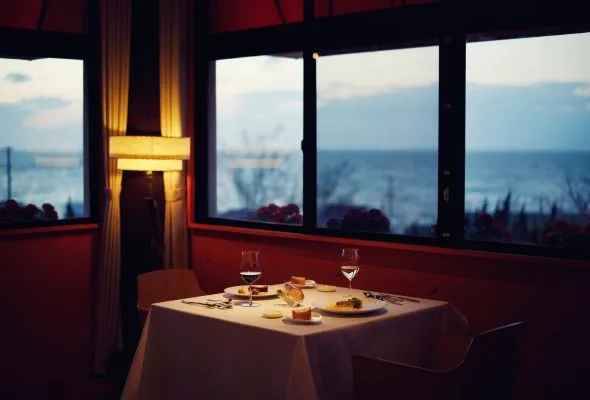 Ristorante Scuola located at Nojima Scuola is an Italian restaurant produced by Masayuki Okuda, who was selected as one of "The World's Top 1000 Chefs." With the concept of Awaji Island's Italian cuisine, the dishes offer a gastronomic experience of the local flavors from Awaji Island which Mr. Okuda personally selects. The indoor space is renovated from an old elementary school, providing a nostalgic and warm atmosphere for you to enjoy your meal. The restaurant's commitment to using local ingredients shines through, making it a great evening date spot to savor the sunset of Awaji Island along with a full-course meal.
Name
Nojima Scuola
Adress
843 Nojimahikinoura, Awaji City, Hyogo Pref. 656-1721
Website
https://www.nojima-scuola.com/
Reservations
2F Ristorante Scuola
https://www.tablecheck.com/en/shops/nojima-scuola/reserve
Tel
0799-82-1820
Operation Hours
1F Marché /Bakery: Weekdays 10:30~19:00
Sat., Sun., & Public Holidays 10:00~19:00

1F Café Scuola: Weekdays Lunch 11:00~14:00/ café 14:00~18:00
Sat., Sun., & Public Holidays breakfast 10:00~11:00
Lunch 11:00~15:00
Café 15:00~18:00

2F Ristorante Scuola: 11:30~15:30 (in by 14:00) / 18:00~21:30 (in by 19:30)

Outdoor Zoo: Weekdays 11:00~16:00
Sat., Sun. & Public Holidays 10:00~16:00 (13:00~14:00 animals in recess)

Closed: Wednesdays (Open on Public Holidays)
Click here for details of Nojima Scuola
Craft Circus Kaió Market: Seafood BBQ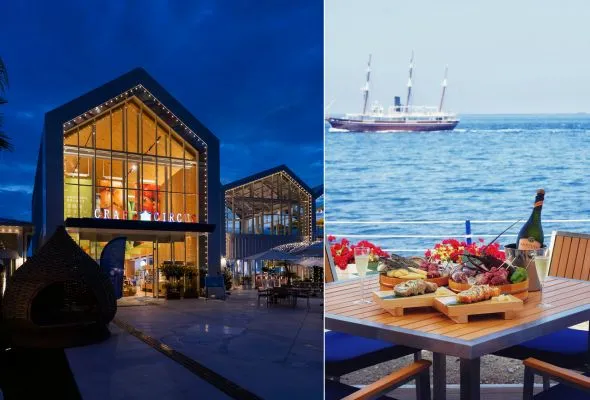 Located along the west coast of Awaji Island, Craft Circus Kaiō Market offers a seafood BBQ experience while enjoying the evening scenery after watching the sunset. BBQ sets are available to use, making it hassle-free to enjoy. The BBQ set includes various local delicacies such as Awaji Island onions, Awaji beef, and fresh seafood. The dog terrace also makes it a recommended date spot for those traveling with pets.
Location
CRAFT CIRCUS
Address
2-2 Nojima-Hirabayashi, Awaji City, Hyogo Pref. 656-1724
Access
15 minutes by car from Awaji IC on Awaji-Kobe-Naruto Expressway. 10 minutes by car from Iwaya Port (Jenova Line Ferry).
Parking
80 spaces
Business Hours
Weekdays: 10:30-20:30 (last order 19:30)
Weekends/Holidays: 9:30-20:30 (last order 19:30)
Closed
Thursdays (excluding national holidays)
Tel
0799-82-1855
Website
https://awajicraftcircus.com/
Reservations
https://www.tablecheck.com/en/shops/craftcircus/reserve
Click here for details of CRAFT CIRCUS
Staying the Night
If you are considering staying overnight for your night date plan and want to spend a luxurious time while gazing at the night sky of Awaji Island, the following top-notch hotel is recommended:
Grand Chariot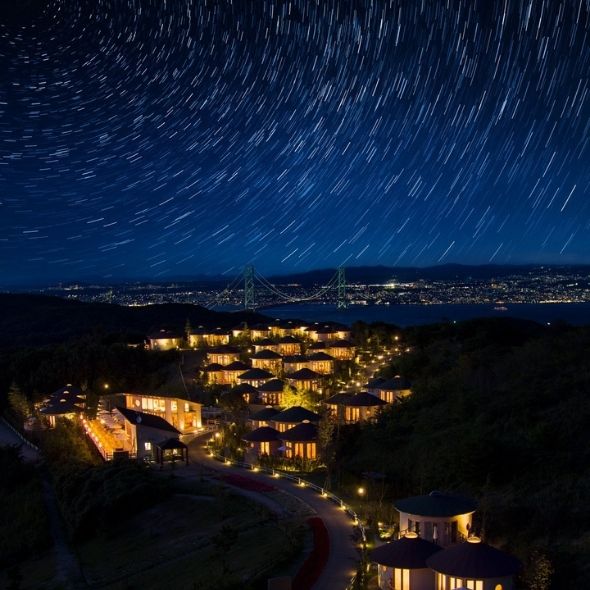 Located on the highest hill of the Hyogo Prefectural Awaji Island Park, this luxury hotel offers a lavish accommodation experience with a view of Awaji Island's night sky. All rooms are equipped with a Japanese cypress bath, a small private terrace and a lawn as well as a skylight window to gaze up on the stars right from the comfort of your bed.
With a commitment to cuisine, you can savor meals using Awaji Island's specialties, such as "Awaji Beef," "Yura Uni" (sea urchin), and "Awaji Tai" (red snapper), and enjoy a luxurious breakfast that emphasizes health. If you're considering an overnight stay for your date plan, this place is highly recommended. There are also Hello Kitty, Naruto, Slime, and Crayon shin-chan themed rooms available!
Click here for details of GRAND CHARIOT
Limited Time Event: Demon Slayer: Kimetsu no Yaiba Nightwalk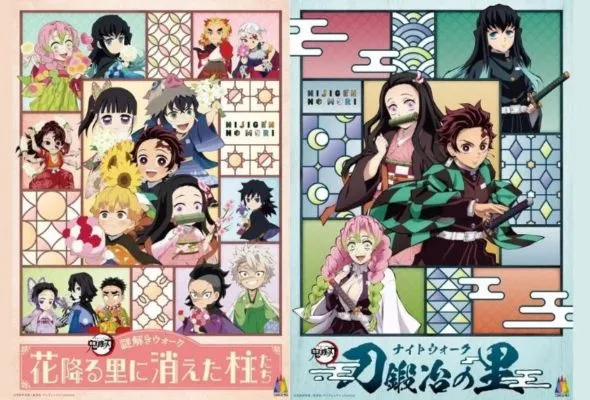 Inside the Hyogo Prefectural Awaji Island Park exists the Anime Park called "Nijigen no Mori". There a special event allows you to experience the world of the anime "Demon Slayer: Kimetsu no Yaiba." The event is held both during the day and night times, and at night, you can participate in the "Night Walk – Swordsmith's Village," a 1.2 km walk through the forest where you can experience the world of Demon Slayer through projection mapping. Anime fans should not miss this exclusive event with original merchandise and visuals.
©吾峠呼世晴/集英社・アニプレックス・ufotable
Click here for details of NIJIGEN NO MORI
Closing
These are some of the recommended spots and activities for a nighttime date on Awaji Island, offering a blend of stunning scenery, delicious dining options, and unique experiences. Enjoy your special time with your loved one on this enchanting island!