In addition to local food, a variety of popular specialty restaurants from all over Japan gather at the new complex, including "Eki-soba," a famous restaurant in Himeji that has been loved for more than 70 years, and Awaji wagyu beef "steak-jyu," a steak rice bowl. Visitors can enjoy exquisite cuisine made with fresh ingredients sourced from Awaji Island producers while enjoying the beautiful scenery from the terrace seating area, which seats approximately 600 people.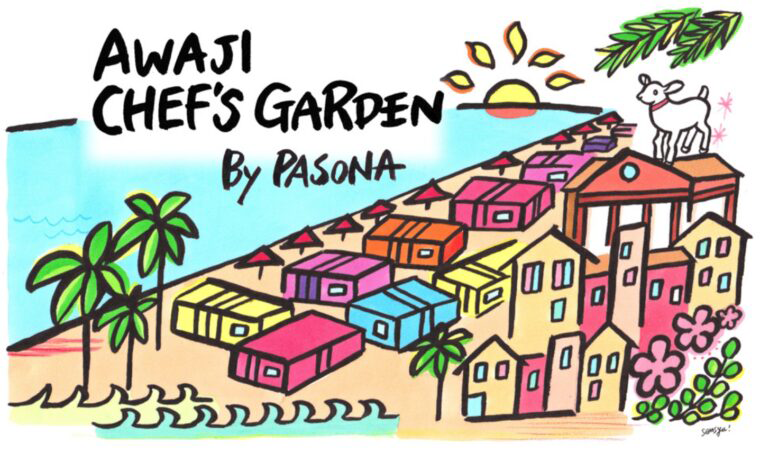 Enjoy the Spectacular View, Selected as One of the "Top 100 Sunsets in Japan", and Cuisine from About 30 Restaurants from All Over Japan
Awaji Island is called "Miketsukuni," a treasure trove of ingredients, and chefs from all over Japan gather here to offer a wide variety of cuisine.
Why don't you enjoy Awaji Island gourmet food with your friends, loved ones, or family in colorful containers or on the terrace by the sea, with a spectacular view that has been selected as one of the "Top 100 Sunsets in Japan"?
"Awaji Chef Garden" Upgraded and Moved to Awaji Island West Coast
Awaji Chef Garden by PASONA is the successor to Awaji Chef Garden, an outdoor restaurant that operated on the east coast of Awaji Island until November 2022. The dedicated outdoor container restaurant used at that time has been relocated and opened along the coast with a spectacular view of the Awaji Island west coast. Sixteen high-level restaurants opened simultaneously on Saturday, April 29, 2023.
"Awaji Chef Garden" Initiative
In April 2021, the Awaji Chef Garden, an outdoor nature coexistence restaurant with cuisine from 27 restaurants, was opened on Awaji Island, Hyogo Prefecture, with the aim of inviting chefs and others from food and beverage facilities that had scaled back their operations due to the effects of the new coronavirus infection and supporting their new challenges in a new location. After welcoming many customers, the restaurant closed its doors in November of last year.
Many of the restaurants that gained popularity at the Awaji Chef Garden continue to be active at its successor, Awaji Chef Garden by PASONA. Other restaurants that have outgrown the Awaji Chef Garden have overcome the downsizing due to the Coronavirus outbreak and continue to operate independently in Tokyo, Osaka, and other locations.
Environmental Considerations
As an effort to protect the rich natural environment of Awaji Island, we use bagasse containers made from sugarcane waste for plates and cups served at some of our restaurants. After use, these containers are used as compost for the company's own farms, thus contributing to the recycling of local resources.
Restaurants
*Some stores may not be listed because the list is being updated sequentially.
星が丘製麺所 淡路シェフガーデン店 (Hoshigaoka Seimenjo)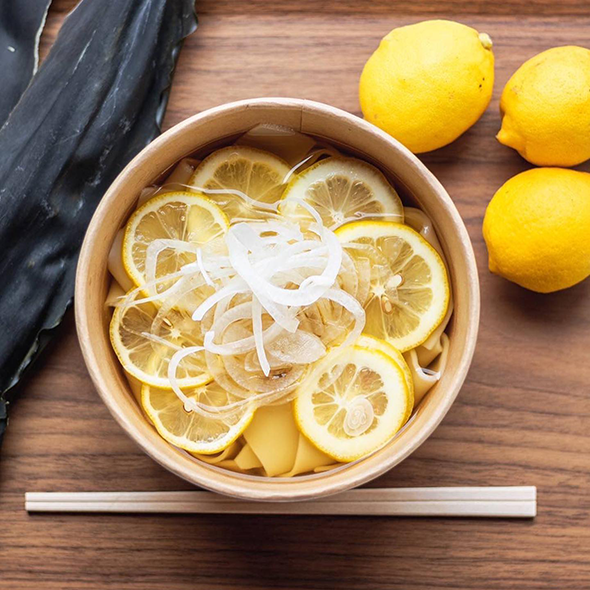 Kishimen from the popular Hoshigaoka Seimenjo in Nagoya, the home of kishimen, has made its return to Awaji Chef Garden by PASONA. The restaurant's concept is "Just Delicious Kishimen for Everyday Life."
The wide kishimen noodles are extremely thin and glutinous, and even when stretched, they do not break easily. Overturning conventional concepts, kishimen will be served in collaboration with carefully selected Awaji Island ingredients.
Please enjoy the unique sensation of being able to slurp up the slippery, chewy, and refreshing noodles.
| | |
| --- | --- |
| Operating Hours | 11:00-20:00 |
| Closed | Tuesday |
Piccola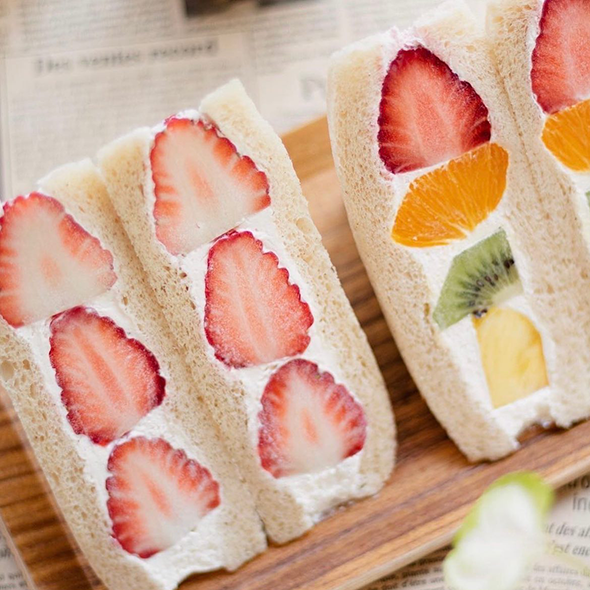 It offers a variety of café menu items such as thick soft-serve ice cream made with Awaji Island milk, Awaji Island sandwiches, and health-friendly vegan fruit sandwiches.
After visiting Awaji Chef Garden, be sure to stop by Nojima Scuola, a renovated former elementary school about 5 minutes away by car.
You can further enjoy your trip to Awaji Island with a petting zoo and a marché selling souvenirs and fresh vegetables from Awaji Island.
| | |
| --- | --- |
| Operating Hours | 11:00-20:00 |
| Closed | Wednesday |
淡路和牛専門店 あわじゅう(Awaji-Wagyu Beef Specialty Restaurant, Awajyu)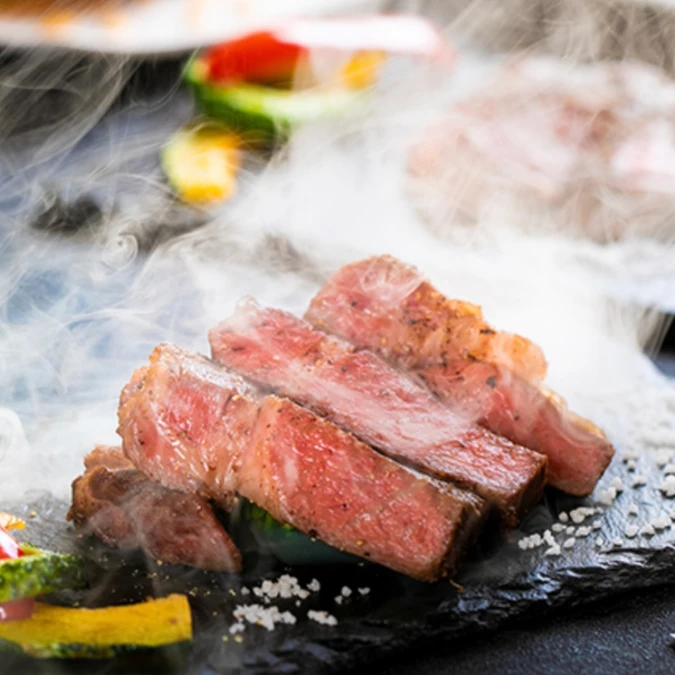 Awaji-Wagyu Specialty Restaurant, Awajyu, uses Awaji Wagyu, a premium brand of beef that is higher in quality than Awaji beef. The specialty is two types of lacquered box dishes: "Awaji Wagyu Sukiyaki Jyu" and "Awaji Wagyu Steak Jyu.
Enjoy to your heart's content the luxurious taste of Awaji Wagyu's tender meat blended with the rich flavor of its fat.
| | |
| --- | --- |
| Operating Hours | 11:00-20:00 |
| Closed | Tuesday |
GOOD DOOG -AWAJI-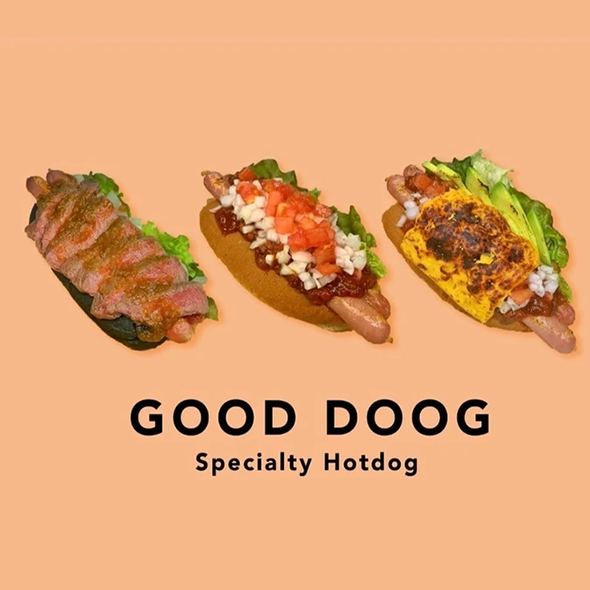 We will offer hot dogs made with carefully selected Awaji ingredients, such as the "Awaji Dog" made with plenty of Awaji Island vegetables and the "Awaji Wagyu Steak Dog" made with Awaji Wagyu beef steak.
In addition to hot dogs, fries, soft-serve ice cream, coffee, etc. are also available.
We hope you will enjoy our "hot dogs that make your body happy" while gazing at the beautiful sea surrounding Awaji Island.
| | |
| --- | --- |
| Operating Hours | 11:00-20:00 |
| Closed | Wednesday |
gock's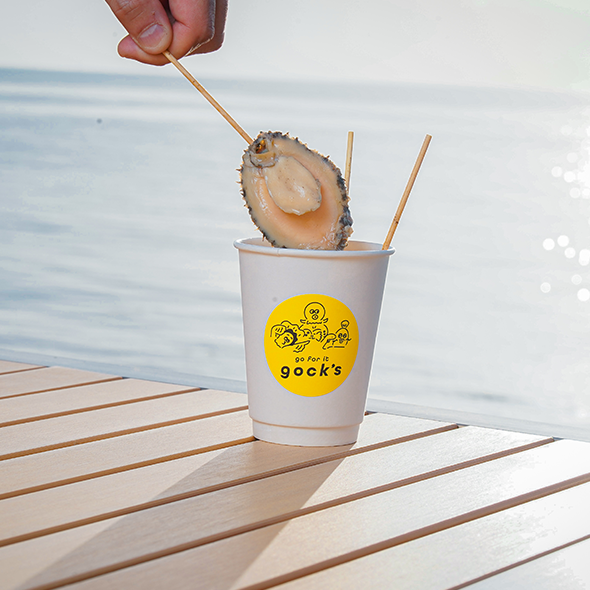 The popular Osaka restaurant "Sushi Kizuna" offers special Awaji Island oden skewers and Awaji Island takoyaki, developed with the image of Awaji Island, using plenty of seafood, shellfish, and other ingredients as well as specialty coffee.
The "Awajishima Takoyaki" in the style of GOCK's, filled with conger eel, oyster tempura, and other ingredients, is the first of its kind you have never tasted anywhere else. The "Awajishima Kushi Oden" is a mass of deliciousness, filled with abalone, small abalone, Japanese babylon, octopus, and other delicacies.
| | |
| --- | --- |
| Operating Hours | 11:00-20:00 |
| Closed | Thursday |
海鮮丼HINOMARU (Fresh seafood rice bowl HINOMARU)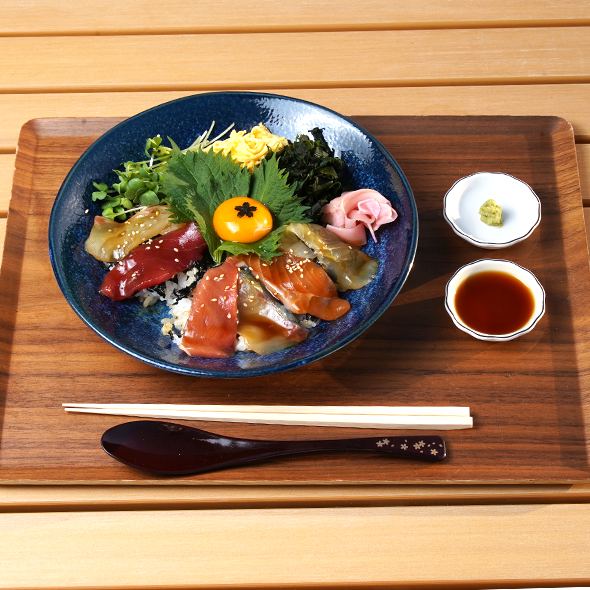 We offer gorgeous seafood bowls made with Awaji Island seafood. Of these, we recommend the Hinomaru Kaisen Zuke-don, a bowl of rice topped with marinated seafood. The special sauce concentrates the flavor. You can also fully enjoy Awaji Island seafood such as the seasonal "Nama Shirasu-don", a rice bowl with small raw sardines and "Kama-age Shirasu-don", a rice bowl with steamed small sardines.
| | |
| --- | --- |
| Operating Hours | 11:00-20:00 |
| Closed | Thursday |
水滴々 (MIZUTEKITEKI)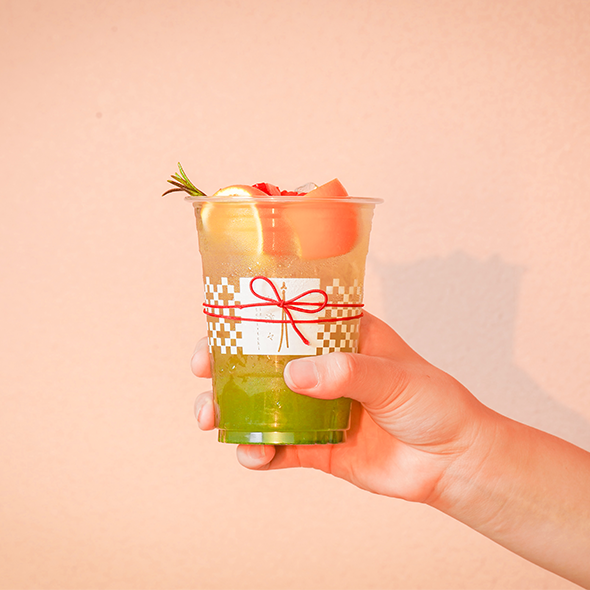 The café with a Japanese tea room, Mizutekiteki, in the American Village area in Osaka is produced by the only two female Japanese tea appraisers in Japan. We carefully brew only the best first tea from famous tea-producing regions in Japan, and only the first cup brewed in a Tokoname kyusu (a tea pot made in Tokoname City in Nagaya Pref. and designated as Important Intangible Cultural Property) is served. The tea is made into a sweet and tasty arranged tea because the tea itself is a delicious tea. We hope you will enjoy the world of Japanese tea that you have never experienced before.
We have a wide selection of authentic matcha as well as crepes, shaved ice, and other desserts. We hope you will enjoy your café time here.
| | |
| --- | --- |
| Operating Hours | 11:00-20:00 |
| Closed | Tuesday |
鼓道 (KODOU)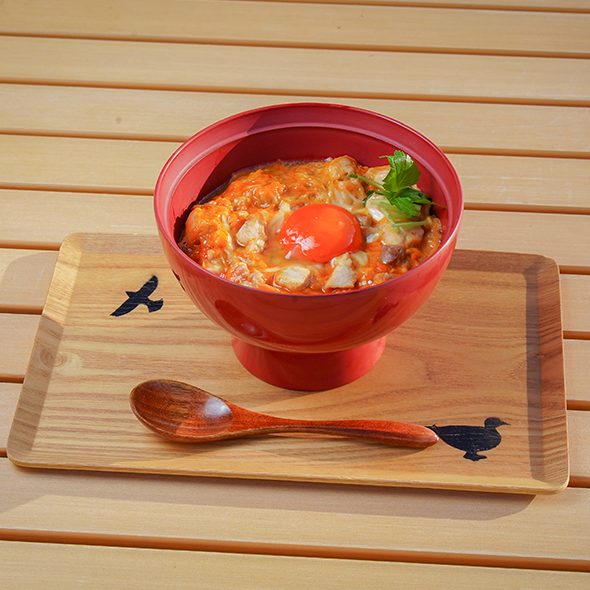 This restaurant is particular about Awaji Island ingredients and serves superb oyakodon, katsudon (pork cutlet served on top of a bowl of rice), and karaage (deep-fried chicken). The highly recommended "Goku-Tokujo Oyakodon" is a special oyakodon made with Awaji chicken (thigh, breast, and neck), which are fermented in dashi sweet sake bed and stewed in the special sauce, and topped with a thick red egg. The rice is also Awaji Island brand rice, "Awajishima Ayuhara Rice," making this dish a gem of Awaji Island.
| | |
| --- | --- |
| Operating Hours | 11:00-20:00 |
| Closed | Monday |
まねき しまそば (Maneki Simasoba)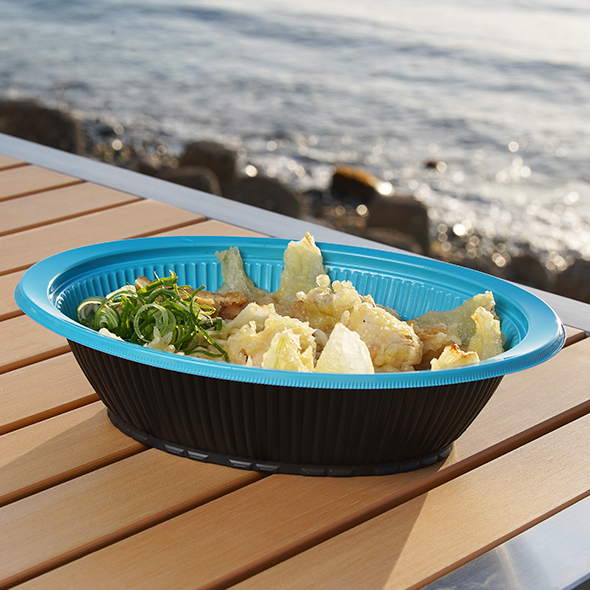 Maneki's "Eki-soba", a specialty at Himeji Station that was created on October 19, 1949, has been newly transformed as "Maneki's Shimasoba". The "Chinese noodles in Japanese broth", a characteristic of Eki-soba, has been retained, and we hope you will enjoy the Awaji Island version of "Shimasoba" made with plenty of ingredients such as Awaji beef, Awaji chicken, Awaji onions, and octopus from the Seto Inland Sea.
| | |
| --- | --- |
| Operating Hours | 11:00-20:00 |
| Closed | Monday |
てつ (Tetsu)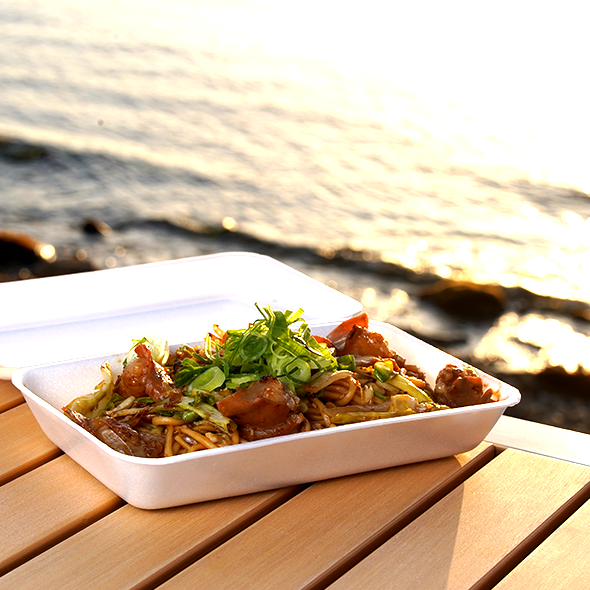 We are a local teppanyaki restaurant in Kobe-Sannomiya and neighboring city, Ashiya, boasting 20 years of history, knowledge of teppan and our secret homemade sauce. We offer exquisite "Horumon (offal) Yakisoba" and "Horumon (offal) Donburi". The "Horumon Yakisoba" has a tangy, slightly salty taste, and the umami spreads in your mouth. The noodles are chunky and the best match for the special Wagyu beef offal and homemade sauce.
| | |
| --- | --- |
| Operating Hours | 11:00-20:00 |
| Closed | Wednesday |
ゴンバイ (GONBAI)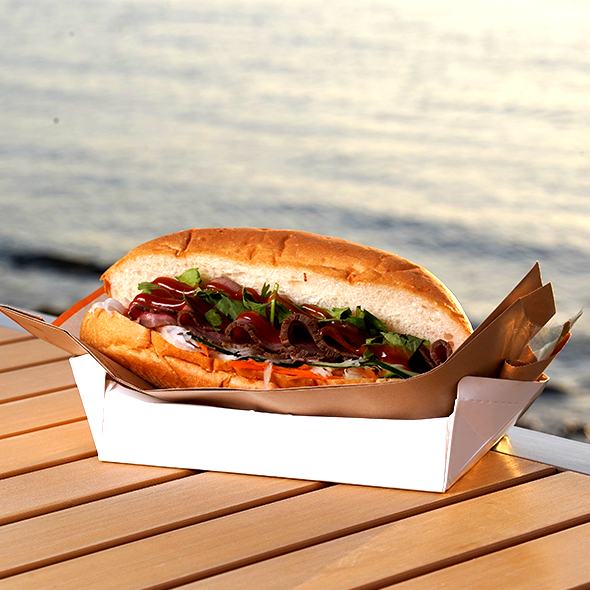 | | |
| --- | --- |
| Operating Hours | 11:00-20:00 |
| Closed | Monday |
淡路島バーガー (Awajishima Burger)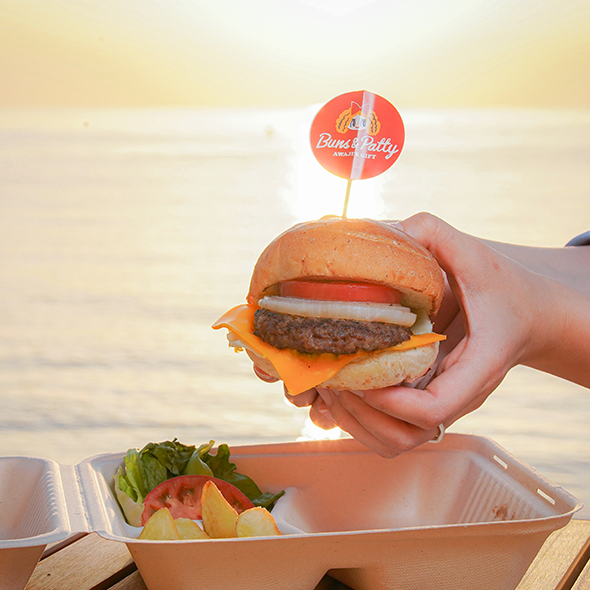 | | |
| --- | --- |
| Operating Hours | 11:00-20:00 |
| Closed | Tuesday |
Huang's awajishima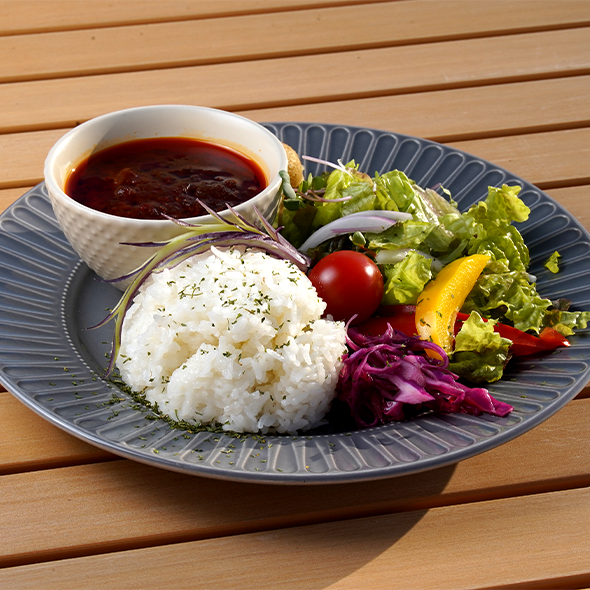 The Awaji Island branch of the Szechuan cuisine restaurant "Yifu", developed by chef Shigeyoshi Kimura, who trained at the "man-darette chinese restaurant" in Beverly Hills, U.S., and studied service management in 2000, is now open. The restaurant offers original Chinese cuisine with a variety of tastes. The most popular dish is the "Szechuan-style beef stew with Awaji beef and Awaji Island onions. The key to the flavor is the umami and sweetness of the Awaji beef and Awaji Island onions that have been carefully stewed. The secret flavor of black vinegar adds an extra touch of umami.
| | |
| --- | --- |
| Operating Hours | 11:00-20:00 |
| Closed | Monday |
ジュンコ de オイル (Junko de oil)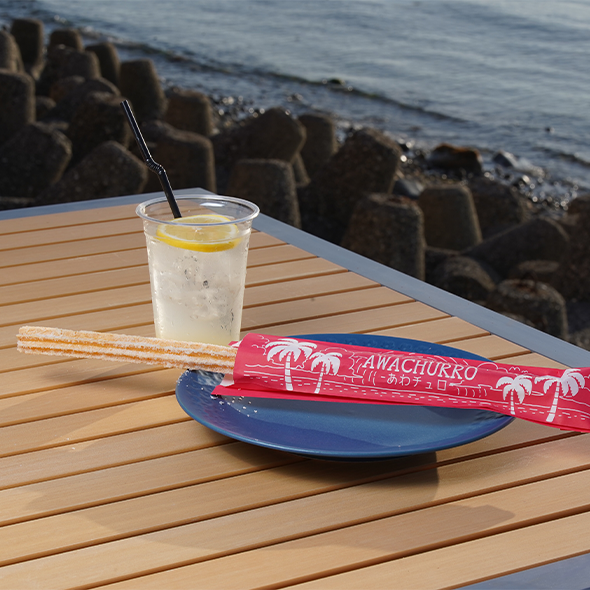 Two types of churros and croquettes are offered. We recommend this easy-to-hold dish that can be eaten quickly and easily with one hand. How about experiencing the theme park atmosphere with an Awaji churro in your hand? It is not greasy and is light.
| | |
| --- | --- |
| Operating Hours | 11:00-20:00 |
| Closed | Wednesday |
韓キッチン(Han Kitchen)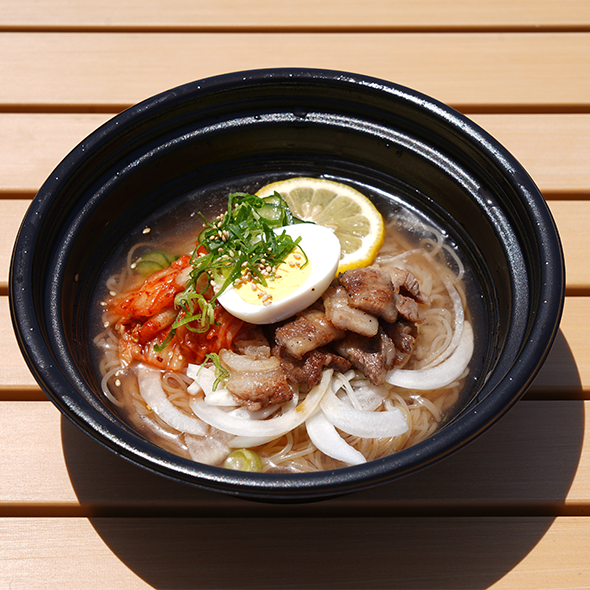 We have decided to reopen "Han Kitchen" to offer you the same Korean cuisine as the previous Chef's Garden. We use the best ingredients of Awaji Island's mountains, sea, and land for our Korean cuisine. This time, we have prepared some dishes that we could not offer last time. We hope you will enjoy the powered-up Han Kitchen.
| | |
| --- | --- |
| Operating Hours | 11:00-20:00 |
| Closed | Thursday |
10W(Juwatto)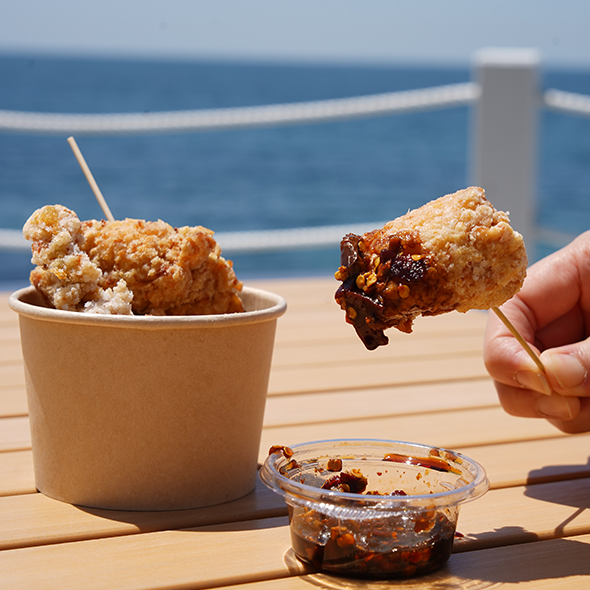 We offer fried chicken that has been fermented and aged to condense its flavor, and the five different types of optional sauces help break down protein and fat in this health-conscious fried chicken thanks to the action of enzymes derived from koji (malted rice) mold. The combination with natto (fermented soybeans) dressing promotes digestion and absorption, allowing you to enjoy the dish without feeling guilty. Enjoy the delicious collaboration of naturally brewed seasonings made using traditional Japanese methods and fermented and aged chicken.
| | |
| --- | --- |
| Operating Hours | 11:00-20:00 |
| Closed | Thursday |