The anime sensation, Naruto, needs no introduction. This beloved series created by Masashi Kishimoto has captured the hearts of fans worldwide with its unforgettable ninja adventures. Did you know that there is a Naruto hotel in Japan located on Awaji Island?
Awaji Island, a hidden gem in Japan, boasts a rich tapestry of culinary delights, breathtaking landscapes, and captivating attractions. Among its many attractions, the anime theme park Nijigen no Mori stands out as a must-visit destination. With its unique attractions and immersive experiences, Nijigen no Mori allows visitors from all around the world to indulge in their favorite franchises such as Naruto & Boruto, Dragon Quest, Godzilla, and many more.
Close to the anime theme park Nijigen no Mori lies GRAND CHARIOT, a luxurious glamping facility. In this article, we will invite you to embark on an exciting journey as we unveil the sensational so-called Naruto Hotel in Japan. Whether you are a die-hard Naruto fan or simply seeking a unique experience, this promises an unforgettable stay.
Is it Really a Naruto Hotel in Japan?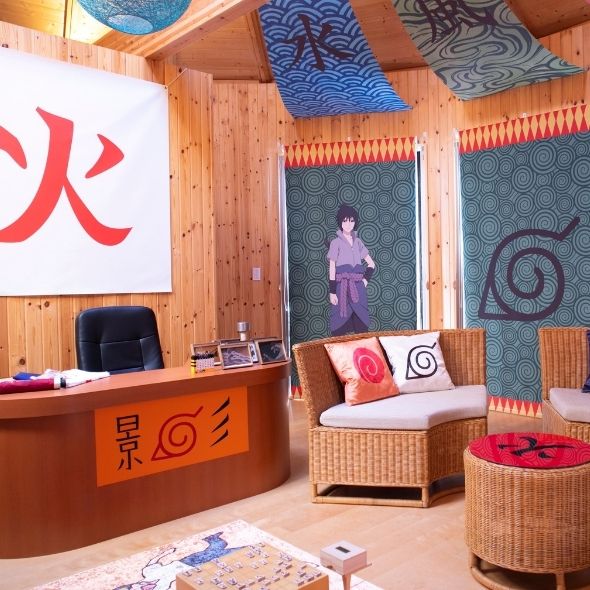 Well, rather than a Naruto hotel, it is more a Naruto-themed room at a glamping facility on Awaji Island called GRAND CHARIOT. Although it is just a Naruto-themed room, the experience is very unique that it transforms your stay into something similar to staying in a real Naruto hotel in Japan. From the abundant Naruto decorations to the extensive range of Naruto-themed amenities, it is as if you have been magically transported to the world of Naruto.
Located on Awaji Island, GRAND CHARIOT Hokutoshichisei 135° is a luxurious glamping destination in the area, providing a haven for those seeking the ultimate in glamping extravagance and tranquility. This outstanding glamping retreat establishment achieved the esteemed "PLATINUM HOTELS Top Quality Inn" accolade from Rakuten Travel in February 2022, firmly establishing itself as one of Japan's foremost lodging and hotel choices.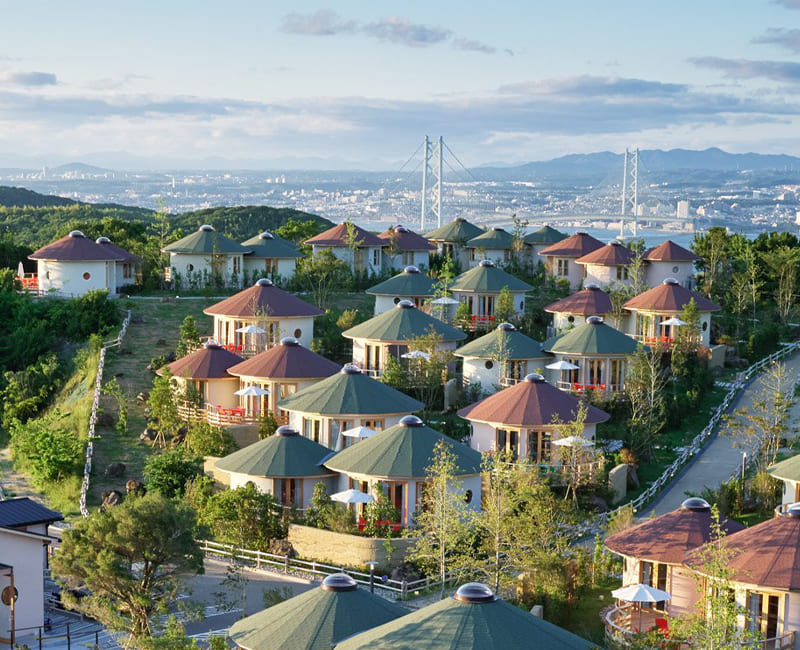 At GRAND CHARIOT, each glamping room in the form of a cocoon has been meticulously crafted to ensure a peaceful and rejuvenating glamping experience. Skylights in the ceilings allow the gentle morning sunrays to awaken glamping guests in the most soothing manner, creating a harmonious glamping connection with nature. The interiors exude a cozy and welcoming glamping ambiance, adorned with captivating wooden accents that bring warmth and sophistication to the glamping space. Every glamping room is equipped with a cypress bath, offering a delightful blend of glamping comfort and the therapeutic scent of cypress wood.
Introducing The Popular Naruto Room "Hokage Villa"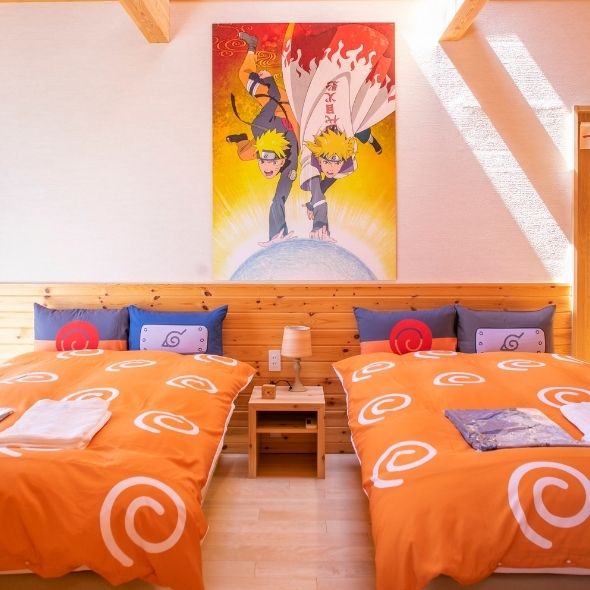 Step into the immersive world of Naruto with an exclusive stay in the one-of-a-kind Naruto room at GRAND CHARIOT! It is designed to resemble the 'Hokage' village in the 'Konoha Hidden Village' of Naruto. This room is a tribute to Uzumaki Naruto's iconic village.
As you enter the living room, you will instantly find yourself in the Hokage's Main Office, complete with the Hokage Flag proudly on display. The ceiling is adorned with banners representing the five elemental forces (wood, fire, earth, metal, and water), while the windows are intricately decorated with a vibrant cast of characters, creating a must-see experience for fans of the series.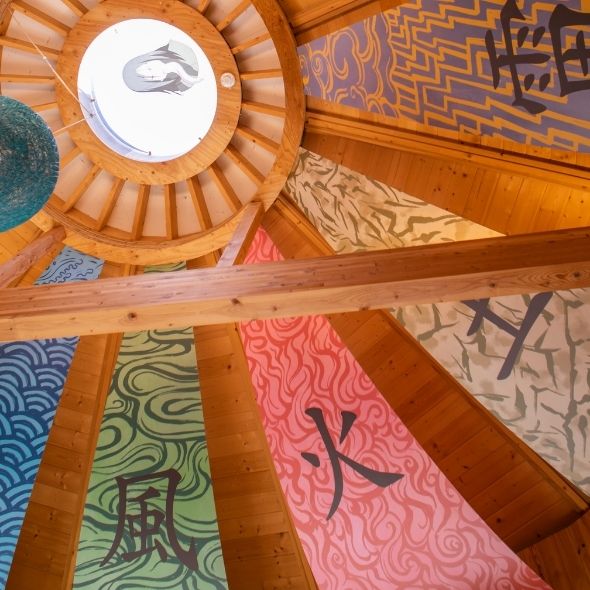 In the bedroom, you will be surrounded by captivating artwork featuring the series' main character, Uzumaki Naruto, and his father, the 4th Hokage, Minato. If you are a fan of Naruto, you will notice a rug inspired by the Icha Icha Paradise (make-out series) from the anime, a Japanese chess board, and even dumbbells.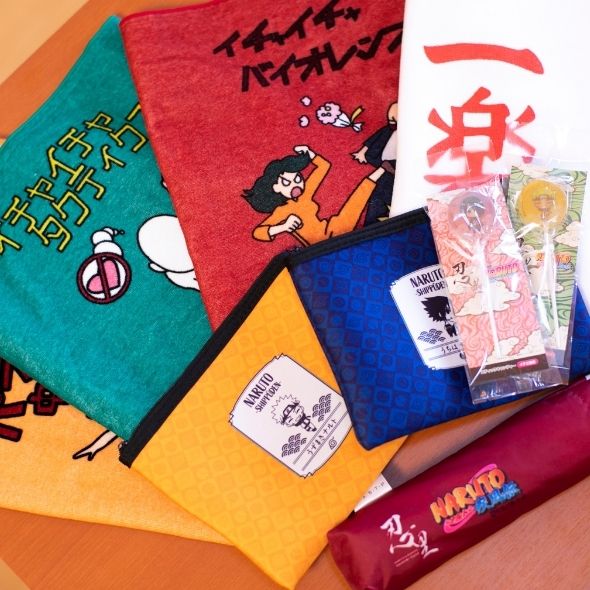 That is not all! Guests staying in the Naruto Room will receive an exclusive collection of eight original Naruto merchandise items. Additionally, enjoy complimentary tickets to attractions at Nijigen no Mori, free beverages, and more, making your stay even more memorable. Early reservations are recommended for anime-themed rooms due to a limited number of rooms.
Closing
While it may not be an officially designated Naruto hotel in Japan, the opportunity to stay in a Naruto-themed room within a luxurious glamping facility on Awaji Island offers a truly fantastic and unique experience. For avid Naruto fans, this is an absolute must-visit destination!