The Fuke-Sumoto Liner is a high-speed ferry operating between the ports of Fukeko in Misaki City, Sennan District, Osaka Prefecture, and Sumoto City in Hyogo Prefecture. As part of an effort to promote regional revitalization and foster interregional exchange, the passenger ship is conducting trial operations to revive its regular ferry routes.
Operation Schedule for 2023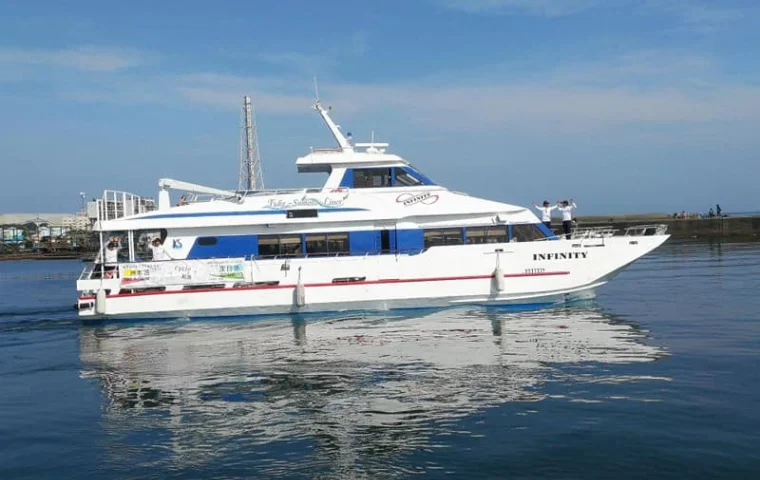 The liner will operate until November 5, 2023 (Sunday), limited to weekends and public holidays.
During the Bon Festival period, from August 11 to August 15, 2023, the service will be available daily, including weekdays.
Experiment for the Revival of Regular Ferry Routes
The revival of the Fuke-Sumoto Liner's regular routes is part of a broad-scale cycle tourism project connecting Osaka Bay. It aims to encourage the use of the ship among cyclists participating in the "Awaichi," which involves cycling around Awaji Island. By linking the northern and southern routes of Osaka Bay (land route and sea route, respectively), this project promotes tourism across Osaka, Kobe, and Awaji Island on a regional scale. The operation of the Fuke-Sumoto Liner will provide valuable data on attracting passengers and setting appropriate fares. As a private venture under public administration, it explores the potential of reviving the Fukeko-Sumoto ferry route.
The operation of the liner is expected to stimulate consumption and create economic effects in the region. Additionally, it contributes to securing another option in logistics and human flows during large-scale disasters.
Fares
Adults (junior high school students and above): 1,500 yen
Children (elementary school students): 500 yen
Preschoolers: free
Sports bicycle: 300 yen
Moreover, various discount systems are available, including round-trip discounts, discounts for people with disabilities, student discounts, and group discounts (read more from the official website).
*Please pay by cash or paypay.
*Purchase boarding tickets as a group, not individually, as the window is often crowded.
* There is also a charge (300 yen) for loading a bicycle in a bicycle bag. You need to use your own bicyle bag in this case.
* Up to 31 sports bikes can be loaded. (Varies depending on the handle type)
*Please contact the ferry operator in advance if you plan to board as a large group.
Timetable and Duration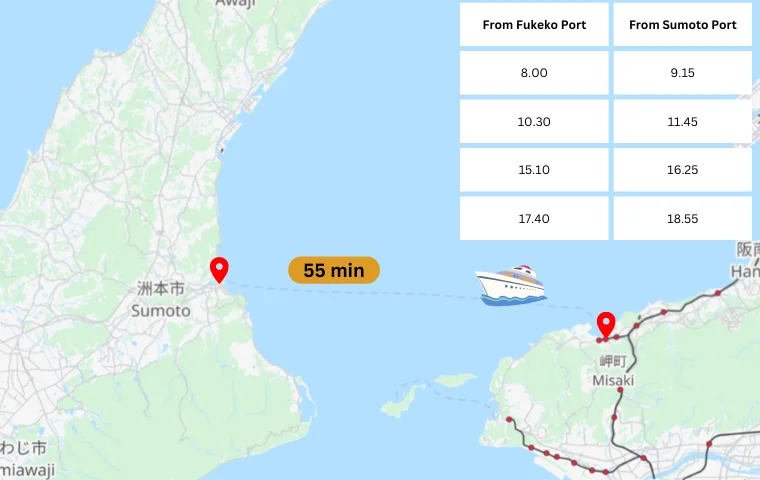 The Fuke-Sumoto Liner will operate four round trips per day on the weekends and national holidays, totaling eight trips. Each one-way trip takes approximately 55 minutes. The liner has a capacity of 68 passengers.
Departure time from Fukeko Port: 08:00, 10:30, 15:10, 17:40
Departure time from Sumoto Port: 09:15, 11:45, 16:25, 18:55
When Boarding with a Bicycle
Usage conditions when loading a sports cycle (when you don't have a bicycle bag)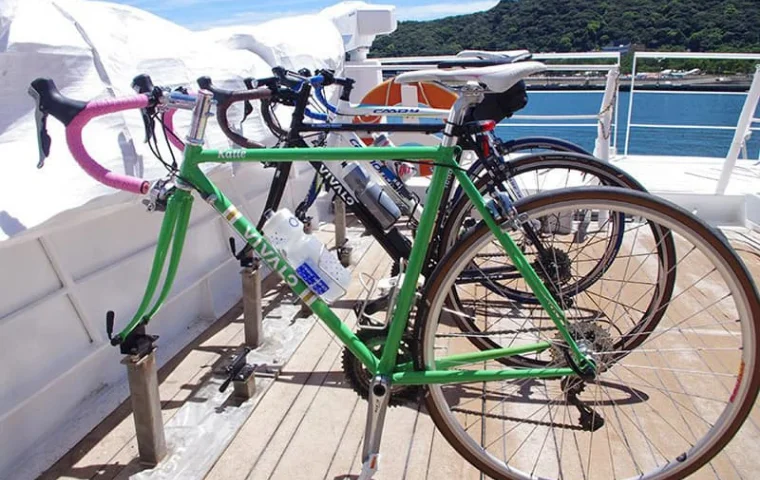 The bicycle must have a removable front wheel. The front fork must have the same shape as a road bike (front fork width 100mm). Either quick release or thru axle. (see picture above).
NOTE: So-called "mamachari" cannot be used (bicycles with a basket in front). Rental bicycles are available near both ports.
Bicycles will by covered by a waterproof cover once they are secured on a hook.
*Please note that depending on the weather, bicycles may be a little wet due to some rain or tides.
Boarding Platforms
The boarding docks for the Fuke-Sumoto Liner is within walking distance for both trains and buses.
Fukeko Port
Fukeko Port is a 3-minute walk from Fukeko Station on the Nankai Electric Railway. Next to the port there is a Fuke Port Tourist Information Center "Sun Porta".
Address: 〒599-0303, 3500 Fuke, Misaki-cho, Sennan-gun, Osaka prefecture
Phone: 072-447-6202
Sumoto Port
Sumoto Port Terminal is a 5-minute walk from Sumoto Bus Center.
Address: 〒 656-0022, 1-11-1 Kaigandori, Sumoto City, Hyogo Prefecture
Phone: 0799-24-1525
Ticket Reservations
Tickets for the Fuke-Sumoto Liner can be reserved online through the official website (available 24 hours) or via phone at 072-447-6202 (9:30 am – 4:30 pm) at the Fuke Port Ticket Office ("San Porta" Tourist Information Center), which is closed on Mondays.
Summarized Info
Operational Period: Until November 5, 2023 (Sunday), ONLY on Saturdays, Sundays, and public holidays.
Name: Fuke-Sumoto Liner (High-Speed Ferry)
Operating Route: Between Sumoto Port, Hyogo Prefecture, and Fukeko Port, Osaka Prefecture
Fare: Adults (junior high school students and above) 1500 yen, Children (elementary school students) 500 yen, Preschool children (under school age) free, Sports Bicybles 300 yen.
Number of Services: Four round trips per day (totaling eight trips).
Duration: Approximately 55 minutes per one-way trip.
Capacity: 68 passengers
Other: Various discount systems available
Official Website: https://fuke-sumotoliner.com/