It is currently summer in Japan and Awaji Island, a picturesque seaside retreat, which offers an array of attractions. While traveling with friends is undeniably enjoyable, why not consider embarking on a solo journey to Awaji Island for an unforgettable summer vacation? Taking the leap into solo travel for the first time might just be the unexpected way to rejuvenate your spirit.
Awaji Island proves to be an ideal setting for solo travelers where you can freely explore, indulge in your culinary cravings, and savor moments of solitude without any concerns. In this article, we will introduce four exceptional destinations that come highly recommended for solo traveling on Awaji Island.
Recommended Destinations for a Solo Summer Vacation on Awaji Island (1): Zen Experience at Zenbo Seinei
Zenbo Seinei is a destination that has been covered by numerous media and has been a hot topic on the internet. It is the only facility in Japan where you can experience Zen on a one-day trip. Due to the nature of the program, many visitors come on their own, adding a distinctive element to this venue.
The beauty of the architecture is also worth seeing. The structure's exterior looks majestic, appearing very elegant as it seemingly hovers above the surrounding treetops. Standing on the 100-meter open Zen deck, one can bask in the delightful ambiance created by the gentle caress of sunlight, soft breeze, and breathtaking greenery.
Since a significant number of participants arrive solo, it is also a fantastic destination to engage with fellow travelers and potentially form new connections. You can disconnect yourself from your busy routines and prioritize your mental and physical well-being.
Zenbo Seinei offers the opportunity to immerse yourself in a diverse range of activities designed to foster inner peace. Meditation sessions provide an opportunity to practice mindfulness and find serenity within. The Zen tea ceremony offers a meditative experience while immersing oneself in the grace and beauty of this traditional Japanese ritual, and Zen calligraphy allows for self-expression and reflection through brush and ink. You will also have the opportunity to experience Zenbo Cuisine, where you can savor the essence of Awaji Island's natural ingredients and nourish your body and spirit.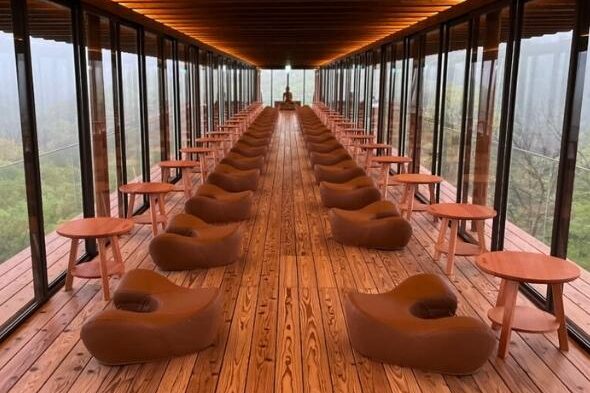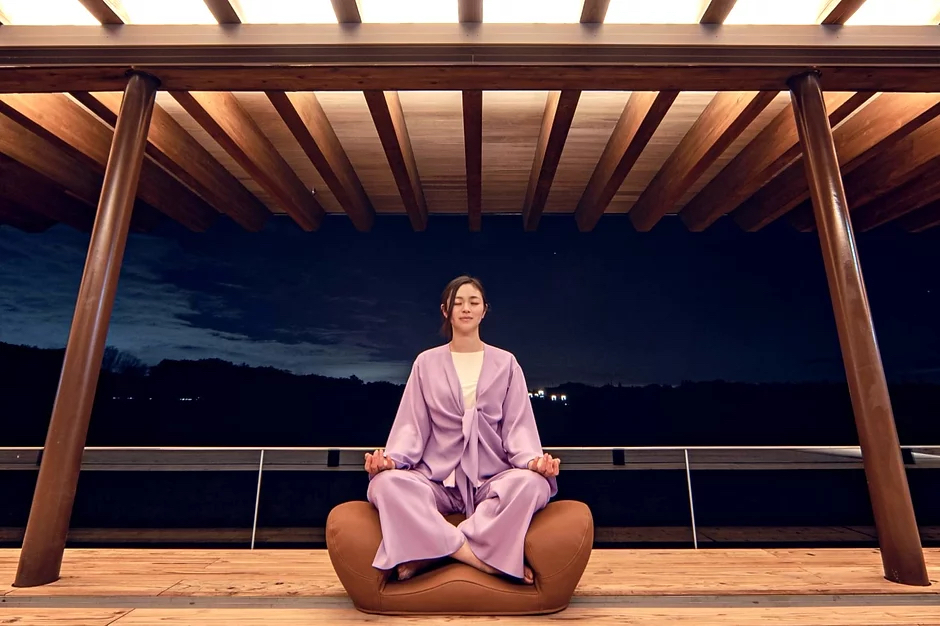 Click here for details of ZEN Wellness SEINEI
Recommended Destinations for a Solo Summer Vacation on Awaji Island (2): Sushi and Tempura at Theater-Style Restaurant SEIKAIHA Aonoya
SEIKAIHA Aonoya caters perfectly to individuals seeking to relish delightful sushi and tempura on Awaji Island. The entirety of its seating is thoughtfully arranged along a theater-style counter that affords a panoramic view of the ocean. This restaurant is the perfect choice for solo travelers as you can enjoy delicious seafood in a relaxing atmosphere while looking out at the Seto Inland Sea without worrying about your surroundings.
The Aonoya Gozen stands out as the most favorite menu. This ensemble encompasses sushi, tempura, and thoughtfully crafted seasonal side dishes, all masterfully prepared by a culinary expert. It is a renowned selection that promises abundant indulgence in the delectable flavors of Awaji Island.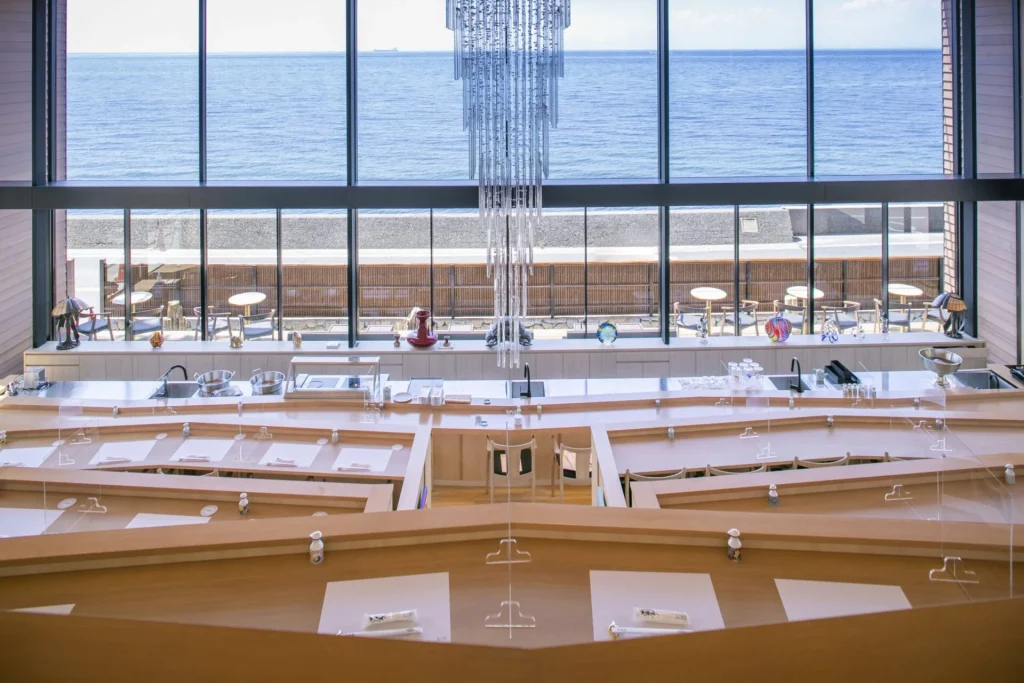 Click here for details of SEIKAIHA - Ao no Ya
Recommended Destinations for a Solo Summer Vacation on Awaji Island (3): Vintage Sake at SEIKAIHA Koshunoya
The second floor of SEIKAIHA Koshunoya is a bar overlooking the sea. The bar counter is recommended for solo travelers as you can compare old vintage sake, which is rare in Japan. The vintage sake, exclusive to this location in Japan, boasts a rich and distinctive flavor profile. Have the opportunity to indulge in a remarkable selection of 42 meticulously chosen vintage sake, shochu, and plum wine sourced from over 100 esteemed sake breweries across Japan. These exclusive beverages, aged for more than a decade, boast an exquisite aroma and captivating flavors that are sure to elevate your dining experience. Moreover, you have the delightful opportunity to share your taste preferences with the staff, who can then expertly curate a selection tailored just for you.
The western coastline of Awaji Island is renowned for its captivating sunsets. Koshunoya serves as an ideal location for solo travelers seeking moments of tranquility. Here, you can unwind, relish drinks and delectable cuisine at the bar, all while being treated to the breathtaking spectacle of the sun setting over the Harima-nada Sea.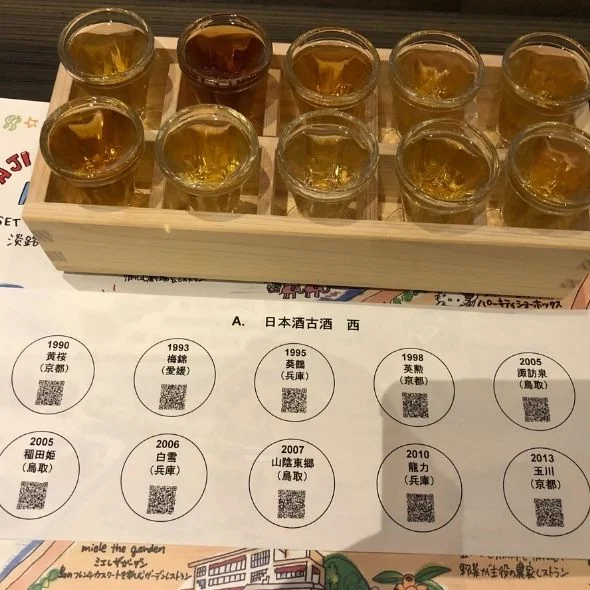 Click here for details of SEIKAIHA – Koshu no Ya
Recommended Destinations for a Solo Summer Vacation on Awaji Island (4): Try Global Cuisine While Looking at the Sea at Chef's Garden by PASONA
Awaji Chef's Garden by PASONA is a convenient location for solo travelers to relax. The location features a spectrum of vibrant containers lining the western coast of Awaji Island, and hosts an array of dining establishments. It is a rejuvenating spot where you can bask in the coastal breeze, watch vessels drift by, observe seabirds in flight, and occasionally witness the playful leap of fish—all from the vantage of terrace seats overlooking the sea. As all terrace seating is open-air, it is an informal sightseeing location ideally suited for solo travelers.
Name
Awai Chef's Garden by PASONA
Address
57-3, Nojima Okawa, Awaji Shi, Hyogo Ken, 656-1723
Parking
Approx. 140 units
Phone Number
080-8177-4501
Website
https://www.awaji-chefgarden.com/
Business Hours
11:00~21:00 (last order 20:00) 
*Subject to change depending on the season and weather.
Click here for details of Awaji Chef's Garden
Closing
What are your thoughts? In this article, we have unveiled a selection of highly recommended spots for solo travel on Awaji Island. While embarking on a journey with family and friends is undeniably gratifying, there is a unique allure to solo travel. We hope you fully relish your solo trip on the captivating Awaji Island.