Here are eight recommended sightseeing spots on Awaji Island that are stylish and suitable for Instagram. You can admire the beautiful scenery, experience stylish buildings and facilities, and enjoy fashionable cafes and restaurants.
Awaji Hanasajiki
Awaji Hanasaji is a vast site, about 15 ha, filled with flowers of the four seasons. The flower garden spreads out in a variety of colors in each season. Why not take a nice picture with the flower garden in the background?
From the observation deck, you can enjoy a panoramic view of the Akashi Straits, Osaka Bay, and the Kitan Straits. The view of the flower garden and the ocean is so spectacular that visitors often lose track of time. The place is pet-friendly and admission is free.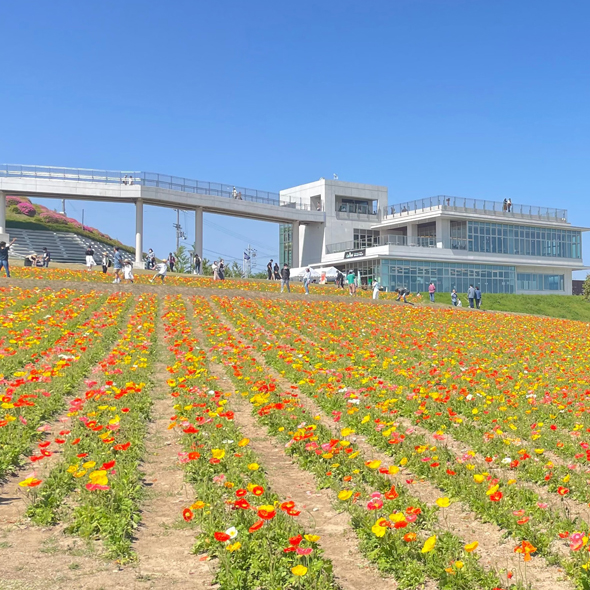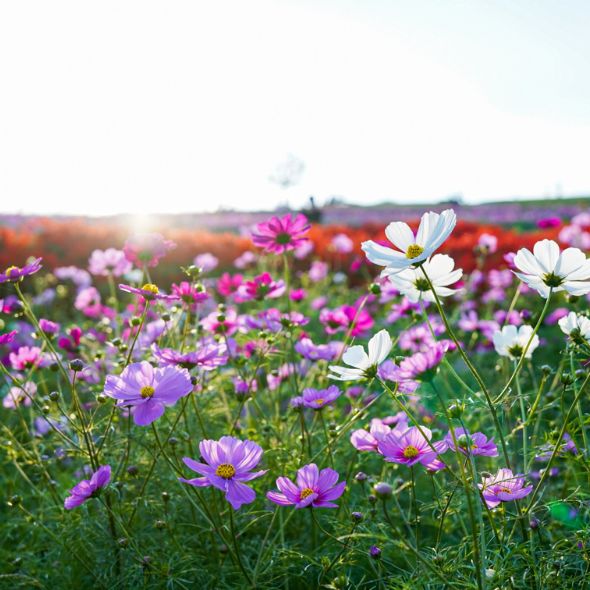 Keino Matsubara
Keino Matsubara is the best pine grove of white sand and black pine trees in the Seto Inland Sea area, with about 50,000 black pine trees stretching for about 2.5 km. It has been selected as one of the "100 Best Beaches in Japan" and "100 Best Sunsets in Japan," and is popular as a spot with spectacular views.
Not only during the summer swimming season, but also on a regular basis, the area is crowded with many tourists. There is also a promenade called "Proposal Road" lined with tiles engraved with messages from lovers. Why not visit as a couple?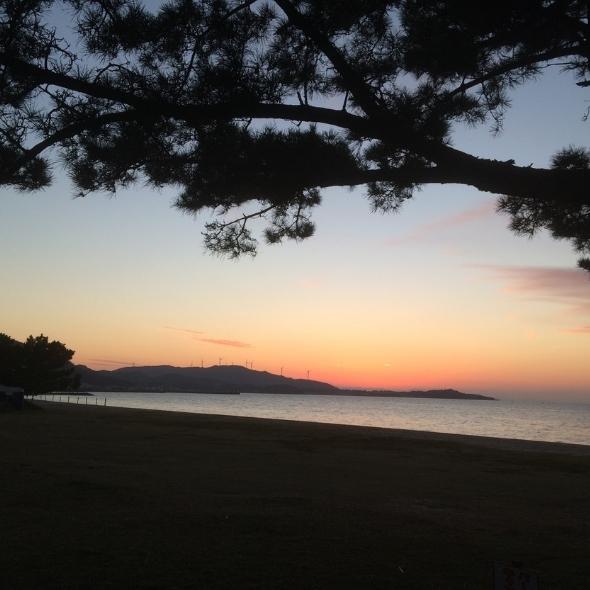 Akashi Kaikyo Bridge
The Akashi Kaikyo Bridge is the world's longest suspension bridge, connecting Honshu and Awaji Island with a total length of 3,911 meters. The bridge is nicknamed "Pearl Bridge" because of its beautiful white appearance.
At night, the entire bridge is colorfully lit up, so you can enjoy a beautiful, sparkling view when driving on the bridge or viewing it from the Awaji Island side.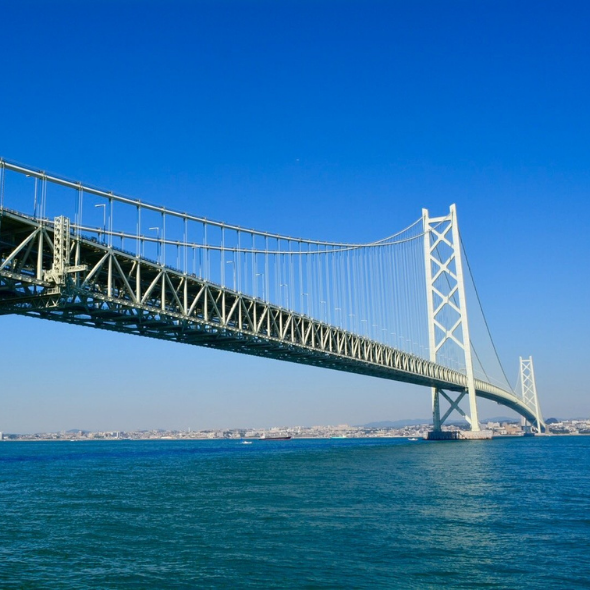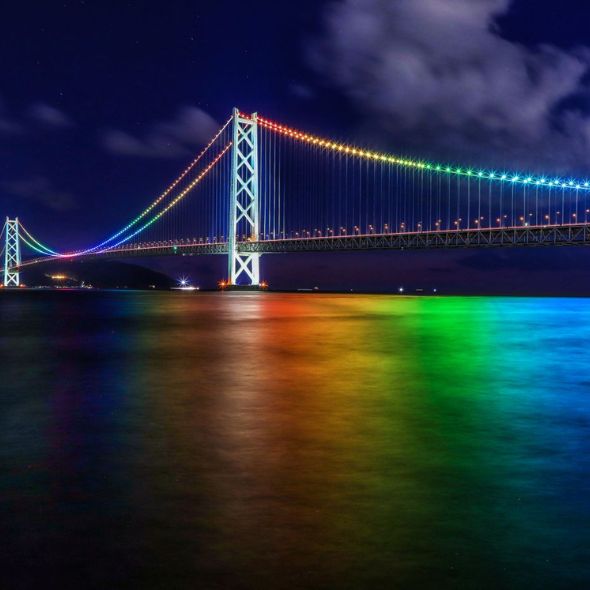 Awaji Yumebutai
The Awaji Yumebutai is a group of facilities designed by a world-renowned architect, Tadao Ando, which create a spectacular landscape in harmony with nature.
There are many attractions such as "Hyakudanen" with its 100 flowerbeds, "Oval Forum" with a sundial on the wall, and "Awaji Green Pavilion" which is one of the largest botanical pavilions in Japan.
Everywhere you turn, the space is very stylish. Many couples come here to take pictures. The scenery changes depending on the weather and time of day. See what you can capture with your camera.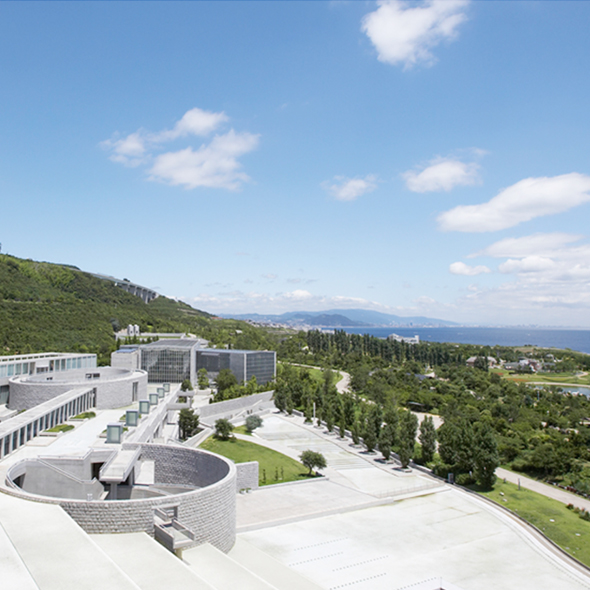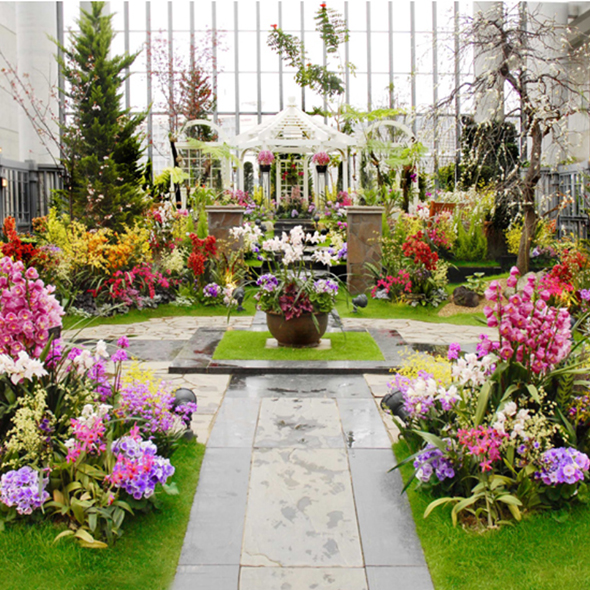 Nojima Scuola
Nojima Scuola, a complex renovated from a closed elementary school, is popular among locals as a nostalgic and stylish spot where you can feel the nostalgia of elementary school.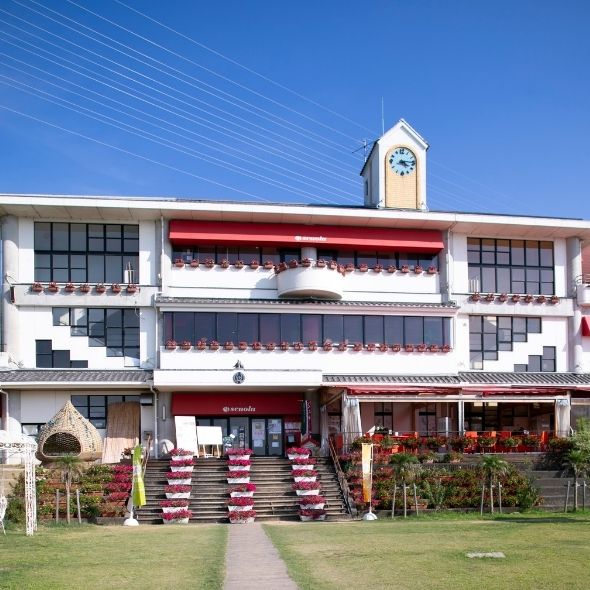 A market, bakery, cafe, Italian restaurant, and BBQ terrace are housed in the elementary school building, and there is a "Nojima Zoo" where you can meet cute animals in the school yard.
On the third floor of the school building, the elementary school corridor has retained its original form, with bookshelves and desks from the arts and crafts room. There are also school backpacks, so you can enjoy taking pictures of yourself as if you were back in elementary school.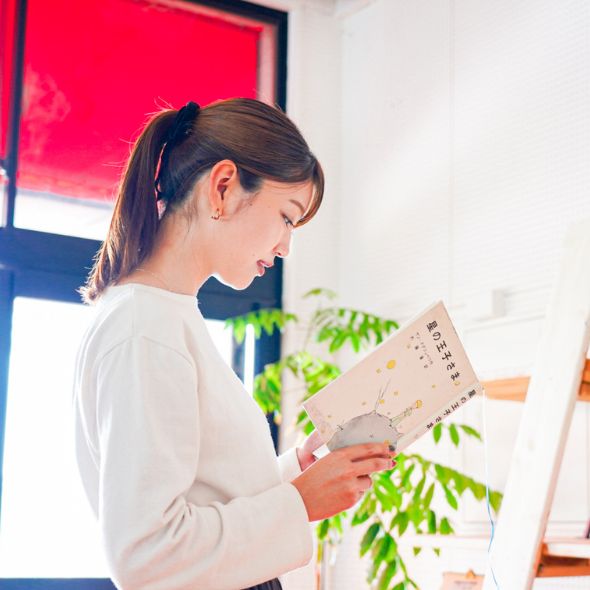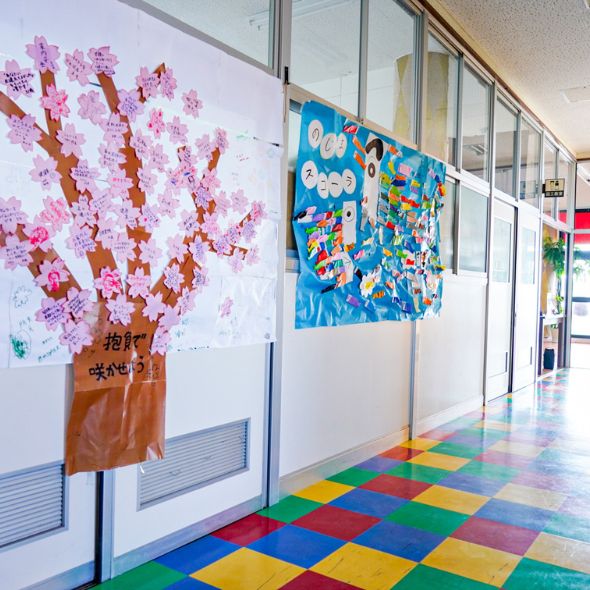 Name
Nojima Scuola
Adress
843 Nojimahikinoura, Awaji City, Hyogo Pref. 656-1721
Website
https://www.nojima-scuola.com/
Reservations
2F Ristorante Scuola
https://www.tablecheck.com/en/shops/nojima-scuola/reserve
Tel
0799-82-1820
Operation Hours
1F Marché /Bakery: Weekdays 10:30~19:00
Sat., Sun., & Public Holidays 10:00~19:00

1F Café Scuola: Weekdays Lunch 11:00~14:00/ café 14:00~18:00
Sat., Sun., & Public Holidays breakfast 10:00~11:00
Lunch 11:00~15:00
Café 15:00~18:00

2F Ristorante Scuola: 11:30~15:30 (in by 14:00) / 18:00~21:30 (in by 19:30)

Outdoor Zoo: Weekdays 11:00~16:00
Sat., Sun. & Public Holidays 10:00~16:00 (13:00~14:00 animals in recess)

Closed: Wednesdays (Open on Public Holidays)
Click here for details of Nojima Scuola
HELLO KITTY SMILE
This is a facility where you can enjoy Hello Kitty media art and restaurants based on the theme of the Dragon's Palace. The facility is all-weather and can be enjoyed even on rainy days.
There are many spots where you can take sparkling and stylish pictures, such as rooms filled with Hello Kitty cuteness and rooms where you can enjoy projection mapping.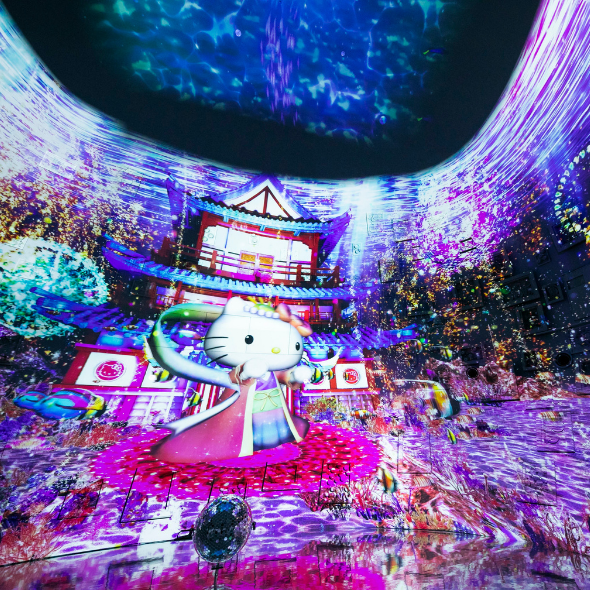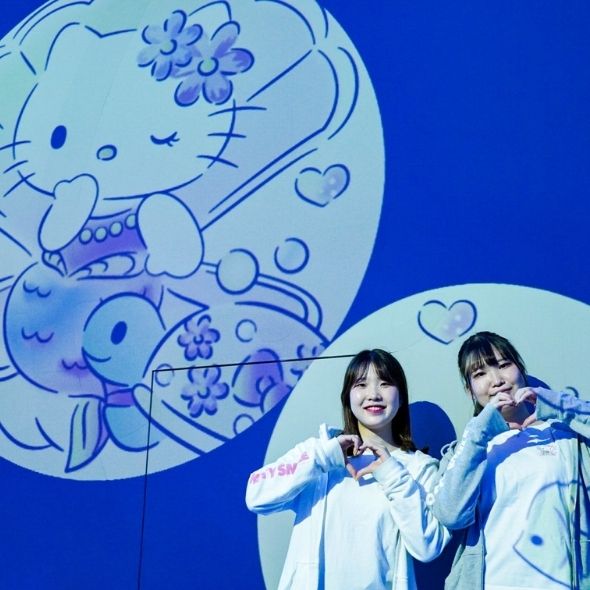 Click here for details of HELLO KITTY SMILE
Auberge French Forest
This is a restaurant complex with three French restaurants of different concepts and rooms where you can stay overnight. The garden is filled with seasonal flowers and retro horse-drawn carriages, providing a fairy-tale atmosphere.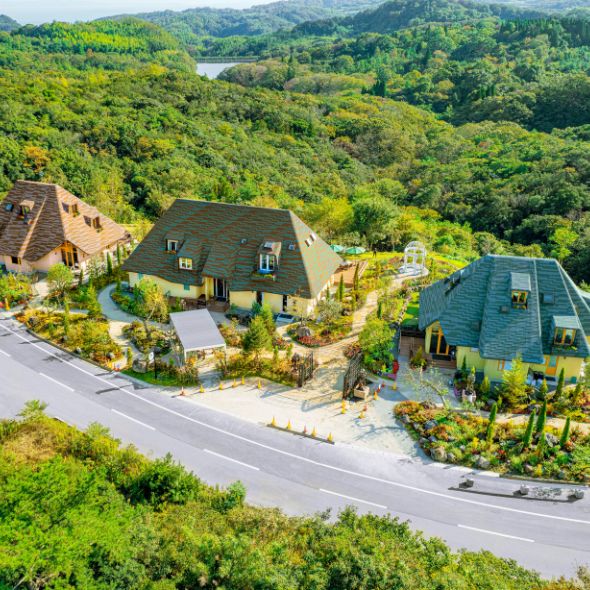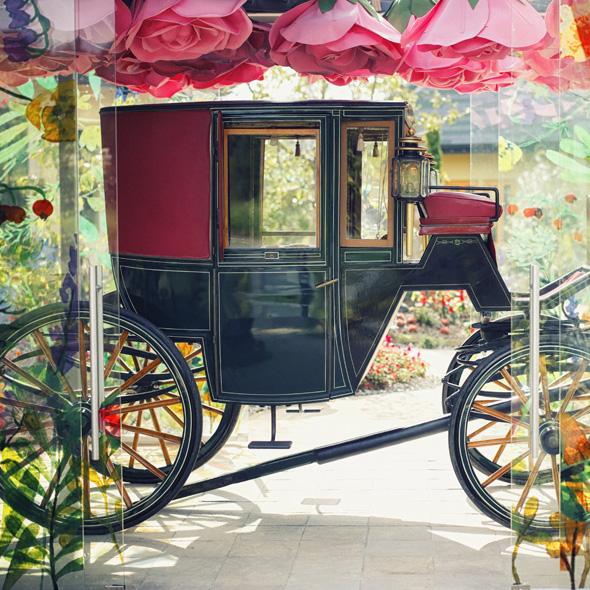 The rooms are decorated in an interior style reminiscent of a French mansion, where you can enjoy the tranquility of nature, and the three buildings are named after the "The Little Prince (Le Petit Prince)" and offer delicate and beautiful French cuisine.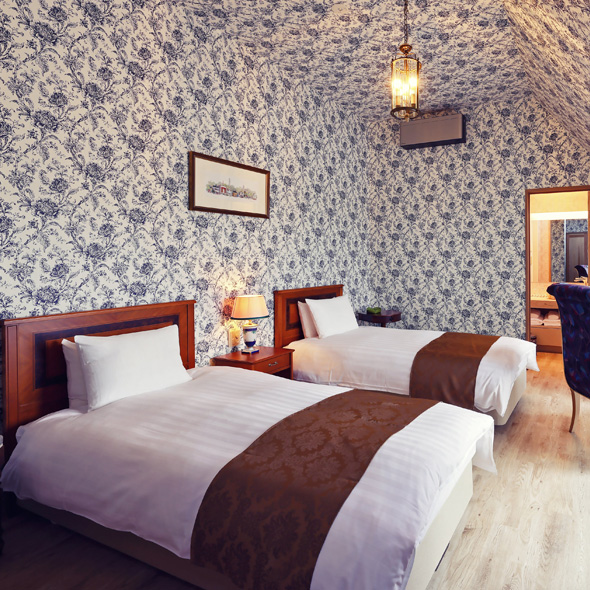 Click here for details of Auberge "French Forest"
Farmer's Restaurant, Haru San San
As the recent boom in cafes housed in old private houses, we recommend this farmhouse restaurant to those who are looking for such a café as a new fashionable spot on Awaji Island. The traditional thatched roof has just been completed.
This is a photo-worthy spot where you can feel the beauty of Japanese architecture and the warmth of wood. The restaurant's main dishes are Western-style dishes full of healthy vegetables, and are very popular among those who are health-conscious.
There is a field in front of the restaurant where you can experience harvesting. The restaurant also offers a variety of sweets, so it is recommended for café time. As the name "Haru San San" suggests, the sun shines brilliantly on the land.