Awaji Island, situated in the eastern part of the Seto Inland Sea, is the largest island in Japan's Inland Sea. Despite its relatively small size, Awaji Island is rich in natural beauty, historical significance, and cultural heritage. The island is renowned for its stunning landscapes, including lush greenery, captivating coastline, and breathtaking sunsets. While Awaji Island itself is a well-known destination, the northern part of Awaji Island West Coast remains a hidden gem where the finest experiences await.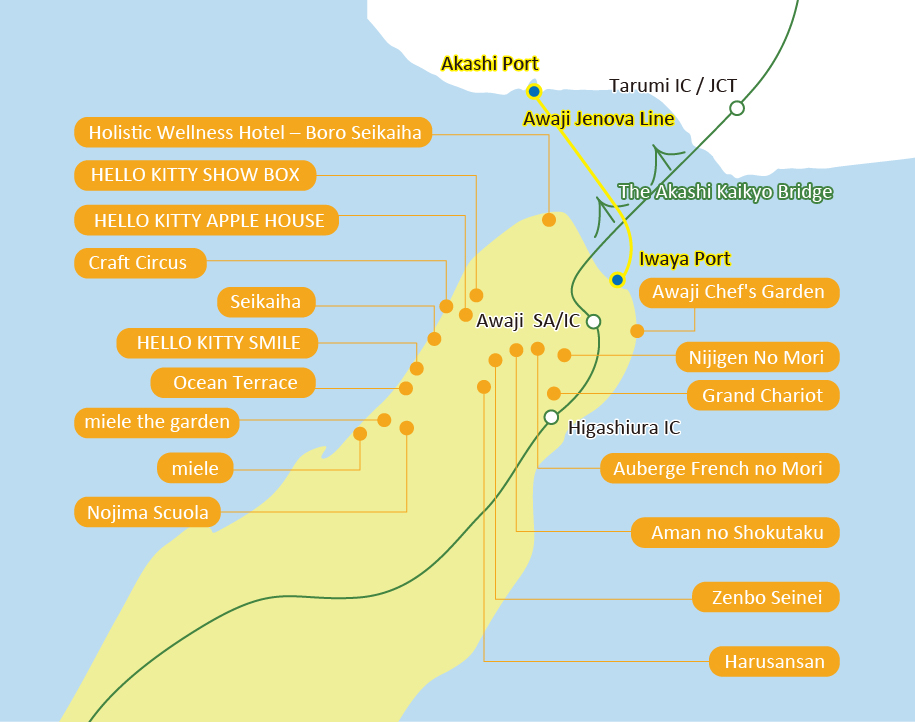 Discover a treasure trove of unique attractions suitable for all ages. From delicious gourmet food to vibrant entertainment complexes of Hello Kitty & anime, Awaji Island West Coast provides everything. Join us on an ultimate guide introducing Awaji Island West Coast for a truly memorable trip.
Fascinating Experiences on Awaji Island West Coast
Enter the Realm of Hello Kitty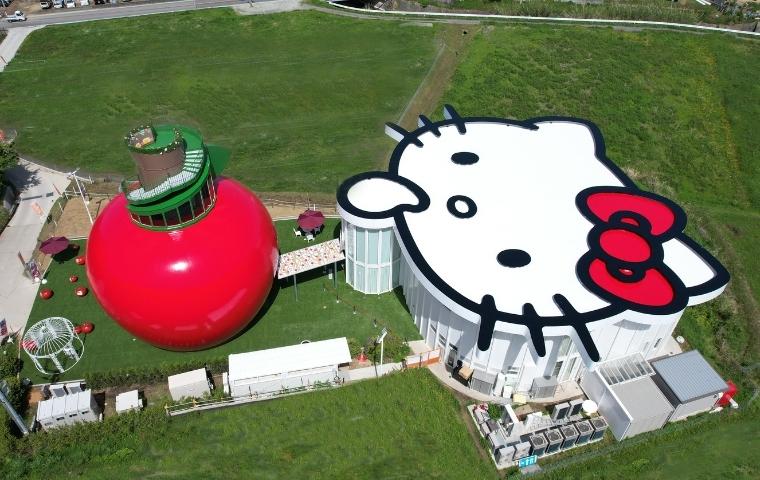 Awaji Island has a unique enchantment in the form of beloved Hello Kitty-themed resorts located on Awaji Island West Coast. These resorts introduce an extra layer of allure to the island's already captivating essence. The resorts have carved out a unique niche in the hearts of Hello Kitty enthusiasts, rendering it a whimsical destination unlike any other.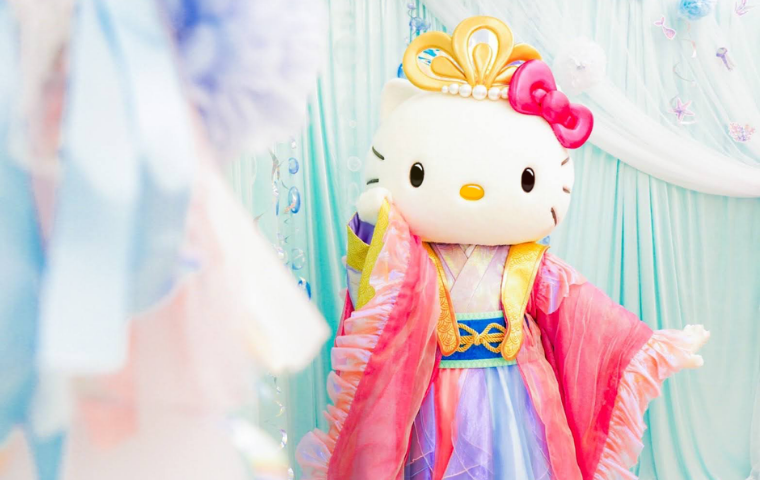 One of the resorts, HELLO KITTY SHOW BOX, uses the theater restaurant concept, offering a delightful blend of entertainment, dining, and shopping. During the lunchtime hours, guests have the opportunity to indulge in the charming Hello Kitty Jazz band show. Enjoy a lively spectacle that includes captivating performances and mesmerizing projection mapping on a grand screen.
Right across from the restaurant, you will find the remarkable HELLO KITTY APPLE HOUSE. Inside, you can seamlessly dive into the enchanting world of Hello Kitty through the captivating art of projection mapping. As you ascend the building, a delightful surprise awaits at the top. You can visit a panoramic 360° observation deck that treats you to awe-inspiring vistas of the picturesque surroundings and Hello-Kitty shaped roof of the restaurant.
Check this article to learn more about the Hello Kitty Resorts on Awaji Island.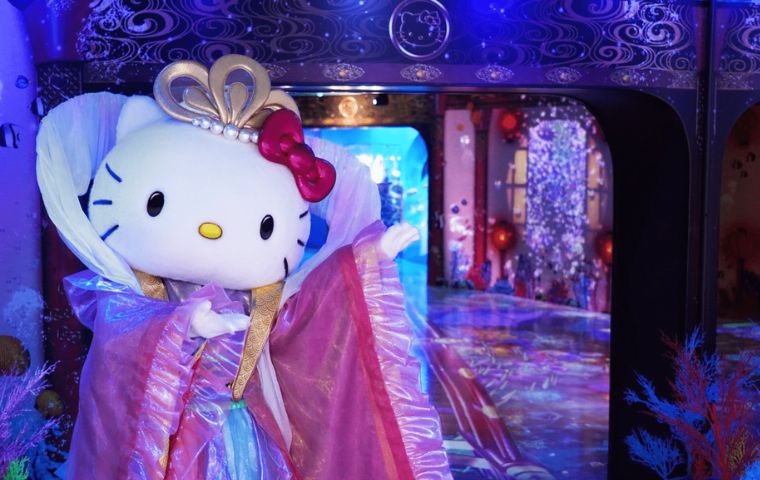 Explore the Anime Theme Park "Nijigen no Mori"
Nijigen no Mori is a popular entertainment complex on Awaji Island West Coast that showcases the rich world of Japanese anime. The theme park features various immersive anime experiences and serves as a hub for anime enthusiasts and fans of Japanese pop culture. Nijigen no Mori attracts a diverse range of visitors, including domestic and international tourists. Nijigen no Mori allows visitors from all around the world to indulge in their favorite franchises.
The popular attractions at Nijigen no Mori include the captivating worlds of "Naruto & Boruto Shinobi-Zato", a reproduction of the beloved Dragon Quest World, and "Godzilla Intercept Operation". At Naruto & Boruto attractions, you can unleash your inner ninja as you challenge ninja-inspired attractions and immerse yourself in the action-packed park. Meanwhile, in the Dragon Quest World, experience a classic RPG adventure suitable for both long-time fans and newcomers, making it a fantastic experience for all.
Click here for details of NIJIGEN NO MORI
Luxurious Glamping Experience at GRAND CHARIOT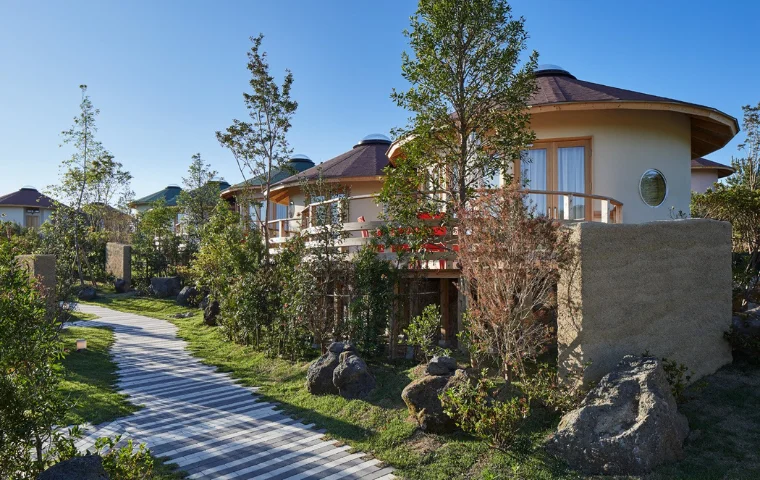 Located on Awaji Island, GRAND CHARIOT Hokutoshichisei 135° shines as a premier glamping destination on Awaji Island West Coast. It offers a luxurious haven for those seeking the epitome of glamping opulence and tranquility.
This exceptional glamping retreat achieved the esteemed accolade of "PLATINUM HOTELS Top Quality Inn" from Rakuten Travel. GRAND CHARIOT firmly establishes itself as one of Awaji Island's foremost accommodations. GRAND CHARIOT is dedicated to delivering a deeply rejuvenating glamping experience. It aligns seamlessly with society's growing focus on glamping for health and well-being. The glamping facility's goal is to foster an environment conducive to serene escape and reflection.
Click here for details of GRAND CHARIOT
Find Inner Peace at Zenbo Seinei
Zenbo Seinei is a tranquil wellness haven crafted by the renowned Japanese architect, Shigeru Ban. This wellness retreat embodies Ban's innovative architectural vision, utilizing elements like Japanese cedarwood to embrace the elegance of simplicity. Zenbo Seinei features a stunning 100-meter deck offering panoramic 360° views, inviting guests to immerse themselves in the peaceful ambiance. It is perfect for activities such as seated meditation (zazen), savoring Shojin Ryori cuisine, and various well-being practices, all amidst the natural embrace of Awaji Island's landscape.
Check here for our experience report on Zenbo Seinei.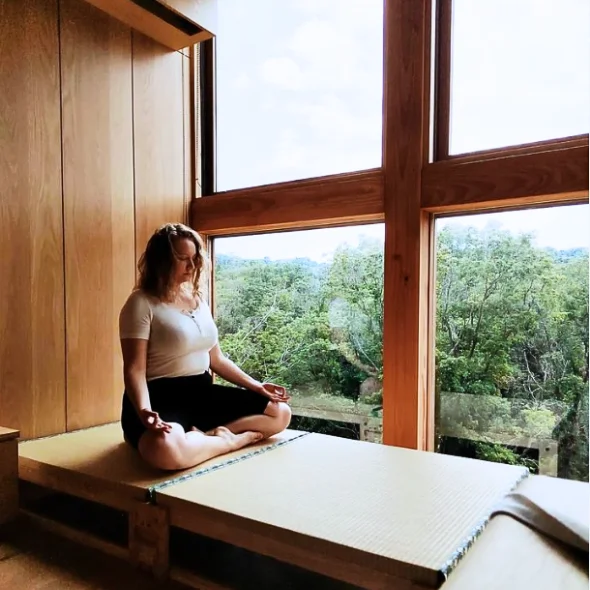 Click here for details of ZEN Wellness SEINEI
Delectable Gourmet Food on Awaji Island West Coast
Try the Most Unique Food in Japan at miele
Located on Awaji Island West Coast, miele is a culinary treasure that promises a one-of-a-kind dining adventure. This restaurant seamlessly weaves exceptional cuisine and service with breathtaking views, crafting an unforgettable experience from the moment you step inside. miele's warm and inviting atmosphere greets you upon arrival, with elegant interior design and soft lighting.
What truly distinguishes miele is its exceptional and distinctive culinary offerings. The restaurant features tantalizing unlimited onion and whitebait-topped pizzas, delightful honey-infused creations, unprecedented dessert pizzas, and a delightful array of other unique delights that will create a memorable experience during your trip to Awaji Island West Coast.
Find out what it is like to visit miele here!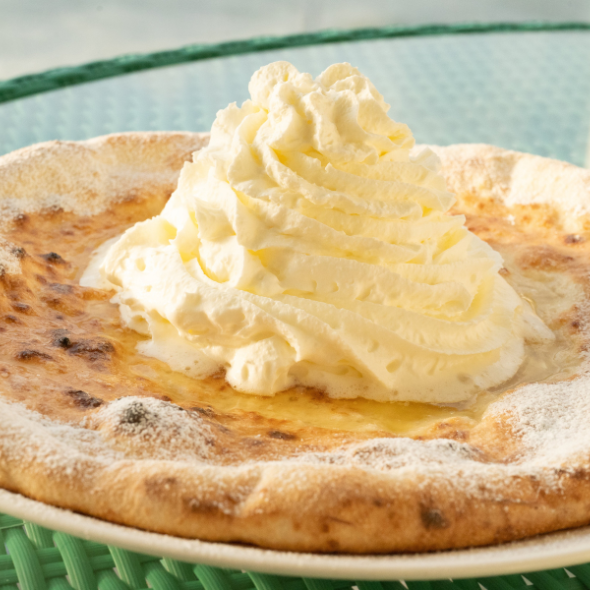 Name
miele
Adress
785-9 Nojimahikinoura, Awaji City, Hyogo Pref. 656-1721
Tel
0799-80-2600
Operation Hours
Weekdays 11:00~19:00 (L.O.18:30)
Sat., Sun, & Public Holidays 9:30~19:30 (L.O.19:00)
Closed: Tuesdays
In Aug. and Sept. it will not be closed on Tuesdays
Website
https://www.miele-da-scuola.com/
Click here for details of miele
Savor One of the Finest Beef in Japan at Ocean Terrace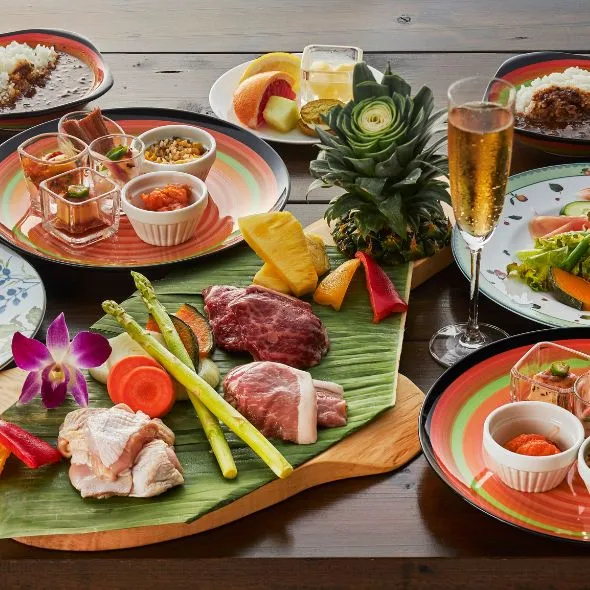 Ocean Terrace, a restaurant on Awaji Island West Coast proudly holding the Awaji Beef Certification, lives up to its name by offering a delightful dining experience. Its terrace seating provides a stunning view of the Seto Inland Sea. It allows guests to savor exquisite Awaji beef steaks while gazing out at the vast Harima-nada Sea from its hilltop location. As day transitions to dusk, the sea and sky blend into a breathtaking natural spectacle.
Awaji Beef, renowned for its exceptional flavor and rich marbling, is exclusively awarded to beef that meets stringent standards. Its high-quality, low-melting-point fat lends a delectable marbling akin to frosting on the muscle fibers.
Click here for details of Ocean Terrace
Extraordinary Dining Experience at Aonoya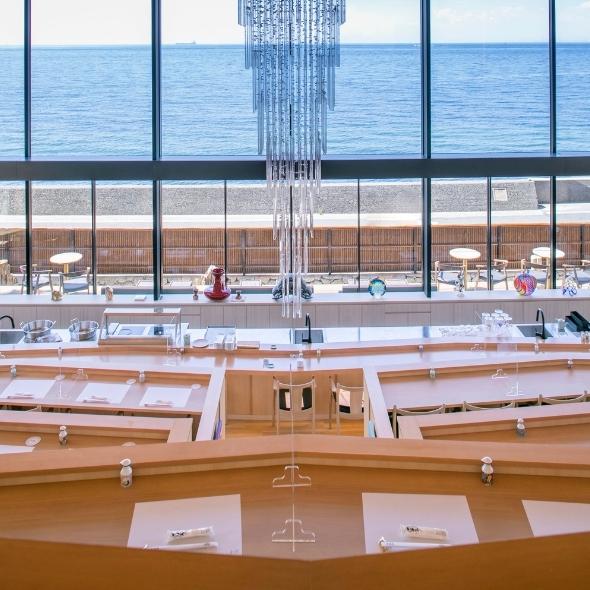 SEIKAIHA Aonoya is a renowned sushi restaurant celebrated for its exceptional location on Awaji Island West Coast. Every table strategically offers breathtaking views of the Harima-nada Sea. This is where the finest Awaji Island seafood is masterfully transformed into sushi and tempura delights. The spacious layout allows you to savor each bite while basking in the awe-inspiring ocean views. As night falls, the widescreen, once a grand window overlooking the sea, transforms into a mesmerizing projection mapping display.
Click here for details of SEIKAIHA - Aonoya
Experience the World Gourmet at Chefs' Garden and Ladybird Road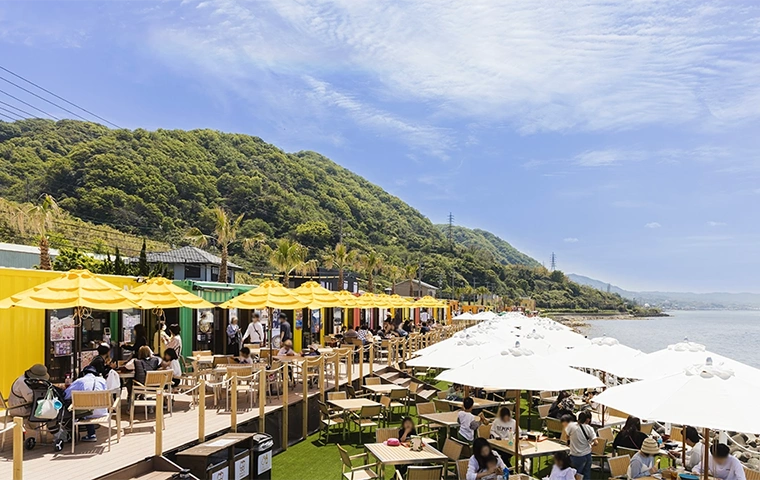 Chef's Garden and Ladybird Road are outdoor complexes featuring container houses and European-looking buildings, respectively, where you can enjoy a wide variety of lunches, desserts, and drinks from all around the world. You will have the privilege of relishing not only the delectable cuisine but also the breathtaking Harima-nada Sea, making them irresistible destinations for those seeking to satisfy their palate while feasting their eyes on nature.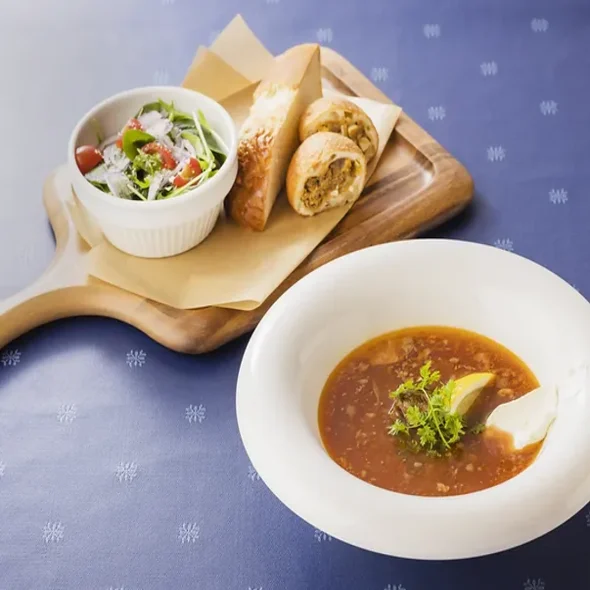 Name
Awai Chef's Garden by PASONA
Address
57-3, Nojima Okawa, Awaji Shi, Hyogo Ken, 656-1723
Parking
Approx. 140 units
Phone Number
080-8177-4501
Website
https://www.awaji-chefgarden.com/
Business Hours
11:00~21:00 (last order 20:00) 
*Subject to change depending on the season and weather.
Click here for details of Awaji Chef's Garden
Inspiring Efforts Done on Awaji Island West Coast
The Farm-to-table Restaurant Haru San San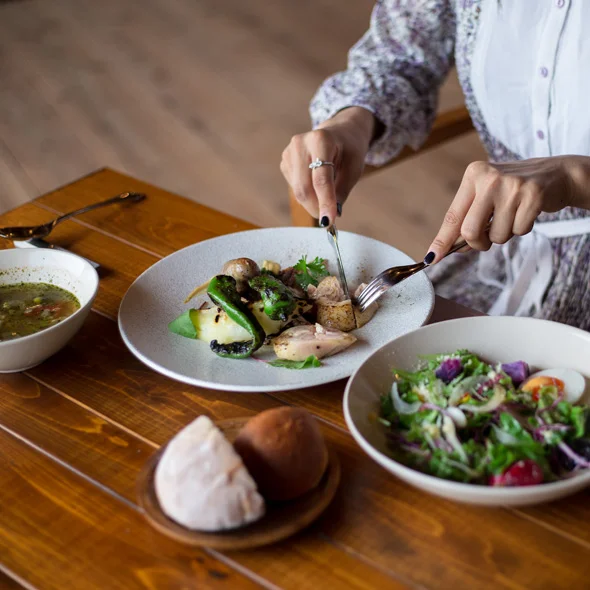 Farm-to-table is the concept of reducing the distance from farm to plate. This is done by prioritizing local, seasonal ingredients and creating a direct link between farmers, producers, and consumers. Haru San San, a farmhouse eatery located on Awaji Island West Coast, embraces the farm-to-table concept, offering a distinctive dining experience centered on freshly harvested vegetables from its own farm and carefully sourced ingredients from local producers.
At Haru San San, guests relish the goodness of Awaji Island's locally grown, fresh vegetables. The restaurant takes pride in crafting dishes that enhance the inherent flavors of these ingredients, putting seasonal produce on full display.
Click here for details of Haru San San
The School Complex Revitalization Project at Nojima Scuola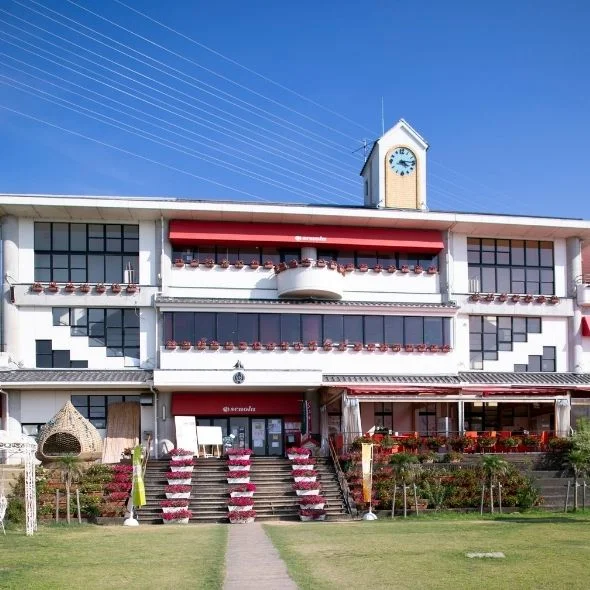 Awaji Island has been actively revitalizing its region in recent years, with initiatives aimed at boosting its economy, attracting visitors, and ensuring long-term sustainability. These efforts have led to the creation of several noteworthy facilities and events driving growth.
Nojima Scuola is a remarkable transformation of a former elementary school, now a beloved local destination exuding a nostalgic childhood ambiance. This complex houses diverse establishments, including a vibrant market, a charming bakery, a cozy café, an Italian restaurant and a delightful BBQ terrace. To further enhance its appeal, Nojima Scuola also features the "Nojima Zoo", where visitors can enjoy meeting adorable animals in the schoolyard.
Learn more about Awaji Island's revitalization efforts.
Name
Nojima Scuola
Adress
843 Nojimahikinoura, Awaji City, Hyogo Pref. 656-1721
Website
https://www.nojima-scuola.com/
Reservations
2F Ristorante Scuola
https://www.tablecheck.com/en/shops/nojima-scuola/reserve
Tel
0799-82-1820
Operation Hours
1F Marché /Bakery: Weekdays 10:30~19:00
Sat., Sun., & Public Holidays 10:00~19:00

1F Café Scuola: Weekdays Lunch 11:00~14:00/ café 14:00~18:00
Sat., Sun., & Public Holidays breakfast 10:00~11:00
Lunch 11:00~15:00
Café 15:00~18:00

2F Ristorante Scuola: 11:30~15:30 (in by 14:00) / 18:00~21:30 (in by 19:30)

Outdoor Zoo: Weekdays 11:00~16:00
Sat., Sun. & Public Holidays 10:00~16:00 (13:00~14:00 animals in recess)

Closed: Wednesdays (Open on Public Holidays)
Click here for details of Nojima Scuola
Charming Points of Awaji Island West Coast
Awaji Island is the Birthplace of Japan
Kojiki, known as the 'Record of Ancient Matters', is essential in the history of Japan. It holds the distinction of being Japan's oldest historical book and the oldest known text from the country. Awaji Island holds a significant place in the divine creation of Japan according to Kojiki as the first piece of land formed during the process. It is considered a sacred site, attracting curious travelers and pilgrims eager to delve into Japan's mythical origins.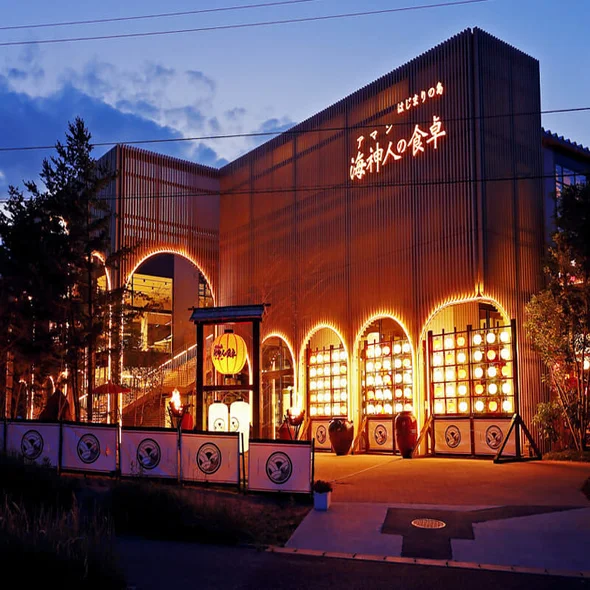 Aman no Shokutaku is a highly recommended restaurant on Awaji Island, serving the so-called "Pirate Cuisine". Pirate cuisine refers to a traditional style of cooking that has been passed down for millennia on Awaji Island and focuses on the use of locally sourced ingredients. It is no exaggeration to say that the cuisine at Aman truly embodies the essence of Japanese gourmet at its source.
Click here for reservations Utage Click here for reservations Sajiki
Click here for details of Aman no Shokutaku
Awaji Island is the Perfect Destination to Enjoy Sunset in Japan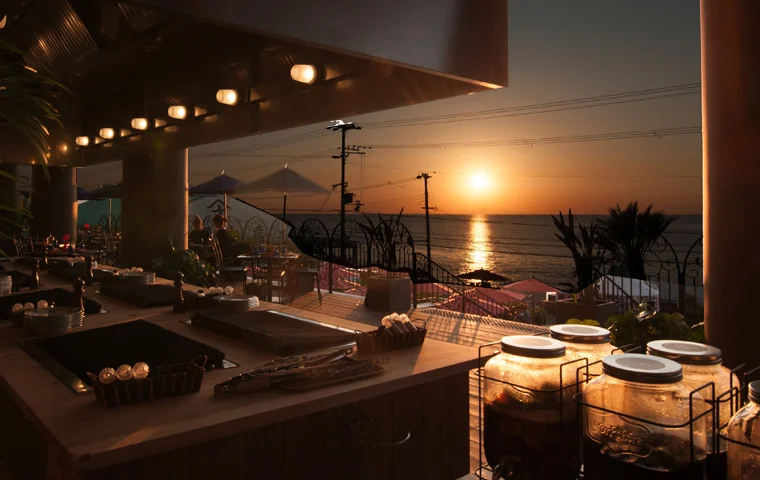 Awaji Island is also renowned as one of the best destinations for sunset views. The "sunset line" graces nearby locations with unparalleled view. It creates a sense of wonder and anticipation. As the name implies (sunset line), prefectural Route 31 stretches along the West Coast of Awaji Island. It offers a splendid opportunity for visitors to witness the sun's exquisite descent over the Harima-nada Sea.
How to Get Around the Awaji Island West Coast
Explore the different locations of the West Coast of Awaji Island with ease using the complimentary shuttle bus service. Maximize your visit by hopping from one captivating location to another, creating unforgettable memories throughout your journey. The design of the free shuttle bus is as you can see below!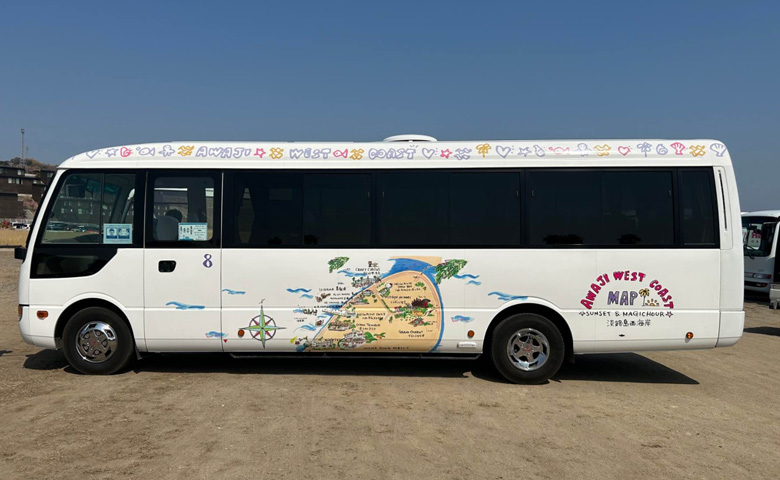 Closing
Awaji Island offers diverse facilities for a wide range of experiences, from savoring Japan's finest gourmet cuisine to indulging in top-notch accommodations. Additionally, you can witness Awaji Island's commitment to addressing critical issues in Japan through the development of numerous new facilities on west northern part of the island. When planning your next trip to Japan, be sure to include a visit to the West Coast of Awaji Island in your itinerary, creating lasting memories you'll cherish forever.