Awaji Island has many sightseeing places, including restaurants and scenic spots. Many people are looking for a place to experience something new while sightseeing. We visited "AiAii," an indigo dyeing experience spot on Awaji Island, where you can make your own original goods.
What Kind of Store Is AiAii, a Natural Indigo Dyeing Workshop on Awaji Island?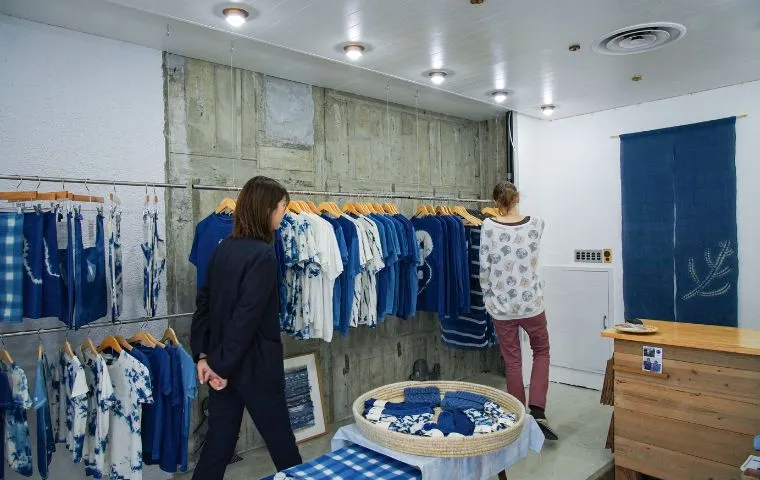 AiAii is a natural indigo dyeing workshop where visitors can try their hand at indigo dyeing. One method is to use dye solution called "sukumo" which is fermented from home-grown indigo leaves or those produced in Tokushima Prefecture, a famous production area of indigo, and lye, which is then added to the fermentation process. In the store attached to the studio, products designed and dyed by AiAii are sold. Each item is hand-dyed, so it is an original one-of-a-kind item. The shop also accepts orders for custom-made items such as curtains and original t-shirts.
Sally Hancox on the Appeal of Indigo Dyeing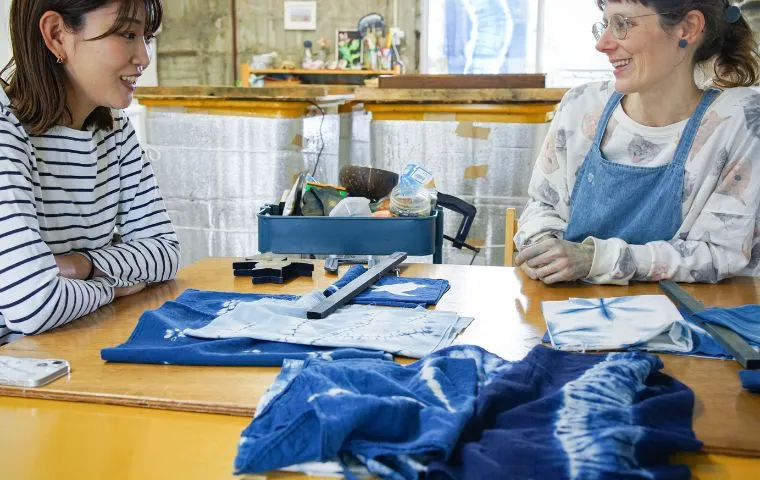 Why did she start indigo dyeing on Awaji Island?
She started indigo dyeing about 7 years ago when her family moved to Awaji Island. She originally started indigo dyeing because she liked making things and made curtains out of patchwork. In the beginning, she used chemical dyes, but she became interested in natural dyes and pursued environmentally friendly methods through trial and error. Now, she has her own farm and produces "tade indigo," the base of their dyes. 60% of the dyes they use are based on home-grown "tade Indigo", and the remaining 40% are based on those plants purchased from Tokushima Prefecture, a famous indigo producer.
How is indigo produced on Awaji Island?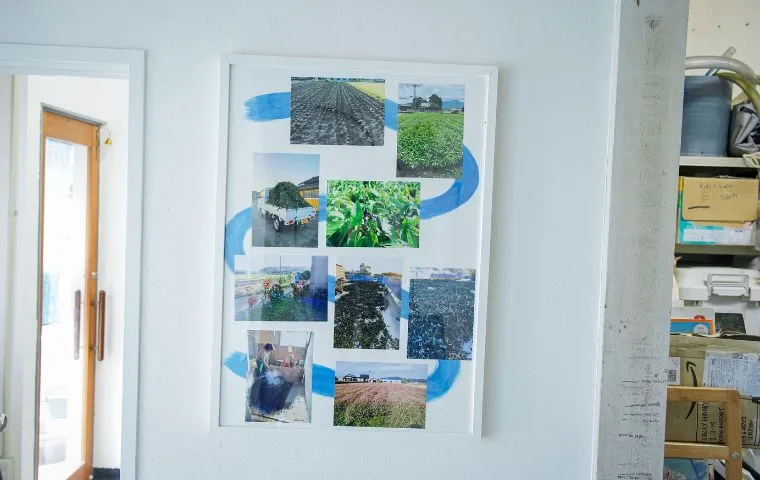 She showed us a hanging scroll on the wall and explained how "tade indigo" is actually produced and used as a dye.
Seeds are sown from March to June, seedlings are raised, planted in the field, harvested from July to September, and the leaves and stems are sorted by fan wind to blow off the leaves, and the stems are used as compost to nourish the field. Leaves are sun-dried for one to two days and become a base for the dye. The dried leaves are stored in bags until fall, and from October to December they are fermented for 100 days to make a dye solution. The dye "sukumo" is used as fertilizer for the fields after its use, and is recycled back into the soil to produce a better dye.
What she wants to convey to her customers through her commitment to and experience of natural indigo dyeing on Awaji Island
What she insists on with her products is to produce them with uniqueness. To achieve this, she asks herself, "Can't we do something like this? Can we try something like this? She is facing indigo dyeing through trial and error every day. Through the experience of natural indigo dyeing, she would like to provide her customers with an opportunity to reconsider the concept of sustainability, and to create an opportunity to adopt slow fashion, rather than fast fashion, in their daily lives, in order to preserve the environment and realize a sustainable society. After listening to her, I realized that it would be fun to dye something myself and keep using that indigo dyed item by re-dyeing it from time to time, contributing to environmental conservation and a sustainable society.
I Actually Tried the Natural Indigo Dyeing Experience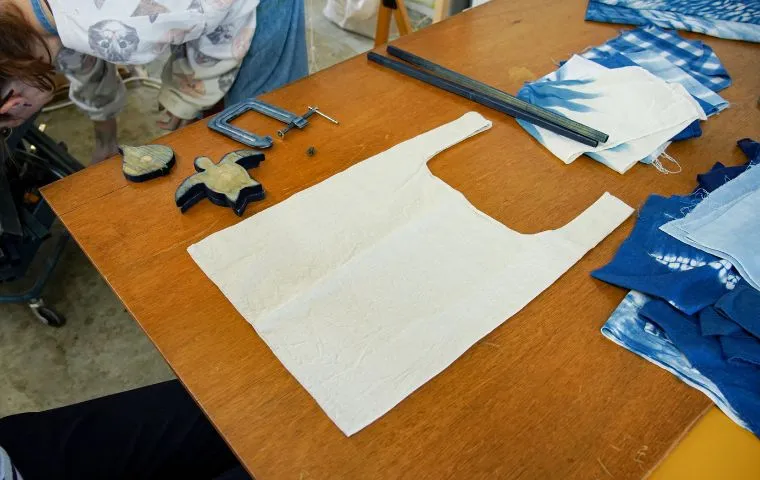 This time, I tried my hand at an eco-bag. You will be given detailed instructions on what kind of pattern to make and how to use the technique to create the desired pattern. Gloves and aprons are provided when you start dyeing, but it is recommended that you wear clothes that you don't mind getting dirty.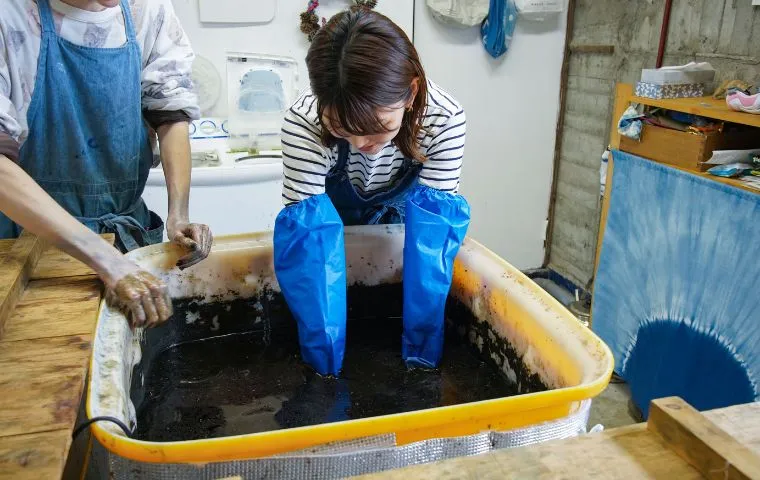 Once the indigo dye is ready, the process of dyeing the fabric begins. Natural dyes are said to change their intensity of color day by day depending on temperature and other conditions. They are very careful to control the temperature, and I felt a little warmth when I put my hand in the dye. Because the dye is natural, it is safe to dye with bare hands, so even small children can enjoy the indigo dyeing experience.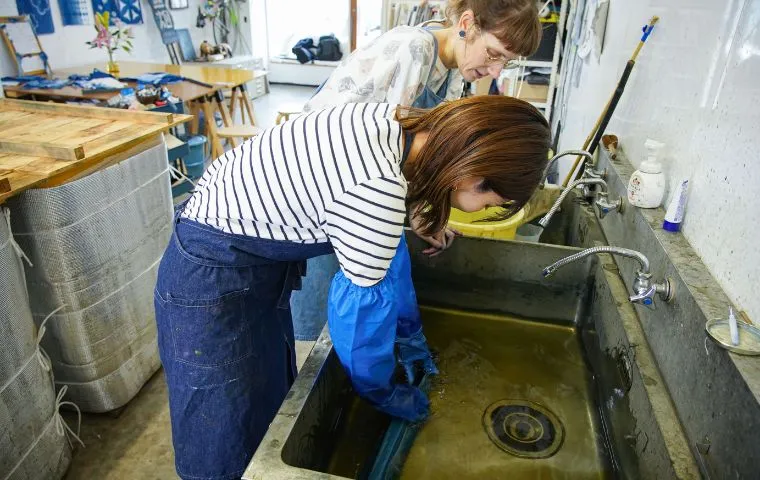 The item is repeatedly dipped in dye and rinsed in water to achieve the color you like. The process is repeated over and over again, checking the state of the dye and how well it has been dyed. It is highly recommended for those who want to enjoy making things with their friends, loved ones, and family members. In the case of this eco-bag, it took about one and a half hours to make. It was also a nice point to be able to take the bag home immediately afterwards. Please take a look at the archives of the actual experience on the official Awaji Island West Coast Instagram.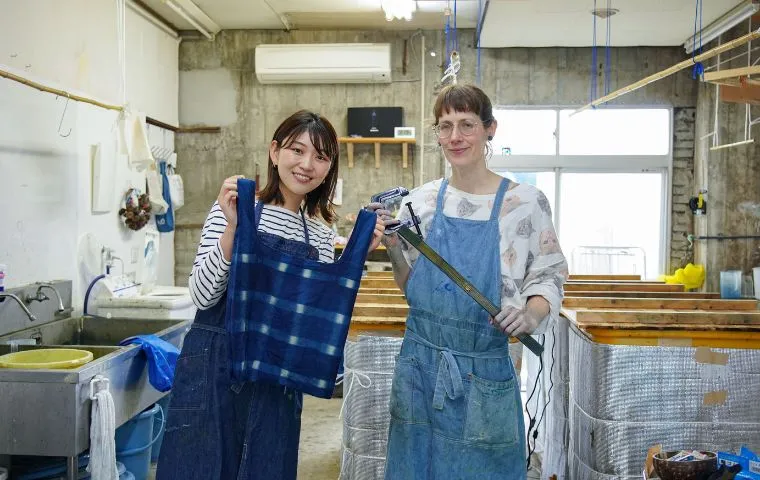 Here is the actual finished eco-bag. This time, I finished it with a checkered pattern. I dyed it a little darker so that I could enjoy the color fading and use it for a long time. Sally Hancox taught me how to do the indigo dyeing and I had a nice conversation with her and the time passed quickly. I hope everyone will try the indigo dyeing experience, which can be enjoyed by both children and adults!
Awaji Island Natural Indigo Dyeing Workshop AiAii Overview
| | |
| --- | --- |
| Address | 〒656-0022 2-2-19 Kaigan-dori, Sumoto-shi, Hyogo |
| TEL | 0799-20-5252 |
| Business hours | 10:00 ~ 17:00 (Shop: Friday and Saturday only / Indigo-Dyeing Experience: closed on Sunday) |
Indigo Dyeing Fee Schedule
Handkerchief: 1,200 yen
Tenugui hand towel: 2,000 yen
Linen stole: 5,000 yen
Eco-bag: 4,000 yen
Organic cotton T-shirts (S, M, L, XL): 7,800 yen
*Advance reservations are required via phone, Instagram, or website.