Welcome to Awaji Island, heaven for architectural enthusiasts. Known for its stunning architectural wonders, Awaji Island offers a unique blend of modern and traditional designs. This two-day drive trip will take you on a journey to explore some of the island's most remarkable architectural marvels, including works by renowned architects such as Tadao Ando and Shigeru Ban.
Embrace the freedom to enjoy the captivating beauty of Awaji Island's architecture at your own pace, as this suggested itinerary offers approximate times that can be flexible, allowing you to truly relish each moment.
Day 1: French-Inspired Elegance and Zen Tranquility on Awaji Island
12:45 PM – Visit Auberg "French Forest": A French Cuisine with Japanese Essence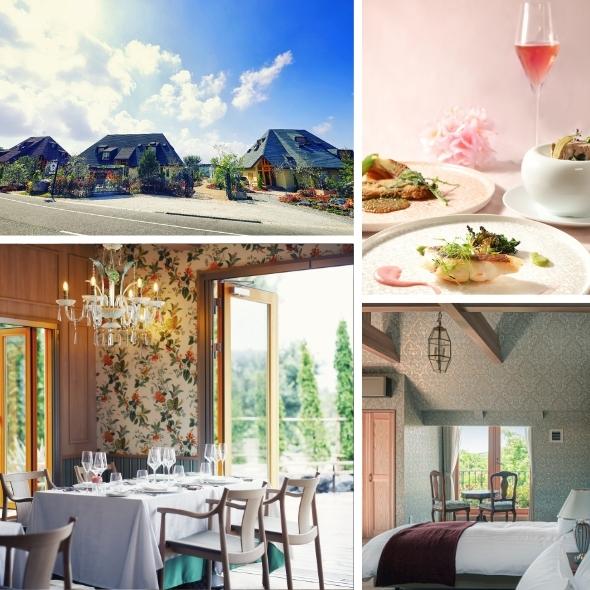 Start your journey with a lunch at Auberg "French Forest," where remarkable French architectural elements and nature come together. The facility is conveniently located approximately 35 minutes away from the Kobe area and about one hour from the center of Osaka by car. During the journey, you can enjoy the breathtaking ocean view while crossing the Akashi-Kaikyo Bridge.
As soon as you arrive at Auberg, you will be captivated by its distinctive and visually striking architecture, making an immediate impression. The architecture of Auberg "French Forest" harmonizes seamlessly with the natural surroundings of Awaji Island, creating a tranquil and enchanting atmosphere.
The establishment consists of three distinct buildings, each offering a unique culinary concept. One presents French cuisine infused with Japanese essence, showcasing a harmonious fusion of flavors. Another combines the elegance of French and Italian influences, and the third building highlights a captivating blend of French and basque gastronomy. Have an exceptional lunch at one of the best restaurants on Awaji Island!
Click here for details of Auberge "French Forest"
02:30 PM – Visit Zenbo Seinei: Shigeru Ban's Architectural Brilliance on Awaji Island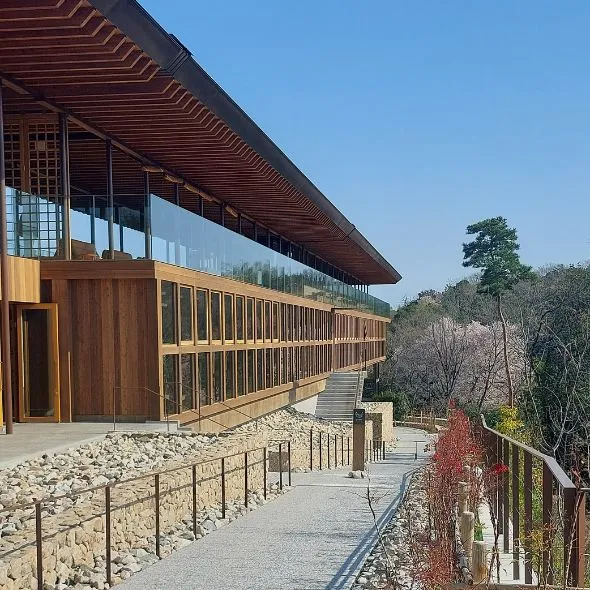 After your exploration of Auberg, head over to Zenbo Seinei, a serene Zen retreat located just a one-minute away by car. At Zenbo Seinei, you can experience tranquility amidst the island's natural beauty. The architecture of Zenbo Seinei harmoniously blends with its surroundings, embracing minimalist design principles. Every detail is carefully crafted to create a peaceful atmosphere that reflects the essence of Zen philosophy.
This architectural gem showcases Shigeru Ban's distinctive style, with a predominant use of wood that adds a touch of natural warmth. The exterior of the structure exudes majesty, gracefully floating above the lush treetops and emanating an aura of elegance.
Engage in the one-night two days Zen retreat program and immerse yourself in the serene ambiance of Zenbo Seinei, allowing yourself to find inner peace and rejuvenation. By participating in the program, you will have the opportunity to engage in a variety of enriching activities such as the practice of yoga, explore different types of meditation, experience the art of tea-making, savor unique culinary delights, and even try your hand at the elegant art of calligraphy. Check-in time for the program is 02:30 PM and check-out time is 10:00 AM the following day. Click here for more details about the program.
Click here for details of ZEN Wellness SEINEI
Day 2: Enjoying the Charm of Design's Simplicity on Awaji Island
10:30 AM – Blending Culinary Delights with Shigeru Ban's Architecture Haru San San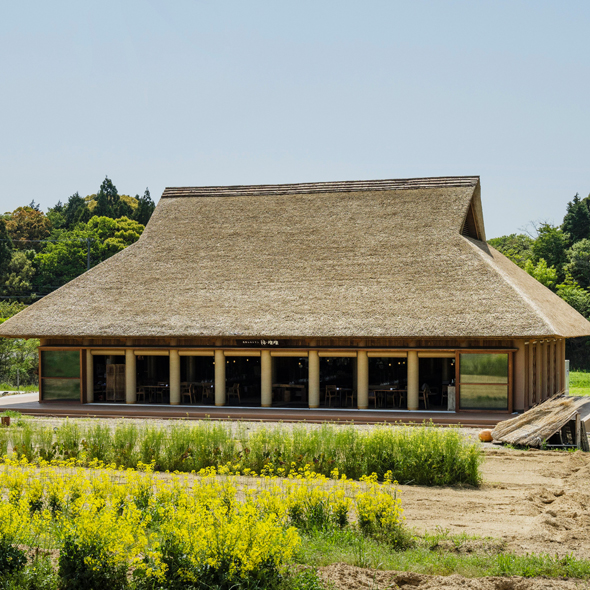 Embark on the second day of your journey by visiting Haru San San, a testament to the genius of Shigeru Ban. Merely a 5-minute drive from Zenbo Seinei, this structure showcases Shigeru Ban's exceptional craftsmanship. Haru San San stands as another extraordinary architectural marvel, meticulously created by the renowned designer. Its design showcases a remarkable fusion of wood and the natural environment, resulting in a seamless and harmonious atmosphere. The utilization of traditional aesthetics is evident in the thatched roof, exuding a sense of nostalgia. Inside, the space is adorned with an exquisite combination of wood and paper pipes, a testament to Shigeru Ban's exceptional ability to use materials.
Indulge in a delightful early lunch at the restaurant, savoring not only the delectable cuisine but also the enchanting ambiance of its architectural surroundings. While the restaurant opens its doors at 11:00, take a leisurely stroll around the restaurant beforehand, enjoying yourself in the beauty of the surrounding plants, nature, and the diligent farming efforts that contribute to the restaurant's offerings. Once inside, treat yourself to a culinary experience like no other, relishing in the freshly harvested vegetables sourced from Awaji Island. The carefully crafted dishes, including vibrant salads and soul-warming soups, skillfully enhance the natural flavors of the vegetables, showcasing a culinary mastery executed with utmost care.
Click here for details of Haru San San
12:30 PM – Visit Awaji Island's Honpukuji Water Temple and Embrace the Elegance of Ando Tadao's Design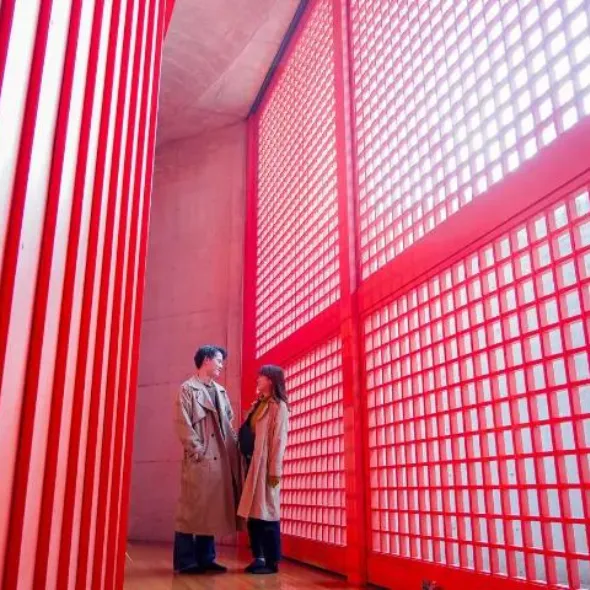 Next, venture to Honpukuji Water Temple, a masterpiece by the renowned architect Ando Tadao. Just a 15-minute drive from Haru San San, this architectural gem beckons with its striking geometric design, characterized by pristine white walls and sleek, clean lines. Central to the temple's concept is the incorporation of water, which is exemplified by a mesmerizing pond gracing the temple's roof.
Tadao Ando's architectural prowess shines through in his use of light, further enhancing the temple's allure. The light filters through thoughtfully placed gaps, permeating the space with a divine ambiance. This creates an ambiance that leaves visitors in awe of the architectural brilliance on display.
01:00 PM – From Honpukuji Water Temple to Awaji Yumebutai
A mere 8-minute car ride separates Honpukuji Water Temple from Awaji Yumebutai. Enjoy the drive as you make your way to the next architectural gem on the island.
01:15 PM – Appreciate Awaji Yumebutai: Ando Tadao's Masterpiece on Awaji Island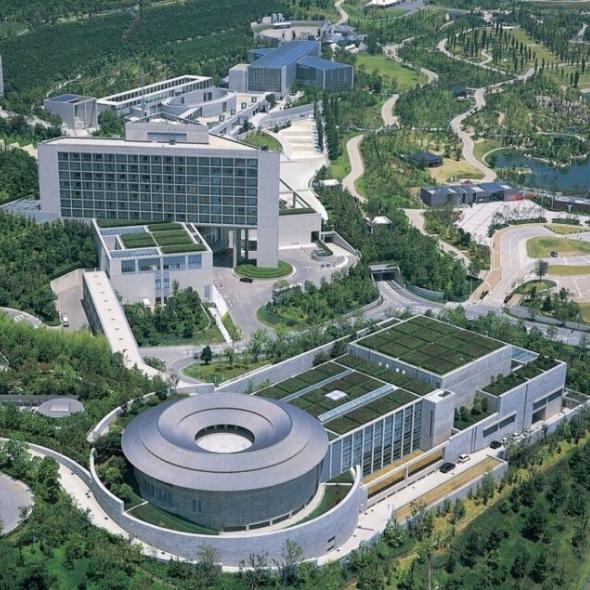 One of the remarkable architectural achievements of Tadao Ando on Awaji Island is the Yumebutai complex, which flawlessly harmonizes nature with elegant design. Take a leisurely stroll through Yumebutai which encompasses a collection of terraced gardens, each meticulously crafted with its own distinctive design, providing enchanting charm of the surrounding scenery. At the heart of Yumebutai lies the International Conference Center, a testament to Ando's signature style. Concrete walls and glass panels seamlessly merge with the surrounding environment, exemplifying an elegant ambiance.
02:00 PM – Visit Awaji Greenhouse: A Magical Architectural Gem on Awaji Island
While exploring Awaji Yumebutai, don't miss the opportunity to visit the Awaji Greenhouse. This botanical marvel is a testament to innovative design and sustainable architecture. Step inside and immerse yourself in a world of lush greenery and exotic plants. The greenhouse's unique structure, blending glass and metal, provides an optimal environment for the plants while offering visitors an immersive experience. Take your time to wander through the different sections, appreciating the diversity of flora and the architectural ingenuity that went into creating this captivating space.
05:00 PM – Have a Dinner on Awaji Island which is Known for Its Exquisite Gourmet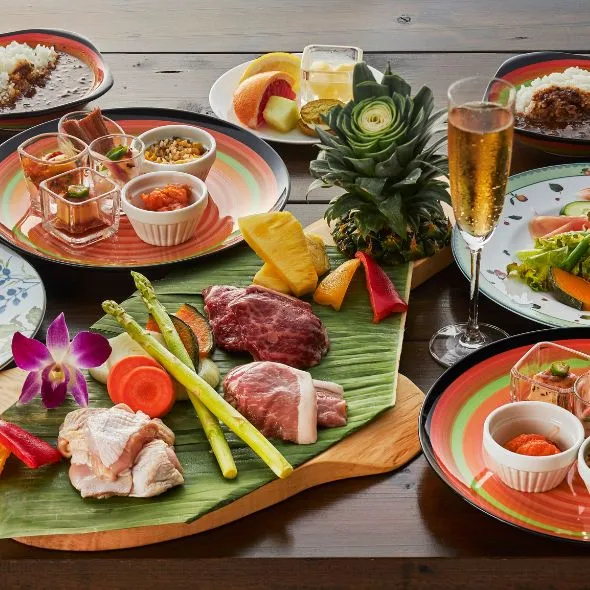 As the day ends, savor the culinary delights that Awaji Island has to offer. There are numerous dining options available, ranging from traditional local cuisine to international flavors. Choose a restaurant that suits your preferences and indulge in a delicious meal while reflecting on the architectural wonders you've experienced throughout your trip.
Awaji Island is a treasure trove of architectural marvels, offering a blend of contemporary and traditional designs. This two-day drive trip provides a captivating experience for architecture enthusiasts. Embark on a journey of architectural discovery and immerse yourself in the captivating beauty and rich architectural heritage that awaits on every corner of Awaji Island.