Although Awaji Island has a strong image of hot springs and sea resorts, recently many people come to Awaji Island for a quick drive and dinner due to its easy accessibility from Kobe and Osaka. Awaji Island is said to be a treasure trove of food, and there are many delicious local delicacies. In this article, we will introduce some of the best spots for dinner on Awaji Island.
For Seafood Lovers
SEIKAIHA – Aonoya
This is a seafood Japanese restaurant where you can taste freshly caught seafood from the Akashi Strait. All seats have an ocean view facing the Harimanada Sea. In addition to tempura and sushi, the restaurant's popular Japanese side dishes are made from seasonal ingredients throughout the year.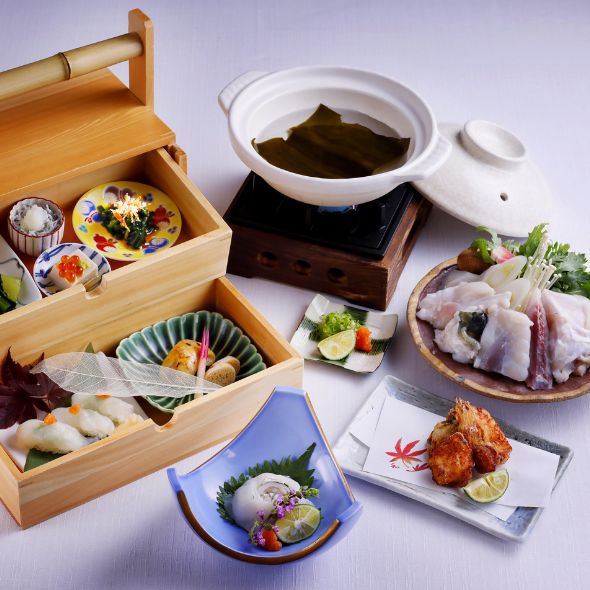 Click here for details of SEIKAIHA - Aonoya
For Special Occasions, Birthdays and Anniversaries
Auberge French Forest
A popular hideaway French restaurant, Auberge French Forest, is an authentic French restaurant where each of the three restaurants has its own unique concept and chef. The restaurant also offers an anniversary plan that includes flowers and a cake, making it the perfect dinner for a special occasion. Since it is an auberge, you can also stay in a room on the second floor. We recommend the pairing set of wine selected by the sommelier of each restaurant.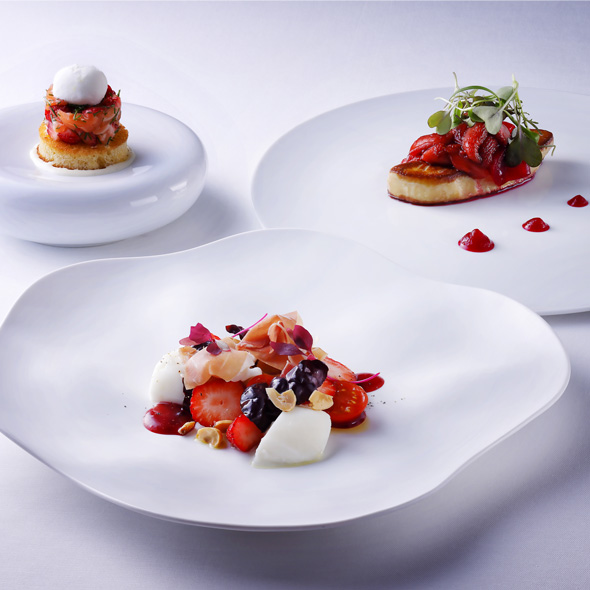 Click here for details of Auberge "French Forest"
Ristorante Scuola
This restaurant offers creative Italian full-course meals featuring seasonal ingredients from Awaji Island. The meal is designed to be enjoyed one dish at a time with the chef's ingenious presentation. A live piano performance by a professional musician is also available upon request, making it a good choice for an anniversary dinner. Enjoy a special dinner in the nostalgic interior of a renovated elementary school.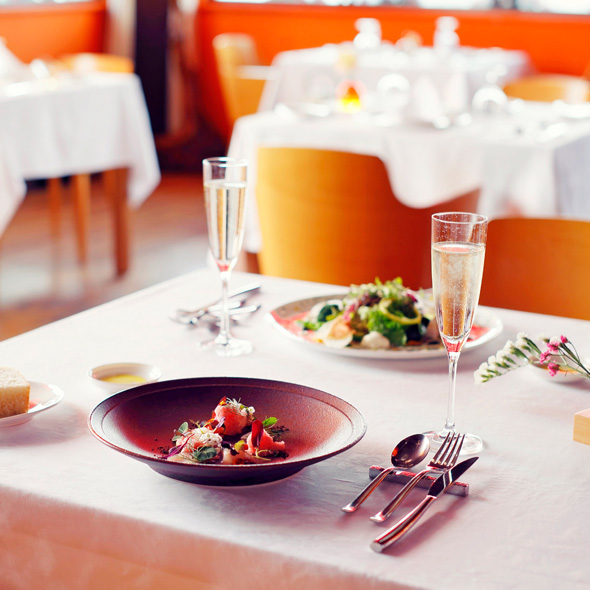 Name
Nojima Scuola
Adress
843 Nojimahikinoura, Awaji City, Hyogo Pref. 656-1721
Website
https://www.nojima-scuola.com/
Reservations
2F Ristorante Scuola
https://www.tablecheck.com/en/shops/nojima-scuola/reserve
Tel
0799-82-1820
Operation Hours
1F Marché /Bakery: Weekdays 10:30~19:00
Sat., Sun., & Public Holidays 10:00~19:00

1F Café Scuola: Weekdays Lunch 11:00~14:00/ café 14:00~18:00
Sat., Sun., & Public Holidays breakfast 10:00~11:00
Lunch 11:00~15:00
Café 15:00~18:00

2F Ristorante Scuola: 11:30~15:30 (in by 14:00) / 18:00~21:30 (in by 19:30)

Outdoor Zoo: Weekdays 11:00~16:00
Sat., Sun. & Public Holidays 10:00~16:00 (13:00~14:00 animals in recess)

Closed: Wednesdays (Open on Public Holidays)
Click here for details of Nojima Scuola
Special Dinners with a Show
SEIKAIHA – Uminoya Musical Opera Night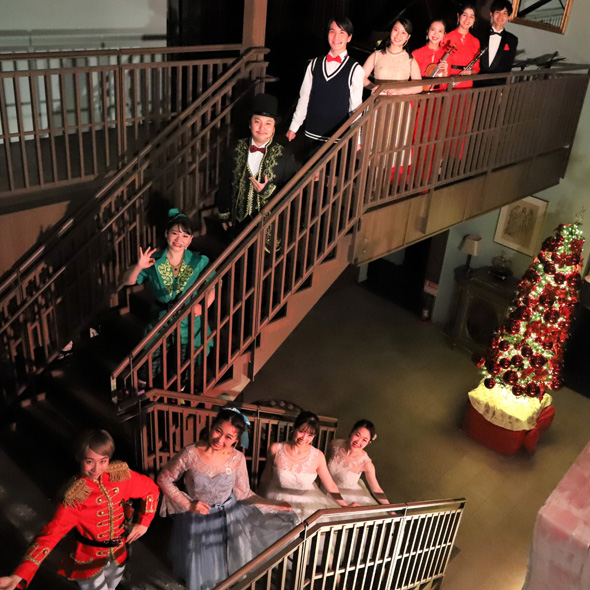 Musical Opera Night is a dinner limited to every Friday night, where a highlight version of the musical is performed in the restaurant by professional musicians and artists. This is a dinner show unique to Uminoya that can be found nowhere else in Japan. The dinner show offers a Western-style full-course dinner reminiscent of a Western-style meal in the Meiji era in Japan. You will be moved by the power of the beautiful songs and performances that you can see up close. Please spend an unforgettable dinner time on Awaji Island.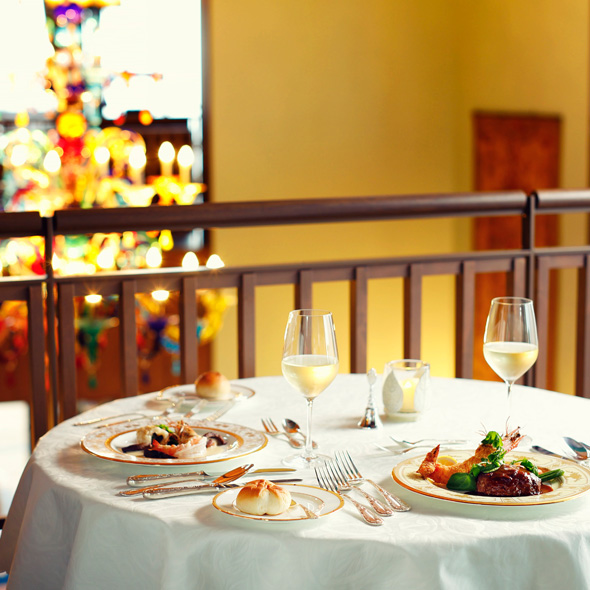 Ocean Terrace Jazz Night
How about an Awaji beef steak at the ocean view restaurant while enjoying live jazz music on Saturday night? This popular restaurant offers excellent steaks with singing and live music in an open, resort-like atmosphere. The restaurant is also famous for its spectacular sunset views. The restaurant is spacious enough to accommodate groups. You can spend a relaxing time in a casual atmosphere.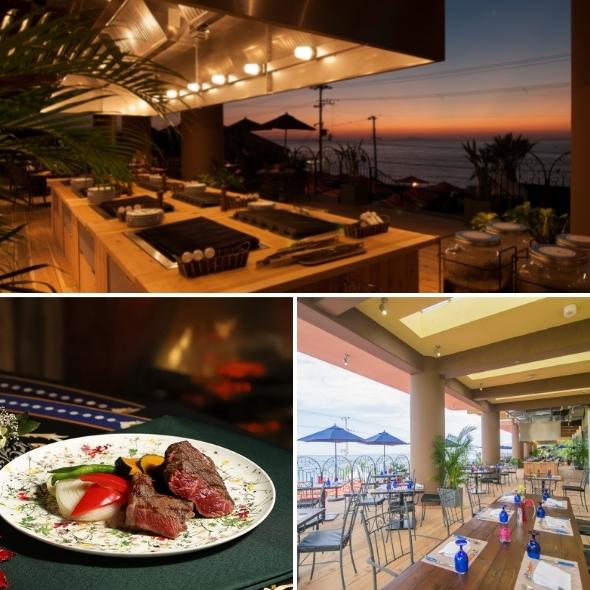 A Japanese Restaurant That Will Delight Those from Overseas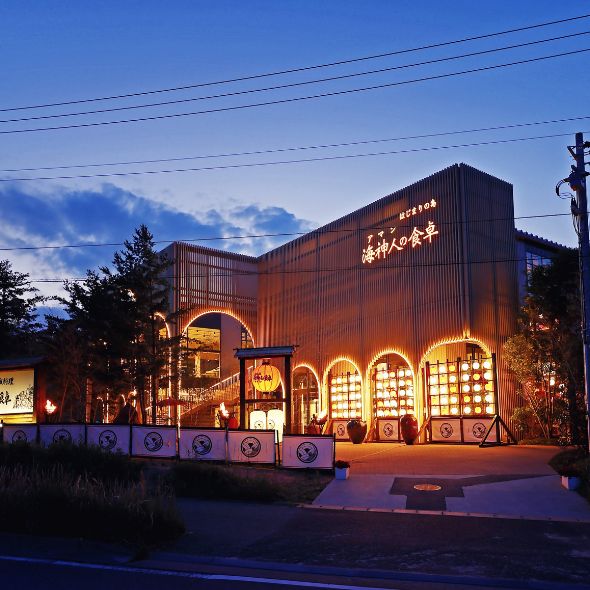 Aman no Shokutaku – Utage
This pirate-themed Japanese izakaya is located in the middle of a mountain road along the Kuniumi Highway. The restaurant has an impressive interior with drums, lanterns, and several single-large trees as tables. The name of the restaurant is "Utage" (meaning "song" in Japanese), and you can enjoy a fun dinner with your friends at a large table.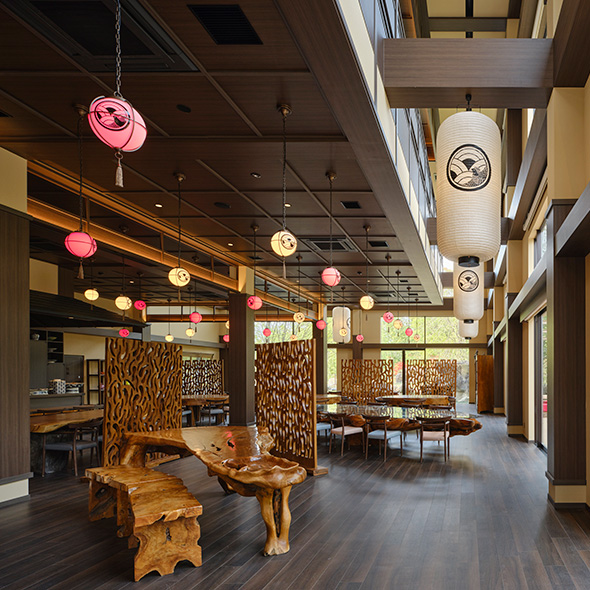 Aman no Shokutaku – Sajiki
Sajiki, located on the second floor, is a fine dining restaurant featuring teppanyaki and sukiyaki. A perfect place to entertain important guests with the teppanyaki full-course meal using the famous Awaji beef or the sukiyaki full-course meal using Awaji beef are popular. Full-course meals are perfect when you want to talk leisurely. Enjoy a dinner where you can relax and talk in the quiet nature of Awaji Island. We also have a wide selection of fine whiskey, aged sake, and wine to match our dishes.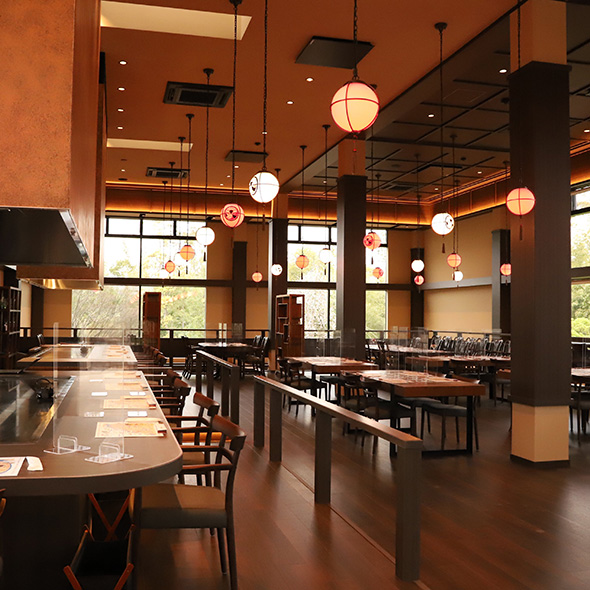 Click here for reservations Utage Click here for reservations Sajiki