Imagine stepping into a realm of tranquility, where every breath is met with serenity and every moment unfolds with graceful elegance. Welcome to Zenbo Seinei, a haven nestled amidst Japanese picturesque and abundant countryside. This is where you can escape the city and stress through a Yoga Wellness Day retreat. Prepare to immerse yourself in an extraordinary journey of self-discovery and rejuvenation!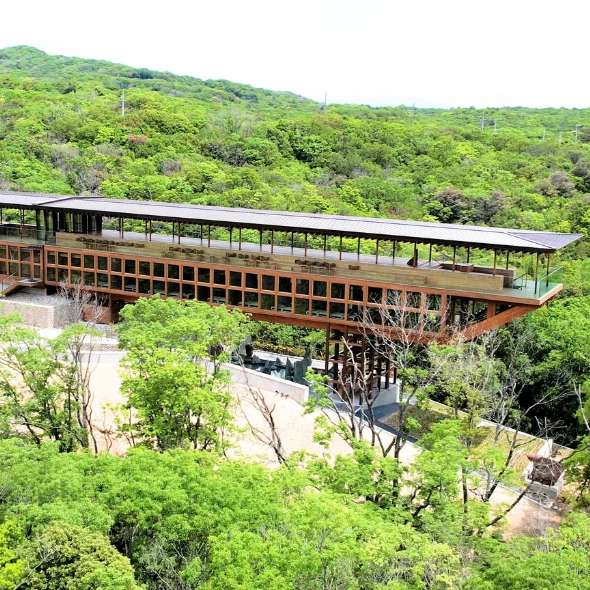 Indulgence for The Body and Mind
Zenbo Seinei is an architectural indulgence as itself. It is designed by a renowned Japanese architect Shigeru Ban, who is known for his innovative and sustainable designs. Shigeru Ban is particularly acclaimed for his work with disaster relief projects, utilizing materials such as cardboard tubes and paper in his designs. Zenbo Seinei is built from Japanese Cedar wood and the most prevalent feature is the 100 meter long deck to view the surrounding nature from a 360° point of view.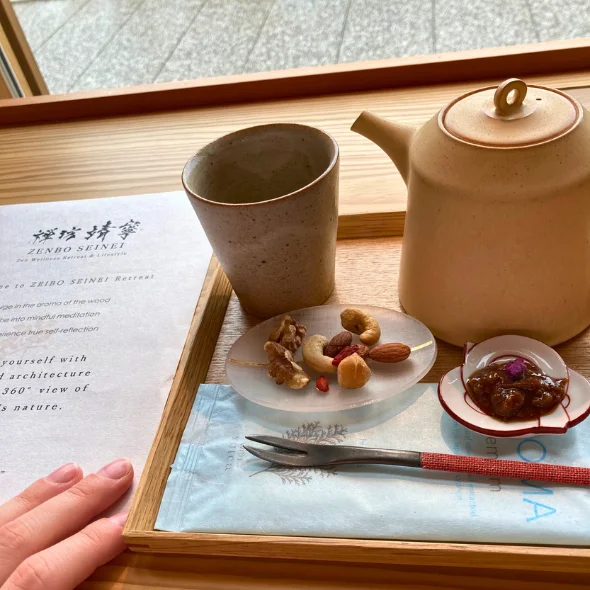 Upon arrival you are greeted with a welcoming drink and then guided to your room, where you may change clothes and relax on your own during the retreat's free time. The room itself radiates modern concept of indulgent luxury and makes you feel like this zenish life would be good to adopt even at home. After settling in for the retreat it is time to immerse yourself in an extraordinary journey of self-discovery and rejuvenation.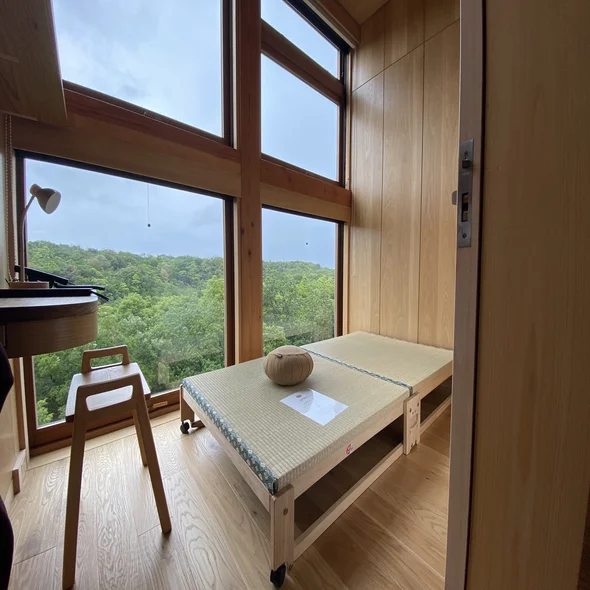 Yoga for Beginners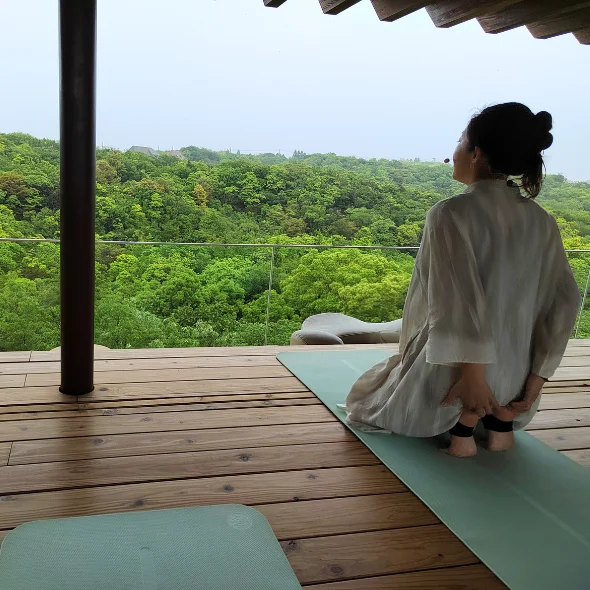 The day course offers two sessions of meditation and yoga, the first part being 60 minutes and including breathing and yoga movements while the second part is 30 minutes and focuses only on meditation and breathing exercises. On the open wooden deck you can truly immerse in the nature's peacefulness by listening to the sounds and calming your mind.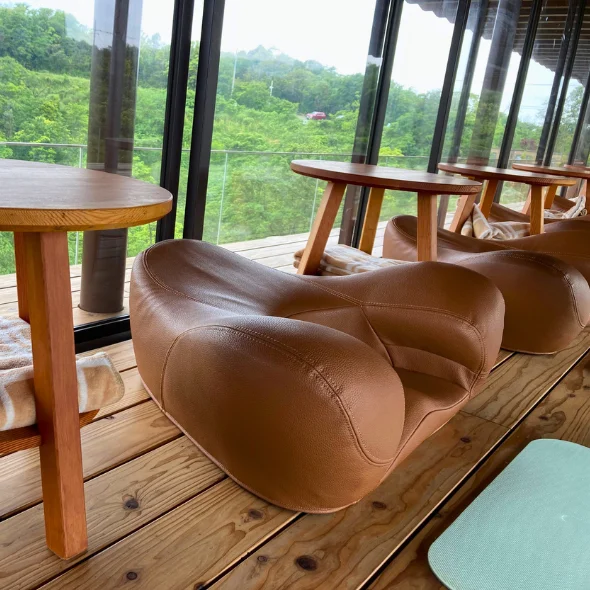 All the meditation and yoga is done on the deck where you have an untrammeled view to the lush mountain greenery. You may freely choose your own place and all of them has a exquisite and comfy yoga chair and a small table for your belongings.
On a colder day you might need the blanket that is offered at the site or cover yourself in the comfortable blanket, or a "snuggie" for maximum comfort. The snuggie does not restrict the movements needed for the meditation and breathing exercises but you might not need it during the yoga part, since the training usually levels up fast. Even so the whole course is fitted even for beginners and more experienced ones can just enjoy the space and feeling of the movements on the body.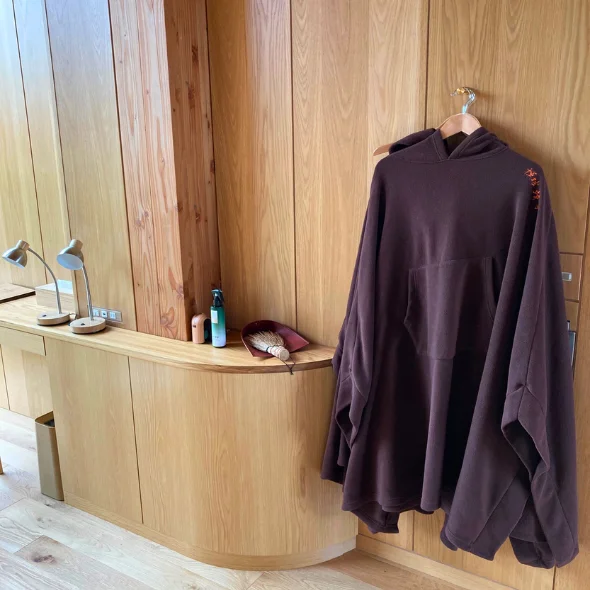 About the Day Trip Wellness Retreat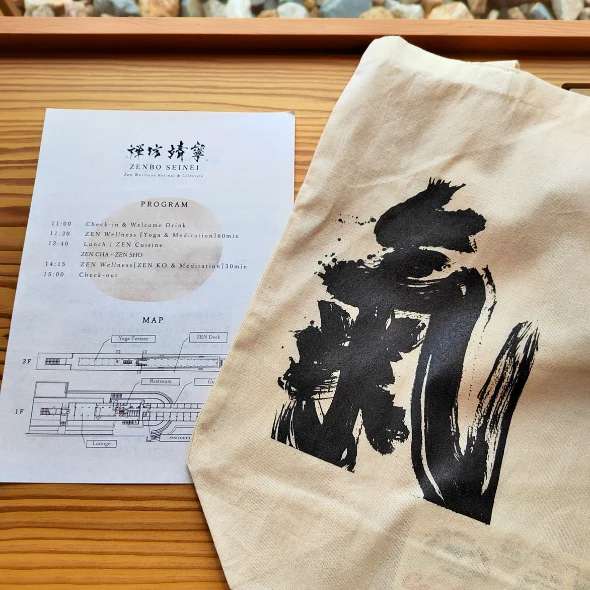 There are currently two types of Day Trip ZEN Wellness plans: the day course and the evening course. They both take 4 hours and are fairly similar but the day course starts at 11:00 am and the evening course at 2:30 pm. Accessing Awaji Island is easy and fast from Kobe Sannomiya station where you can take a direct bus to Awaji Island and then the free shuttle bus to Zenbo Seinei.