Awaji Island is popular as a resort island. However, there are still many more beautiful sports that have not been picked up widely by media and SNS yet. I will introduce four sport where you can can enjoy spectacular views and immerse yourself in nature.
Awaji Island Best-kept Secret No.1: Ayuya Waterfall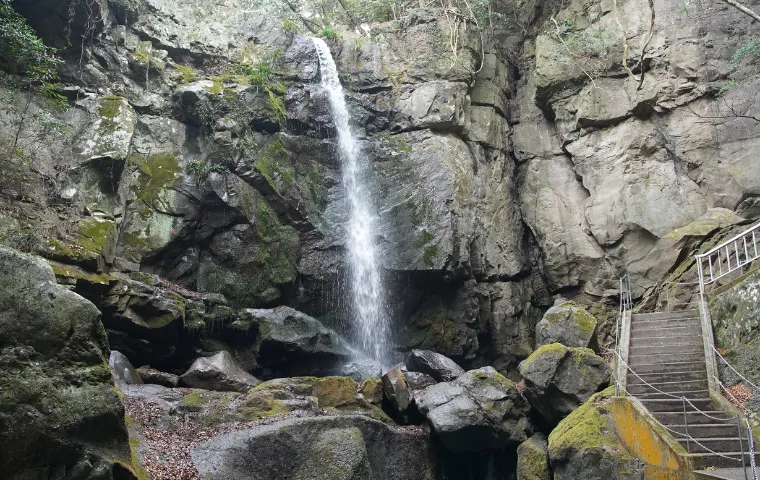 Ayuya Falls is a hidden refreshing spot in Sumoto City on Awaji Island. The waterfall is located downstream of the Ayuya Dam and has a drop of 14.5 meters. Visitors can go very close to the waterfall and spend a relaxing time feeling the negative ions with their entire bodies. With the waterfall, you can enjoy a cool and sacred space. Fireflies fly around the waterfall in the summer, and the leaves change color around the waterfall in the fall, making this a hidden gem where you can experience the beauty of nature in each season.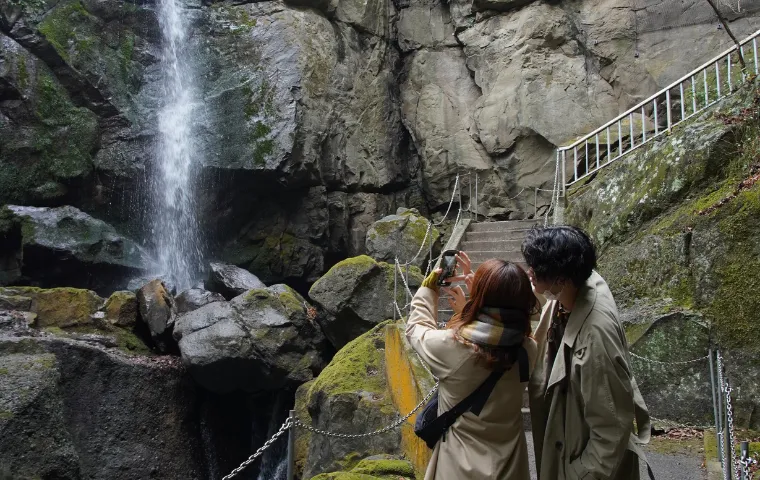 The staircase is located close to the waterfall which enables you to take a dynamic photo or movie. A not-to-be-missed instagrammable spot!
Awaji Island Best-Kept Secret No.2: Cape Myojin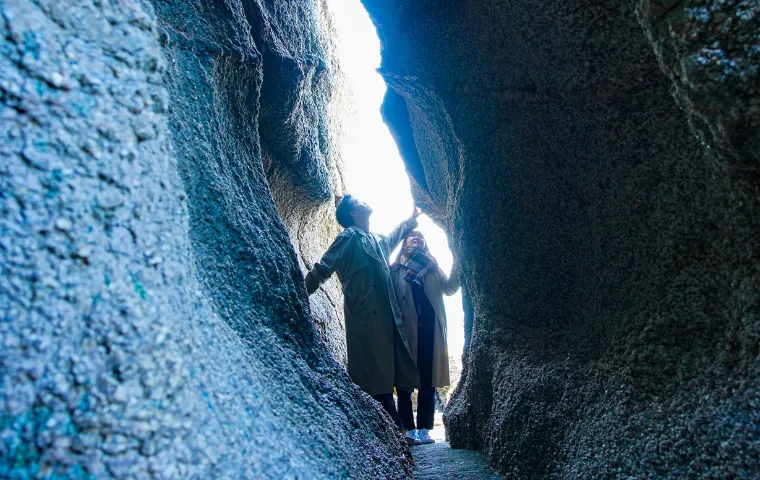 Cape Myojin is located in Myojin, Awaji City, northwest of Awaji Island. It is a power spot on the left as you drive north along the Sunset Line along the west coast of Awaji Island. Cape Myojin is home to Nishihama Daimyojin, a shrine founded in 888 AD and dedicated to two deities, Izanagi and Izanami. The first photo shows a path surrounded by rocks that are said to be a "place of rebirth" or "a place to return to the womb". If you visit when it is brightly lit, you can take some mystical pictures.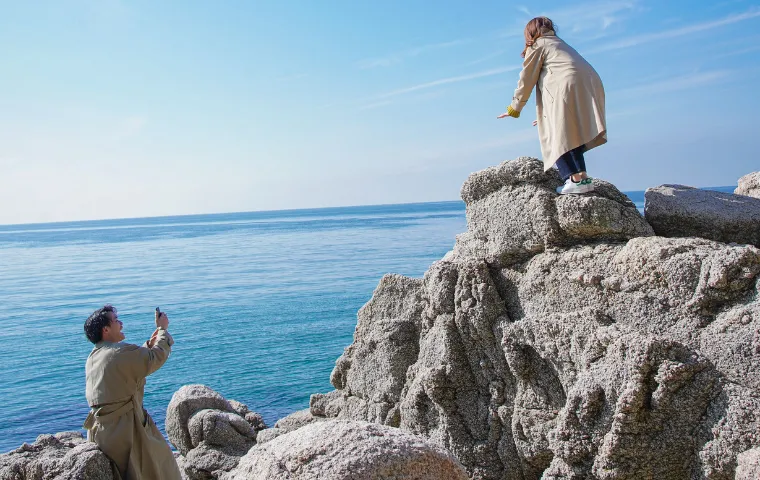 The path beyond is a rocky path. The footing is not so good, so wear comfortable sneakers. Enjoy the thrill of walking along the bumpy path to your destination! This is also a good place for couples to stop by.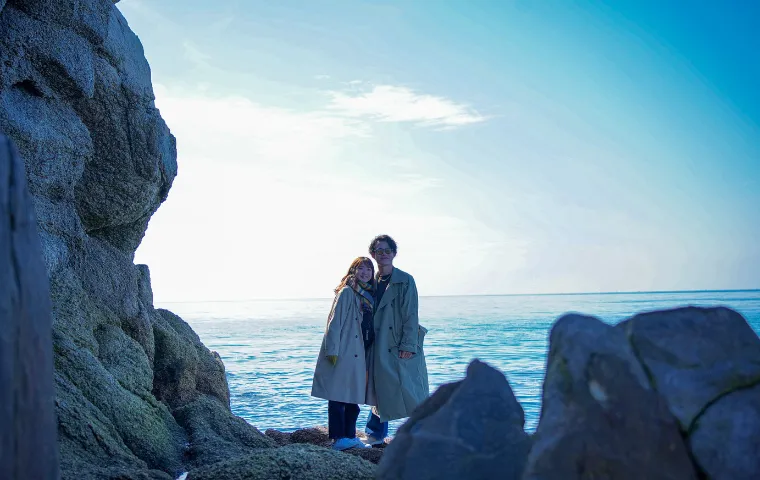 Proceeding to the far end, you will arrive at the open sea. You can enjoy taking commemorative photos with the lush and magnificent sea of Awaji Island in the background. After it rains, some areas can be slippery, so please be cautious and enjoy your visit.
Awaji Island Best-Kept Secret No. 3: Honpuku Temple, Mizumido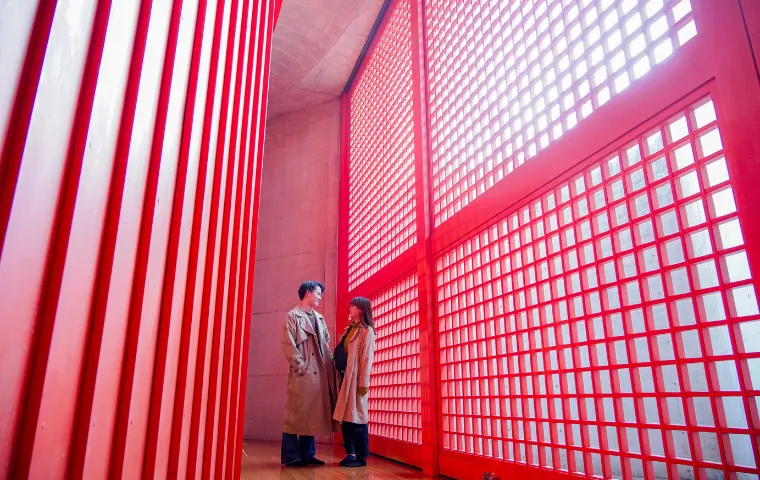 Mizumido of the Honpuku Temple has recently been featured frequently on Instagram and other media, and is rapidly gaining popularity. Mizumido, the main building of the temple was re-designed by Tadao Ando, a world-famous architect, in 1991. This ancient temple, which has been in existence since the later part of the Heian period (794-1192), offers an architectural experience that overturns the original image of a temple. Awaji Island is famous as a sightseeing spot for its many Tadao Ando architectures, including Awaji Yumebutai. The location of this historic temple is one of the attractions of this secluded spot, where you can enjoy the architecture and scenery in a quiet space. The balance of the red color and the latticework lit by natural light makes for a beautiful photo opportunity.
In summer, the pond on the roof of this underground temple becomes a lotus pond where lotus and water lilies bloom. The lotus, a symbol of Buddhism, is said to have influenced Tadao Ando's architectural design, as he saw it as the center of the building. Admission is 400 yen for adults and 200 yen for children (junior high school students and younger). Hours of operation are from 9:00 to 5:00 p.m.. It is best to visit when the sun is shining to enjoy the best of Mizumido.
Awaji Island Best-Kept Secret No. 4: Aigai Iwado Shinryu Shrine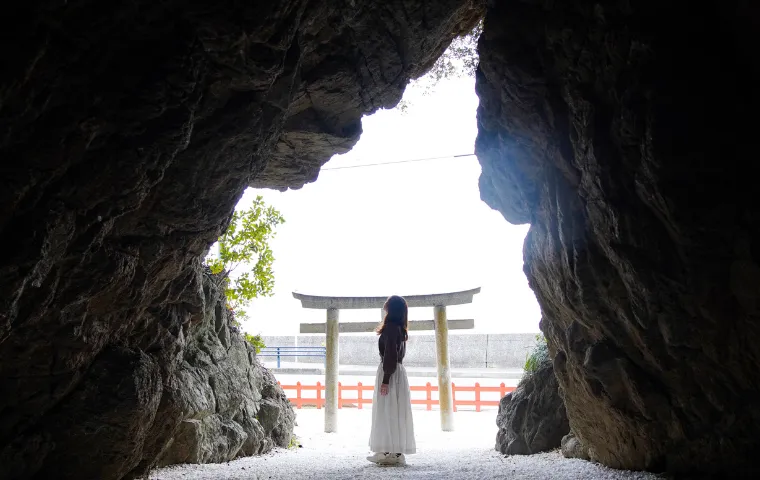 A little-known power spot on Awaji Island, located along the national highway, the Iwado Shrine, which was abandoned in 2021, was rebuilt as the Aigai Iwado Shinryu Shrine to worship the dragon. A "dragon legend" says that the dragon god still guards the small shrine, believing that the little god will return to the shrine. The cave is a mysterious place with a splendid shrine, lit by lanterns with dragons painted on them, and sunlight shining through the cave. Looking back, the shape of the cave entrance is reminiscent of Awaji Island, which has become the talk of the town, making it a popular photo-op spot. There is no entrance fee and free parking is available nearby, so it is a sightseeing spot that can be easily visited on Awaji Island.
Closing
Did you find any new spots on Awaji Island that you have not visited yet? As one of the leading resort areas in the Kansai region, you can enjoy many new tourist spots, but there are also some hidden tourist spots where the good old nature and buildings of Awaji Island are in harmony with each other. No matter how many times you come to Awaji Island, you will always find new places to visit. Why don't you take a drive, stroll around and discover your own favorite spots?