Awaji Island boasts a harmonious blend of breathtaking natural beauty, rich historical heritage, and delectable culinary treasures. Yet, beyond these well-celebrated facets, lies a tapestry of captivating attractions that contribute to its allure. Embark on a journey with us as we delve into the realm of Awaji Island's remarkable theme parks, poised to elevate your travel experience to unparalleled heights.
Anime Theme Park Nijigen no Mori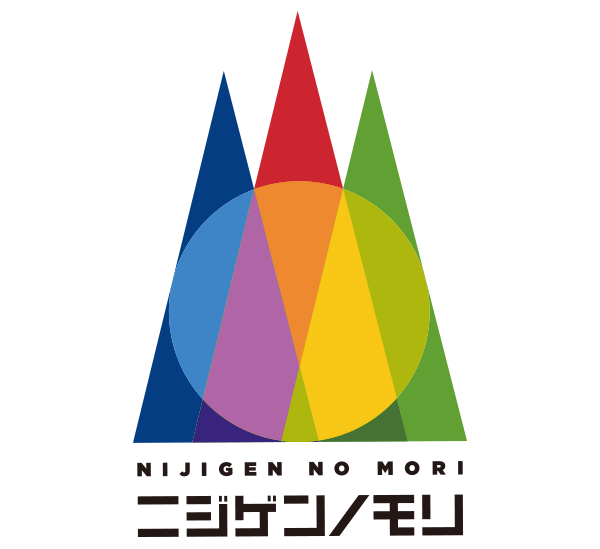 Nijigen no Mori is a popular entertainment complex known for its unique anime theme park, known for its groundbreaking anime attractions that masterfully engage all five senses in a captivating two-dimensional realm. The theme park features various immersive anime experiences and serves as a hub for anime enthusiasts and fans of Japanese pop culture. Nijigen no Mori provides attractions from popular franchises such as Naruto & Boruto, Dragon Quest, Godzilla, and many more which attract a diverse range of visitors, including domestic and international tourists.
This park is filled with anime-themed attractions. It is also a popular spot for both dog owners and picnickers. Three popular attractions at Nijigen no Mori are the captivating worlds of "Naruto & Boruto Shinobi-Zato", a reproduction of the beloved Dragon Quest World, and "Godzilla Interception Operation Awaji". You can unleash your inner shinobi as you challenge ninja-inspired attractions and immerse yourself in the action-packed park. Meanwhile, in the Dragon Quest World, experience a classic RPG adventure suitable for both long-time fans and newcomers, making it a fantastic experience for all.
Click here for our experience report for "Naruto & Boruto Shinobi-Zato" in Nijigen no Mori.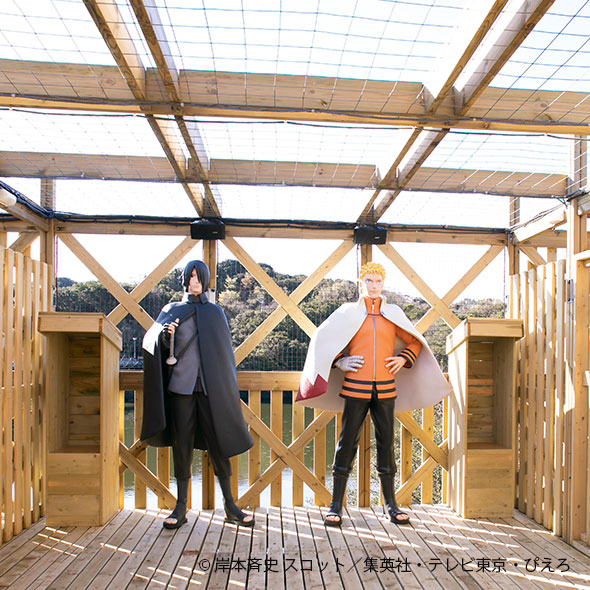 We have also made one for the Dragon Quest exploration quest.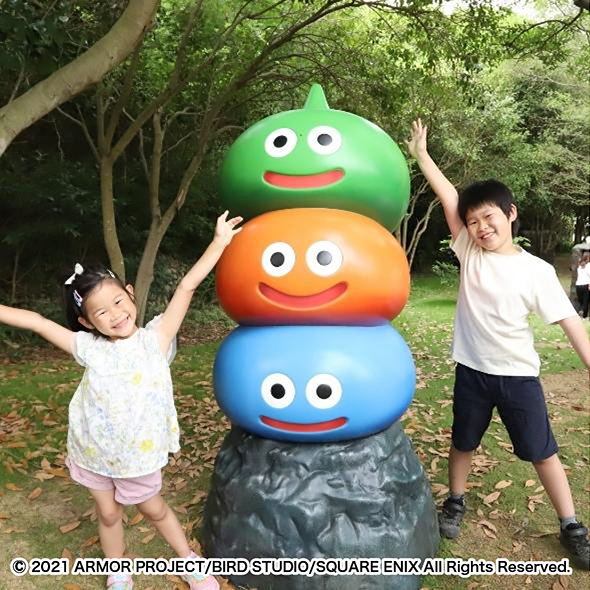 You might want to check an article about participating in the "Godzilla Interception Operation" in Nijigen no Mori.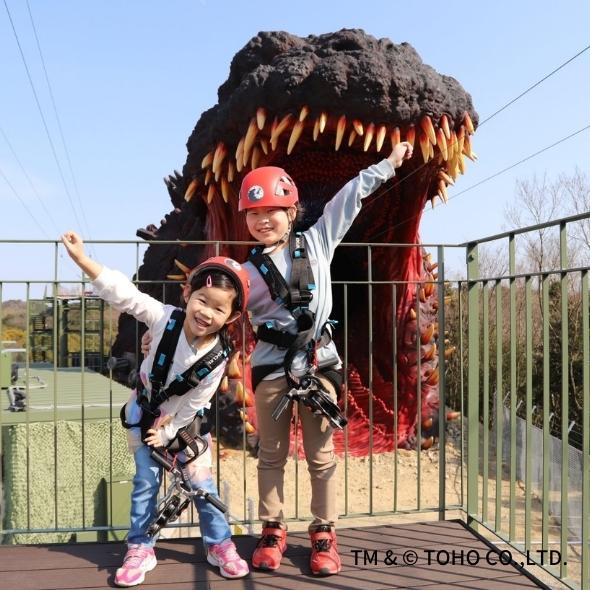 ©2020 Nijigennomori Inc. All Rights Reserved.
© 2021,2023 ARMOR PROJECT/BIRD STUDIO/SQUARE ENIX All Rights Reserved.
TM & © TOHO CO., LTD.
©岸本斉史 スコット/集英社・テレビ東京・ぴえろ
Click here for details of NIJIGEN NO MORI
Immersive Theater Restaurant HELLO KITTY SHOW BOX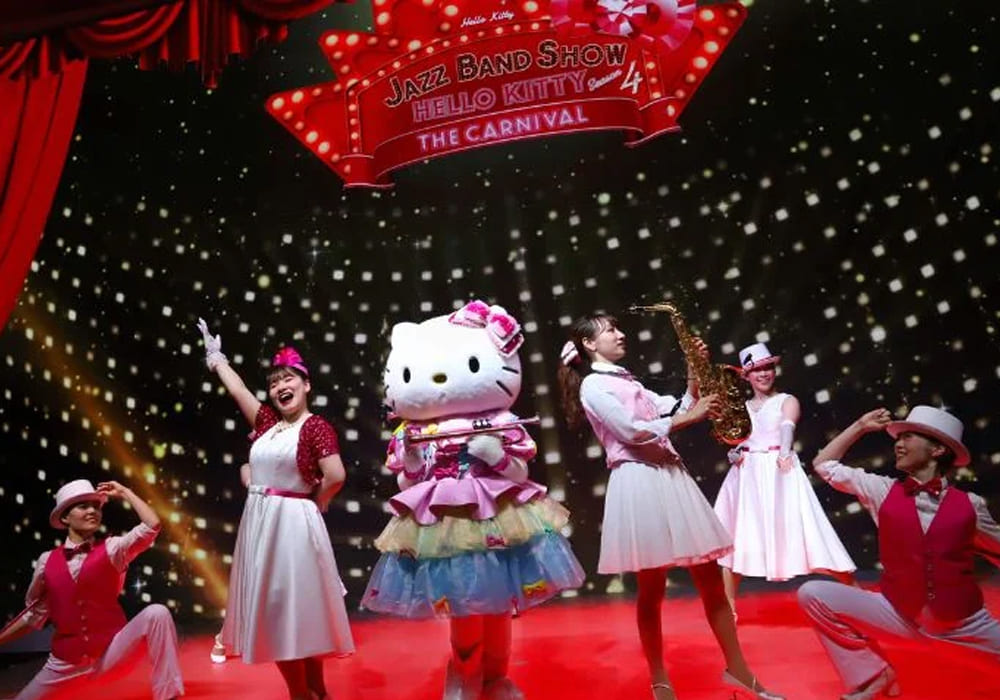 HELLO KITTY SHOW BOX holds the prestigious title of being recognized by Guinness World Records for having the "Largest roof in the shape of a brand character." The roof itself is a striking rendition of Hello Kitty's iconic face and holds a remarkable presence. Inside this facility, visitors can savor a delightful lunch accompanied by the lively tunes of a Hello Kitty jazz band show. Additionally, there is a café time show where you can enjoy a light meal/sweets and drink and even have a meet-and-greet with Hello Kitty herself.
The menu here is truly distinctive, featuring vegan dishes crafted entirely from plant-based ingredients, free from any animal products. Customers love it not only for its taste, which rivals their regular fare but also for its healthier and adorable presentation. If you are a Hello Kitty enthusiast, this spot is an absolute must-visit.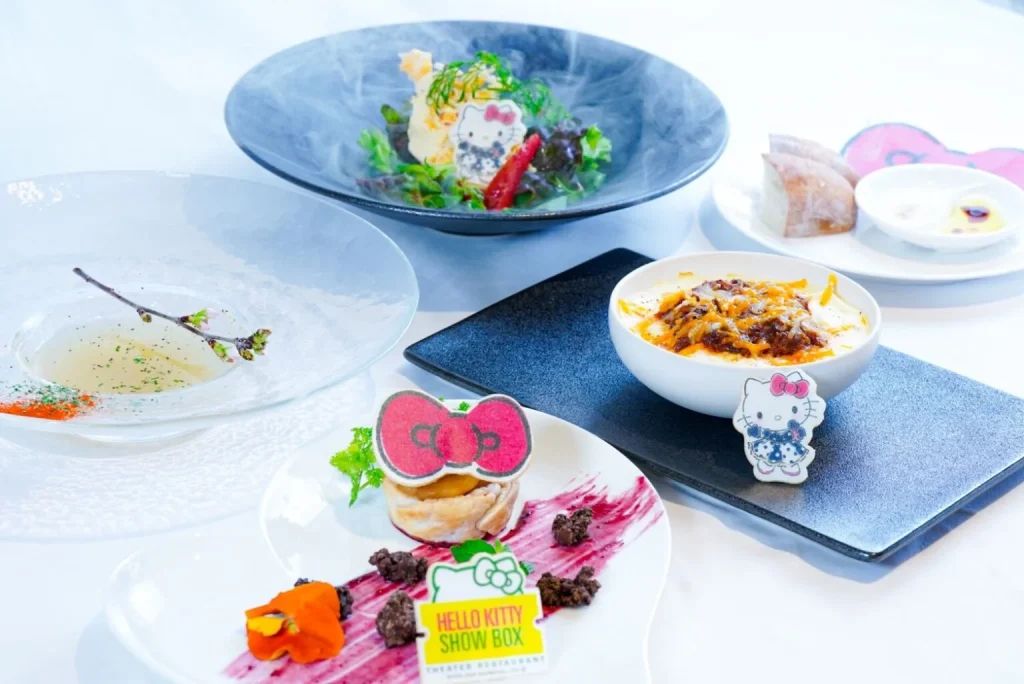 After your meal, you can indulge in some shopping at the store, where a variety of original and Sanrio character products are available. It is worth noting that the store is accessible to those who have purchased a ticket for admission to the HELLO KITTY APPLE HOUSE, ensuring a delightful shopping experience for all.
| | |
| --- | --- |
| Location | HELLO KITTY SHOW BOX |
| Address | 177-5 Nojimahirabayashi, Awaji City, Hyogo Pref. 656-1724 |
| Access | 10 minutes by car from Awaji IC and 15 minutes from Hokudan Interchange on Kobe-Awaji-Naruto Expressway. |
| Phone Number | 0799-70-9022 |
| Parking | Free parking available |
| Closed | Wednesdays |
| Operating Hours | 11:00-17:00 |
| Show Time | 12:10-13:30(Open at 11:00, Last In at 12:00) |
| Café and Greetings by HELLO KITTY | 14:00-17:00 Greeting at 14:30-/16:00- Café Show and Greetings by HELLO KITTY: 14:30~ / 16:00~ |
| Website | https://awajiresort.com/hellokittyshowbox/ |
| Reservations | https://www.tablecheck.com/en/shops/hellokittyshowbox/reserve |
Click here for details of HELLO KITTY SHOW BOX
The Iconic HELLO KITTY APPLE HOUSE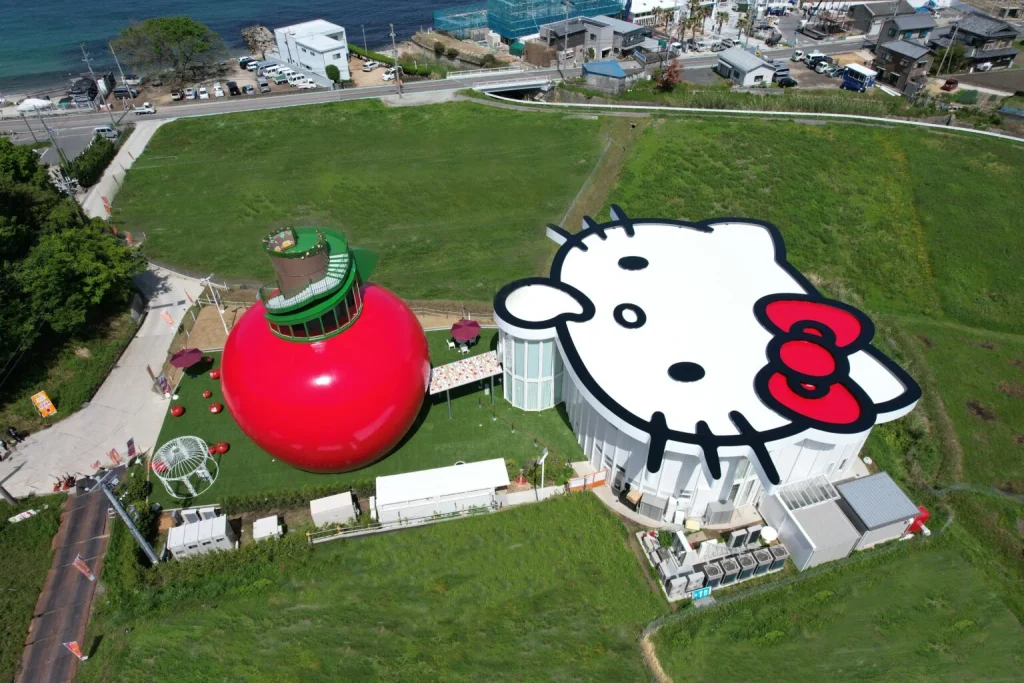 HELLO KITTY APPLE HOUSE also holds a distinguished Guinness World certification as the "Largest building in the shape of an apple." A beloved location for Hello Kitty enthusiasts, it provides a unique viewing point to admire the iconic Hello Kitty roof design of HELLO KITTY SHOW BOX from its observation deck. Within the facility, visitors can immerse themselves in a 360° projection mapping of Hello Kitty's enchanting dream world. For a comprehensive experience, there is even a set plan available in conjunction with the HELLO KITTY SHOW BOX, making it an all-encompassing theme park adventure.
Enter the Realm of Hello Kitty at HELLO KITTY SMILE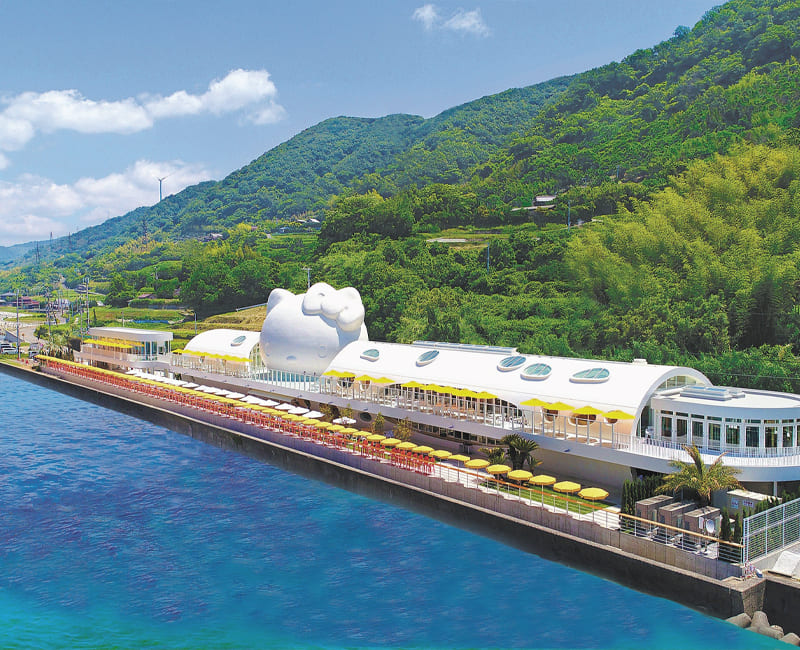 HELLO KITTY SMILE is a charming theme park nestled on Awaji Island, offering a delightful encounter with the beloved Hello Kitty. This complex seamlessly blends media art, delectable dining options, and captivating sea views of Awaji Island. The restaurant within the complex boasts a diverse culinary selection, ranging from authentic Chinese cuisine to flavorful one-pot courses, all crafted using abundant Awaji Island ingredients. A special menu caters to children's palates as well.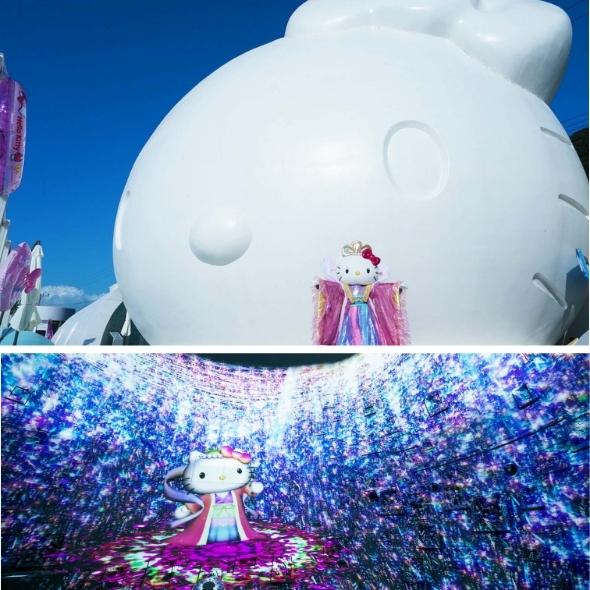 HELLO KITTY SMILE presents an enchanting opportunity to engage in a mesmerizing display influenced by the legendary "Palace of the Dragon Princess," an iconic element of the famed Japanese folk tale "Urashima Taro". You can immerse yourself in a captivating 5-minute projection mapping as Hello Kitty serves as your guide, leading you through the intricacies of the Palace. This exceptional attraction encompasses a range of zones, such as a charming photo spot embellished with Hello Kitty motifs, and an interactive visual element that responds to touch.
Click here for details of HELLO KITTY SMILE
©'23 SANRIO CO., LTD. APPR. NO. L630788
Family-Friendly Adventures Abound on Awaji Island!
We have showcased a range of theme parks suitable for both kids and adults. Have you come across a park that intrigues you? These parks offer engaging events year-round, making them an ideal addition to your vacation plans on Awaji Island. Why wait any longer? Embark on an unforgettable journey to Awaji Island now!