Dogs get a warm welcome at these fantastic sightseeing spots. Awaji Island is an ideal summer travel destination to bring your four-legged companion. The largest island in the Seto Sea is easily accessible from anywhere in the Kansai region with pets welcome at many of the area's attractions. From pet-friendly hotels to restaurants, cafes and parks perfect for pooches, here are some of the best places to make marvelous memories on a summer sojourn with your furry friends.
Pet-Friendly Hotels in Awaji Island
Check out these places to stay on an Awaji Island getaway with Fido.
GRAND CHARIOT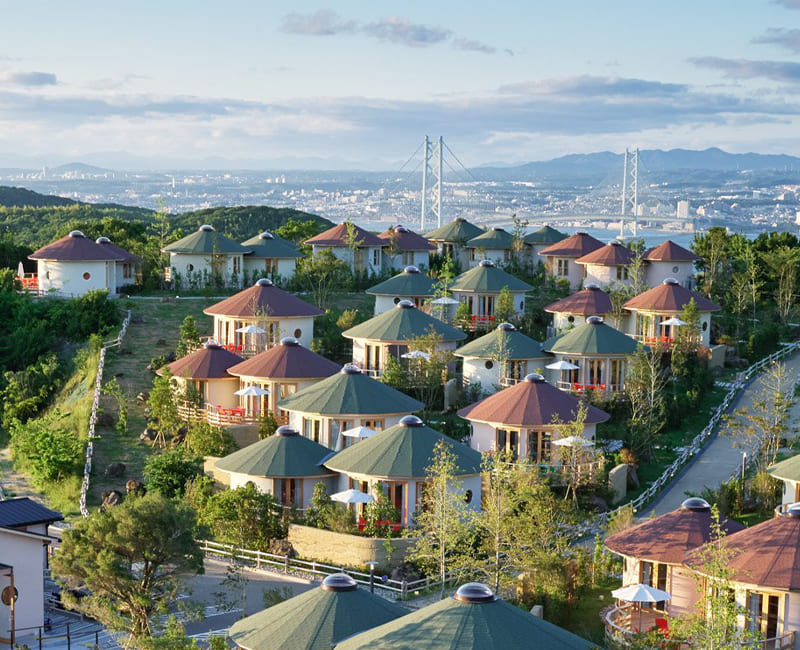 Experience the glamor of glamping at GRAND CHARIOT Hokutoshichisei 135° in Hyogo's Anime Park on Awaji Island, Nijigen no Mori.
Only 7 establishments in Hyogo Prefecture achieved the prestigious designation of PLATINUM HOTEL, top-quality accommodation (Rakuten Travel), an honor bestowed on just 137 out of 55,000 lodging facilities in Japan in February 2022.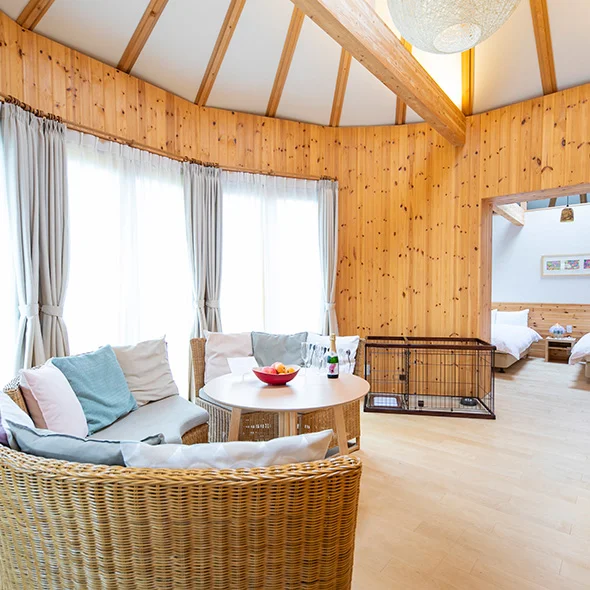 Step inside the cocoon-like space and gaze at starry skies through the 5m high skylight that transforms the room into a natural planetarium. In the morning, be illuminated by the first light of dawn to rise and shine in the cradle of mother nature. All rooms have baths made of cypress with an aroma that soothes mind and soul.
At GRAND CHARIOT Hokutoshichisei 135° rooms are available to stay with your pet, and even enjoy a meal together in the room.
Just steps away, is a large lawn and the theme park Nijigen no Mori which, along with GRAND CHARIOT, are inside Hyogo Prefectural Awajishima Park. The ideal place for a stroll.
This luxury glamping facility was selected by Rakuten Travel as a "Top Quality Place to Stay Once in Your Life". The separated rooms known as cocoons offer complete privacy. Early reservations are recommended for special anime-themed rooms and pet-friendly rooms.
Click here for details of GRAND CHARIOT
Pet-friendly Restaurants and Cafes Ideal for the Summer
Enjoy all of these restaurants and cafes on Awaji Island to enjoy with your pet this summer vacation.
Cafe Scuola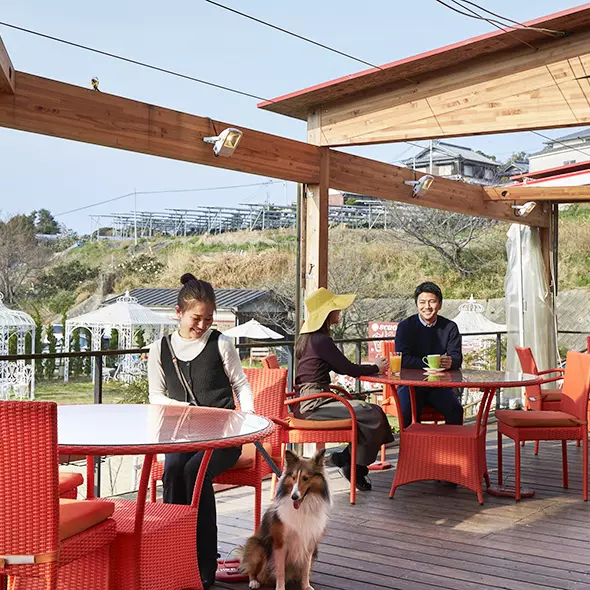 Nojima Scuola is a facility renovated from a former elementary school. Feel the pleasant breeze dining with your pet on the terrace.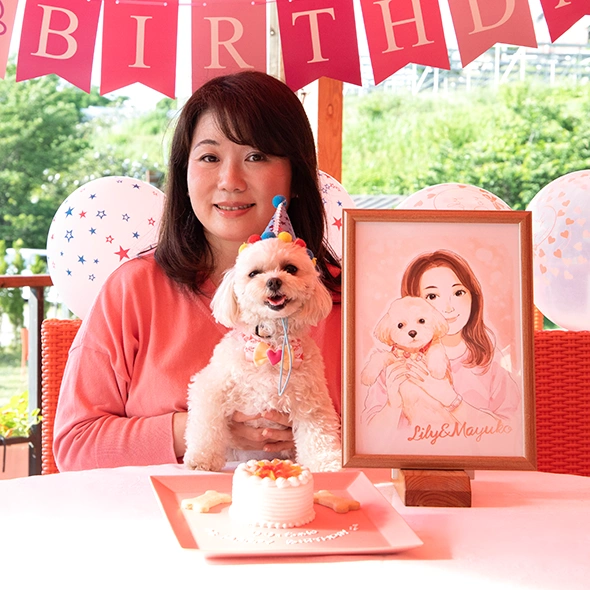 The dog menu has a wealth of choices, packed with nutrition. Order the size that's just right for your dog. What's more, the Pretty Pooch Anniversary Set comes with not only a special cake for canine companions but also includes services such as portrait illustrations and rental photo goods for the best pic ever.
Name
Nojima Scuola
Adress
843 Nojimahikinoura, Awaji City, Hyogo Pref. 656-1721
Website
https://www.nojima-scuola.com/
Reservations
2F Ristorante Scuola
https://www.tablecheck.com/en/shops/nojima-scuola/reserve
Tel
0799-82-1820
Operation Hours
1F Marché /Bakery: Weekdays 10:30~19:00
Sat., Sun., & Public Holidays 10:00~19:00

1F Café Scuola: Weekdays Lunch 11:00~14:00/ café 14:00~18:00
Sat., Sun., & Public Holidays breakfast 10:00~11:00
Lunch 11:00~15:00
Café 15:00~18:00

2F Ristorante Scuola: 11:30~15:30 (in by 14:00) / 18:00~21:30 (in by 19:30)

Outdoor Zoo: Weekdays 11:00~16:00
Sat., Sun. & Public Holidays 10:00~16:00 (13:00~14:00 animals in recess)

Closed: Wednesdays (Open on Public Holidays)
Click here for details of Nojima Scuola
CRAFT CIRCUS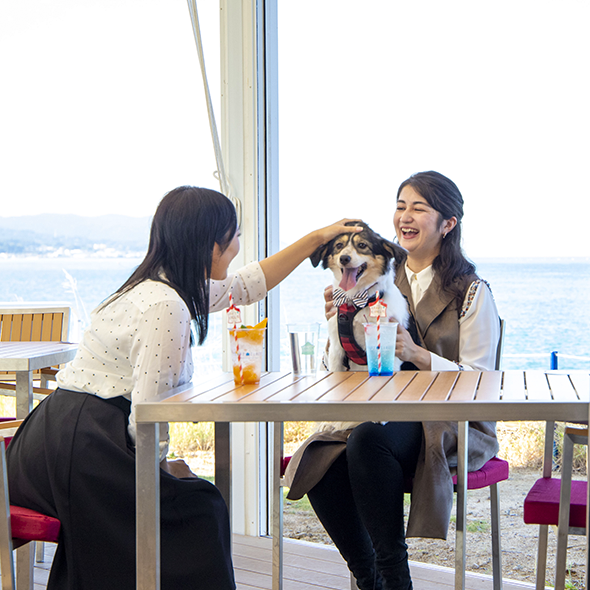 Stop by CRAFT CIRCUS Seaside Restaurant & Market for some shopping and dining, with a view ranked among the country's top 100 sunsets. At Dog Terrace, enjoy an ocean view alongside your trusty companion. The indoor space is ideal as a haven from the heat of summer vacation.
The "Dog-chan dish" menu for dogs has cute bone-shaped island pizza and Wan-burgers made of Awaji chicken. Let your furry friend run free in the dog run and snap some super selfies against this beautiful backdrop. Have a day to remember ever more with your dog at CRAFT CIRCUS.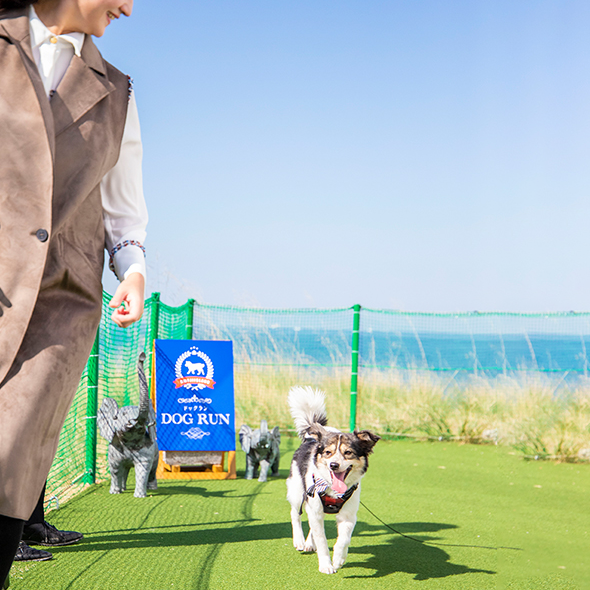 Drop by anytime for a barbecue of fresh seafood on the open terrace, no preparation needed. The whole family is bound to find something scrumptious here, from pasta to pizza. At your leisure, browse the market of fresh, local vegetables and souvenirs.
Location
CRAFT CIRCUS
Address
2-2 Nojima-Hirabayashi, Awaji City, Hyogo Pref. 656-1724
Access
15 minutes by car from Awaji IC on Awaji-Kobe-Naruto Expressway. 10 minutes by car from Iwaya Port (Jenova Line Ferry).
Parking
80 spaces
Business Hours
Weekdays: 10:30-20:30 (last order 19:30)
Weekends/Holidays: 9:30-20:30 (last order 19:30)
Closed
Thursdays (excluding national holidays)
Tel
0799-82-1855
Website
https://awajicraftcircus.com/
Reservations
https://www.tablecheck.com/en/shops/craftcircus/reserve
Click here for details of CRAFT CIRCUS
miele the garden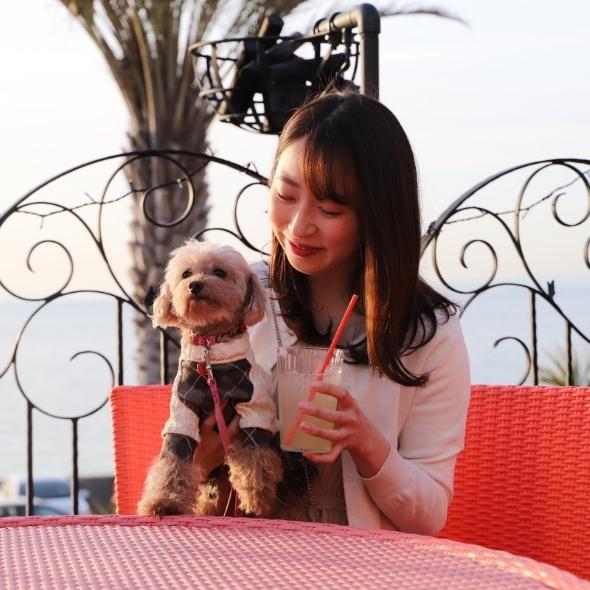 Enjoy serenity and relaxation with a spectacular ocean view at miele the Garden on Awaji Island, a café hideaway for sophisticated palates. Dine with your doggie on the lawn-covered floor of the dog terrace.
The Dog-chan Dish is a treat for dogs, featuring the ever popular Wan-burger made only with Awaji chicken and carrots with no artificial binders, along with tenderloin cuts of Awaji chicken.
During special events, rent a costume for your pet. There's no better photo-spot than this cafe to capture those precious memories of fun in the summer sun. Pet owners love to spend time with their dogs at the terrace seats. Enjoy lunch and dessert caressed by the sea breeze.
Click here for details of the miele the garden
Awaji Island's Newest Summer Vacation Destination is Also the Perfect Place to Bring Your Puppy
Awaji Chef Garden by PASONA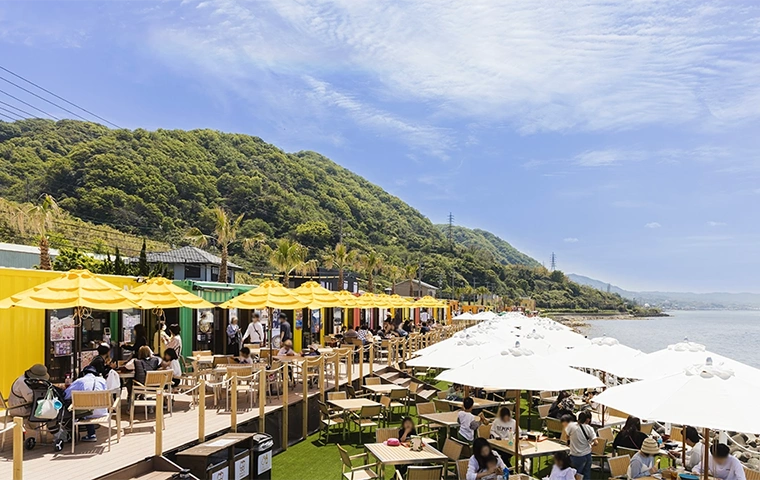 From all over the country, popular specialty shops of all kinds of cuisine come together at the outdoor resort dining area, Awaji Chef Garden by PASONA. Take one of the 600 terrace seats and enjoy exquisite gourmet dishes made with fresh local Awaji Island ingredients while gazing at the stunning scenery.
Terrace seats are also available for pets. Feel the resort atmosphere dining outdoors with the sea breeze. During the summer vacation season, the beautiful sunset is just in time for dinner, making memories to last a lifetime.
Name
Awai Chef's Garden by PASONA
Address
57-3, Nojima Okawa, Awaji Shi, Hyogo Ken, 656-1723
Parking
Approx. 140 units
Phone Number
080-8177-4501
Website
https://www.awaji-chefgarden.com/
Business Hours
11:00~21:00 (last order 20:00) 
*Subject to change depending on the season and weather.
Click here for details of Awaji Chef's Garden
Enjoy Your Summer Vacation With Your Pet on Awaji Island!
How does all that sound? Including Awaji Hanasajiki and Awaji Yumebutai, other pet-friendly facilities abound on Awaji Island. Bring the whole family to Awaji for a summer vacation everyone will love.