Healthy and Tasty Cuisine, One of the Attractions at the Zen Retreat, Zenbo Seinei
Zenbo Seinai is situated on Awaji Island on the 135th meridian east where the mystical power dwells. You can refresh and rejuvenate yourself amid the vast nature of Awaji Island through a Zen wellness program.
A menu presented at the end of the Zen Wellness Program is a Zenbo Seinei original menu, specially created to cleanse inside your body. The menu doesn't use oil, daily products, flour, and animal originated products.
Regarding seasonings, Zenbo Seinei obtains miso, soy sauce, and mirin, which are fermented from one to three years continuously. directly from the brewery. This type of seasonings is expensive and not available in regular markets. The menu is presented on a tray and you can sit anywhere you like to enjoy it.
Yamano Megumi Chirashi-zushi (vinegared rice with assorted vegetables from the mountains)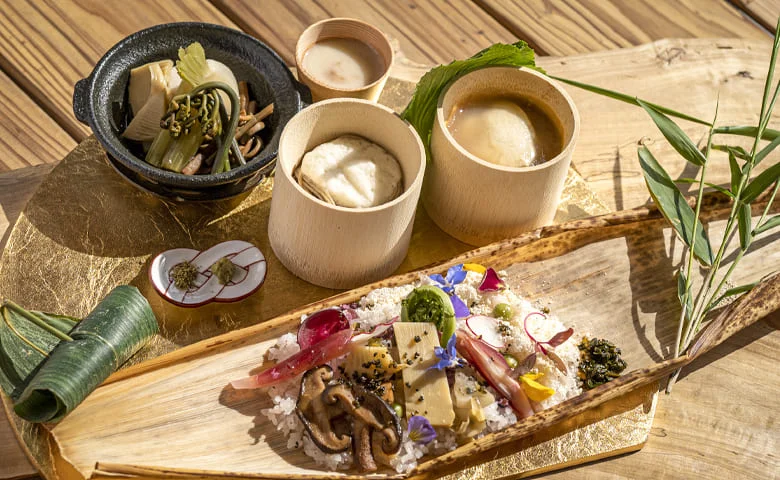 Chirashi-zushi uses amazake (sweet sake) made form black rice, instead of sugar, in addition to red vinegar. A half of this sushi is made with rice and another half with konjac (an underground plant that mainly grows in Asia. It has a lot of fibers).
Yamakake Konjac Soba (Grated yam on noodles made with konjac)
Porcini was marinated in a soup stock made with kombu to add a rich taste to the soup stock.
A soup stock is a very important base of Japanese cuisine and a great attention is paid to how it is made.
Skewed Tofu
A starchy sauce created with a soup stock that was made with mushroom and dried maitake mushroom in addition to kombu is poured over tofu.
Stewed Vegetables
Each vegetable is pre-cooked in a various way that best fits its characteristics and lastly seasoned together with a kombu soup stock.
Zenbo Original Amazake (Sweet Sake)
Amazake made by Zenbo should be enjoyed at the end of meal to help your digestion. With an addition of kiwi, it is delectable.
Japanese Sweets
Sweets that use seasonal ingredients, matching with events/festival specific for a month are served to symbolize that month and season.
Zen Tea Ceremony
Zenbo Seinei Wellness program includes a tea ceremony. You are welcome to make your own maccha green tea and savor it with a Japanese sweet. This is to bring mindfulness to you. If you a first timer for a tea ceremony, our staff will be happy to teach you.