Believe it or not, there are several places in the seaside resort of Awaji Island where you can enjoy illuminations. With the arrival of the Christmas season, the illuminations look even more beautiful against the clear air. We will introduce spots where you can appreciate illuminations from the twilight till night: From the famous sunset spot on Awaji Island to the spots where you can enjoy the illuminations after sunset and finally the spots where you can savor delicious dinner.
Illumination Spot with Your Loved One
Auberge "French Forest"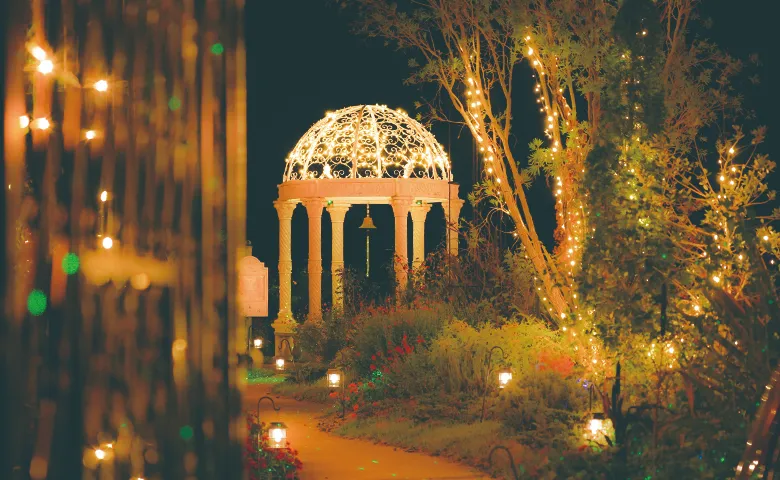 The Auberge "French Forest," where three French restaurants are lined up, is also illuminated. As you climb the mountain road known as the "Kuni-umi Road," the surroundings are pitch dark, but suddenly, the illuminated area appears, and cheers of joy erupt. It has a fairytale-like atmosphere, with warm and charming illuminations. In the courtyard, there is even a carriage, making it a great spot for taking photos. Making a dinner reservation and surprising your loved one with a visit would be a wonderful idea. Your partner will be sure to be deeply moved. At the back of the "French Forest", there is a bell that has become a lover's sanctuary. Enjoy the illumination surrounded by the grandeur of nature.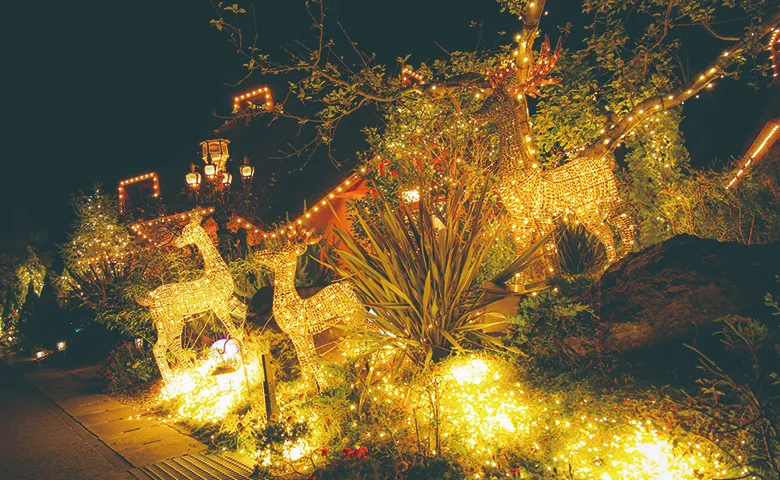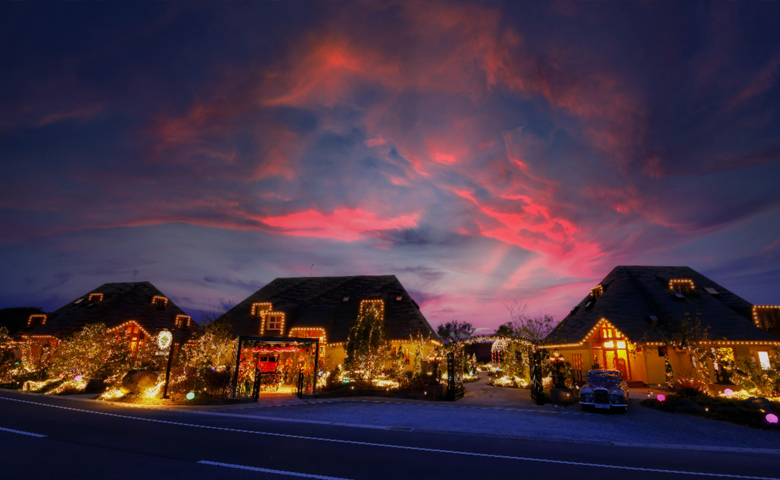 Different chefs in each of the three buildings offer full-course meals with different concepts. The French cuisine made with fresh ingredients from Awaji Island is unique and a nice surprise even to those French cuisine connoisseurs. This is an overnight auberge with complete privacy.
Click here for details of Auberge "French Forest"
New Illumination Spots on Awaji Island
Ladybird Road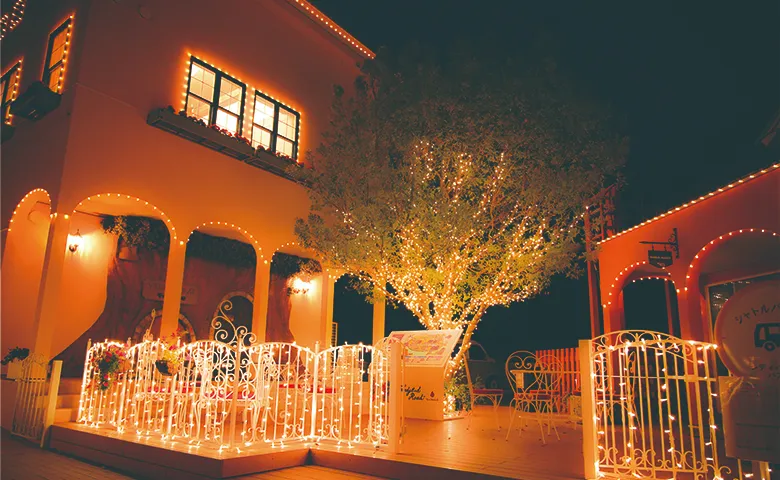 The new gourmet spot in Awaji Island, "Ladybird Road," is a standout illumination spot, especially when passing through the Sunset Line. At night, the warm-colored lights create a stylish and cozy atmosphere. The buildings, reminiscent of European architecture, are adorned with decorative lighting, and the symbol tree in the center of the facility is a popular photo spot. After enjoying the magnificent sunset views on the western coast of Awaji Island during dinner, be sure to delight in the sparkling illuminations that complement the experience.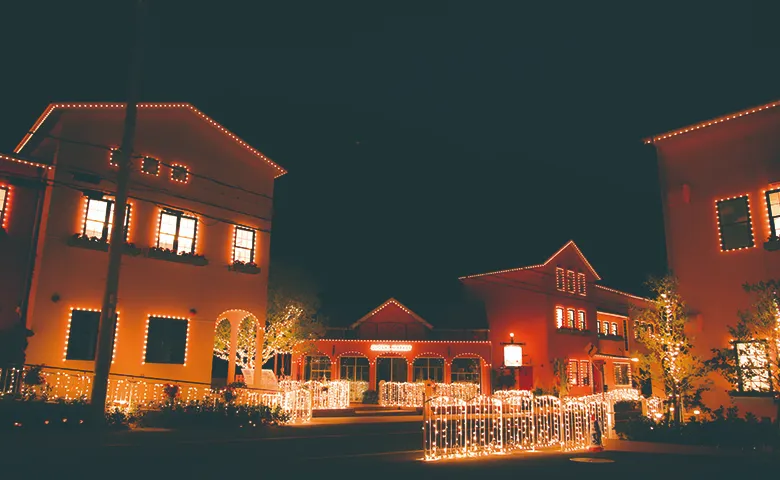 | | |
| --- | --- |
| Name | Ladybird Road |
| Address | 95-2, Nojima Todoroki, Awaji Shi, Hyogo Ken, 656-1722 |
| Parking lot | 86 cars *Temporary parking is available nearby. |
| Operation Hours | Varies from store to store. |
| Tel | 0799-64-7530 |
Awaji Chef Garden by PASONA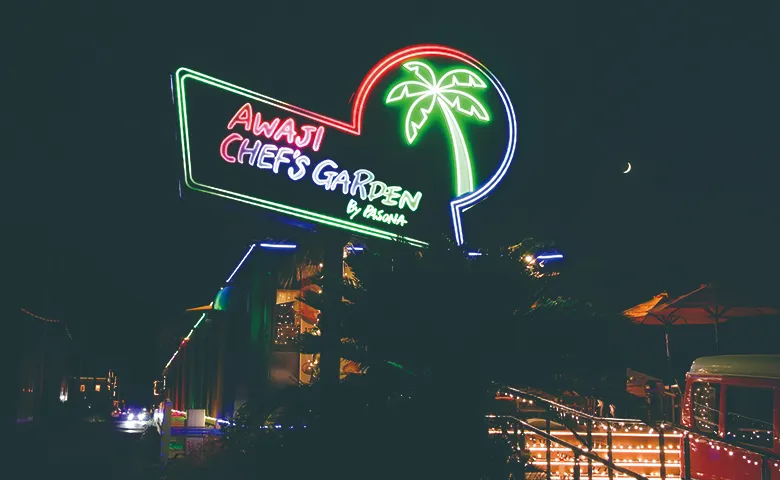 Standing right at the landscape selected as one of Japan's "Top 100 Sunset," the impressive and popular gourmet spot, Awaji Chef Garden by PASONA, is lined with colorful containers. As night falls, colorful neon signs illuminate, creating a resort-like atmosphere. From the entrance, please proceed to the terrace.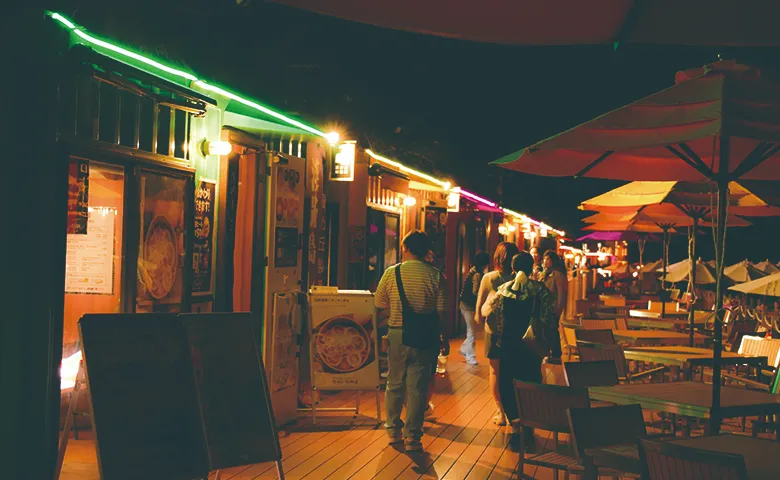 The colorful containers also light up according to their colors, creating a stylish evening atmosphere that is different from the daytime landscape, resembling a lively downtown area. Enjoy your meal while listening to the sound of the waves and feeling the cool sea breeze.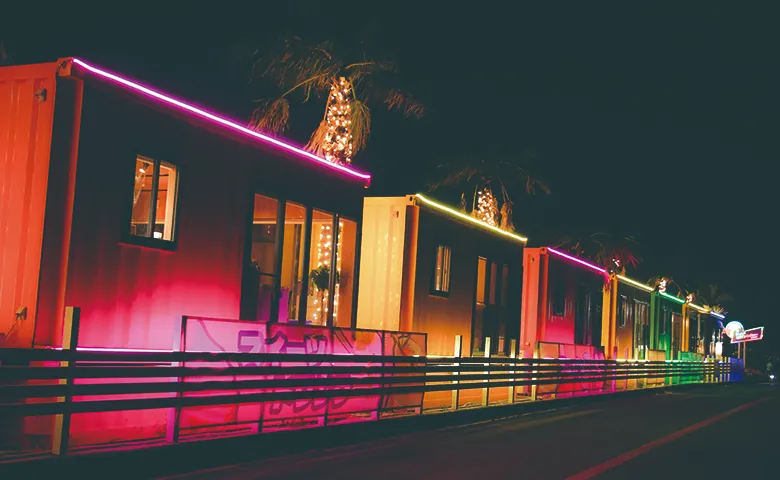 Name
Awai Chef's Garden by PASONA
Address
57-3, Nojima Okawa, Awaji Shi, Hyogo Ken, 656-1723
Parking
Approx. 140 units
Phone Number
080-8177-4501
Website
https://www.awaji-chefgarden.com/
Business Hours
11:00~21:00 (last order 20:00) 
*Subject to change depending on the season and weather.
Click here for details of Awaji Chef's Garden
The Longest Illumination in Japan
The standard illumination is held on weekdays from sunset to 11:00 PM and on weekends and holidays until midnight. There are a total of 31 illumination patterns. The lighting effects vary seasonally, making it a beautiful and ever-changing bridge to behold.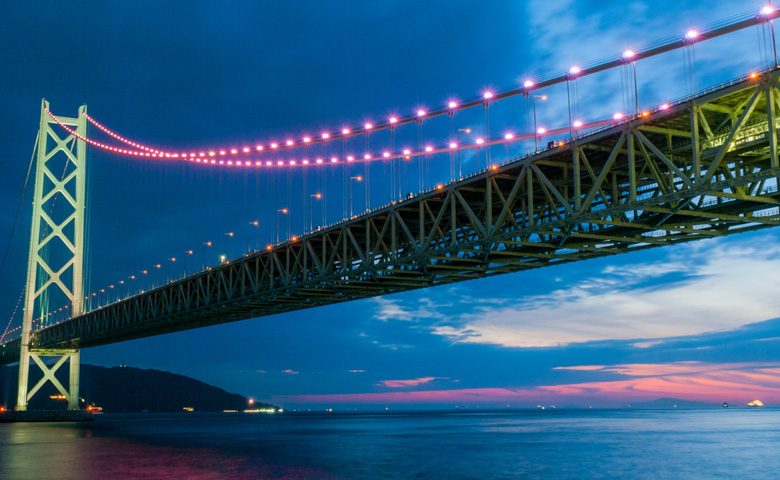 Christmas: December 19th to 25th
Illumination with a special Christmas program.
New Year's Eve and New Year's Day: December 31st to January 1st (illuminated until sunrise)
From 11:30 PM on New Year's Eve, a countdown program to welcome the new year is to be displayed.
Every hour on the hour, there is a 5-minute illumination in a rainbow pattern to announce the time.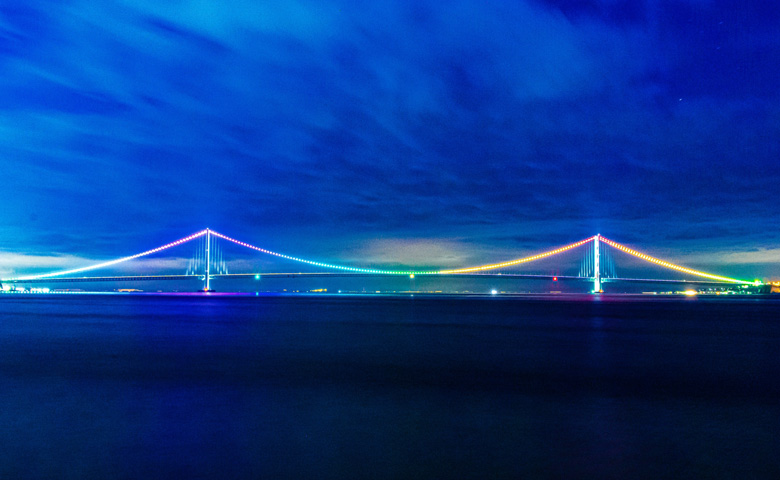 On Awaji Island, there are less city lights than in a metropolitan area, making an illumination on and against Awaji Island even brighter. This makes an illumination around Awaji Island more special.
Indoor Illumination on Awaji Island
Hyogo Prefectural Awaji Yumebutai Park: AWAJI GREENHOUSE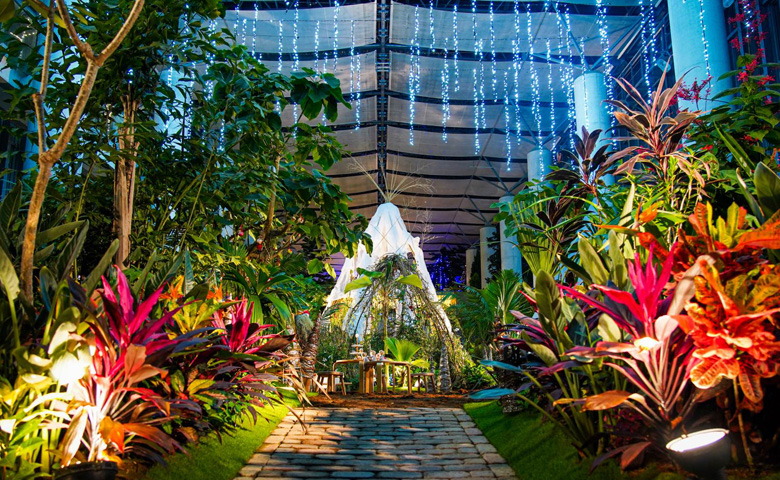 Awaji Greenhouse is a large indoor botanical garden located next to Awaji Yumebutai.
The Winter Garden is currently open. From November 18, 2023, to January 14, 2024, illuminated plants will be showcased in the vast space. The garden features a grand-scale hall with a captivating design, and from dusk onwards, there are beautifully lit spots perfect for photos.
It's a hidden gem for a romantic date spot. This space, characterized by the extensive use of concrete, a trademark of Tadao Ando's architecture, is filled with vibrant plants, creating a fantastical atmosphere under the warm, illuminated lights amidst the fresh air teeming with greenery.