Embrace the summer vibes on Awaji Island! Conveniently reachable from the Kansai area, Awaji is the perfect destination for 1-day family getaways and thrilling outdoor activities! The island boasts crystal-clear waters and enchanting beaches to explore. Whether seeking a fun-filled family outing or seaside adventures, Awaji Island has it all. Here are some of this lovely locale's most beloved beaches.
1. Iwaya Beach
Just a 5-minute drive from Awaji IC, the northernmost beach on Awaji Island offers breathtaking views of the Akashi Kaikyo Bridge. An easy 1-hour journey from Osaka and only 30 minutes drive from Sannomiya, families with children can make the most of a fun-filled day at the sea. Picture yourself swimming in the ocean with a magnificent view of the Akashi Kaikyo Bridge. Beyond the beach are a ton of other attractions including the nearby Iwaya Hot Springs and Rest Stop Awaji (Michi-no-Eki Awaji) for a day of swimming, shopping, dining and relaxation.
Parking: 50 cars (free/temporary parking)
2. Ura Kenmin Sun Beach (Higashiura)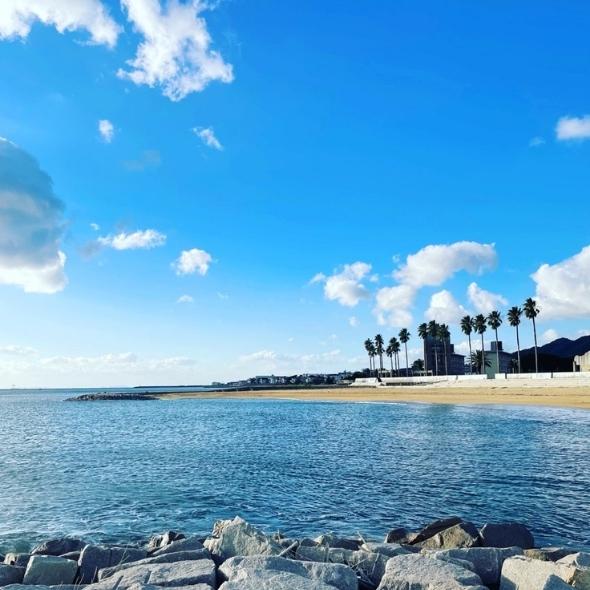 A 5-minute drive from Higashiura IC, this beach is easy to reach for travelers with or without a vehicle, being just steps from Higashiura Bus Terminal, with direct bus lines from JR Sannomiya Station or Maiko Station. Renowned for pristine water quality, the beach has earned its place among Japan's top 88 best beaches. Well-equipped with lockers and showers, families with children can spend a comfortable, delightful day by the bay.
Parking: 500 yen (one day)
Shower: 200 yen (per person)
From Sea to Farm: Head to Haru San San after Ura Kenmin Sun Beach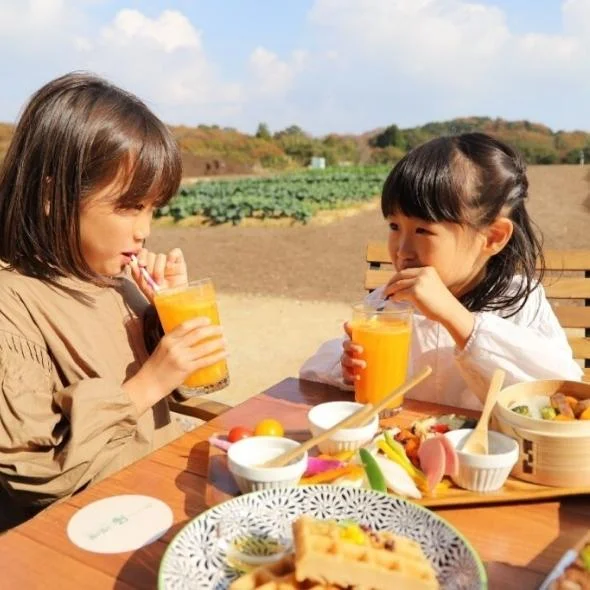 Enjoy delightful culinary experiences at Haru San San just 13 minutes drive up route 460 from Ura Kenmin Sun Beach. Taste some of the finest produce on the island, freshly picked sometimes just minutes ago, straight from the cultivated field that surrounds the restaurant. People of all ages will find something to savor in the diverse menu that includes a special kids' plate, "vegetable beef curry," and the unique "field tiramisu" served in a shovel-shaped bowl.
The restaurant's charm extends beyond its delectable dishes. The picturesque view of the sprawling field blends with the thatched-roof, eco-friendly building designed with sustainable materials by the renowned architect Shigeru Ban.
Click here for details of Haru San San
3. Taganohama Beach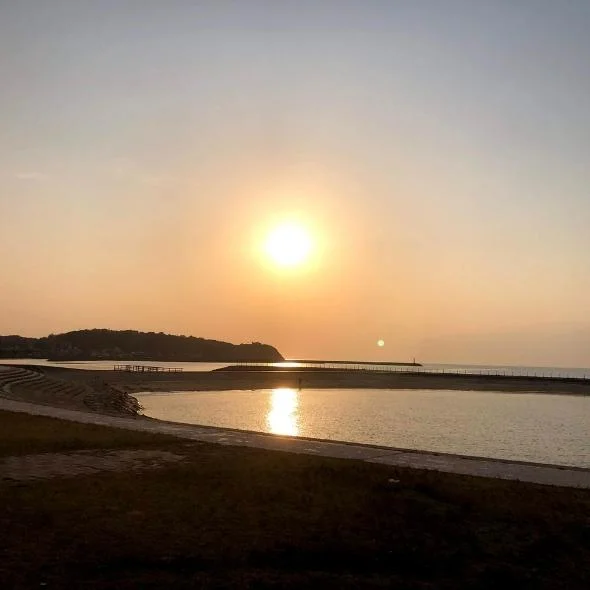 Taganohama Beach Just a 15-minute drive from the Tsuna Ichinomiya IC, is a perfect spot for family fun. Thoughtfully designed beach blocks calm the waves of the Seto Sea, providing a peaceful place for children to play. Free change-rooms and showers are available along the 1.5 km length of Awaji's 2nd largest beach. Additionally, well-equipped shops along the shore offer parasols for rent and playground equipment to ensure that everyone has a blast on the beach.
Changing rooms: free of charge
Showers: Free
Parking: 250 cars (500 yen/day, free during off-season)
Recommended Destination After playing at Taganohama Beach: Nojima Scuola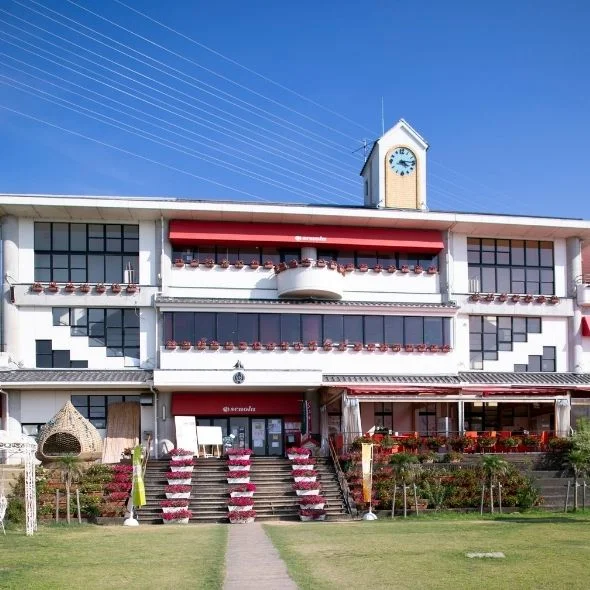 A 23-minute drive north of the beach on Prefectural Route 31, the unique complex of Nojima Scuola boasts stunning ocean views. On the first floor, you will find "Cafe Scuola", renowned for its delectable dishes using Awaji Island vegetables, and "Nojima Bakery" a local favorite that sells freshly baked bread. The complex also houses a variety of establishments, including a fresh market, a café, an authentic Italian restaurant, and a charming BBQ terrace. Step outside to "Nojima Zoo", where adorable fluffy animals, including the alpaca, await to bring joy to visitors.
Name
Nojima Scuola
Adress
843 Nojimahikinoura, Awaji City, Hyogo Pref. 656-1721
Website
https://www.nojima-scuola.com/
Reservations
2F Ristorante Scuola
https://www.tablecheck.com/en/shops/nojima-scuola/reserve
Tel
0799-82-1820
Operation Hours
1F Marché /Bakery: Weekdays 10:30~19:00
Sat., Sun., & Public Holidays 10:00~19:00

1F Café Scuola: Weekdays Lunch 11:00~14:00/ café 14:00~18:00
Sat., Sun., & Public Holidays breakfast 10:00~11:00
Lunch 11:00~15:00
Café 15:00~18:00

2F Ristorante Scuola: 11:30~15:30 (in by 14:00) / 18:00~21:30 (in by 19:30)

Outdoor Zoo: Weekdays 11:00~16:00
Sat., Sun. & Public Holidays 10:00~16:00 (13:00~14:00 animals in recess)

Closed: Wednesdays (Open on Public Holidays)
Click here for details of Nojima Scuola
4. Keino-matsubara Beach (Minami Awaji)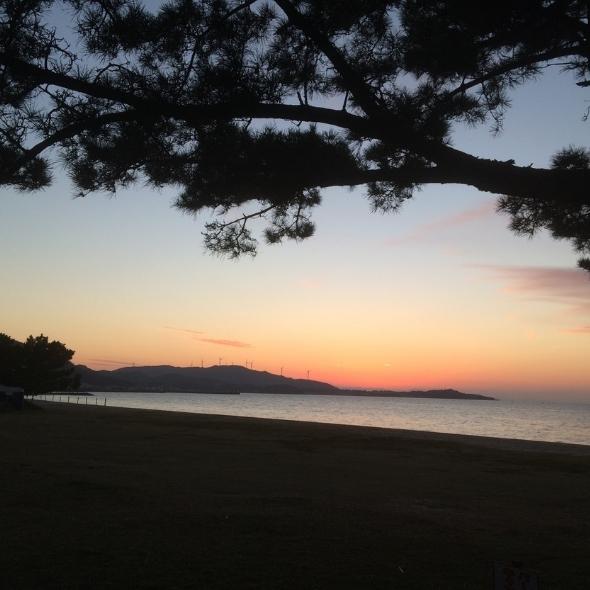 Just a short 7-minute drive from the Seitan-Mihara IC, this beach is highly recommended for those visiting Minami Awaji or planning an overnight stay on Awaji Island. As the largest sea on Awaji Island, its beauty has earned prestigious designations such as one of the "100 best beaches in Japan", "100 best bathing beaches (special selection)", and "100 best sunsets in Japan".
Keino-matsubara Beach offers a range of amenities and activities to ensure a memorable experience. At the nearby campground, you can rent beach tents, rear cars, and barbecue equipment, allowing you to enjoy a delightful beachside barbecue. Do not miss out on mesmerizing fireworks displays every year at the end of June for a better experience.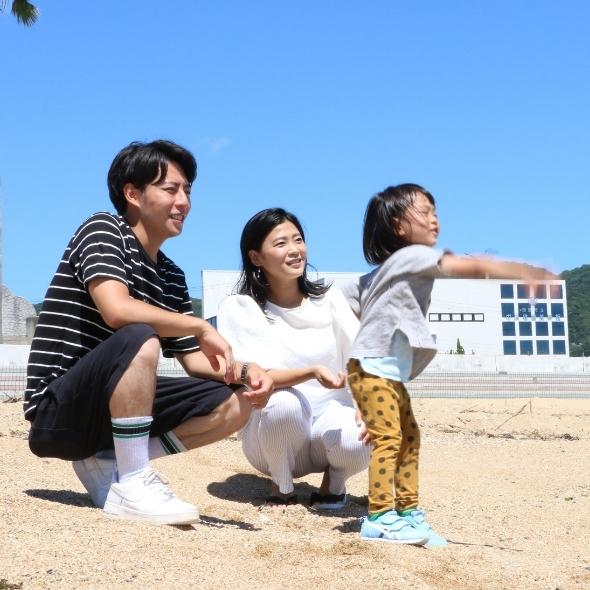 Shower (hot water): 300 yen/3 minutes (also used as changing rooms)
Parking lot: 700 cars (700 yen/day)
5. Ohama Beach (Sumoto City)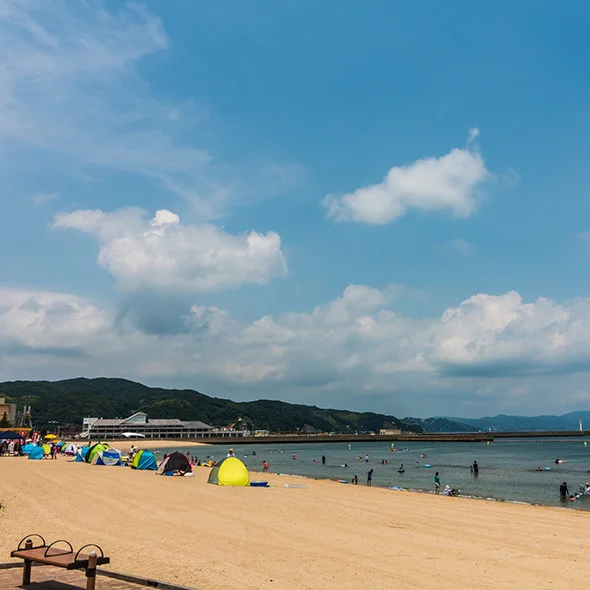 Located just a 14-minute drive east from the Sumoto IC, Ohama Beach is recommended for children on Awaji Island. With its shallow waters extending 750m from north to south, it is the top choice among families. The picturesque landscape of white sand and green pine trees is truly mesmerizing. Moreover, the water's clarity is exceptional, meeting the highest rank (AA) set by the Ministry of the Environment.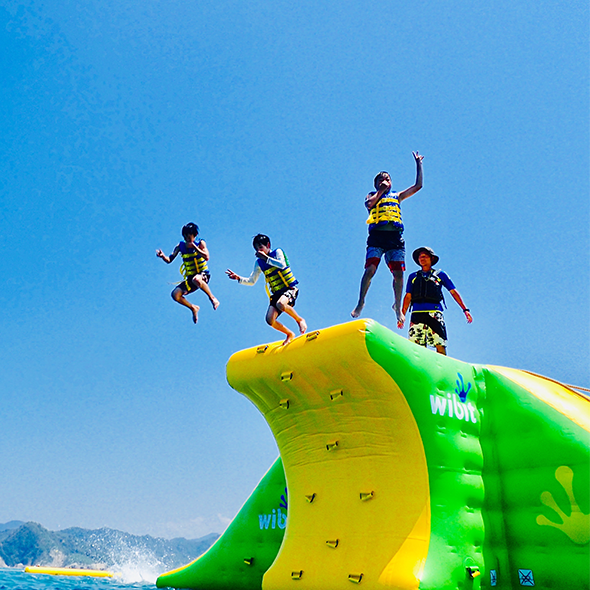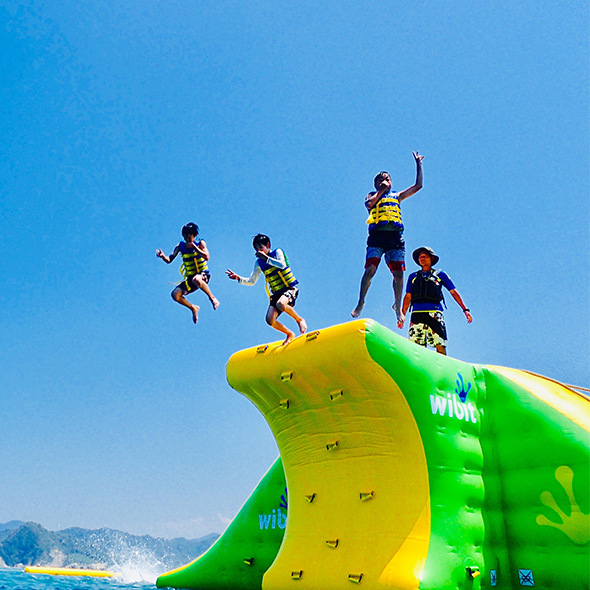 During the summer season, "Frolic Sea Adventure Park Awaji Island" by Wibit Peakz makes its debut. With over 27 exciting water attractions, including trampolines, slides, jumps, and swings, your days on the island will be filled with endless joy and excitement. This year, six exciting new attractions including a unique water-based aerial attraction have been introduced, so brace yourself for new attractions that have never been seen before in Japan.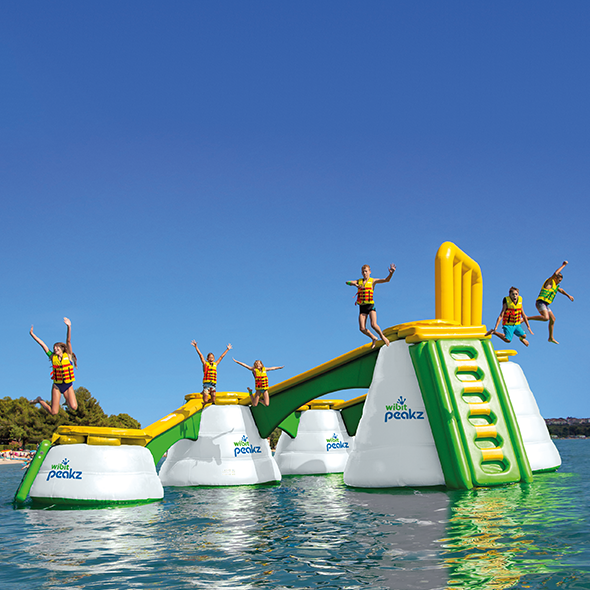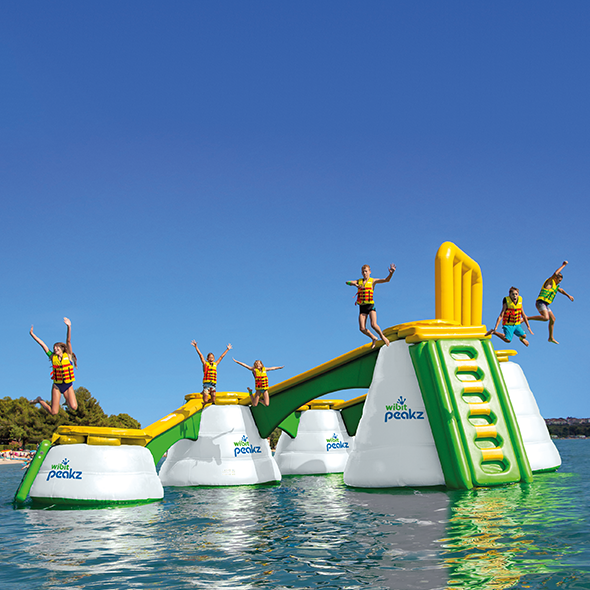 Life jackets are available free of charge, and lifeguards are always on hand to provide support, so even children can play with peace of mind.
Shower (hot water): 300 yen/2 minutes 30 seconds (changing rooms free of charge)
Parking lot: 200 cars (1000yen/1-time parking)
6. Ama Kaigan Beach (Minami Awaji)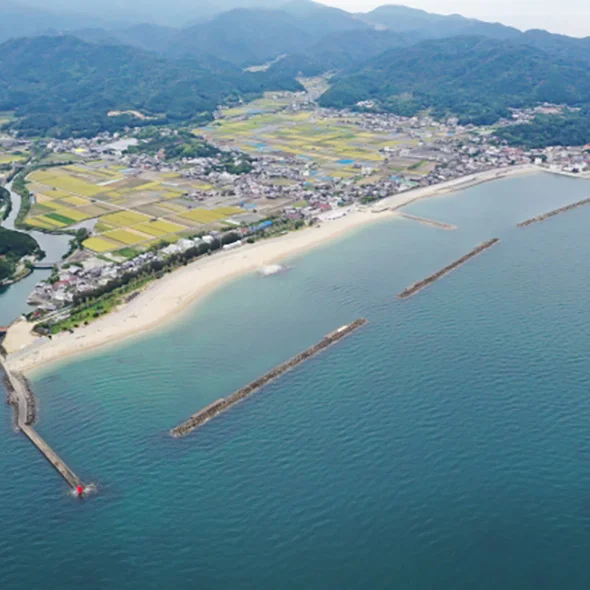 A hidden gem just a 30-minute drive from Seitan-Mihara IC on the Kobe-Awaji Naruto Expressway. This trendy destination, known for its open and tropical ambiance, is popular among young people and families alike. You can enjoy the perfect blend of style and relaxation at this popular beach, where a vibrant tropical atmosphere sets the stage for an unforgettable day of fun in the sun.
Shower (cold water): 100 yen (changing rooms free of charge)
Parking: 150 cars (free)
7. Hokudan Murozu Beach
Hokudan Murozu Beach is a cherished favorite among visitors to Awaji Island. With its silky, fine-grained sandy beach and shallow waters, it offers a delightful spot for visitors of all ages. This beach is also renowned for its stunning sunsets, earning it a place among the 100 best sunset views in Japan.
Shower (cold water): 210 yen (elementary school students and older)
Coin lockers: 200 yen
Changing rooms: free
Parking: 30 cars (free)
Recommended café after playing at Hokudan Murozu Beach: miele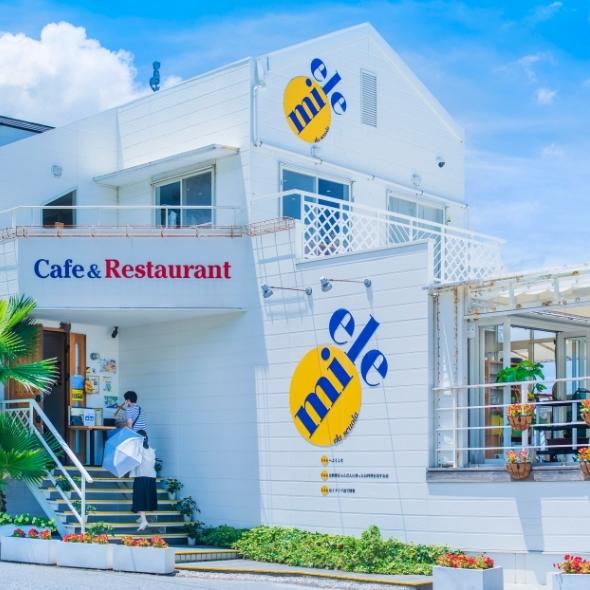 miele, a café located just a 15-minute drive from Hokudan Murozu Beach, welcomes you with its pure white building, evoking the charm of an overseas resort. Enjoy the original drinks featuring honey from Awaji Island, adding a touch of sweetness to your experience. For a savory treat, try their scrumptious pizzas topped with an abundance of Awaji Island onions and shirasu (whitebait). At miele, you will find the perfect combination of style, outstanding views of the sea, and unique flavors, making it a must-visit spot during your Awaji Island trip.
Name
miele
Adress
785-9 Nojimahikinoura, Awaji City, Hyogo Pref. 656-1721
Tel
0799-80-2600
Operation Hours
Weekdays 11:00~19:00 (L.O.18:30)
Sat., Sun, & Public Holidays 9:30~19:30 (L.O.19:00)
Closed: Tuesdays
In Aug. and Sept. it will not be closed on Tuesdays
Website
https://www.miele-da-scuola.com/
Click here for details of miele
8. Osaki Beach
Osaki Beach offers a revitalizing escape with its invigorating sea breeze from the Harima-nada Sea. Stroll along the promenades and bask in the relaxing ambiance of the areas. The beach provides convenient facilities, including free-to-use showers and changing rooms, ensuring a comfortable and enjoyable day by the sea.
Changing rooms: free of charge 
Shower (cold water): Free
Coin lockers: Free
Parking: 40 cars (free temporary parking)
9. Shintoshi Beach
The beach offers breathtaking views of the Seto Inland Sea and an array of well-equipped facilities to ensure your comfort and enjoyment. Cherish the moment as you immerse yourself in the panoramic beauty while relishing the convenience of the amenities at your fingertips.
Shower (cold water): 100 yen/time (changing rooms are free)
Coin lockers: 100 yen 
Parking lot: 125 cars (free)
Closing
Discover the perfect blend of exciting outdoor attractions and safe, enjoyable swimming on Awaji Island. Recharge your senses with warm sands, cooling waters, and breathtaking views. With its tranquil waves and family-friendly beaches, it is the perfect destination for families with small children. Plan your trip to Awaji Island and make this summer a truly unforgettable one!