Japan's ethereal landscapes are a testament to nature's unrivaled artistry, and among its many wonders, the country's exquisite flower parks stand out as some of the most captivating spectacles. With a rich tradition of celebrating the ephemeral beauty of blossoms, Japan boasts an array of stunning flower parks that draw visitors from around the world. From the iconic cherry blossoms to vibrant tulips and delicate roses, these parks offer a breathtaking display of colors and fragrances. In this article, we will explore the top 5 most beautiful flower parks in Japan.
1. Hitachi Seaside Park (Ibaraki)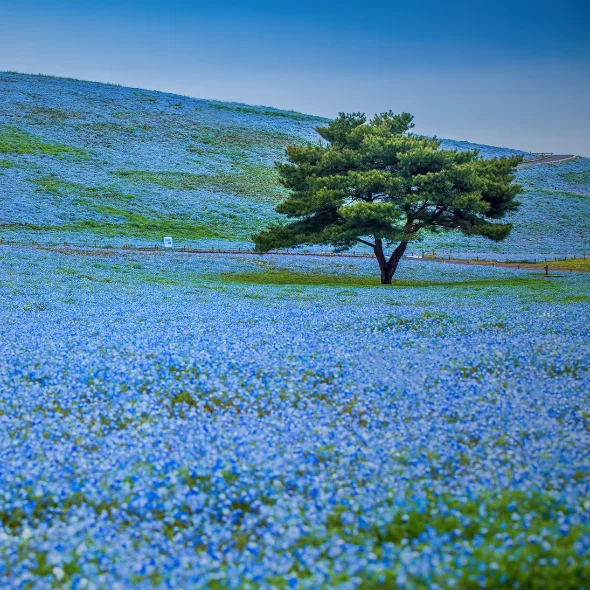 Situated in Ibaraki Prefecture, Hitachi Seaside Park spans over 470 acres of enchanting landscape. This park is a year-round spectacle, transforming with each season. Hitachi Seaside Park is most known for its beautiful scenery in spring that sees the blooming of nemophila, or "baby blue eyes," creating a sea of azure. Come summer, the vibrant kochia (summer cypress) bushes turn fiery red, while autumn witnesses the emergence of cosmos flowers in a variety of hues. Hitachi Seaside Park's unique concept of changing flower displays with the seasons is a major draw. The harmony of colors, meticulously planned gardens, and panoramic views of the Pacific Ocean make it a sight to behold. The park's Flower Paradise section showcases over 170 varieties of tulips, further adding to its allure.
2. Ashikaga Flower Park (Tochigi)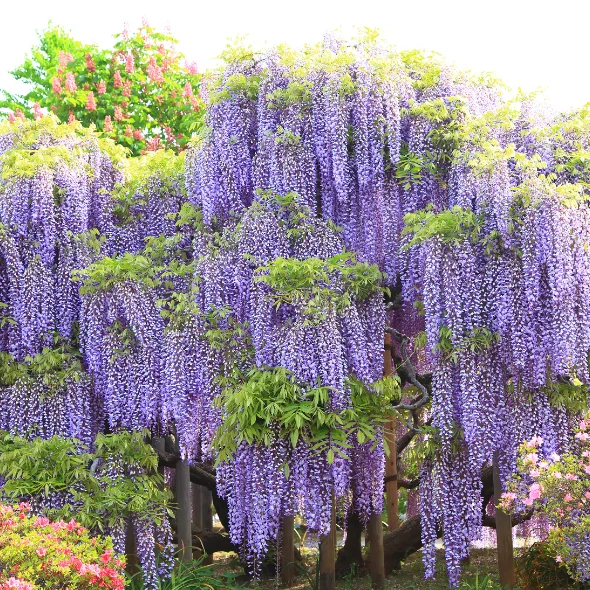 Located in Tochigi Prefecture, Ashikaga Flower Park is renowned for its wonderful wisteria displays. The park is most famous for its breathtaking wisteria tunnels that come alive in spring. These cascades of hanging flowers create an otherworldly atmosphere. Visitors can also marvel at the countless azalea bushes, roses, and water lilies that grace the landscape. The wisteria vines, ranging in colors from soft pastels to rich purples, form a beautiful scenery. The park's dedication to preserving and nurturing these botanical treasures has made it a must-visit destination for nature enthusiasts.
3. Tomita Farm (Hokkaido)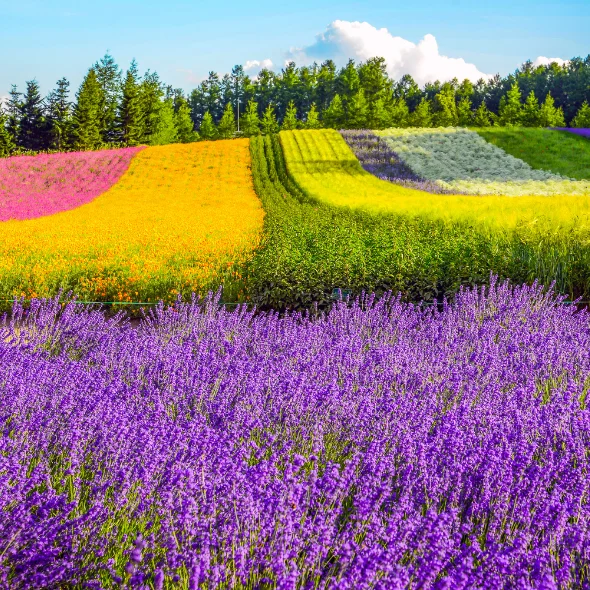 Nestled in the picturesque landscape of Furano, Hokkaido Prefecture, Japan, Tomita Farm is a captivating floral wonderland that enchants visitors with its breathtaking fields of lavender. This iconic farm is renowned for its vibrant purple carpets of lavender blooms that stretch as far as the eye can see. The sight of these fragrant flowers in full bloom during the summer months is also a truly unforgettable experience. Tomita Farm's fame lies in its ability to transform the countryside into a dreamlike lavender paradise, inviting travelers to immerse themselves in the calming and aromatic beauty of nature.
4. Ikoma Plateau (Miyazaki)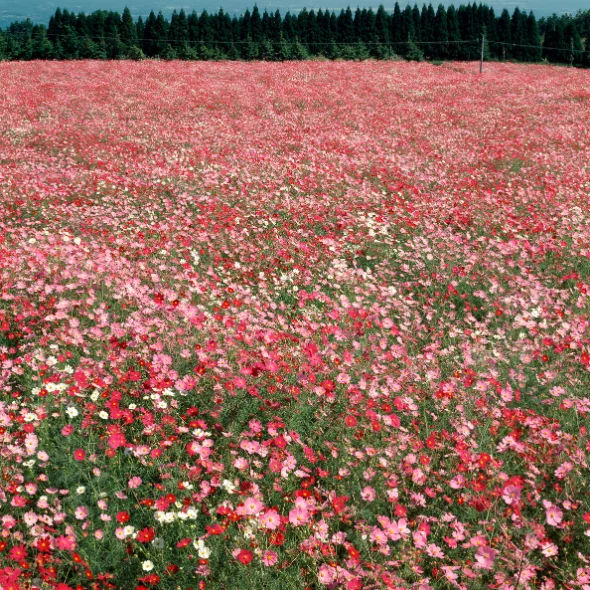 Ikoma Plateau is a nature lover's paradise nestled atop the scenic Ikoma Mountain Range in Miyazaki Prefecture, Japan. Ikoma Plateau is celebrated for its diverse display of wildflowers that blanket the landscape with vibrant colors. During the spring and summer, the plateau comes alive with a delightful array of flowers, including cheerful poppies and graceful cosmos blooms. The fame of Ikoma Plateau stems from its captivating combination of panoramic sceneries and blossoming beauty, creating a serene escape where visitors can revel in the peaceful embrace of nature while being captivated by the allure of the flowers.
5. Awaji Hanasajiki (Awaji Island, Hyogo)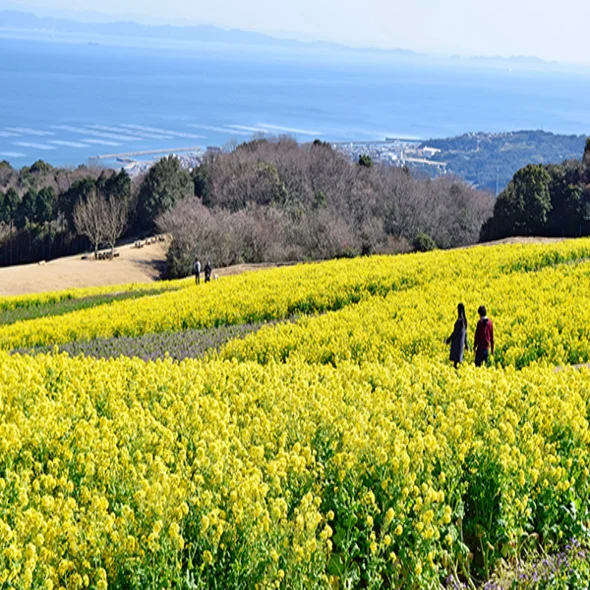 Awaji Hanasajiki is a hidden gem located on Awaji Island, showcasing an exquisite flower field that enchants visitors with its vibrant colors and serene ambiance. The park boasts a wide variety of flowers, including tulips, roses, and sunflowers, all meticulously arranged to form intricate patterns and designs.
In spring, the field comes alive with the beauty of canola flowers painting the landscape in golden colors, together with the vibrant blooms of Iceland poppies. As summer arrives, visitors are treated to the views of spider flowers, in which their slender petals sway in the gentle breeze. The iconic sunflowers also take center stage during this season, infusing the field with their cheerful and vibrant energy.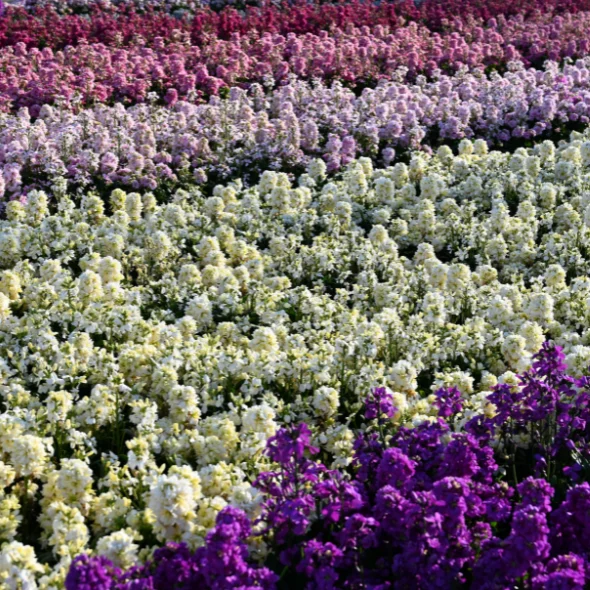 Transitioning into fall, Awaji Hanasajiki provides a more serene ambiance with the calming presence of scarlet sage and mealycup sage, their rich colors providing a soothing backdrop to the stunning views of Awaji Island. During the winter season, visitors are able to witness the creative artwork within the field. The caretakers of Awaji Hanasajiki employ a unique technique of cutting the grass in intricate patterns, forming captivating pictures on the ground.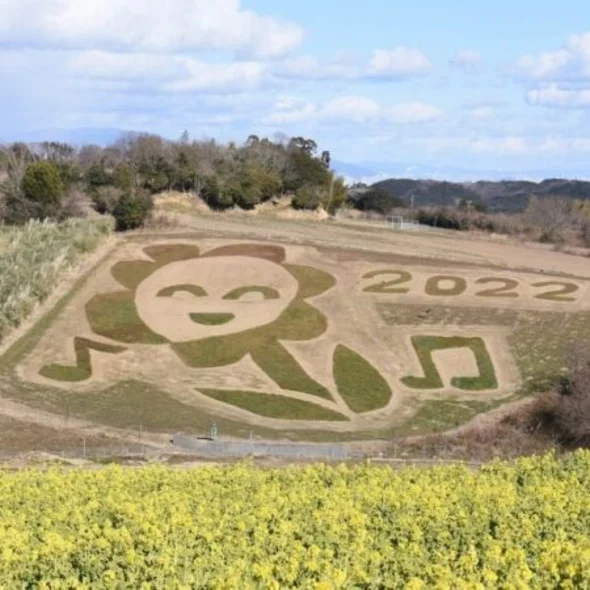 Awaji Hanasajiki, offers not only its enchanting blossoms but also inviting pathways, observation decks, and tranquil rest areas. These thoughtful features provide visitors with an immersive experience of the park's natural beauty. At the observation deck, you are treated to a panoramic view from above, a bird's eye perspective of the breathtaking landscape. Everywhere you turn within the park is a picturesque scene, each corner a picture-perfect backdrop for capturing memories. With sweeping views that encompass Osaka Bay, Kansai International Airport, and the majestic Akashi Kaikyo Bridge, Awaji Hanasajiki becomes a treasure trove of endless opportunities for stunning photographs.
Closing
Japan's flower parks are a special way the country celebrates the fleeting beauty of nature. Each park has its own special flowers, carefully made gardens, and a peaceful feel. From the blue fields of Hitachi Seaside Park to the magical wisteria tunnels in Ashikaga Flower Park, these places showcase the harmony between man-made artistry and natural wonder. As visitors stroll through these gardens, they are not just witnessing the beauty of blossoms, but also experiencing the connection between humans and nature in Japan.