Welcome to the tranquil world of onsens (hot springs) in Hyogo and the Kansai area of Japan. For a rejuvenating retreat with a blend of traditional charm and therapeutic wonders, look no further. In this travel guide, we explore 3 captivating onsen destinations that promise an authentic Japanese experience – Arima Onsen, Kinosaki Onsen, and Sumoto Onsen.
1. Kinosaki Onsen 城崎温泉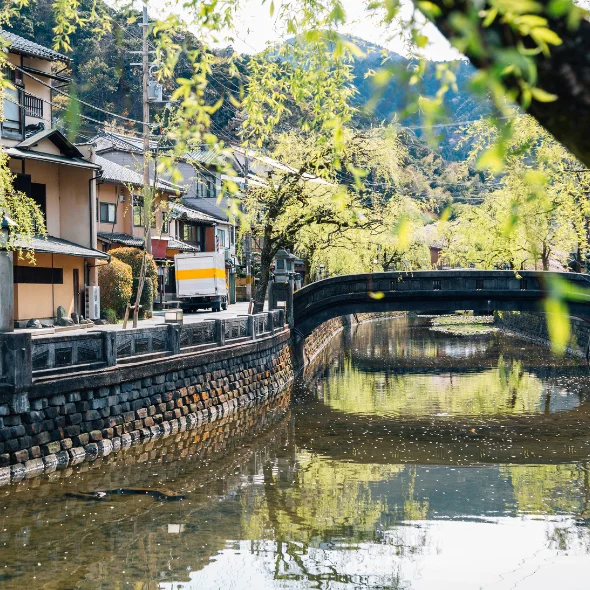 Located in the northernmost part of Hyogo Prefecture, Kinosaki Onsen welcomes visitors with its timeless appeal. The Onsen town has maintained its serene atmosphere and historic allure of old Japan for over 1300 years through well-preserved architecture and onsen culture. In fact, this hot spring town claims to be the best onsen town in Japan, with a panoramic view from the top of the ropeway and 7 tattoo-friendly hot springs.
Seven Legendary Springs
Seven hot springs are dispersed throughout town and are all within walking distance of one another. Each one has a unique style and history. Most local ryokan (traditional inns) and other accommodations offer tickets for access to all seven springs included with your stay. Alternatively, a day-pass can be purchased if you aren't staying the night. Visitors are encouraged to don yukata (casual summer kimono) and traditional wooden geta (footwear) to leisurely explore the picturesque canals and willow-lined streets.
All seven of the public bathhouses allow people with tattoos of any size, color, or shape.
Cultural delights
Beyond the onsen, Kinosaki Onsen offers cultural activities such as traditional tea ceremonies and seasonal events, for fully immersive experiences in Japanese traditions. Kinosaki Onsen has over 74 ryokan, many of which are family-owned and in operation for generations. They each value the importance of Japanese tradition. When staying in a ryokan you will experience pure Japanese culture, tradition, and the outstanding Japanese-style hospitality called omotenashi.
With a wide variety of ryokan, it is easy to find one to fit your needs and budget. When booking, speak with your ryokan about special meal requests, like vegetarian dinners, or ask if private baths are available for reservation.
2. Arima Onsen 有馬温泉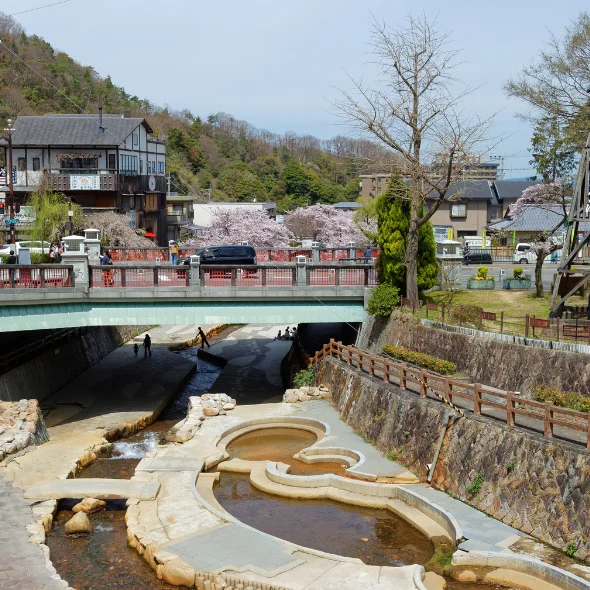 Situated in the heart of Hyogo Prefecture, Arima Onsen has been drawing travelers for over a millennium. The mineral-rich waters of this historic hot spring resort are renowned for their healing properties. This onsen is still a hidden treasure of modern Kobe, behind mount Rokko. It attracts Japanese and foreigners alike who want tranquility amid natural surroundings that are easily accessible from busy cities in the Kansai area.
Kinsen & Gisen baths
The Arima Onsen experience is characterized by two distinct hot spring sources. "Kinsen 金泉" (gold water) is reddish-brown due to its iron content, while "Ginsen 銀泉" (silver water) has a milky appearance from its radium and carbonate content. Submerge yourself in the soothing embrace of these renowned hot springs and let your worries melt away.
Old-town Charm
Wander through the quaint town of Arima Onsen, where narrow streets lined with traditional Japanese architecture and charming ryokans await, providing a taste of old-world Japan. The nostalgic atmosphere immerses visitors in a bygone era.
3. Sumoto Onsen 洲本温泉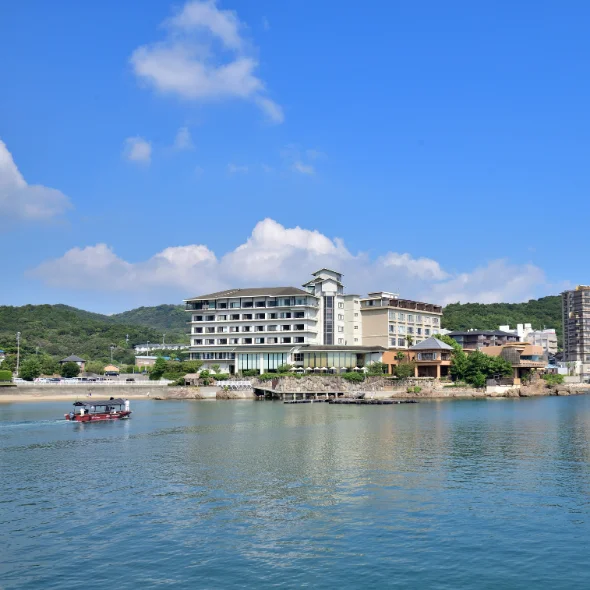 Venture to Awaji Island, the largest island in the Seto Inland Sea of Japan, and discover the tranquil paradise of Sumoto Onsen in the the Sumoto city which once flourished as a castle-town. Several long-established, first-class ryokan traditional inns can be found along the coast, and many tourists visit the area in search of a soothing getaway.
A Therapeutic Retreat
Sumoto Onsen offers a serene haven with its therapeutic, mineral-rich hot spring waters known to rejuvenate skin and refresh both body and mind. Come and soak your stress away, gazing at the Seto Inland Sea and the island's scenic landscape. Lush greenery, parks, and gardens add to the island's charm, making it an ideal destination for nature lovers.
Awaji Island also has a rich cultural history worth exploring, believed to be the very first island of Japan created by the gods according to ancient texts. Another cultural highlight is the centuries-old Awaji Ningyo Joruri puppet theater.
Conclusion
So, whether you seek the healing properties or simply want to experience the essence of Japanese onsen culture, these destinations promise an unforgettable journey of peace and serenity. Indulge in the therapeutic embrace of hot spring wonders in the Hyogo and Kansai region of Japan.
Arima Onsen, Kinosaki Onsen, and Sumoto Onsen all offer a harmonious blend of relaxation, tradition, and culture.
See our article on onsen etiquette to avoid any embarrassing moments!