Hello Kitty has become a global icon and is adored by children and adults throughout the world. The cute fictional cat was created in 1974 by Sanrio, a Japanese merchandising company that focuses on kawaii culture (cuteness). She wears a red bow on her head and is also known as "Kitty-chan". Hello Kitty is designed with no mouth, meaning she can represent all kinds of emotions and desires, be it joy, happiness, or sadness, and she lets people share in those emotions along with her. This design also means that Hello Kitty "speaks from the heart".
My Personal History with Hello Kitty
My mother has been a huge fan of Hello Kitty since long ago and we have collected various Hello Kitty-themed goods and accessories in our house, for as long as I can remember. I am quite familiar with Hello Kitty myself, having visited a few Hello Kitty cafes and exhibitions in Indonesia and Japan. My love for Hello Kitty is due to the fact that it brings out the inner child in me. Looking at the adorable characters reminds me of the happy and innocent childhood I had, and as an adult who deals with many hardships, the cute characters heal and warm my heart. 
A Wow Experience at Hello Kitty Show Box
Awaji is famous for its rich culture and history, which is why I did not expect to discover a place on Awaji Island that offers a complete experience to enjoy Hello Kitty. It is incredible how Awaji brings people closer by offering a unique experience with the world's most famous fictional character in its theater restaurant at Hello Kitty Show Box. Hello Kitty Show Box is located on the northwest side of Awaji Island, in the farmlands of Nojimahirabayashi. 
A Theater Restaurant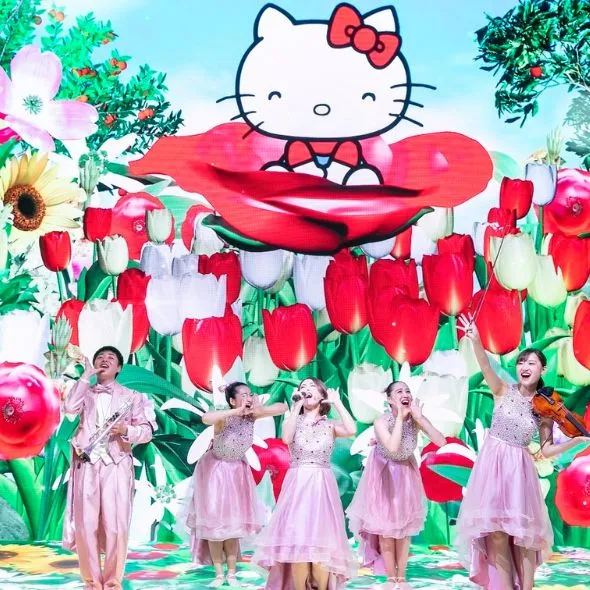 Upon entering the restaurant, I was met with the sight of a giant screen spanning 15 meters wide and 6 meters high. I was told that the establishment uses a theater restaurant concept where you can enjoy a delicious meal while watching a wonderful performance. I sat down at the table in front of the stage and waited patiently while enjoying the relaxing atmosphere and the high class yet charming decor. This venue is perfect for families, couples, and anyone who appreciates the adorableness of Hello Kitty. 
Performances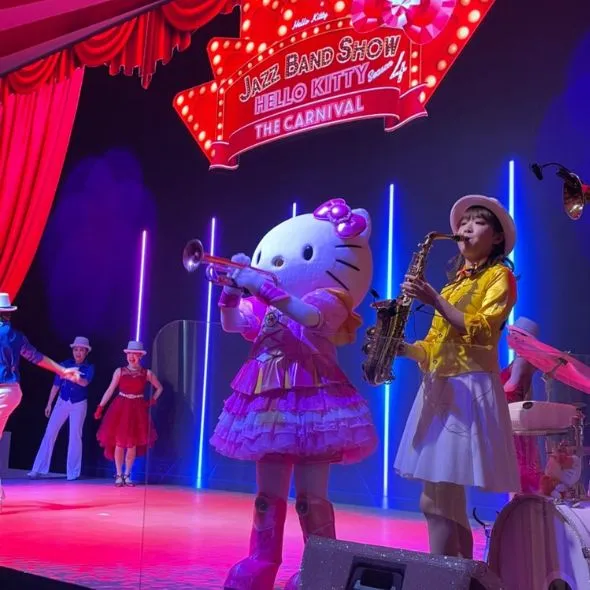 The performance surpassed all my expectations. It started with a projection on the screen illustrating the story of Hello Kitty and her dream. This was very enjoyable, but the part that really blew me away was the actual performance which consists of a medley of songs, musical performances, and dances. I am not a music expert, but the cohesion between the background music and the instruments was perfect. The powerful dances fit the music as well and all of these combined to create a very cute but classy atmosphere.
A Delightful Vegan Meal
The meal was also incredibly delicious. I was informed that all the ingredients come from local farms. The healthy and environmentally conscious menu was created by Hal Yamashita, an award-winning chef who has traveled the world and developed his own fusion style of cooking. He calls this Shin-washoku or "New Japanese Cuisine". This style is all about using the finest ingredients and the passion handed down through generations while at the same time acknowledging that preparation and presentation methods have evolved dramatically in recent years.
As the food is Hello Kitty themed, not only does it taste great, it's also fun to look at. I was served a full-course lunch meal consisting of salad, Awaji onion consommé soup, cheese rice gratin, and homemade apple pie. The salad was very unique, made with smoked applewood, which matched surprisingly well with the dressing. The soup was light but intensely savory. I have eaten many vegetarian meals in my life and the rice gratin is up there with one of the best ever. The dish provided a strong, robust flavor which I would not typically expect from vegetarian food. The apple pie was also the perfect dessert to close this unique course.
It was a great meal and you truly would not believe that it is made without any animal-based ingredients. For kids, they have a set menu that consists of curry, potato salad, corn soup, dessert, and juice. After lunchtime, you can also buy items from their café menu which includes Hello Kitty-themed pancakes, sweets, and apple pie.
Original Goods
Don't forget to check the gift shop after the performance, as this is your chance to purchase limited edition Hello Kitty goods. If you're a fan of Hello Kitty, I can guarantee that you'll be amazed by the items sold at the store. 
Hello Kitty Apple House
The theater restaurant is exceptional, but there is still more to enjoy. Located in front of the restaurant is Awaji Apple House, a gigantic apple-shaped Hello Kitty House where you can step into the world of Hello Kitty and get immersed through the magic of projection mapping. Moreover, at the top of this cute-looking building is a 360°observation deck with superb views of the surrounding scenery. You can even see a cute Hello Kitty face on the rooftop of the theater restaurant next door.
Kawaii (Cute) Culture in Japan
Kawaii is more than a word in Japanese culture. Living in a world where stress is unavoidable, it is also a symbol of positivity. Sometimes, it's important to take a step back, relax, and treat yourself to a day of being surrounded by kawaii things. Why not visit Hello Kitty Show Box? It doesn't matter whether you go as a family, a couple, or simply as a fan of all things kawaii, Hello Kitty Show Box has something for everyone. It might just become one of your favorite destinations in Japan.
Facility name: Hello Kitty Show Box
Location: 177-5 Nojimahirabayashi, Awaji, Hyogo 656-1724
| | |
| --- | --- |
| Location | HELLO KITTY SHOW BOX |
| Address | 177-5 Nojimahirabayashi, Awaji City, Hyogo Pref. 656-1724 |
| Access | 10 minutes by car from Awaji IC and 15 minutes from Hokudan Interchange on Kobe-Awaji-Naruto Expressway. |
| Phone Number | 0799-70-9022 |
| Parking | Free parking available |
| Closed | Wednesdays |
| Operating Hours | 11:00-17:00 |
| Show Time | 12:10-13:30(Open at 11:00, Last In at 12:00) |
| Café and Greetings by HELLO KITTY | 14:00-17:00 Greeting at 14:30-/16:00- Café Show and Greetings by HELLO KITTY: 14:30~ / 16:00~ |
| Website | https://awajiresort.com/hellokittyshowbox/ |
| Reservations | https://www.tablecheck.com/en/shops/hellokittyshowbox/reserve |