During summer vacation, Awaji Island emerges as an irresistible destination in Japan for families seeking an unforgettable getaway. Boasting an array of enjoyable activities, the island offers an enticing blend of joy, from enjoying sea activities to savoring the delectable Awaji Island gourmet cuisine. Embarking on a family trip to Awaji Island opens doors to a world of adventure and relaxation.
To make your summer family trip more memorable, we have handpicked some must-visit sightseeing spots on Awaji Island and delectable local dishes that will undoubtedly captivate your palate and leave you yearning for more. Get ready to create cherished memories with your loved ones.
Experience the Fun and Enchanting Awaji Island Sea with Your Family!
Awaji Island has long been associated with its stunning coastal landscapes and the allure of the sea. The crystal-clear waters of the island have earned it high acclaim, with some of its beaches receiving an impressive AA rating in bathing beach water quality surveys. The sea's mesmerizing cobalt blue hue and exceptional transparency add to its irresistible charm, making it an idyllic destination for family trips.
Among the island's many coastal treasures, Ohama Beach in Sumoto City stands out as a true gem. This year, "Frolic Sea Adventure Park Awaji Island" by Wibit Peakz makes its debut. It offers a thrilling experience with an array of approximately 27 water athletic attractions, including trampolines, slides, jumps, and swings. It is a highly recommended spot for families and individuals of all ages, promising an abundance of fun-filled moments.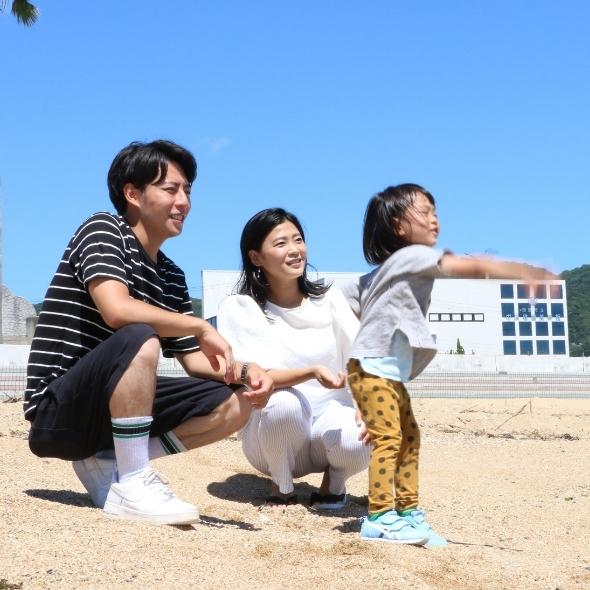 Keinomatsubara Beach is also a must-visit spot for families exploring Awaji Island. As the largest sea on Awaji Island, it has garnered numerous accolades, being designated as one of Japan's "100 best beaches", "100 best bathing beaches", and "100 best sunsets". The beach offers a campground with rental options for beach tents, rear cars, and barbecue equipment, making it perfect for families.
Check here for more beaches to explore on Awaji Island.
Have a lot of Fun with Your Family at Nijigen no Mori During Summer!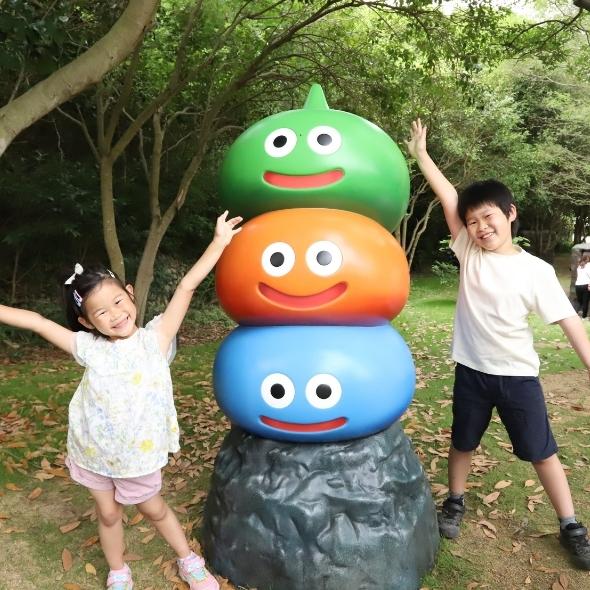 Nijigen no Mori is a popular entertainment complex on Awaji Island that showcases the rich world of Japanese anime. The theme park features various immersive anime experiences and serves as a hub for anime enthusiasts and fans of Japanese pop culture. Nijigen no Mori provides attractions from popular franchises such as Naruto & Boruto, Dragon Quest, Godzilla, and many more which attract a diverse range of visitors, including domestic and international tourists.
Nijigen no Mori beckons many families during summer vacation. Its charm lies in its abundance of exclusive summer events, making it a must-visit destination. Here, amidst the breathtaking nature of Awaji Island, numerous attractions await to immerse visitors in a thrilling experience that engages their bodies and senses. From adults to children, everyone is bound to have an unforgettable time in this enchanting world.
Anime enthusiasts will find themselves in paradise as Nijigen no Mori features beloved characters from renowned anime series and popular games like Crayon Shin-chan, Godzilla, Naruto, Dragon Quest, and many more.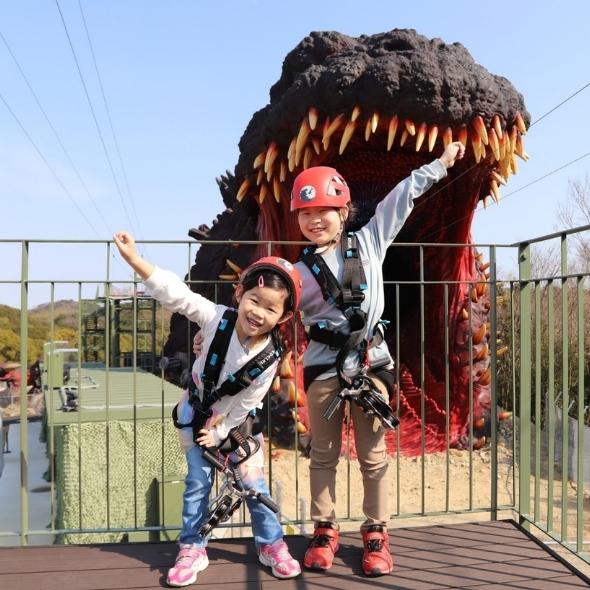 Furthermore, Nijigen no Mori offers a perfect setting for bonding with pets and creating lasting memories with loved ones. Throughout the day, visitors can revel in a myriad of attractions that keep them joyfully active, ensuring endless fun and excitement for everyone.
Check here for Nijigen no Mori's summer events including activities related to the world-famous anime Demon Slayer and City Hunter.
Click here for details of NIJIGEN NO MORI
The Perfect Family Lunch at Awaji Island
miele: Combination of Exquisite Flavors and Outstanding Views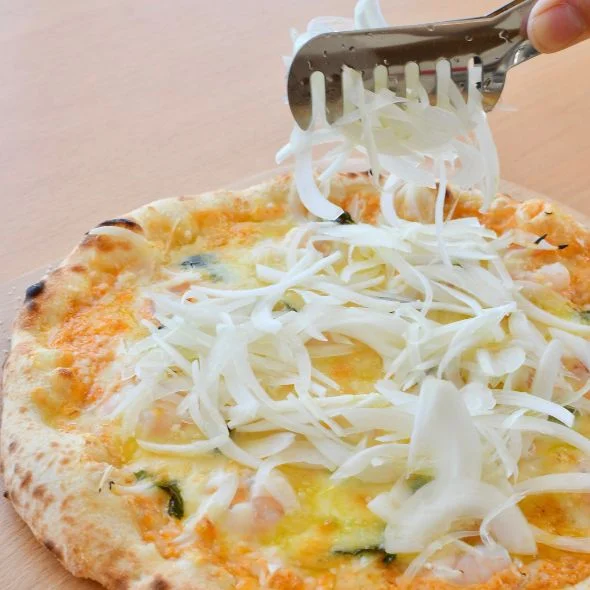 miele on Awaji Island is a culinary gem that offers a unique experience. Located in the heart of this breathtaking island, this restaurant combines exceptional food and service with stunning views to create an unforgettable dining experience with your family.
As soon as you enter miele, you will be greeted by a welcoming and inviting atmosphere. The elegant interior design and soft lighting combine to create a calming ambiance, instantly making you feel at ease and at home. The cozy seating arrangements entice you and your family to unwind and take in the breathtaking ocean view and the gentle sea breeze.
The aspect of miele's dining experience that is truly astonishing is its remarkable food. Their dedication and passion for culinary craftsmanship shine through in every dish they serve. Among their renowned specialties are shirasu (whitebait) pizza, seasonal desserts, and honey-related food & desserts which are perfect for your family. Additionally, given that onions are extremely popular on the island, onion-topping pizzas are also highly recommended at the restaurant.
Name
miele
Adress
785-9 Nojimahikinoura, Awaji City, Hyogo Pref. 656-1721
Tel
0799-80-2600
Operation Hours
Weekdays 11:00~19:00 (L.O.18:30)
Sat., Sun, & Public Holidays 9:30~19:30 (L.O.19:00)
Closed: Tuesdays
In Aug. and Sept. it will not be closed on Tuesdays
Website
https://www.miele-da-scuola.com/
Click here for details of miele
Unforgettable Awaji Island BBQ Experience at Nojima Scuola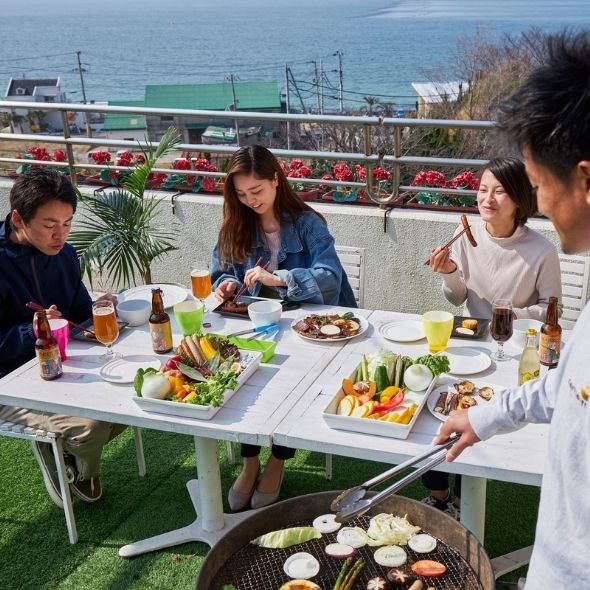 For barbecue enthusiasts, the Nojima BBQ Terrace is an absolute must-visit destination for families. This delightful spot not only offers a delectable BBQ experience but also treats guests to breathtaking panoramic views of the sea. At the BBQ Terrace in Nojima Scola, families are highly encouraged to try the "BBQ Set," which presents two alluring options: Standard and Premium. These sets offer a wide variety of mouthwatering dishes, making it a delightful and abundant choice for a satisfying dining experience for your family.
Situated on a hillside, this place presents a splendid view of the Seto Inland Sea, while its covered terrace offers a cozy and shaded environment to escape the summer sun. As dusk approaches, prepare to be captivated by a mesmerizing sunset, for it has earned its place among Japan's esteemed top 100 sunset views.
Name
Nojima Scuola
Adress
843 Nojimahikinoura, Awaji City, Hyogo Pref. 656-1721
Website
https://www.nojima-scuola.com/
Reservations
2F Ristorante Scuola
https://www.tablecheck.com/en/shops/nojima-scuola/reserve
Tel
0799-82-1820
Operation Hours
1F Marché /Bakery: Weekdays 10:30~19:00
Sat., Sun., & Public Holidays 10:00~19:00

1F Café Scuola: Weekdays Lunch 11:00~14:00/ café 14:00~18:00
Sat., Sun., & Public Holidays breakfast 10:00~11:00
Lunch 11:00~15:00
Café 15:00~18:00

2F Ristorante Scuola: 11:30~15:30 (in by 14:00) / 18:00~21:30 (in by 19:30)

Outdoor Zoo: Weekdays 11:00~16:00
Sat., Sun. & Public Holidays 10:00~16:00 (13:00~14:00 animals in recess)

Closed: Wednesdays (Open on Public Holidays)
Click here for details of Nojima Scuola
Traveling with children can present challenges, particularly when it comes to choosing the right restaurant that caters to their needs. Fortunately, Awaji Island boasts a selection of family-friendly restaurants, providing a safe and enjoyable dining experience for everyone. Check here for Awaji Island's recommended gourmet spots that are perfect for lunchtime.
Explore More of Awaji Island with Your Family During Summer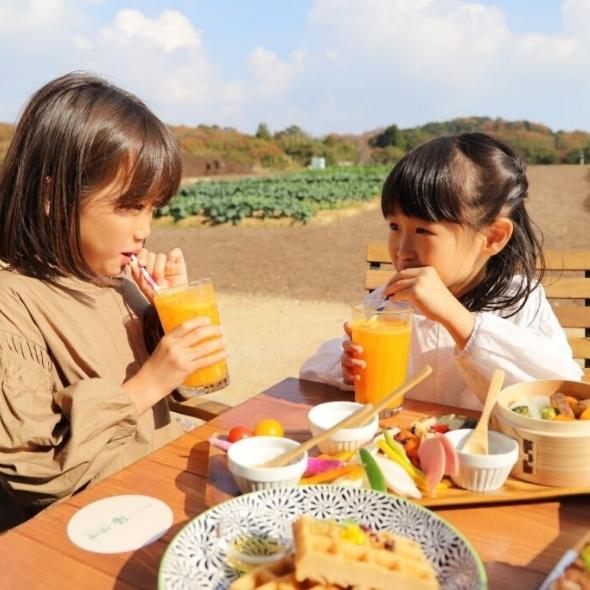 Discover the finest family-friendly destinations on Awaji Island. If you find yourself unsure of where to venture, this article serves as a valuable guide to planning a delightful and memorable trip with your family to Awaji Island.
Closing
I hope you and your family will have a fantastic trip! Awaji Island has earned its reputation as an exceptional family vacation destination. Its popularity is on the rise in Japan, particularly in the Kansai region. The island boasts numerous sightseeing spots and family-friendly restaurants, making it an ideal choice for families with children. Whether you seek scenic wonders, thrilling adventures, or delectable cuisine, Awaji Island offers a diverse range of experiences to suit you.