Famed across Japan, Awaji Island onions are renowned for their delightful sweetness and tender texture. The aroma of these onions fills the air throughout Awaji Island during the harvesting season. Not just limited to culinary purposes, these onions have also become sought-after souvenirs, contributing to dishes like soups, snacks, and seasonings.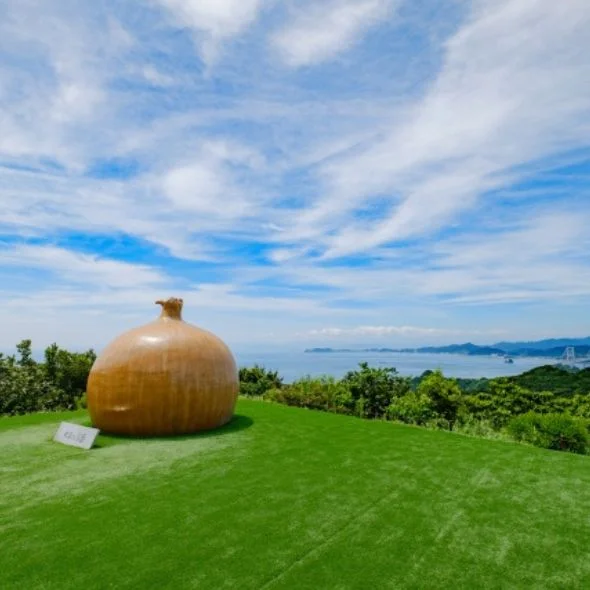 The History Awaji Island Onions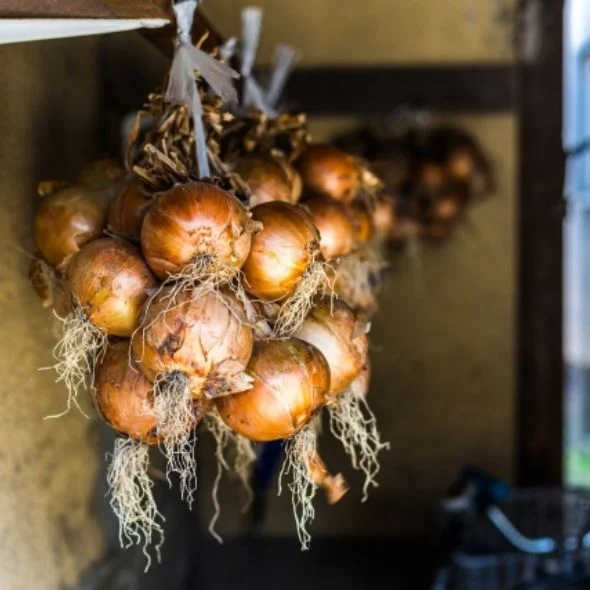 Onions, recognized as one of the earliest cultivated plants, were introduced to Japan towards the latter part of the Edo period (1603-1868). Initially prized for their ornamental qualities rather than their culinary use, onion seeds were brought to Awaji Island in 1888. In the subsequent 130 years, the island gradually emerged as a significant producer of onions.
Benefits of Awaji Island Onions
Allyl Sulfide
Allyl sulfide, accountable for the distinctive aroma and pungency of onions, offers notable blood-thinning qualities that contribute to preventing conditions like high blood pressure, arteriosclerosis, cerebral and myocardial infarctions. Its ability to regulate blood sugar levels makes it particularly beneficial for individuals with elevated cholesterol levels or those prone to diabetes. This compound's robust bactericidal attributes aid in battling pathogens and managing viruses, including those causing colds and influenza.
Quercetin
Quercetin, a type of polyphenol, operates as an antioxidant by neutralizing active oxygen. Its efficacy extends to preventing wrinkles, aging, colds related to weakened immunity, and even cancer. This compound contributes to safeguarding eyes against strain-induced aging, regulating blood pressure, enhancing liver function, and addressing metabolic syndrome.
Potassium
Potassium plays a pivotal role in reducing edema by facilitating the removal of surplus water and salt from the body. When combined with vitamin B1, it optimizes the recuperation process from fatigue. The synergy of potassium and vitamin B1 results in an effective reduction of fatigue and edema through the elimination of excess water and salt from the body.
Distinctive Traits of Awaji Island Onions
Awaji Island onions captivate with their irresistible sweetness, a gift of the island's abundant sunlight and mineral-rich soil. Thanks to these exceptional growing conditions, these onions are approximately 1.4 times sweeter than their regular counterparts. Their elevated moisture content renders them tender and less pungent, rendering them perfect for raw consumption, particularly in salads.
Where to Eat Awaji Island Onions
Mori no Terrace (Kuroge Wagyu Beef & Awaji Onion Curry Rice)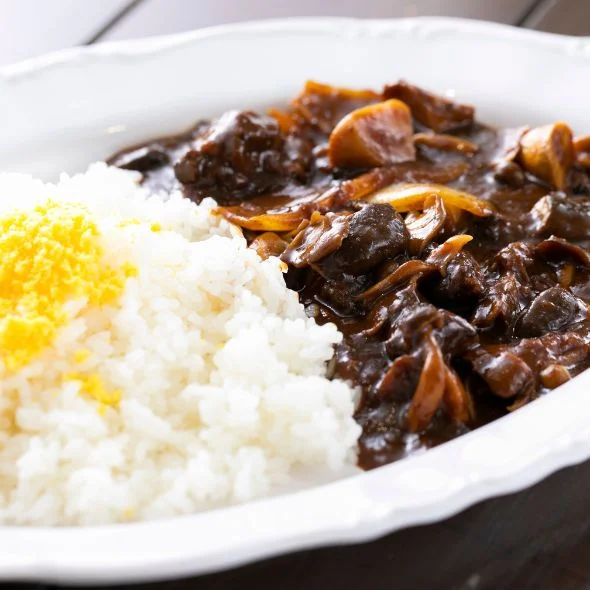 Indulge in curry rice that harmoniously blends the succulent sweetness of black beef and the distinct flavor of Awaji Island onions, creating the perfect dish.
Click here for details of NIJIGEN NO MORI
Haru San San (Whole Onion Crispy Crust)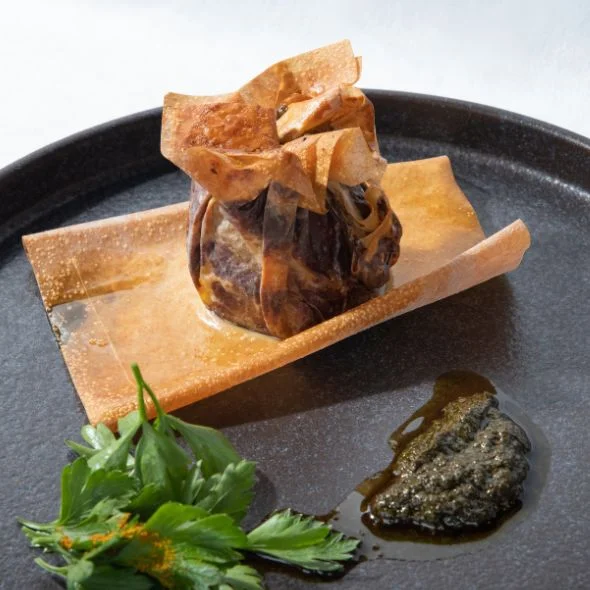 Savor the exquisite delight of oven-roasted Awaji Island whole onions, enveloped in a crispy crust, and accompanied by a delectable vegetable sauce.
miele (Honey Mayonnaise Pizza with Unlimited Awaji Island Onions)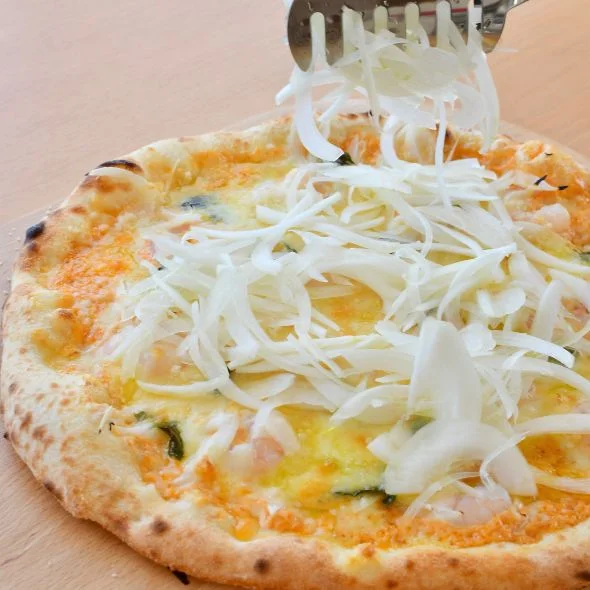 Try a unique pizza at miele where we pour Awaji Island onions until you say stop. Enjoy the perfect blend of shrimp, cheese, honey, and the charm of Awaji Island onions.
Recommended Awaji Island Onions
Narui's Onion Store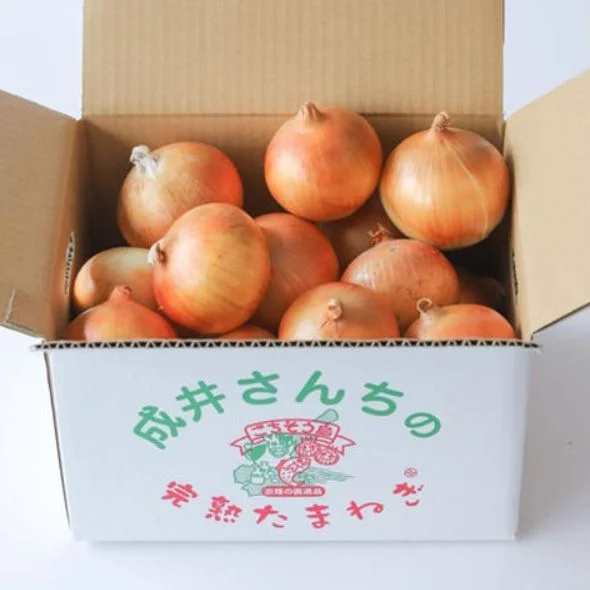 Cultivated by Narui, fondly known as the "Onion Father", these meticulously cultivated onions are a result of his unwavering dedication, involving extensive research and persistent experimentation. By employing coarse salt and organic fertilizers, he has masterfully achieved onions that embody qualities of "sweetness," "flavor," "texture," and "safety". You will be taken aback by the size, sweetness, and distinctive qualities that set them apart from the onions you are accustomed to. Experience the extraordinary delight of Awaji Island onions, renowned as the sweetest in Japan, encapsulating the passion and dedication of the "Onion Father" Narui.
Stores that Sell Awaji Island Onions
1. CRAFT MARCHÉ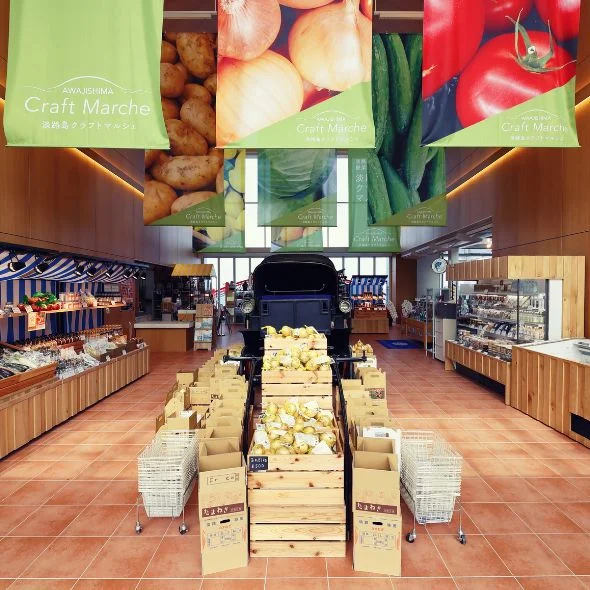 CRAFT MARCHÉ offers an exclusive array of produce directly sourced from various local farmers. This includes morning-harvested vegetables and processed items incorporating Awaji Island onions, making for unique souvenirs available only here. Among the favorites at CRAFT MARCHÉ are the renowned Awaji Island onions, procured from two dedicated farmers. We invite you to acquire these delicious Awaji Island onions, a testament to the farmers' meticulous efforts and dedication.
2. 101 Farm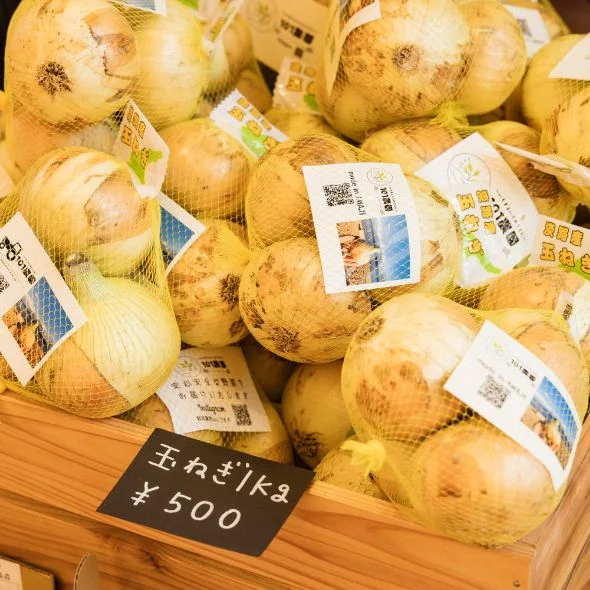 1kg / 500 yen
3kg/1500yen
3. Satoyama Farm
1kg/500yen
3kg/1500 yen
Recommended Recipes Using Awaji Island Onions
1. Whole Onion Soup
Ingredients (for 2 servings)
2 onions
500ml of water
Bacon
2 teaspoons of consommé
Salt and pepper
How to Make
1. Peel the onion and cut off the root and stem.
2. Put ingredients number 1 to 4 in a pot and cook over medium heat.
3. After simmering for about 10-15 minutes, adjust seasoning with salt and pepper to taste.
2. Steamed Onion Steak
Ingredients
1 onion
30ml of water
1 tablespoon of salad oil
Salt and paper
5g butter
1 tablespoon soy sauce
How to Make
Cut onion into round slices (thicker slices are recommended).
Put ingredient 3 in a frying pan, add ingredient 1, and cook slowly on both sides over medium heat.
When slightly browned, sprinkle ingredient 4 into onion, put in ingredient 2, and cover the pan.
When the moisture is gone, add ingredient 5 and 6, toss, and then it's done!
Introducing Awaji Island Onions to the World
In recent months, Awaji Island onions have gained immense popularity not only within Japan but also globally. Initiatives have emerged to showcase Awaji Island onions on the international stage, leading to the creation of the "Onion Ring Song". This song goes beyond celebrating onions, conveying a profound message of aspiring for global harmony through a chain of smiles united by the symbolism of onions.