Awaji Island, located in the Seto Inland Sea in Hyogo Prefecture, is celebrated for its natural beauty and abundant culinary offerings. In recent years, the west coast of Awaji Island has seen a surge in new tourist attractions, piquing the interest of travelers. While summer attracts the crowds to Awaji Island, many travelers favor the autumn season for its pleasant weather, seasonal culinary delights, and captivating nature. Here's a guide to enjoying autumn on Awaji Island.
Autumn Nature on Awaji Island
1. National Akashi Kaikyo Park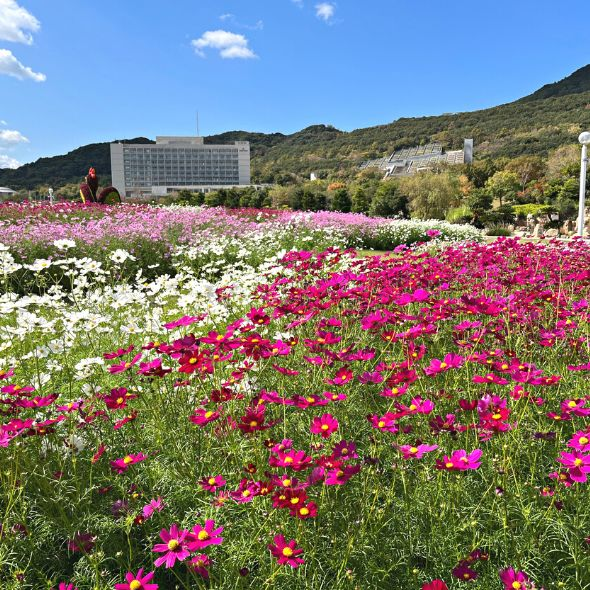 At Akashi Kaikyo National Park, travelers can enjoy the autumnal beauty of cosmos and marigolds, all set against the backdrop of a stunning seascape. The cosmos is best observed from mid-October onward, with rolling blooms. Swan boats are available for a charming waterfront pedal amid the seasonal flowers. Near the Awaji-guchi gate, you can find a vast lawn and a spacious athletic field for children to enjoy, making it an ideal destination to enjoy autumn on Awaji Island for both adults and kids.
2. Awaji Hanasajiki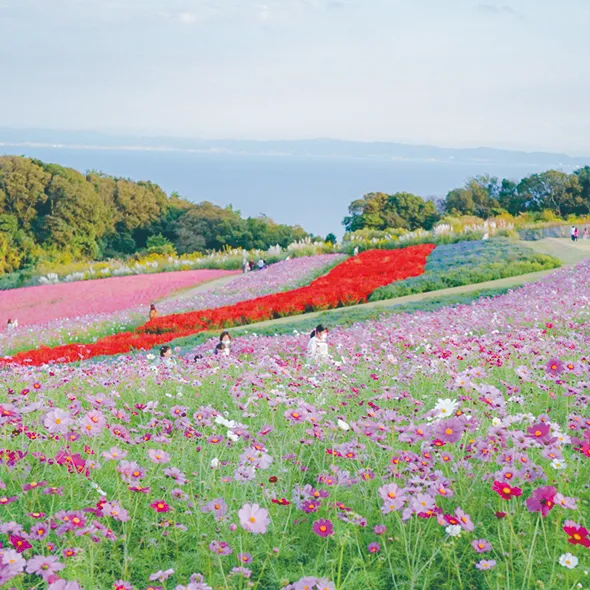 As you meander through Awaji Hanasajiki, a vivid tapestry of vibrant blooms will enchant your senses. This picturesque field showcases a rich variety of flowers, forming an ever-changing scenery with each passing season. In October, you will witness the fields donned in autumn hues, along with cosmos, striped buckwheat, and resplendent blue salvia. The park also provides a more serene ambiance compared to the other seasons with the calming presence of scarlet sage and mealycup sage.  
Visit here to see locations with beautiful autumn leaves on Awaji Island.
Autumn Cuisine on Awaji Island
3. miele the DINER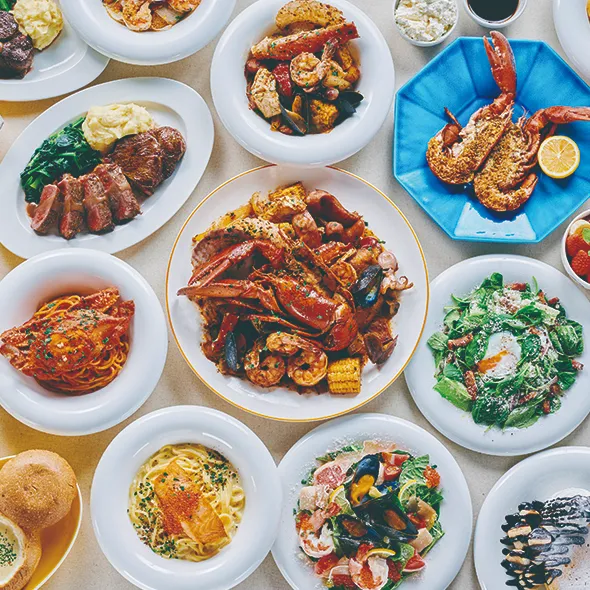 Indulge in an American-style feast brimming with fresh seafood and meat delicacies at miele the DINER, an elegant seaside restaurant. What sets this culinary gem apart is that every food order comes complete with a sumptuous buffet of fresh vegetables, making it the perfect destination for those in pursuit of delicious autumn cuisine on Awaji Island.
4. Awaji Chef Garden by PASONA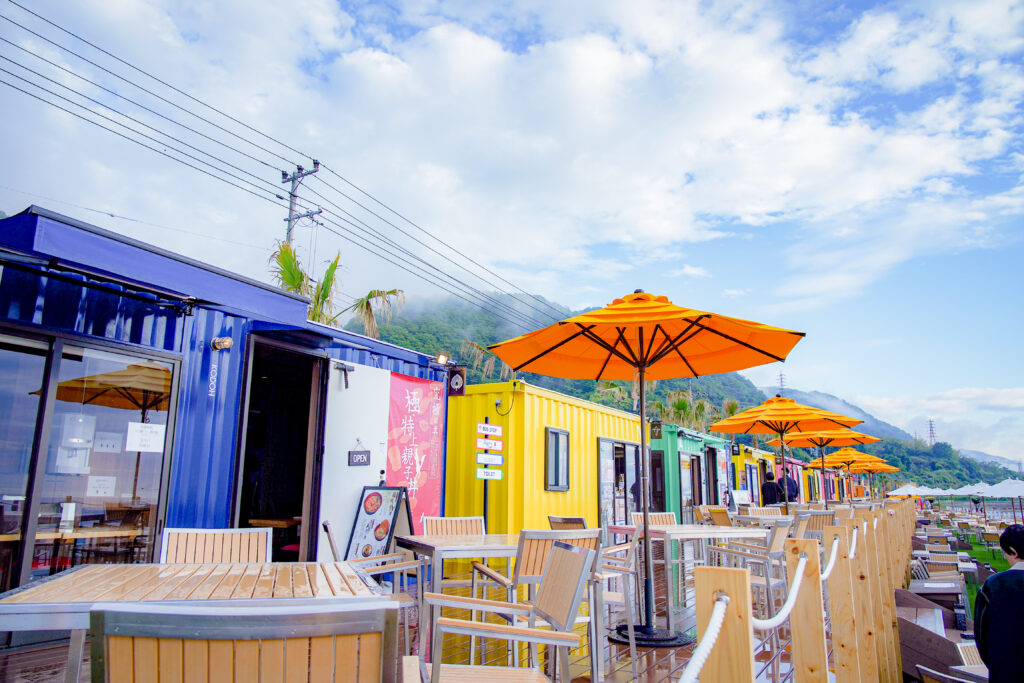 Awaji Chef's Garden brings together skilled chefs from all corners of Japan, on Awaji Island, also called the "Land of Food". The location is designed to look like a seaside mall decorated with vibrant containers, creating a visually stunning backdrop against the beautiful Harima-nada Sea. While you enjoy your meal, you will be treated to breathtaking views of the enchanting sunset, celebrated as one of Japan's top 100 sunsets. With an abundance of take-out choices available, you can enjoy your culinary experience on the terrace and also venture to explore other intriguing restaurants that pique your interest. In the lovely autumn weather, this is the perfect place to enjoy autumn on Awaji Island.
5. SEIKAIHA Aonoya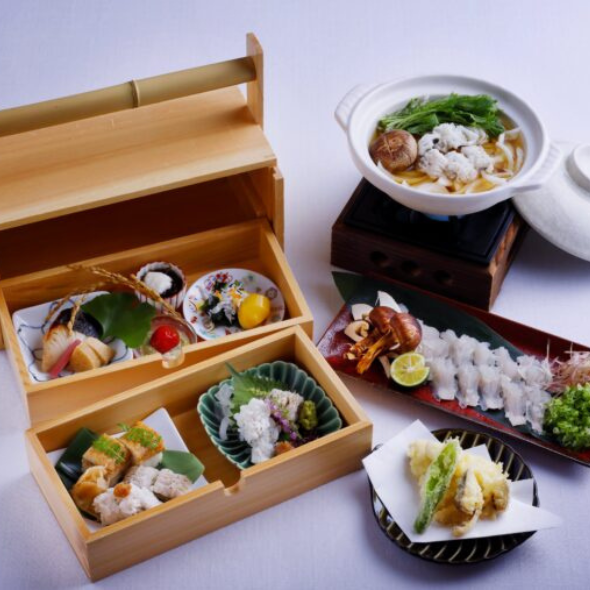 When thinking of Awaji Island, fresh seafood often comes to mind. Aonoya is a luxurious restaurant perfect for enjoying seafood in autumn on the island. You can delight in seasonal seafood from Awaji Island and beyond, beautifully presented in sushi and tempura dishes. The real highlight is the panoramic ocean views from every seat. This restaurant, a staple for seafood enthusiasts and travelers on Awaji Island offers more than just meals. It also includes live music performances and exclusive projection mapping shows during the evening. This season, Aonoya presents a limited-time menu featuring hamo (Japanese pike conger) and matsutake mushrooms, both treasures of the fall season.
Enjoy Autumn with your Family on Awaji Island
6. Nijigen no Mori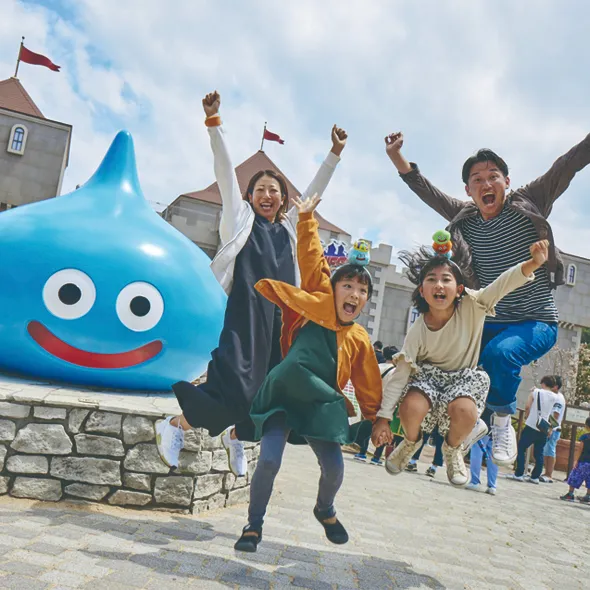 Autumn offers mild weather, making it perfect for outdoor activities. Nijigen no Mori, situated in Hyogo Prefectural Awaji Island Park, is a fantastic place to enjoy picnics and sports, along with a wide variety of anime-related attractions. You can experience ziplines, solve mysteries, dive into immersive RPG adventures, and discover enchanting photo spots. It is an ideal destination for those craving action-packed adventures in autumn on Awaji Island.
7. Hello Kitty Smile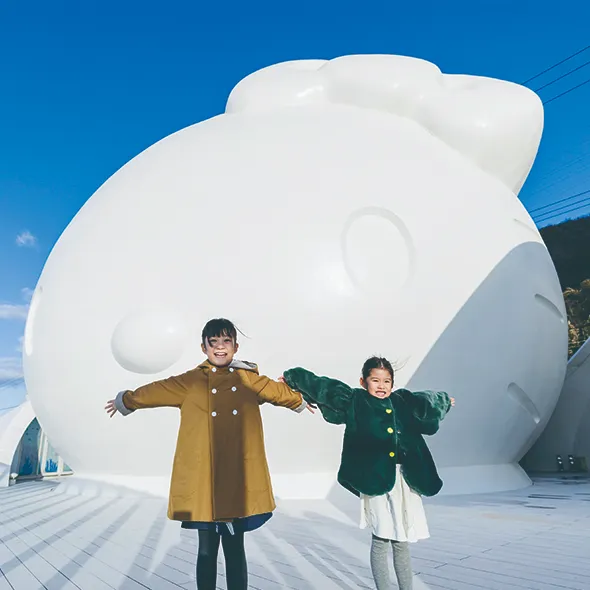 The iconic Hello Kitty Smile stands out on Awaji Island with its distinctive building. This is a family-friendly attraction in autumn. It boasts a gourmet restaurant serving delicious authentic Chinese cuisine, unique limited-edition souvenirs, an atelier area to craft handmade items, and projection mapping experiences that transport you to the world of Hello Kitty.
Unwind and Rejuvenate During the Autumn Season on Awaji Island
8. Zenbo Seinei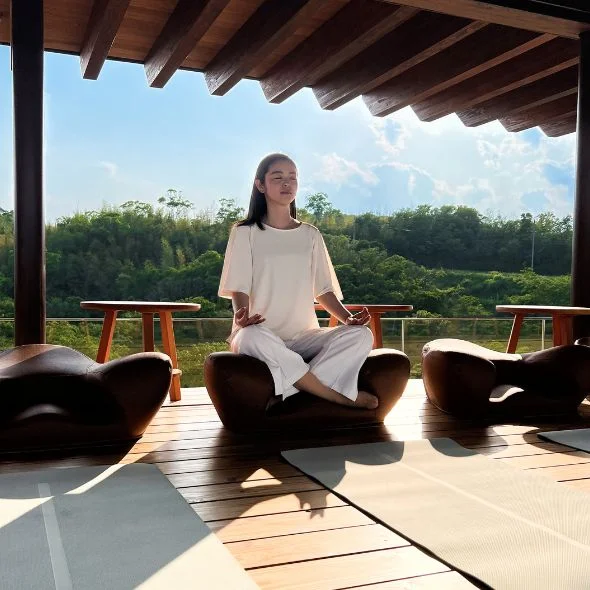 Zenbo Seinei offers a profound ZEN experience amid the awe-inspiring landscape of Awaji Island. The cool autumn breeze and warm temple lighting create a serene environment for mental and physical rejuvenation. With options ranging from half-day courses to overnight stays, you can experience ZEN cuisine crafted from natural, animal-free ingredients, omitting flour, oil, and sugar. Explore this popular spot, featured in numerous media reports, for a unique leisure experience in autumn on Awaji Island.
Autumn Souvenir Shopping on Awaji Island
9. Nojima Scuola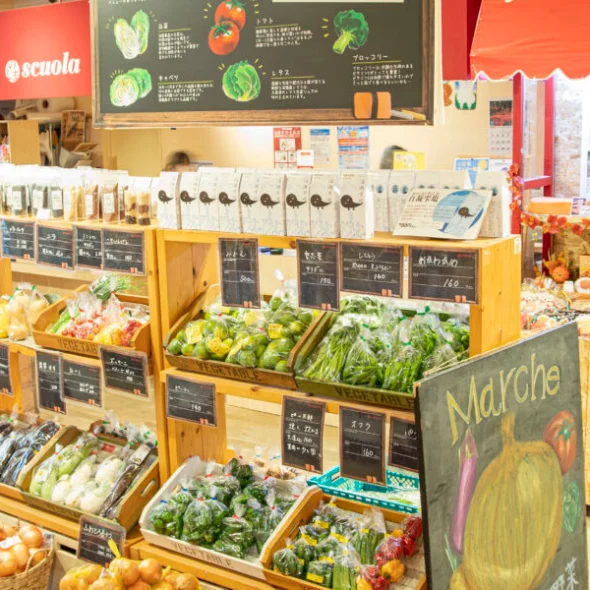 Nestled on a hill on the west coast of Awaji Island, Nojima Scuola is a transformed elementary school complex. Offering about 250 diverse products, it is an ideal location for finding Awaji Island's local specialties and souvenirs. Aside from shopping, visitors can enjoy a salad buffet and seasonal vegetable-based dishes at Café Scuola on the first floor. Additionally, the Nojima Zoo provides an opportunity to meet charming and unique animals. This facility is perfect for shopping, dining, and animal interactions during autumn on Awaji Island.
10. CRAFT CIRCUS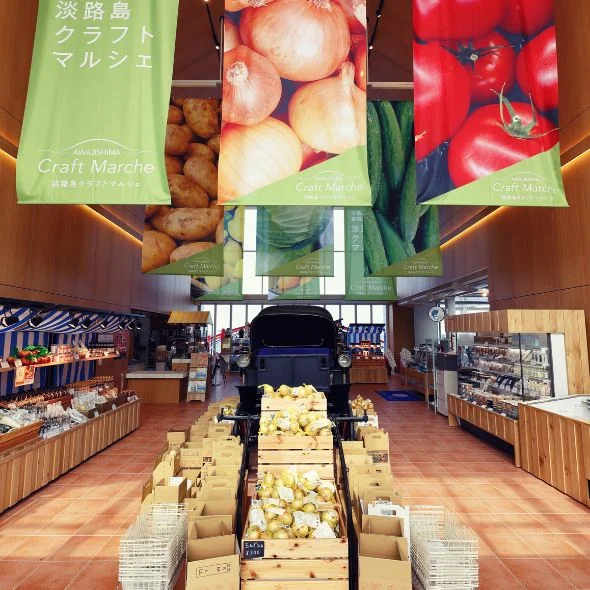 CRAFT CIRCUS houses two unique souvenir shops. "Craft Marche" features freshly harvested Awaji Island onions, original sweets, seasonings, drinking water, and other exclusive souvenirs. You can also try some limited autumn gelato flavors. The Global Market stocks fashionable items and traditional crafts from around the world—ideal for personal or gift shopping.
Check here to learn more about souvenirs you can get on Awaji Island.
Closing
Awaji Island boasts a diverse array of attractions that cater to both families and adult travelers during the autumn season. The wonderful autumn weather on Awaji Island creates the perfect setting for visitors to relish the season. It is an opportunity to engage in a multitude of activities, savor autumn-inspired cuisine, and acquire exclusive souvenirs.
©'2022 SANRIO CO., LTD. APPROVAL NO. L630788