Awaji Island is a resort area surrounded by the sea with vast expanses of nature. Its scenery has been featured on many TV programs and talked about on the Internet. Here are some of the most talked-about spots that you may not know about. These are all spots that you can easily visit, so please take a look at them for reference.
Awaji Yumebutai Featured in Movies and Music Videos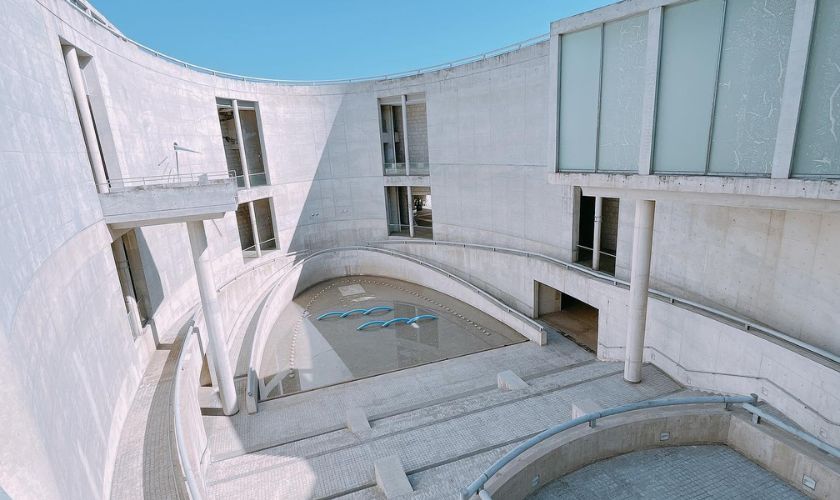 Awaji Yumebutai is a famous architectural structure on Awaji Island. It was designed by Tadao Ando, winner of the Pritzker Prize, the Nobel Prize in architecture. Expressing a symbiosis with nature, the inorganic and curvaceous beauty of the poured concrete building has become a popular spot for photos and videos.
Sakurazaka46 "BAN" Music Video Location
.
The locations used within Awaji Yumebutai are as follows: Awaji Yumebutai International Conference Center, Mountain Corridor, Oval Forum (Upper Corridor and Central Square), Kai no Hama, and Outdoor Theater.
In terms of buildings, the museum is popular among overseas visitors for its incorporation of Japanese culture, including tiled roofs made on Awaji Island and tea rooms.
In addition to the above spots, there are many other photo spots such as "Hyakudan-en" and "Umi-no-church", so you can enjoy taking pictures not only in the MV area.
Location of "Ajin" Movie 
The "Ajin Institute" that appears in the movie "Ajin" starring Takeru Sato and Go Ayano is the Awaji Yumebutai International Conference Center.
At the Awaji Yumebutai International Conference Center, you can visit many spots while recalling scenes from "Ajin Institute," such as the scene where the main character is attacked by a ghost and the spot used in the battle scene. Next door is the Hyakuda-nen (Hyakudan Garden) and the Oval Forum, both mentioned earlier, where you can enjoy the architecture of Tadao Ando to the fullest.
The Pokemon Manhole Is Located Only on Awaji Island in Hyogo Prefecture
Manholes with Pokemon illustrations, commonly called "Poke-lids," have been installed all over Japan. In Hyogo Prefecture, there are three such manholes, located only on Awaji Island. One of the attractions of Awaji Island is that the legendary Pokémon "Lugia" can be seen there. It is one of the spots that families and Pokemon fans should visit at least once.
Lugia at Roadside Rest Stop "Awaji"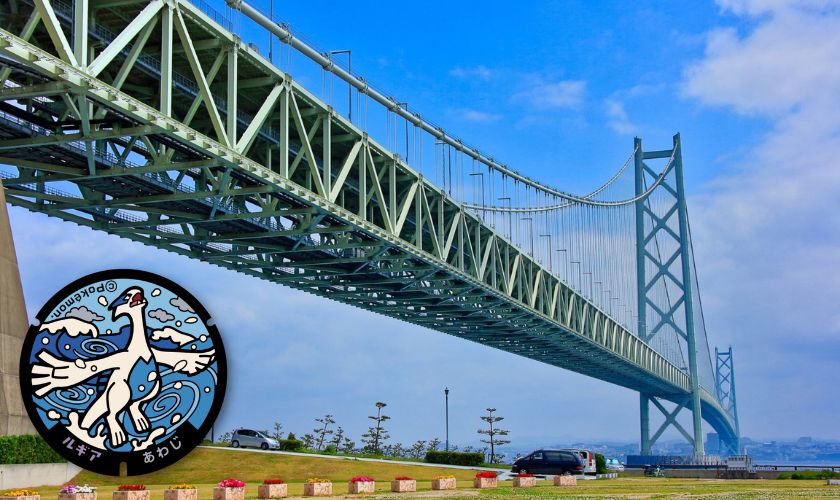 This Rest Stop is the closed to the Awaji Interchange and located near the Akashi-Kaikyo Bridge, offering a very beautiful view of the bridge and Kobe area. In addition to the scenery, there are also restaurants using Awaji Island ingredients and stores where you can buy souvenirs and other items. There is also outside seating so you can enjoy your meal with your pets.
The poke lid is located in the center of the circular stone pavement in the plaza around the roadside rest stop.
Bayleef and Aromatisse at Hokudan Earthquake Memorial Park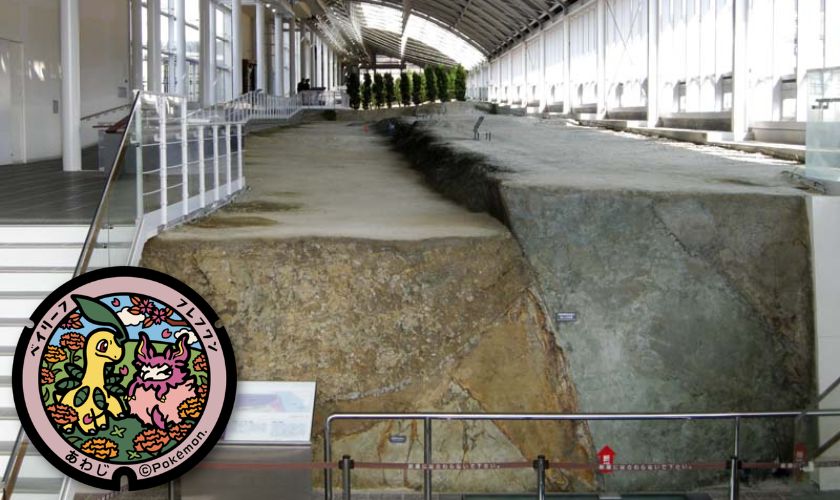 This valuable facility preserves the fault line that was created by the Great Hanshin-Awaji Earthquake, and is designated as a national natural monument. Visitors can learn about the horror of the earthquake at that time and the importance of being prepared for earthquakes and natural disasters. To use this facility, an admission fee is required. The poke lid is located near the pyramid-shaped objet d'art "Becchaina Rock" in the recreation area of Hokudan Earthquake Memorial Park. No entrance fee is required for this area, so anyone can visit.
Cloyster and Gastrodon at the Parchez House of Fragrance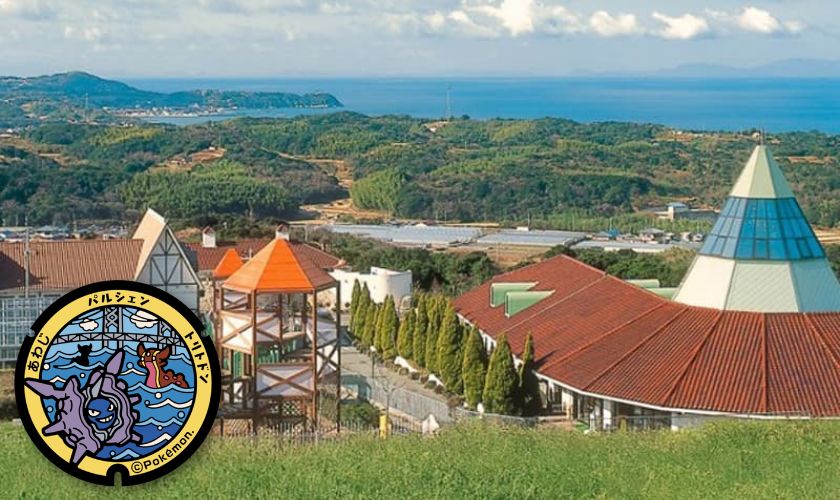 The "Parchez House of Fragrance" is a facility with a theme of fragrance, where many herbs are grown and visitors can pick their own, or make their own original souvenirs such as herbarium and perfume. You can also enjoy a relaxing sightseeing tour with hot spring baths and meals. It takes some time to find this poke lid because of its large area. Please try to find it by going up the stairs on the "Fragrance Trail" behind the Fragrance Pavilion.
Awaji Island, the Holy Land of Dragon Quest
Sumoto Shimin Hiroba with Dragon Quest 30th Anniversary Monument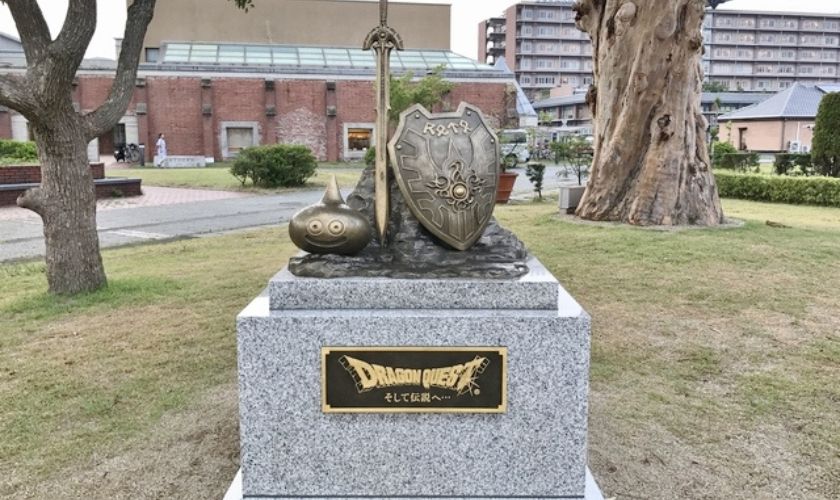 Sumoto City on Awaji Island is the hometown of Dragon Quest creator Yuji Horii. Yuji Horii is also an honorary citizen of Sumoto City. In commemoration of the 30th anniversary of Dragon Quest, a bronze statue was erected in Sumoto City, which has become a sacred place for Dragon Quest. It also attracts many fans as a sacred place with "a wish for slime to bring happiness, a shield to ward off bad luck, and a sword to cut off bad luck". There are also cafes and other eating and drinking establishments in the vicinity, making it a recommended spot for a casual drop-in.
Nijigen no Mori: The World of Dragon Quest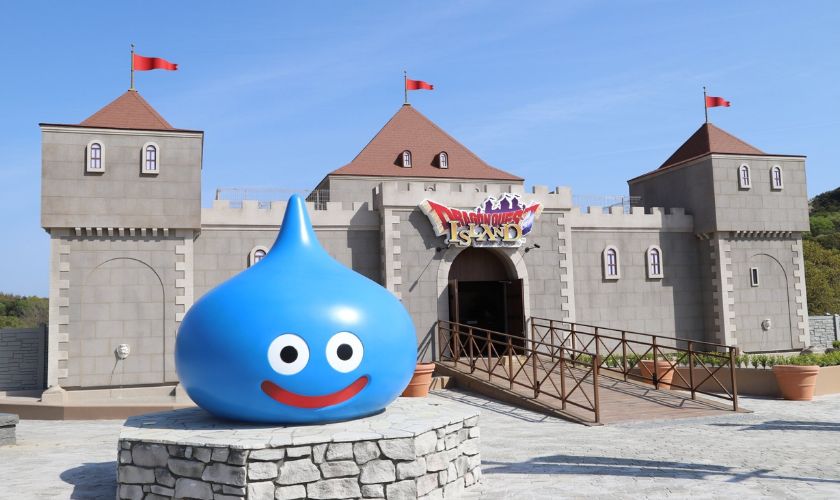 Located at the Hyogo Prefectural Awajishima Park, "Nijigen-no-mori", an anime-themed Park, offers many animated contents. You can Experience 2-dimentional popular Japanese anime contents in a real world with your five senses. Among them, a large slime monument and castle appear as soon as you enter the park. Visitors can enjoy a combination of digital and field RPG content from "Dragon Quest Island: "Daimaou Zouma and the First Island". Both adults and children will have the extraordinary RPG experience of clearing various missions and advancing through adventures, that will surely provide good memories.
* Please note that the Dragon Quest Island is currently on hiatus in preparation for its reopening of "Dragon Quest Island Ancient Genie and Guided Adventurers" on March 4, 2023.
© 2021 ARMOR PROJECT/BIRD STUDIO/SQUARE ENIX All Rights Reserved.
Click here for details of NIJIGEN NO MORI
Vacation Spots introduced in the TV Program
The popular TV program, "The World That Matsuko Doesn't Know", featured Zenbo Seinei, a zen retreat, and Boro Seikaiha on Awaji Island, two facilities that focus on "mindfulness" and "holistic wellness" and offer wellness stays where you can reexamine your health and identity.
Zenbo Seinei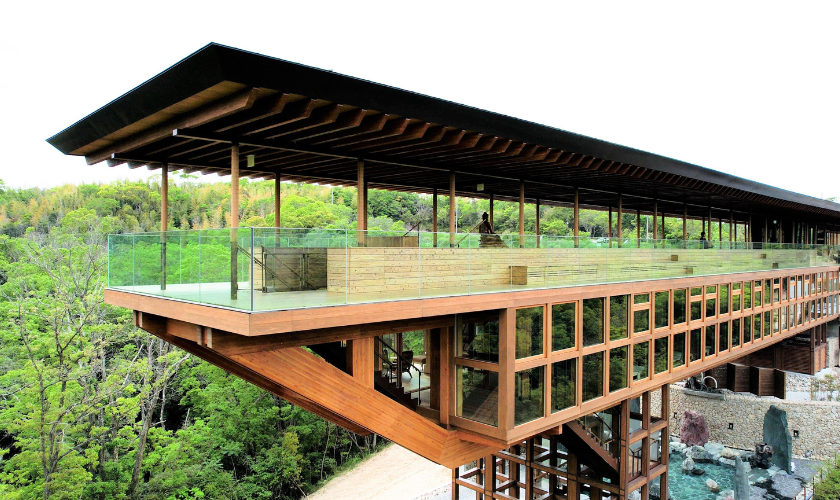 Zenbo Seinei was built by a Pritzker Prize winner, Shigeru Ban. Surrounded by nature at 135°E, it is popular for its experiential stays where you can heal your mind and body through "ZEN" experiences. In the "ZEN" experience, you can sharpen your spirit through "calligraphy," "tea," and "incense" and enjoy yoga on the open-air, 100-m long observation deck. The meals are also carefully prepared to be healthy and free of animal products such as oil, dairy products, and flour. Please experience the great nature of Awaji Island with dishes that make the most of the natural flavors of the ingredients.
Click here for details of ZEN Wellness SEINEI
Boro Seikaiha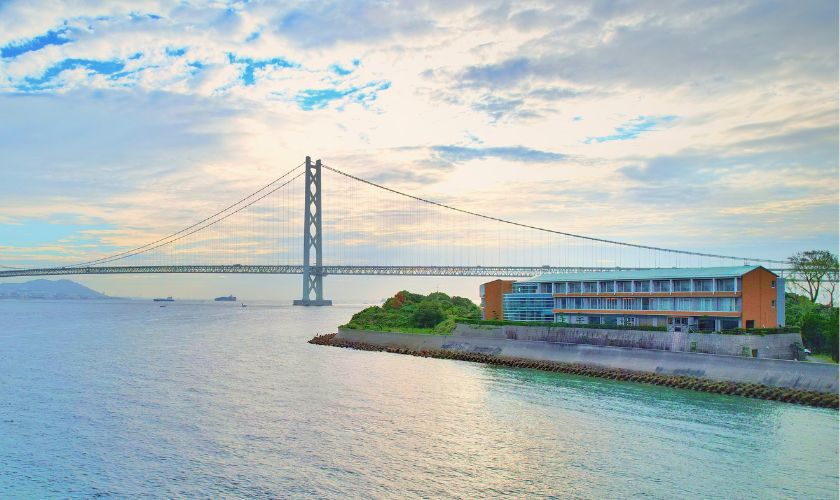 Boro Seikaihal is a hotel located right next to the Akashi Kaikyo Bridge. You can enjoy a relaxing time with a view of the magnificent Harimanada Sea. You can experience a modern version of the Touji (a hot spring cure) program to heal your mind and body. The hotel's hot spring is a "natural radon hot spring" and only 7% of all hot springs in Japan gush out from this precious spring. Bathing in this hot spring is said to have a "radiation hormesis effect" that metabolizes waste in the blood and body, and is said to be beneficial for gout and rheumatoid arthritis.
For the meal, you can enjoy dishes that promote healthy organs, produced by Chef Nobuaki Fushiki, who specializes in fermentation, with the theme of "fermented beautiful organ food", including "Akashi natural sea bream in Hishio (soy sauce)" and "Awaji cherry salmon in koji miso (malted rice miso)". By consuming fermented foods containing beneficial bacteria, the intestinal environment is regulated and immunity is expected to improve. At the same time, smooth digestion and absorption, and the rhythm of defecation will also be improved, and this meal is expected to have a supportive effect on the body to improve the body's resistance to weight gain.
Location
Holistic Wellness Hotel - Boro Seikaiha
Address
1833-4 Iwaya, Awaji City, Hyogo Pref. 656-2401
Access
40 minutes by car from Shin-Kobe Station / Kobe Airport. 5 minutes from Awaji IC on the Kobe-Awaji-Naruto Expressway.
Parking
Available
Phone Number
050-3684-4838
Reception Hours
Check-in: from 15:00
Check-out: 11:00
Website
https://www.bourou-seikaiha.jp/
Reservations
https://rsv.temanasi.jp/3/room/search
Click here for details of Boro Seikaiha
National Awaji Youth Exchange House, Location of "Men's School" Starring a Japanese Boys Idol Group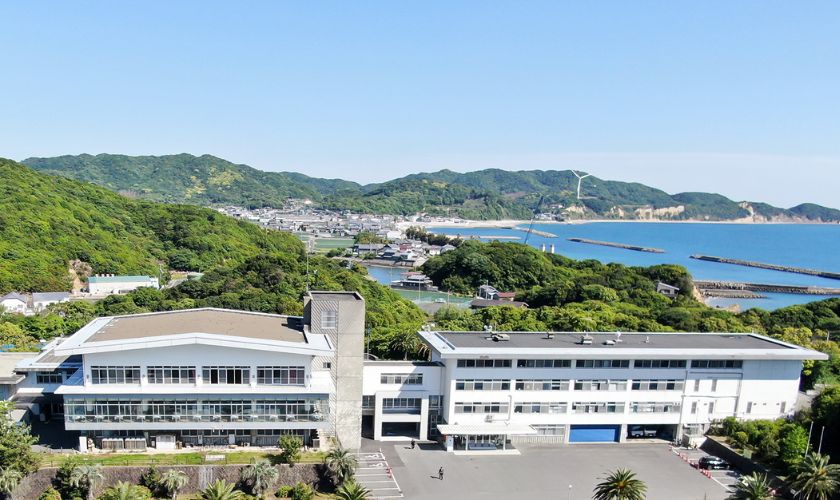 The National Awaji Youth Exchange House is famous as the location for "Men's School", a drama starring a very popular Japanese boys idol group, Naniwa Danshi. It is a social education facility that aims to nurture sound youth through a variety of hands-on activities like adventure rallies in which participants tackle challenges in groups. A tour of the location spots can be done between 08:30 and 16:30. Be sure to go to the reception desk and get a "Facility Tour Permit". Maps of filming locations are also available, so you can tour the facility while remembering scenes from the drama. If you are interested in actually visiting the facility, please check the website.
Awaji Hanasajiki, Location of the Final Episode of the TV Series "Asa ga Kita"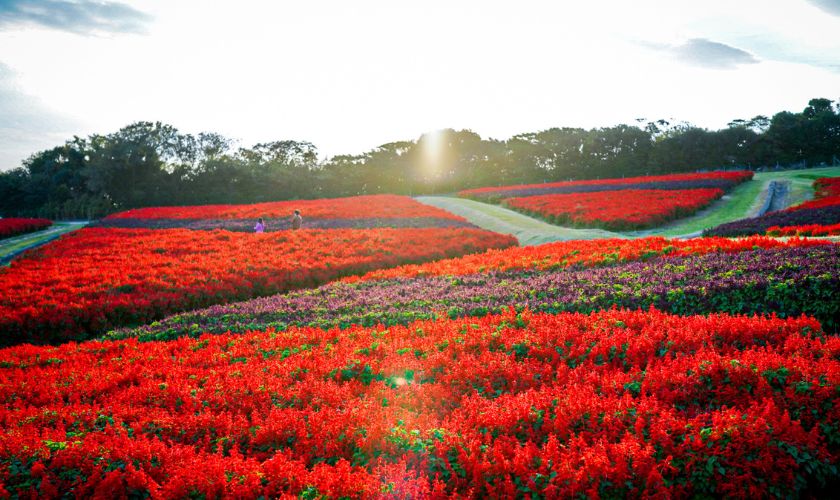 Awaji Hanasaji is a place where flowers bloom from season to season. It was used as a location for the final scene of "Asa ga Kita", in which rape blossoms spread. A wide range of rape blossoms are planted, from early-blooming varieties to late-blooming varieties that can be harvested for rapeseed oil, so they can be enjoyed for a long time from early January to mid-April. Many other types of flowers are also carefully cultivated, and they cover the entire expanse of the grounds, creating a carpet of colorful flowers. Admission is free, so anyone can easily use the grounds, which attracts many tourists during Awaji sightseeing tours.
| | |
| --- | --- |
| Name | Hyogo Prefectural Park "Awaji-Hanasajiki" |
| Address | 〒656-2301 2805-7 Kusumoto, Awaji City, Hyogo [地図] |
| Phone number | 0799-74-6426 |
| Access | By car: Go straight at the Awaji IC exit intersection and follow Prefectural Road No. 157 south for about 12 minutes (about 7 km). |
| Official website | https://www.hyogo-park.or.jp/hanasajiki/ |
Awaji Island, The Best Destination for Sceneries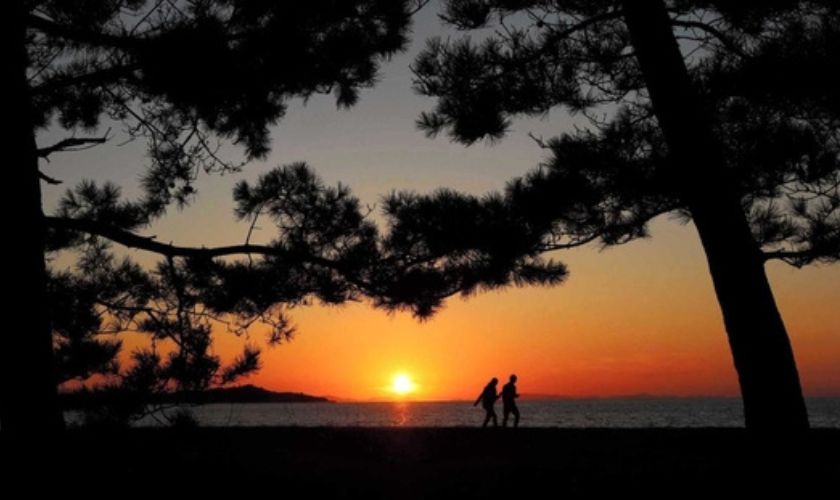 Awaji Island has both mountain and ocean views that are so beautiful. Especially, a sunset on Awaji Island is so dazzling that it is selected as one of the Top 100 Sunsets In Japan. On a beautiful day, don't miss this awesome sunset. For those who would like to enjoy this beautiful sunset leisurely, we recommend that you dine at restaurants or stay at a hotel on the west coast of the island.