When Japan is mentioned, different images spring to mind: rich culture, captivating history, delectable cuisine, unique experiences, and breathtaking nature. These are the very essence of Japan, drawing countless visitors eager to immerse themselves in these captivating aspects of the country. In this article, we invite you on a captivating day trip to Awaji Island, where you can fully experience Japan.
What and Where is Awaji Island?
Awaji Island, known as Awaji-shima (淡路島) in Japanese, is the largest island in the Seto Inland Sea of Japan. It is located between the island of Honshu, Japan's main island, and Shikoku, another of Japan's four main islands. Specifically, Awaji Island lies in the eastern part of the Seto Inland Sea, just off the coast of the city of Kobe in Hyogo Prefecture.
Awaji Island is well-known for its stunning natural landscapes, including scenic coastlines and beautiful sunsets. It is a popular destination for those seeking a peaceful retreat from the hustle and bustle of urban life. Additionally, the island is also rich in culture and traditions, making it a well-rounded destination for tourists looking to experience Japan as a whole.
Experience Japan by Enjoying the Culture & History
1. Izanagi-jingu Shrine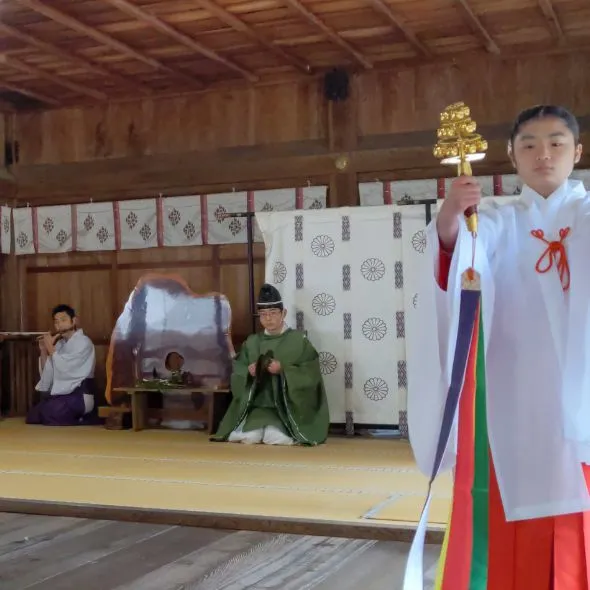 Izanagi-jingu Shrine, situated on Awaji Island, is a renowned Shinto shrine of great historical and cultural significance, believed to be one of Japan's oldest. Beyond its mythical origins, it has served as a sacred sanctuary for spiritual reflection for countless generations. This shrine, intimately connected to Japan's legendary beginnings, stands as a poignant symbol of culture, beckoning guests to delve into the captivating realm of Japanese folklore, spirituality, and heritage.
According to legend, the shrine's roots trace back to the era of Izanagi, a remnant of his dwelling. After bequeathing his powers to his daughter Amaterasu, the deity constructed Izanagi Jingu, where he spent his final days. Wandering through the shrine's grounds, visitors can partake in Shinto blessings and behold the awe-inspiring sacred tree, which has gracefully endured for nine centuries. This is a truly must-visit place if you want to experience Japan on Awaji Island.
2. Ningyo Jōruri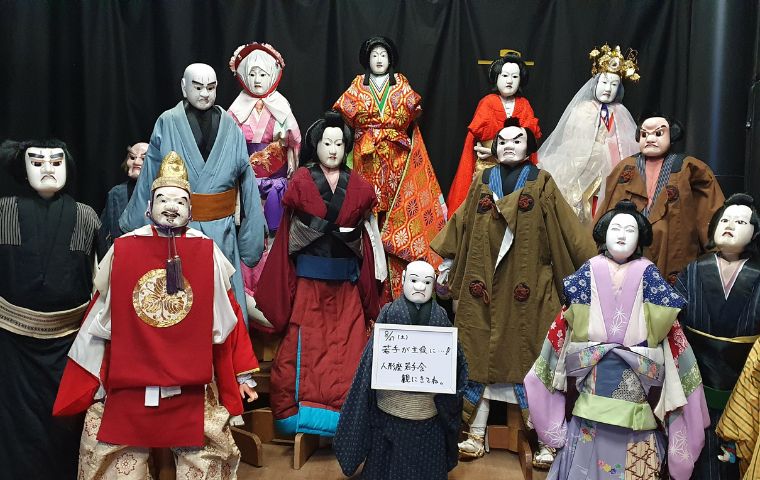 Puppet performances are an extraordinary cultural treasure in Japan, and at the Awaji Ningyo Jōruri Theater, you can experience the culture of Japan by witnessing mesmerizing shows that bring ancient tales to life through the art of puppetry.
This talented troupe offers a diverse range of plays, with new stories each month. Operating a single puppet is a feat of synchronized expertise, involving three puppeteers – one for the head and right arm, another for the left arm, and a third for the legs and feet. Watching these wooden puppets come to life is truly enchanting, as their movements and interactions with the audience create a striking illusion of living beings.
With a captivating storyline, remarkable puppet performances, opportunities for audience involvement, and the chance to explore backstage, Ningyo Jōruri puppetry stands as one of the most exceptional cultural experiences you can enjoy in Japan.
Experience Japan by Eating Authentic Japanese Food
1. Aman no Shokutaku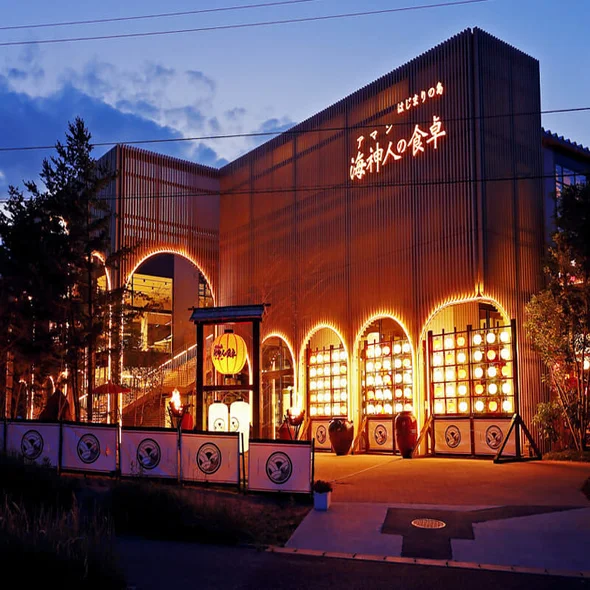 Aman no Shokutaku, nestled on picturesque Awaji Island, offers an authentic Japanese culinary experience. Discover the essence of Japan's national delicacies, crafted from Awaji Island's natural ingredients. The restaurant features two floors: Utage celebrates the island's finest ingredients, from marine delights to Awaji beef and renowned onions, preserving their original flavors. Sajiki offers teppanyaki and sukiyaki showcasing local beef and vegetables, ensuring a delicious taste of Awaji's culinary heritage.
The restaurant boasts a luxurious ambiance with a high ceiling, providing a perfect setting for sharing memorable moments with family and friends. You can also admire the Japanese-style garden and teahouse view through the windows.
Read here to learn more about Aman no Shokutaku.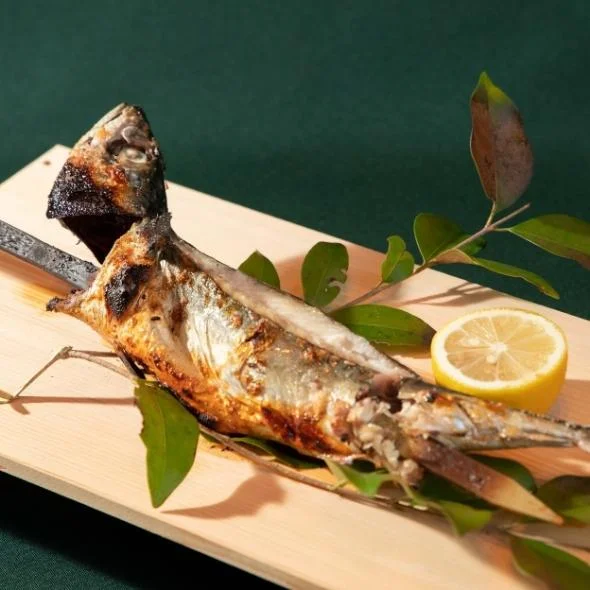 Click here for reservations Utage Click here for reservations Sajiki
Click here for details of Aman no Shokutaku
Experience Japan by Trying Unique Activities
1. Nijigen no Mori
Uniqueness is an important part of visitors to experience Japan, and Awaji Island's Nijigen no Mori offers a unique and immersive journey into the world of Japanese anime. This theme park is a vibrant hub for anime enthusiasts and pop culture fans, attracting diverse visitors from around the globe. With attractions inspired by beloved franchises like Naruto & Boruto, Dragon Quest, and Godzilla, Nijigen no Mori provides a captivating experience for every visitor.
Click here for details of NIJIGEN NO MORI
2. miele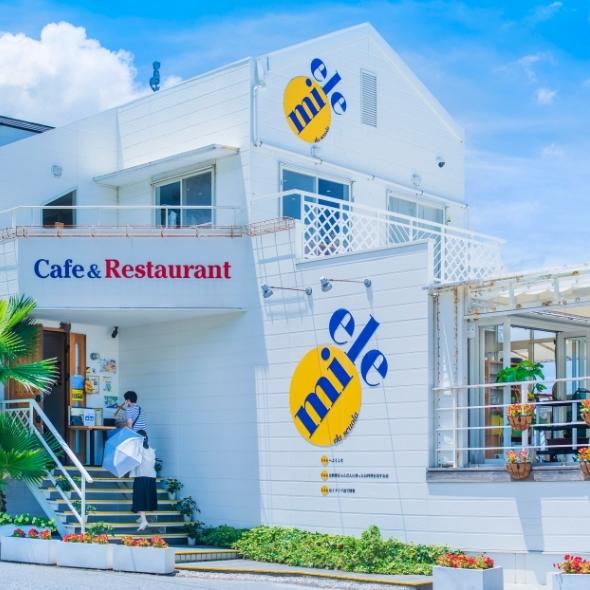 miele on Awaji Island is a culinary treasure, offering a distinctive dining experience that seamlessly blends exquisite cuisine and impeccable service with breathtaking views. The moment you step into Miele, you will be enveloped in a warm and inviting ambiance. The elegant interior design and soft lighting create a serene atmosphere, immediately putting you at ease.
What truly sets miele apart is its exceptional and one-of-a-kind culinary offerings. From their renowned unlimited shirasu (whitebait) pizza to delectable seasonal pizza desserts and honey-infused desserts, the menu caters to all tastes, making it perfect for everyone. Given the island's love for onions, do not miss their unlimited onion-topped pizzas, a local favorite.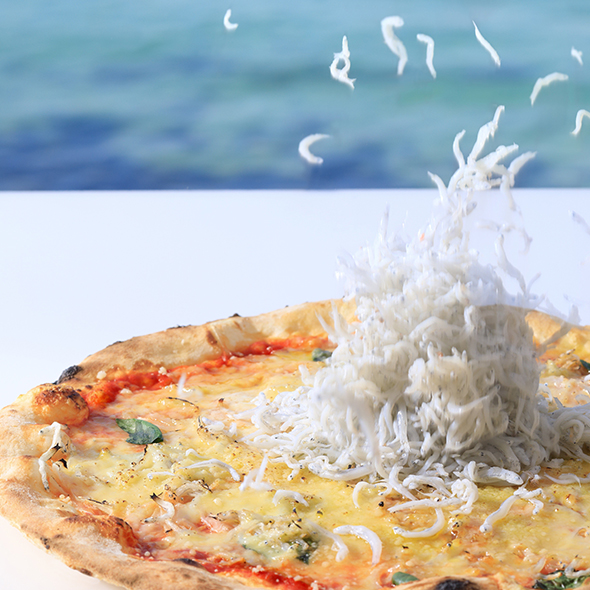 Name
miele
Adress
785-9 Nojimahikinoura, Awaji City, Hyogo Pref. 656-1721
Tel
0799-80-2600
Operation Hours
Weekdays 11:00~19:00 (L.O.18:30)
Sat., Sun, & Public Holidays 9:30~19:30 (L.O.19:00)
Closed: Tuesdays
In Aug. and Sept. it will not be closed on Tuesdays
Website
https://www.miele-da-scuola.com/
Click here for details of miele
Experience Japan by Enjoying the Breathtaking Nature
1. Awaji Hanasajiki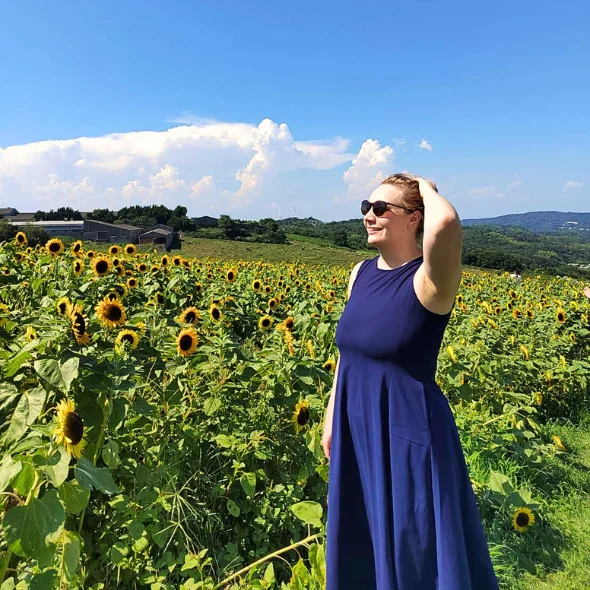 Awaji Hanasajiki, a true gem on this island, unveils an enchanting flower field that captivates visitors with its vibrant hues and tranquil atmosphere. In spring, the landscape comes to life with canola flowers painting it in golden brilliance, complemented by the delicate charm of Iceland poppies. Summer graces the scene with the graceful presence of spider flowers, while iconic sunflowers stand tall and proud, infusing the field with their vibrant energy. Transitioning into fall, scarlet sage and mealycup sage offer a serene backdrop with their rich colors. Throughout the year, Awaji Hanasajiki's ever-changing floral tapestry promises a sensory delight and a deep appreciation for nature's wonders.
2. Sunset at Ocean Terrace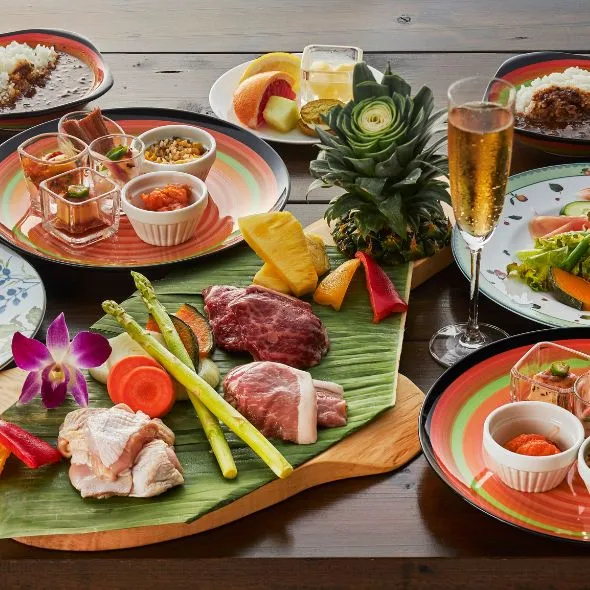 Awaji Island is also renowned as one of the best destinations for sunset views, and as the "sunset line" graces nearby locations with unparalleled views, it creates a sense of wonder and anticipation. One of the recommended locations is Ocean Terrace.
Ocean Terrace is a delightful oceanfront grill restaurant offering a charming dining experience. True to its name, it presents an uninterrupted vista of the vast sea and sky, where the boundary between water and heavens seems to vanish, revealing nature's own masterpiece.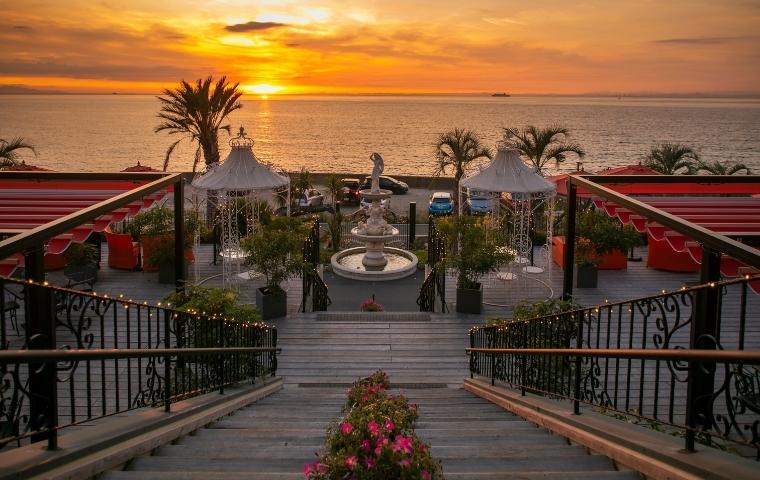 Perched atop a hill, the terrace serves as a picturesque spot for savoring exquisite Awaji beef steaks while enjoying panoramic views of the expansive Harimanada Sea. The restaurant, led by skilled Executive Chef Yamashita Hal, a distinguished representative at the World Gourmet Summit, ensures culinary excellence. Adding to the ambiance, a live jazz ensemble enchants guests every Saturday, making it an ideal place to unwind, immerse in enchanting jazz melodies, and set the stage for memorable moments.
Click here for details of Ocean Terrace
3. Zenbo Seinei
Zenbo Seinei is a wellness retreat designed with the intention of providing a location for participating in activities such as yoga and meditation, enabling visitors to revitalize both their physical and mental states. Designed by the renowned Japanese architect Shigeru Ban, the structure embodies a forward-thinking and environmentally conscious architectural approach, employing materials like Japanese Cedarwood.
The extraordinary 100-meter-long terrace at Zenbo Seinei offers an awe-inspiring panoramic view of Awaji Island's natural surroundings. This is an important destination to experience Japan since you can do various activities such as meditation, eating Japanese Shojin Ryori, and all while being surrounded by the beautiful nature of Awaji Island.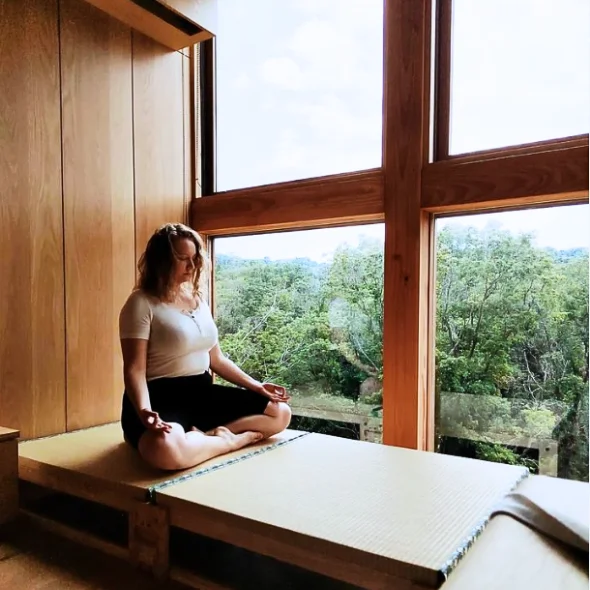 Click here for details of ZEN Wellness SEINEI
Closing
You can experience Japan in just one day by exploring various destinations on Awaji Island! These carefully chosen locations offer a diverse range of Japanese experiences that capture the essence of the country. You can choose from these destinations according to your specific interests and available time. It allows you to craft a personalized and fulfilling experience on Awaji Island. If your time in Japan is limited, consider a visit to Awaji Island, where you can immerse yourself in Japanese culture and delights within a day or two.
Transportation on Awaji Island
Navigating transportation on Awaji Island may initially appear challenging, but it becomes convenient once you are familiar with the options available. You can easily access Awaji Island by bus from both the Hyogo and Osaka areas, with bus services also accessible on the island itself. For those seeking the attractions on the West Coast of Awaji Island, such as miele, Aman no Shokutaku, Zenbo Seinei, and Nijigen no Mori, these facilities offer the added convenience of free shuttle buses, ensuring seamless access to these destinations. The bus designs are as you can see below.