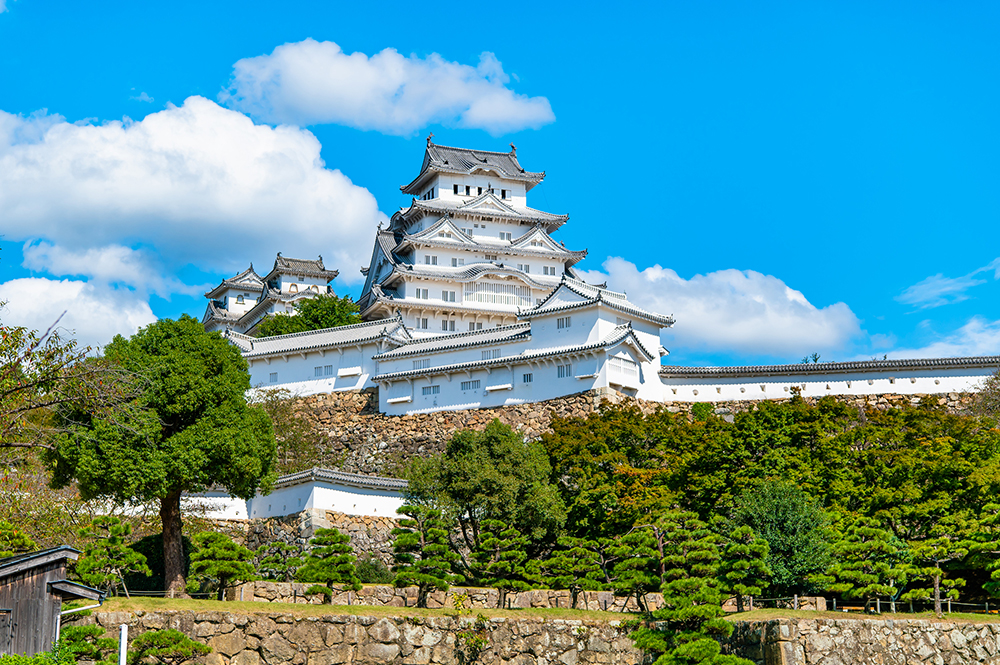 Himeji Castle is  located in Himeji City, Hyogo Prefecture.
The castle was originally built over  600 years ago and many structures such as towers, gates, and stone walls  are remain as they were built in the  17th century. The castle, a  national treasure, was registered as an UNESCO World Cultural Heritage Site in 1993 and  was  first  registered along with Horyuji Temple in Nara. The castle is also called  "Shirasagi Jo (White Heron Castle)" for its beautiful shape and white walls, like a heron spreading its wings .
Historically, it is said that Sadanori Akamatsu first built Himeji Castle  in 1346. In 1580, Hideyoshi Hashiba, later known as Hideyoshi Toyotomi, became the owner of Himeji Castle.  Terumasa Ikeda began a large scale reconstruction in 1601,  and from that time on, the outer walls of Himeji Castle were  white plastered. It  is especially precious that Himeiji Castle was not  destroyed by any wars for more than  400 years. In 2015, the major preservation and repair of Himeji  Castle was completed in  6 years  by many traditional craftsmen  and professionals.
Himeji Castle is also known as one of the "100 best Cherry Blossom Viewing Spots in Japan". In spring, about 1000 cherry blossoms are in full bloom . The combination of the pure white Himeji Castle and the pink cherry blossoms in full bloom is exceptionally beautiful, attracting many visitors from Japan and abroad every year.
Himeji Castle Official Website