Awaji tiles are a famous product of the Island, regarded as one of Japan's top 3 roof tile varieties. Awaji Tiles have a captivatingly deep, smoky brown hue, and are renowned for their vivid, long-lasting color. On the island, you can experience crafting these exquisite roof tiles yourself. This time, our journey led us to Yasutomi Kawaraya in Minami-Awaji City, where we tried our hand at the art of Awaji tile-making.
Awaji Tiles, One of the Three Great Tiles of Japan
Japan takes pride in its three major tile varieties, namely Sanshu Tile from Aichi Prefecture, Sekishuu Tile from Shimane Prefecture, and Awaji Tile from Awaji Island in Hyogo Prefecture. Together, they account for an impressive 80% share of the country's total tile production. On Awaji Island, three distinct tile types are crafted: ibushi-gawara, touki-gawara, and youhen-gawara. Among them, ibushi-gawara stands out, boasting the largest production share in Japan.
History and Characteristics
The prevalence of tile production on Awaji Island is due to the exceptionally fine soil, ideal for tile-making, in the southern region of Minami-Awaji City.
While Sanshu and Sekishuu tiles boast a fireproof temperature of over 1,300 degrees Celsius, Awaji tiles require a lower temperature of just over 1,000 degrees Celsius, making them more delicate compared to tiles from other regions. This delicacy makes crafting Awaji tiles a challenging task, demanding the expertise and skill of professional craftsmen.
Interview with an Awaji-tile Artisan: Mr. Yasutomi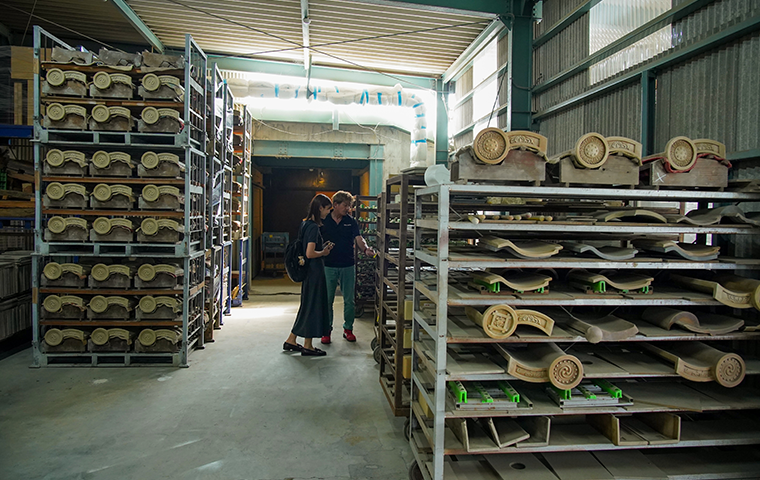 During our interview, we had the pleasure of speaking with Mr. Yasutomi, the second-generation to run the family business, Yasutomi Kawaraya. Carrying on his father's legacy, he shared his passionate insights into the allure of Awaji tiles and his vision for the future of the craft.
According to Mr. Yasutomi, the true charm of Awaji tiles lies in their aura of serenity along with the essence of a Japanese concept known as "wabi-sabi." "Wabi" expresses the appreciation of simple, modest things, finding charm in their unpretentious nature. On the other hand, "sabi" celebrates beauty that emerges over the years. As time passes, colors change, nicks and chips appear, but seen through the lens of wabi-sabi, such changes are embraced not as deterioration, but as a natural transformation with its own precious beauty.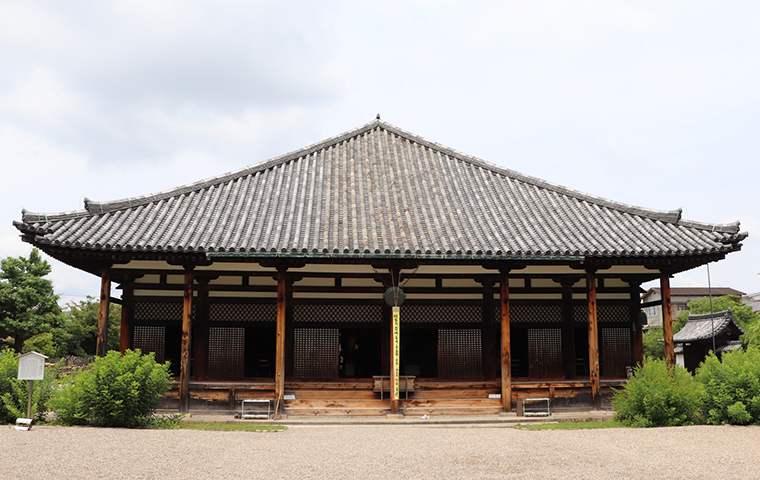 Mr. Yasutomi also explained that the oldest roof tiles in Japan are used at Gango-ji Temple in Nara Prefecture, Japan, and have endured for 1,400 years since the Asuka Period (year 593 to 710), showcasing exceptional craftsmanship and cultural significance. Their preservation stands as a remarkable testament to the rich cultural heritage of Japan.
Demand for Awaji Tiles is Decreasing
Awaji tiles are highly sustainable, crafted from natural materials that regulate humidity and temperature. Their excellent air permeability ensures they remain rust-free, making them ideal as roofing tiles. Historically, tiles were favored for house roofs due to their durability, lasting for generations. Awaji Tiles' timeless design and enduring quality continue to make them a wise and eco-friendly choice for roofing solutions.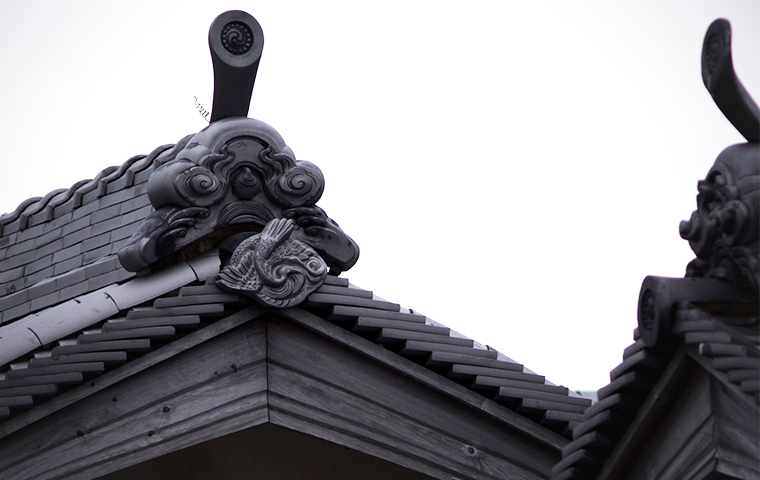 However, times have changed, and demand for roof tiles has drastically decreased, falling to just one-tenth of its peak. The Great Hanshin-Awaji Earthquake of 1995 further contributed to this decline. Roof tiles, once in high demand, are now seldom used due to the perception of them being "heavy".
The decline in demand for roof tiles is partly attributed to shifts in architectural styles. Installing tiles for roofs necessitates a more robust framework, leading to higher costs compared to other roofing materials. At present, the popularity of stylish, modern architectural designs has led to a decrease in tile usage.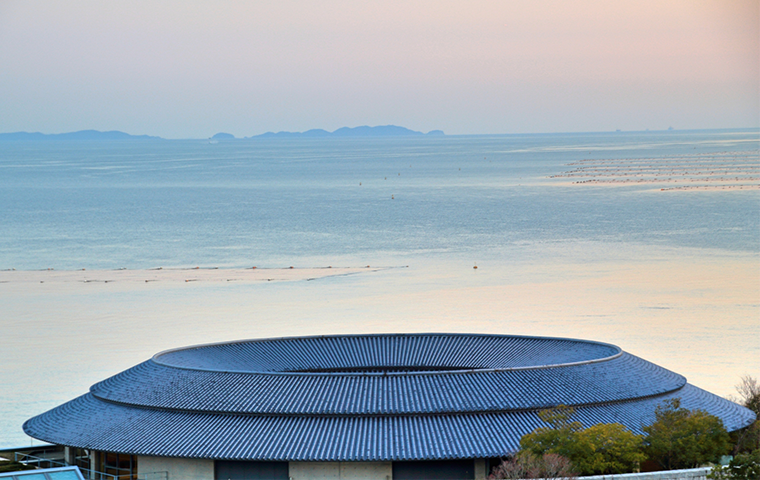 The International Conference Center at Awaji Yumebutai showcases an impressive roof made of Awaji tiles which creates a majestic presence of timeless beauty and grandeur.
Future Actions for Awaji Tiles
According to Mr. Yasutomi, the "wabi-sabi" character of Awaji tiles holds great appeal for people from overseas. Tiles are used for buildings throughout cities like Kyoto, castle towns, and traditional temples and shrines. The gentle waves of the tiled roofs exude a serenity that soothes and comforts the mind. The true charm of Awaji tiles is best experienced when an entire city embraces their use. Mr. Yasutomi is passionate about working with the entire town to showcase the captivating charm of Awaji Island.
Awaji Tiles Crafting Experience for Children and Adults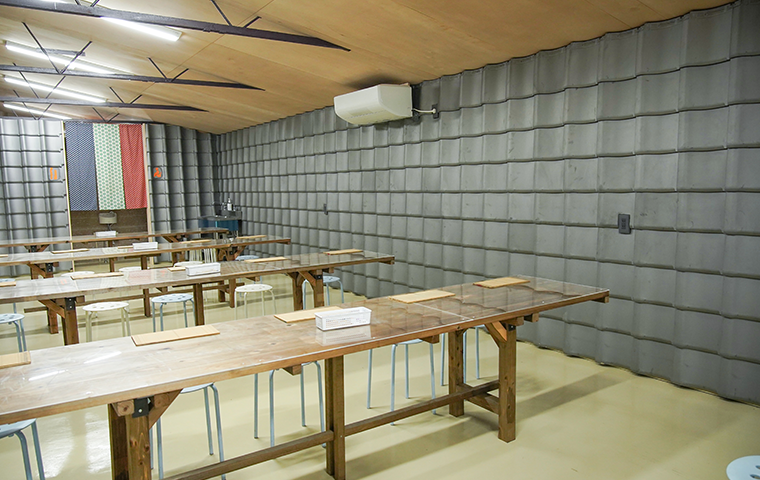 Mr. Yasutomi started crafting experience classes with a heartfelt desire to promote and raise awareness about Awaji tiles. His aim is to create an unforgettable experience that leaves a lasting impression on people's minds, showcasing not only the tiles themselves but also the craftsmanship behind them. Recognizing the declining demand for roof tiles and a decrease in the number of young people aspiring to become craftsmen, Mr. Yasutomi sees the crafting experience as a valuable opportunity to convey the true essence of Awaji Tiles and the artistry involved in their creation.
Try Crafting Original Creation Using Tile Clay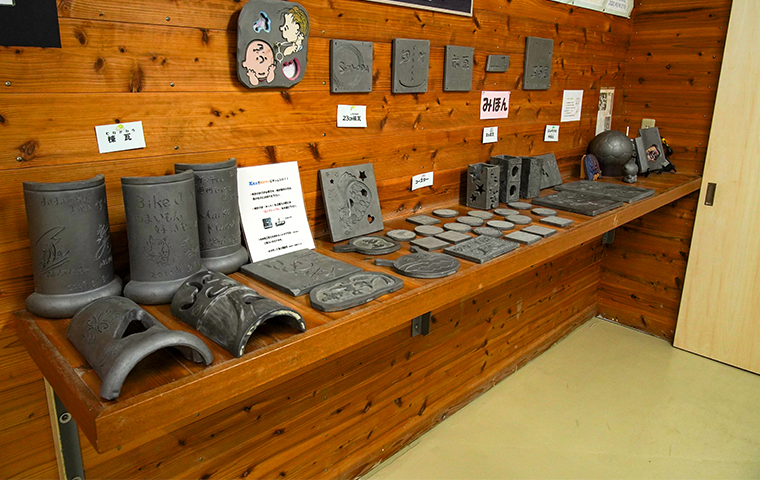 There are six types of clay to choose from. You can make a variety of works, from a simple coaster to a large piece like a nameplate, or a "proposal tile" that might be displayed in a national park.
This time, I chose a 10 cm square clay tile to try carving coasters. (Experience fee: 1,650 yen (tax included)). First, I drew my design on a piece of paper.
Then, the design was carefully traced onto the clay, and a mold was created. The entire design was carved precisely using tools like bamboo needles. The intricate task of bringing out the beauty of the letters and ensuring an even balance across the entire design was challenging. Crafting these intricate works requires patience and skill, making each creation a labor of love and artistry.
Once the design is finished, it takes about one to two months to be processed. You can come and pick up the completed work or have it delivered by shipping. Shipping fees are not included in the price.
Explore the Unique Store inside the Workshop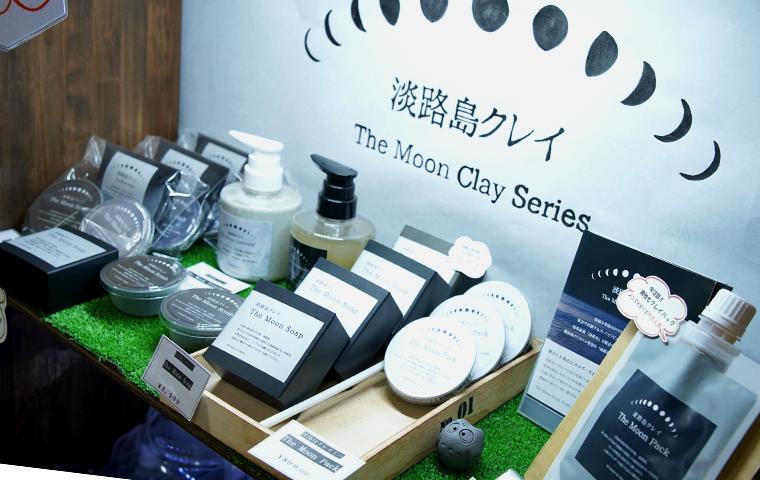 Browse a delightful array of goods crafted from the same raw clay used in Awaji tile-making at the onsite store, from decorative pieces to practical tools. Surprisingly, even skincare products for both men and women were available, ingeniously crafted from the same clay as the iconic roof tiles.
Love Proposal Road at Keino-matsubara Beach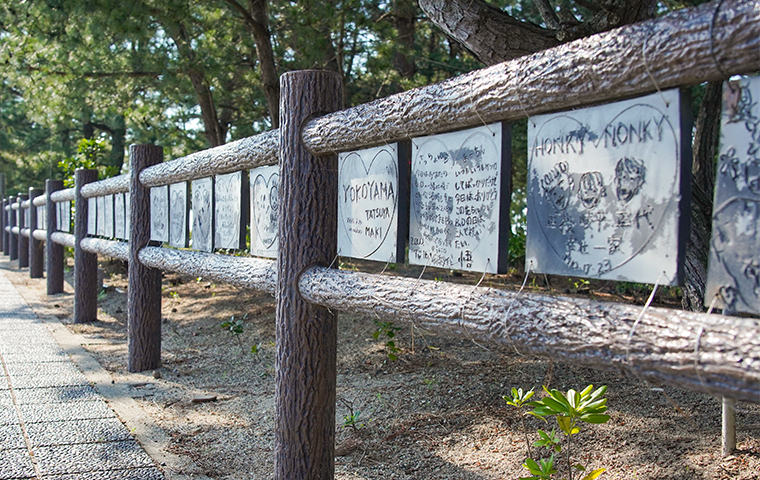 At Keino-matsubara in Minami-Awaji City is a road specially designed to commemorate marriage proposals. This picturesque spot is set nearby a white sand beach lined with approximately 50,000 lush black pine trees stretching for about 2.5 kilometers. Be sure to catch the breathtaking view of the setting sun chosen as one of Japan's best 100 sunset locations.
The charming Love Proposal Road is adorned with heart-shaped tiles etched with marriage proposals and vows. The myriad love-filled messages is a joyous sight. Create an everlasting symbol of your love by engraving your sentiments onto a proposal tile at workshops offered by Yasutomi Kawaraya.
The "Seven Gods of Good Fortune" Made of Awaji Tiles at Keino-matsubara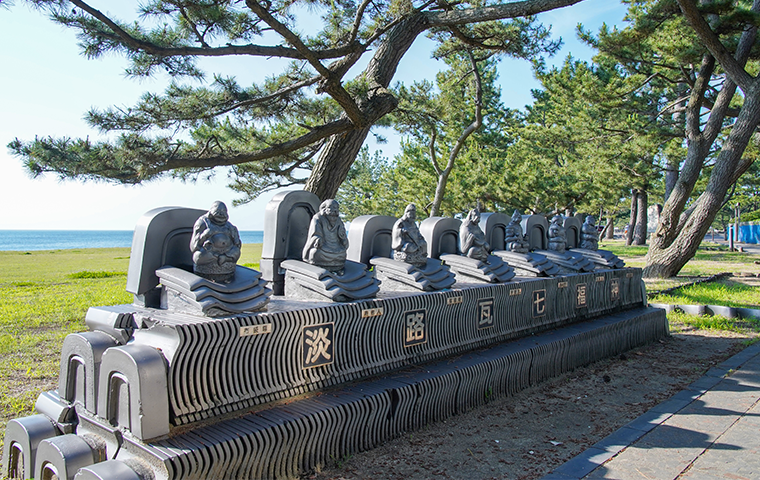 While exploring Keino-matsubara, you may also encounter depictions of the "Seven Lucky Gods" created by using Awaji Tiles, an extra touch of cultural fascination to your experience.
Yasutomi Kawaraya Overview
Address: 105-2 Matsuhowakida, Minamiawaji, Hyogo 656-0312
Phone number: 0799-36-2303
Email: info@awaji-taiken.com
Hours of operation:
Awaji tile clay crafting experience 10:00-16:00
Kawaraya Restaurant
Lunch 11:00-14:30 (LO)
Dinner 17:00-20:30 (LO) *Reservations required by the day before.
Closed on Thursdays