As the summer season approaches, an increasing number of people are finding their way to Awaji Island, and it is no wonder why. Awaji Island offers a delectable assortment of the finest summer gourmet delights, ensuring a truly unforgettable culinary experience for all who visit. Indulge on the island's unique Japanese conger eel, high-quality Awaji beef, fresh seafood, and many more. All this while immersing yourself in the breathtaking beauty of the sea and mountains of Awaji Island.
In this article, we will present the five highly recommended restaurants on Awaji Island for a summer trip.
Enjoy Fresh and Luxurious Conger Eel on Awaji Island at Aonoya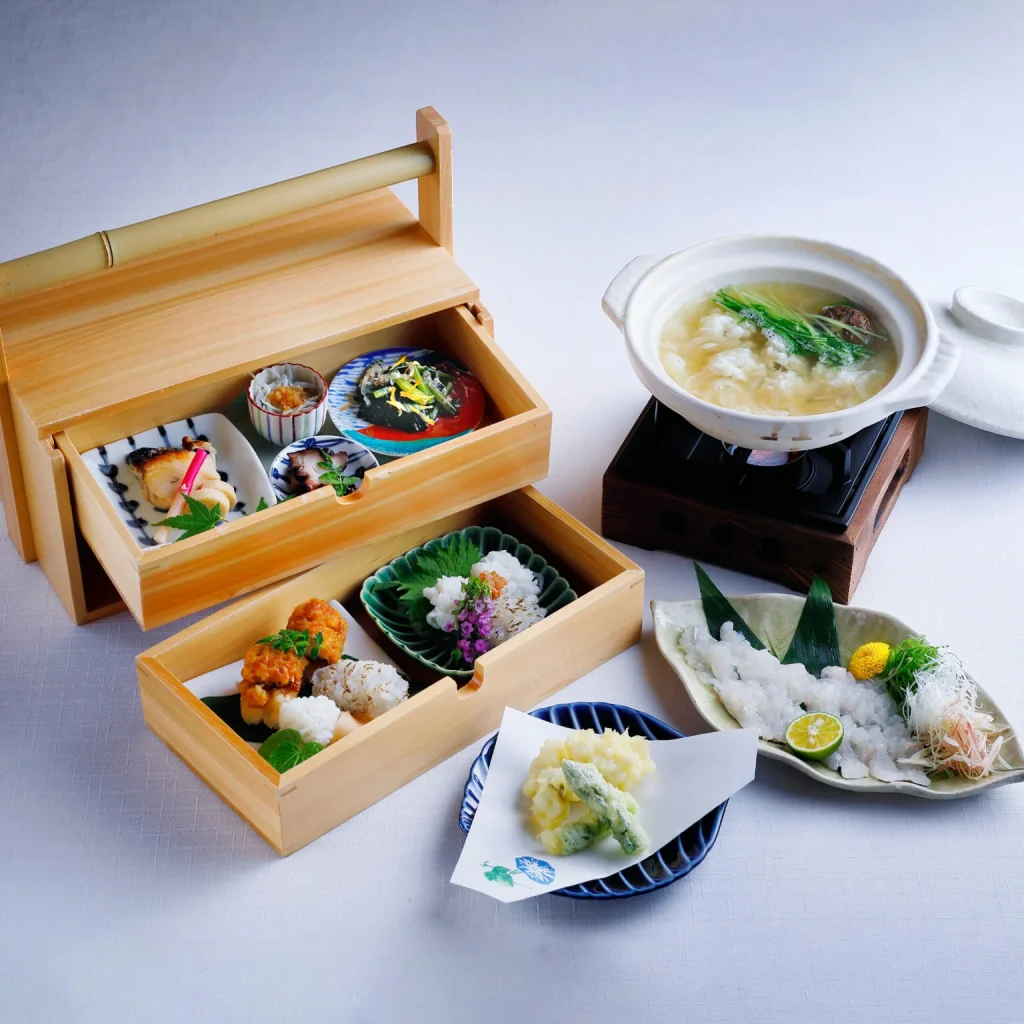 Seikaiha Aonoya is a sushi and tempura restaurant located on the scenic Awaji Island Sunset Line. It offers a unique dining experience with a live kitchen, where you can witness sushi-making and tempura frying right before you.
At Aonoya, the signature summer gourmet dish, "Hamo Gozen" is highly recommended. It is a delightful feast centered around hamo (conger eel), Japan's seasonal delicacy with profound cultural significance. This exquisite offering includes an appetizer, conger eel sushi, conger eel sashimi, conger eel pot, and conger eel tempura. Fresh conger eels are brought ashore every morning at Yura Port in the southeastern part of Awaji Island. Renowned for its high-fat content compared to conger eel caught elsewhere in Japan, Awaji Island's hamo is exceptionally gratifying.
Being a rare seasonal delicacy, it can only be enjoyed during this time of the year. At Aonoya, the skilled chefs expertly prepare the fresh conger eel caught on the same day, offering a range of delectable dishes. This exclusive menu is available only during the summer season until September 30, 2023, granting you a unique opportunity to savor the genuine flavors of Awaji Island's hamo.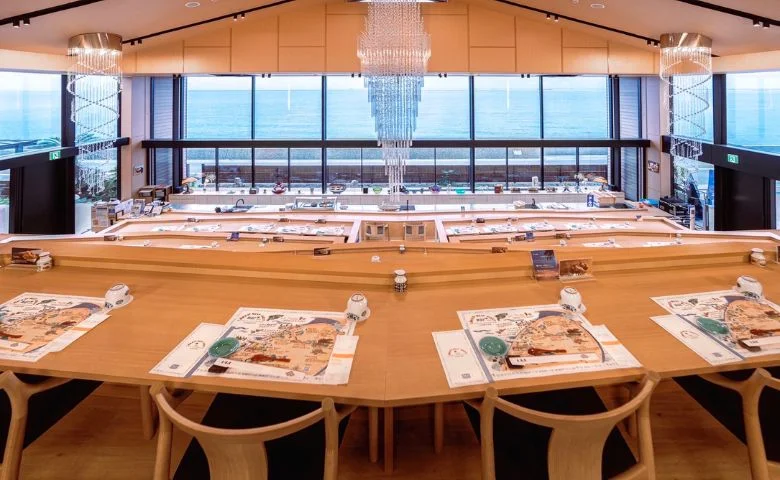 Situated in a picturesque coastal setting, all the seats offer stunning sea views. The restaurant's allure lies in its freshly prepared ingredients sourced from Awaji Island, complemented by thoughtfully crafted Japanese side dishes.
Awaji Island's Elegant French Cuisine at Auberge French Forest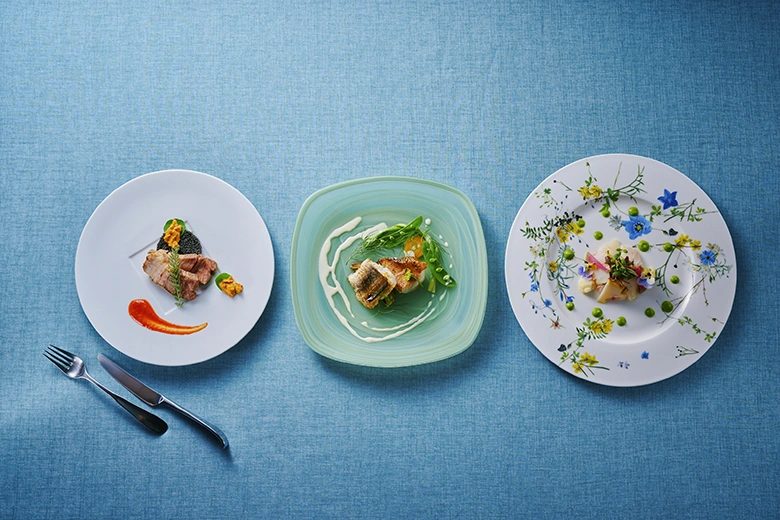 Auberge consists of three distinct buildings, each offering a unique culinary concept. La Rose presents French cuisine infused with Japanese essence, Grand Baobab combines the elegance of French and Italian influences, and Prince Etoile highlights a captivating blend of French cuisine and Basque gastronomy.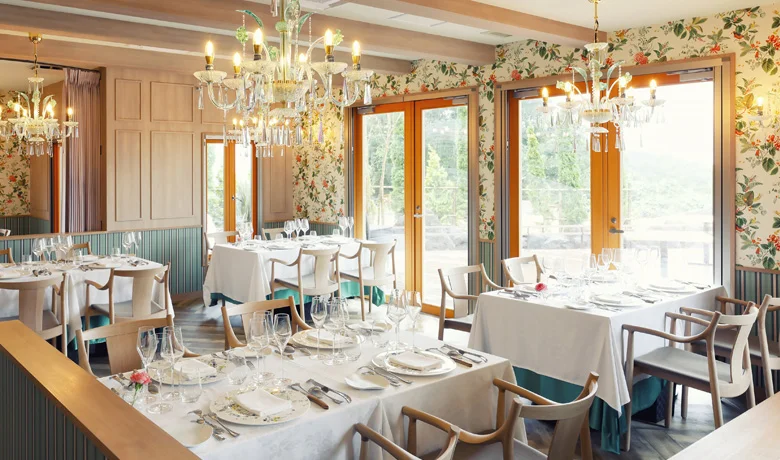 At Auberge, the meticulously curated full-course menu featuring three exquisite summer delicacies: abalone, sea urchins, and conger eel are extremely recommended. The skilled chefs pride themselves on using only the finest ingredients, crafting a fusion of delectable dishes paired perfectly with carefully selected champagne and wines.
The exclusive full-course menu is limited to the summer season, available until August 31, 2023.
Click here for details of Auberge "French Forest"
Embark on a Summer Culinary Adventure on Awaji Island at CRAFT CIRCUS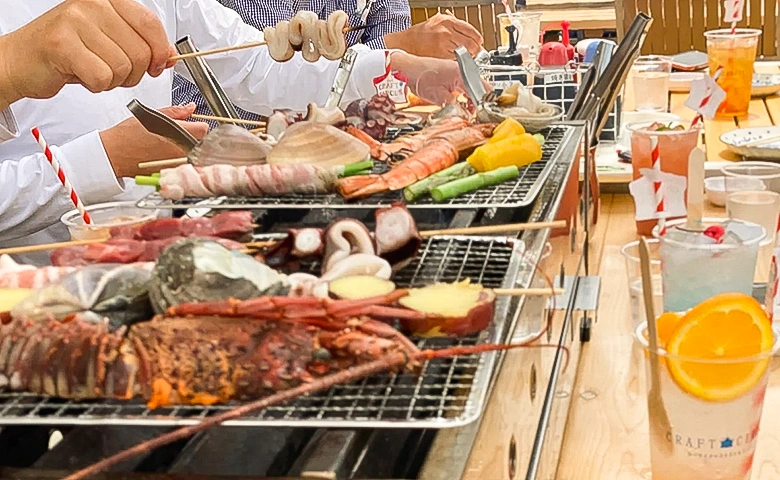 CRAFT CIRCUS is where you can satisfy your summer cravings with popular food featuring a variety of delicious options. Experience the seafood barbecue at Kaiou Market, relish Awaji Island's famous pizza at CRAFT KITCHEN, and treat yourself to refreshing gelato at CRAFT MARCHÉ.
For an unforgettable experience at Kaiou Ichiba in CRAFT CIRCUS, the "Daily Hamayaki Set" is highly recommended. This special offering allows you to choose from three different types of seafood and Awaji vegetable sets of the day, complemented by three additional exceptional ingredients: Awaji beef, abalone, and lobster.
Furthermore, you have the option to add various individual dishes to your set, including Awaji octopus, dried horse mackerel, Awaji beef skewers, squid skewers, dried sardines, chicken skewers, shrimp skewers, Awaji vegetables, pork skewers, and shellfish. The menu is carefully created based on seasonal availability, ensuring a fresh and diverse culinary experience.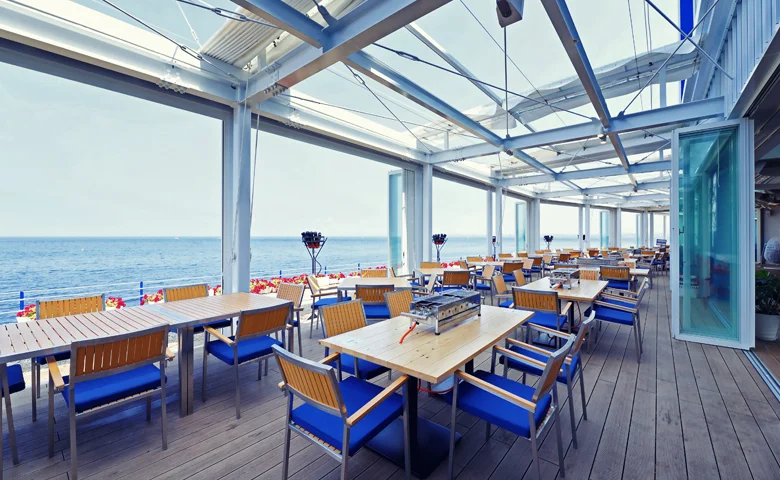 Enjoy the flavors of summer while seated on the open terrace, looking at the beautiful Seto Inland Sea. Moreover, if you have a pet, you will be delighted to know that there is a terrace available for pets, allowing you to bring your beloved companion along to share in the enjoyment.
Location
CRAFT CIRCUS
Address
2-2 Nojima-Hirabayashi, Awaji City, Hyogo Pref. 656-1724
Access
15 minutes by car from Awaji IC on Awaji-Kobe-Naruto Expressway. 10 minutes by car from Iwaya Port (Jenova Line Ferry).
Parking
80 spaces
Business Hours
Weekdays: 10:30-20:30 (last order 19:30)
Weekends/Holidays: 9:30-20:30 (last order 19:30)
Closed
Thursdays (excluding national holidays)
Tel
0799-82-1855
Website
https://awajicraftcircus.com/
Reservations
https://www.tablecheck.com/en/shops/craftcircus/reserve
Click here for details of CRAFT CIRCUS
Appreciate One of Japan's Finest Beefs and Stunning Ocean Views at Ocean Terrace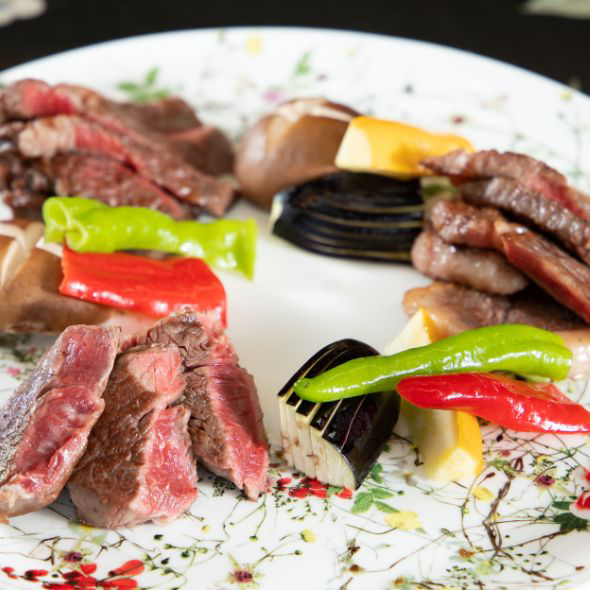 Ocean Terrace is one of the restaurants located on Awaji Island that owns Awaji Beef Certification. True to its name, "Ocean Terrace" offers terrace seats with a great sea view, where you can gaze upon the clear blue sky and the glittering Seto Inland Sea. At dusk, you can enjoy the beautiful sunset view accompanied by the comfortable sea breeze.
Guests are highly recommended to try "Awaji Beef Tasting Full-Course Meal," a delightful summer meal. The full course offers a tantalizing array of dishes, including a refreshing vegetable salad appetizer, champagne, and a luxurious assortment of Awaji beef (50g fillet, 50g sirloin, 50g rib roast). Completing the course are seasonal soup, dessert, and a choice of beverage.
Awaji beef stands out for its remarkable quality flavor and exquisite marbling. Awaji Beef is granted only to beef that meets stringent certification standards from among Tajima cattle born on Awaji Island. It is known for its high-quality fat with a low melting point, resulting in a luscious marbling akin to frosting on the muscle fibers.
The self-roasting style allows guests to relish the finest beef by grilling it themselves. The far-infrared grill ensures a juicy finish, whether you prefer to cook the beef yourself or leave it to the skilled chef. Indulge in a variety of cuts, such as filet, sirloin, and ribeye, all of which epitomize the original flavors and mild sweetness of the beef. The price for this experience is 7,000 yen (tax included), and advanced reservations are required to secure your spot.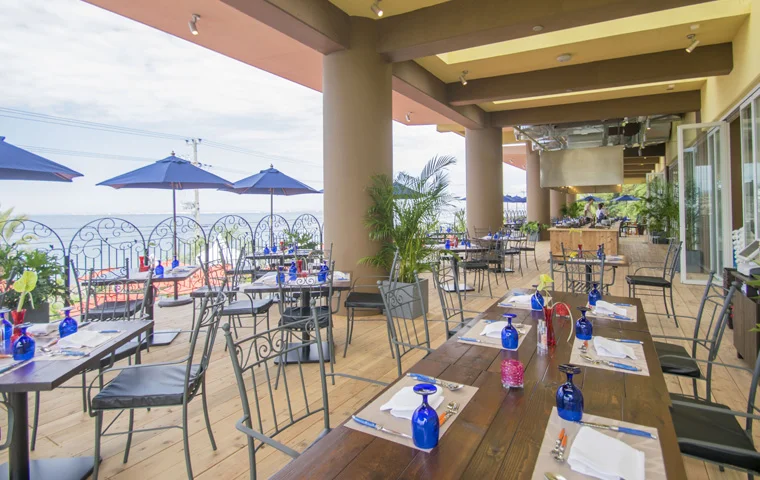 A visit to Awaji Island is incomplete without savoring Awaji beef, making this steak restaurant an absolute must-visit. Enjoy the enchanting seaside atmosphere while dining, and rest assured, a children's menu is also available for children.
Click here for details of Ocean Terrace
Try an Unforgettable Awaji Island BBQ Experience at Nojima Scuola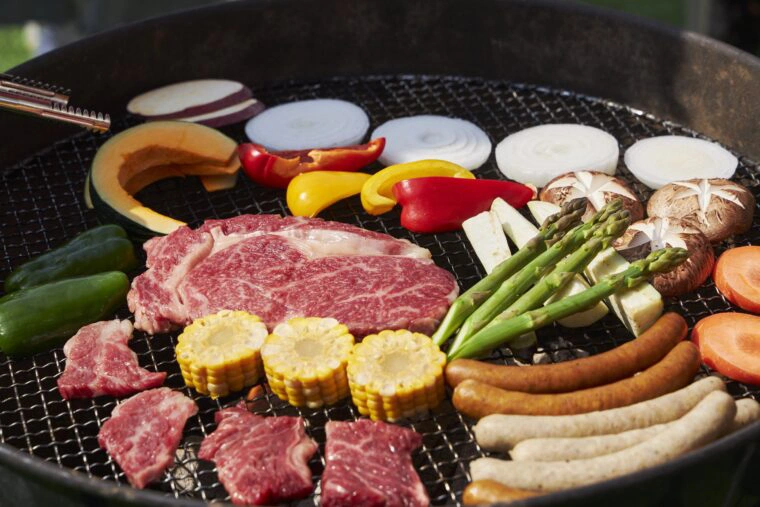 Nojima Scuola is a unique renovation project of a former elementary school that has become a beloved destination for locals, evoking a nostalgic atmosphere reminiscent of childhood. The converted complex houses a variety of establishments, including a bustling market, a delightful bakery, a cozy café, an authentic Italian restaurant, and a charming BBQ terrace.
The Nojima BBQ Terrace is a must-visit destination for barbecue enthusiasts as this delightful spot offers a unique BBQ experience with panoramic views of the sea. The "BBQ Set" is highly recommended at BBQ Terrace in Nojima Scola, and there are two types to choose from: Standard and Premium.
The Standard Set includes a BBQ platter with 2 basil & onion sausages, 50g of Awaji beef belly, and 100g of Awaji beef loin. It comes with onion salad, buttered potatoes on foil, assorted grilled vegetables, and grilled rice balls.
Meanwhile, the Premium Set offers a BBQ platter with 2 basil & onion sausages, 50g of Awaji beef belly, and 100g of Awaji beef ribeye. It also includes assorted seafood, onion salad, buttered potatoes on foil, assorted grilled vegetables, and grilled rice balls.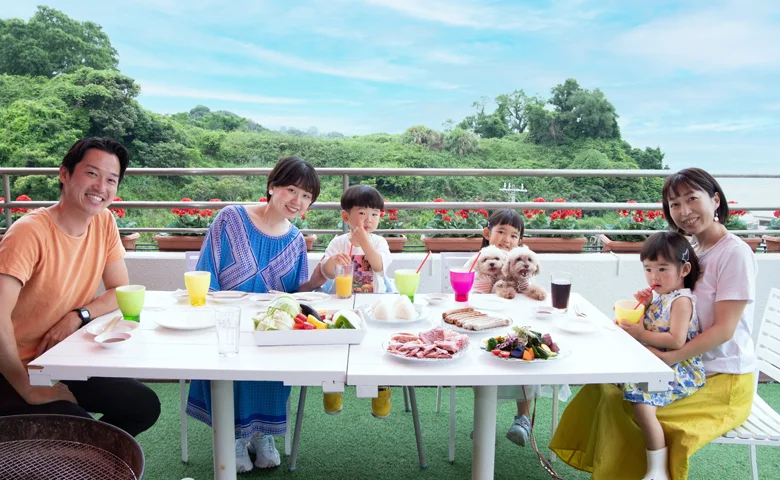 The hillside location offers a view of the Seto Inland Sea, and the covered terrace provides a comfortable setting protected from the summer sun. During twilight time, you can witness a breathtaking sunset, as this spot has been recognized as one of Japan's top 100 sunset views.
Please note that this offer is available only on Saturdays, Sundays, and public holidays, until mid-November 2023. Reservations must be made three business days in advance to secure your dining experience.
Name
Nojima Scuola
Adress
843 Nojimahikinoura, Awaji City, Hyogo Pref. 656-1721
Website
https://www.nojima-scuola.com/
Reservations
2F Ristorante Scuola
https://www.tablecheck.com/en/shops/nojima-scuola/reserve
Tel
0799-82-1820
Operation Hours
1F Marché /Bakery: Weekdays 10:30~19:00
Sat., Sun., & Public Holidays 10:00~19:00

1F Café Scuola: Weekdays Lunch 11:00~14:00/ café 14:00~18:00
Sat., Sun., & Public Holidays breakfast 10:00~11:00
Lunch 11:00~15:00
Café 15:00~18:00

2F Ristorante Scuola: 11:30~15:30 (in by 14:00) / 18:00~21:30 (in by 19:30)

Outdoor Zoo: Weekdays 11:00~16:00
Sat., Sun. & Public Holidays 10:00~16:00 (13:00~14:00 animals in recess)

Closed: Wednesdays (Open on Public Holidays)
Click here for details of Nojima Scuola
Closing
Awaji Island has earned a distinguished reputation for its delectable gourmet food offerings. Exploring Awaji Island's restaurants during the summer season is highly recommended, and the combination of exceptional dishes and the island's captivating ambiance ensures a truly unforgettable summer dining adventure. Visit Awaji Island and have a truly unforgettable summer experience.