Ladybird Road opened next to the Awaji Chef Garden by PASONA, newly opened in April, 2023. Ladybird Road is a seaside mall with a colorful collection of cafes, restaurants, patisseries, marché, and other stores selling goods from around the world. Among 30 restaurants/stores, we would like to introduce "VIE CHOCOLAT", a chocolate store and café where you can enjoy vegan sweets that are healthy for your body. How about a treat for yourself, or a gift for a friend or loved one?
Awaji Island's First Vegan Chocolate Store, "VIE CHOCOLAT"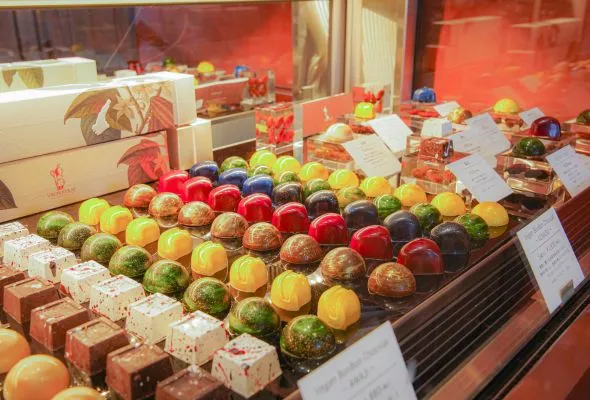 The store name, "VIE CHOCOLAT" is made up with "VIE" meaning life in French and "Chocolat" meaning chocolate. The word, "VIE," meaning beauty and health, was selected in order to convey an image of health and vitality.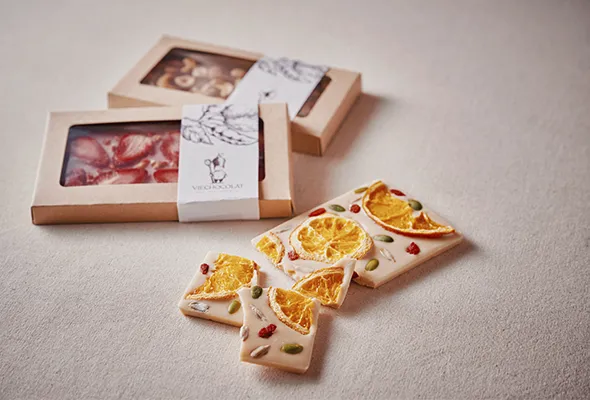 Vegan means "animal-free. Not only do vegans not consume meat or fish, but they also do not eat eggs, dairy products or honey, which are derived from animal products." The chocolates made by "VIE CHOCOLAT" are made with a focus on "health" and "beauty" because they use soy or almond milk instead of milk or cream, which reduces calories and sugar content.
We also offer chocolates that can be enjoyed by small children and allergy sufferers. We hope you will enjoy the chocolates that can only be tasted at "VIE CHOCOLAT".
"VIE CHOCOLAT" Bonbon Chocolates are Recommended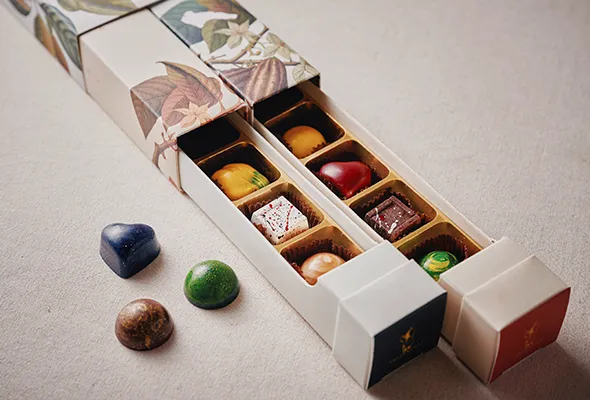 The pastry chef at VIE CHOCOLAT recommends the following two bonbon chocolate sets.
Vegan Bonbon Chocolat Awaji
These chocolates are made with carefully selected Awaji Island ingredients.
A pack of 5 pieces at 1,880 yen (tax included).
Miso: Miso made from additive-free rice malt produced in Sumoto City on Awaji Island. You can enjoy the unexpected combination of traditional Japanese seasoning and chocolate.
Sake Kasu: A ganache with a mature taste made from fragrant sake lees produced in Awaji City on Awaji Island mixed with milk chocolate.
Lemon & Pistachio: Lemon cultivated in Sumoto City on Awaji Island and white chocolate are combined with pistachio paste to create a ganache with a refreshing taste.
Soy Sauce: Mild soy sauce produced in Minami Awaji City, Awaji Island, enhances the richness of the chocolate.
Basil and strawberry: Basil from Awaji Island is used. The fragrant basil and the subtle aroma of strawberries create an exquisite harmony.
Vegan Bonbon Chocolat Health
This bonbon chocolate incorporates the aroma of ingredients with health benefits, and allows you to feel the texture of ingredients.
A pack of 5 at 1,830 yen (tax included).
75% cacao x almonds: The crunchy texture of almonds and sweet chocolate make a perfect match in this ganache.
Cacao pulp: A ganache of cacao pulp and white chocolate.
Ginger x YUZU: The flavor of ginger spreads on the palate and is accented by the remaining yuzu peel at the end.
Earl Grey x Walnut: This ganache has the elegant aroma of Earl Grey and the texture of walnuts.
Green tea x Sencha tea x Hojicha tea: The unique bitterness of tea and the moderate sweetness of chocolate make this ganache a perfect match.
"VIE CHOCOLAT" Is a Stylish and Cute Store Full of Attention to Details
The boxes of bonbon chocolates are stylish and cute, and are recommended as gifts. In particular, the Bonbon Chocolat Awaji package is decorated with a subtle Awaji Island shape. These products are easy to give to health-conscious people and friends on any occasion. The shopping bag also features the store's image character and is designed to make you feel like you are enjoying a luxurious shopping experience when you take it home.
"VIE CHOCOLAT" Is a New Instagrammable Spot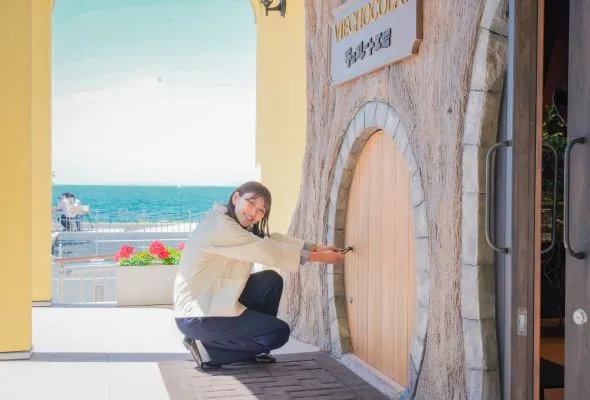 "VIE CHOCOLAT" has a small door that serves as the entrance to the VIE CHOCOLAT chocolate factory. It is the size of a child's height, so you can take cute pictures of your child. You can take a picture from the front, or as shown in the photo, with the Harimanada Sea scenery of Awaji Island in the background, to give a resort-like atmosphere. We hope you enjoy taking stylish commemorative photos. If you visit Awaji Island, please stop by "VIE CHOCOLAT" on Ladybird Road.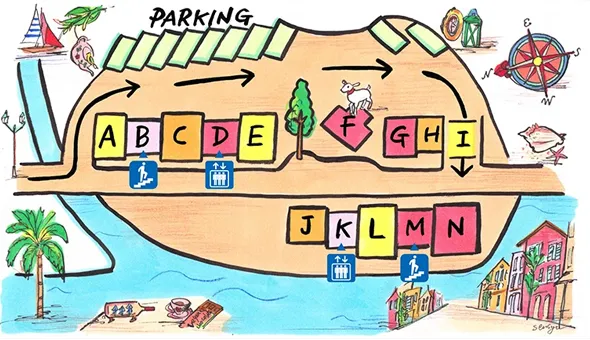 "VIE CHOCOLAT" is located on the mountain side "E" of Ladybird Road.
Business hours are 11:00~20:00, closed on Wednesdays.
| | |
| --- | --- |
| Name | Ladybird Road |
| Address | 95-2, Nojima Todoroki, Awaji Shi, Hyogo Ken, 656-1722 |
| Parking lot | 86 cars *Temporary parking is available nearby. |
| Operation Hours | Varies from store to store. |
| Tel | 0799-64-7530 |